Design events
Between performances, experiences and crafts at Creative Expo Taiwan 2021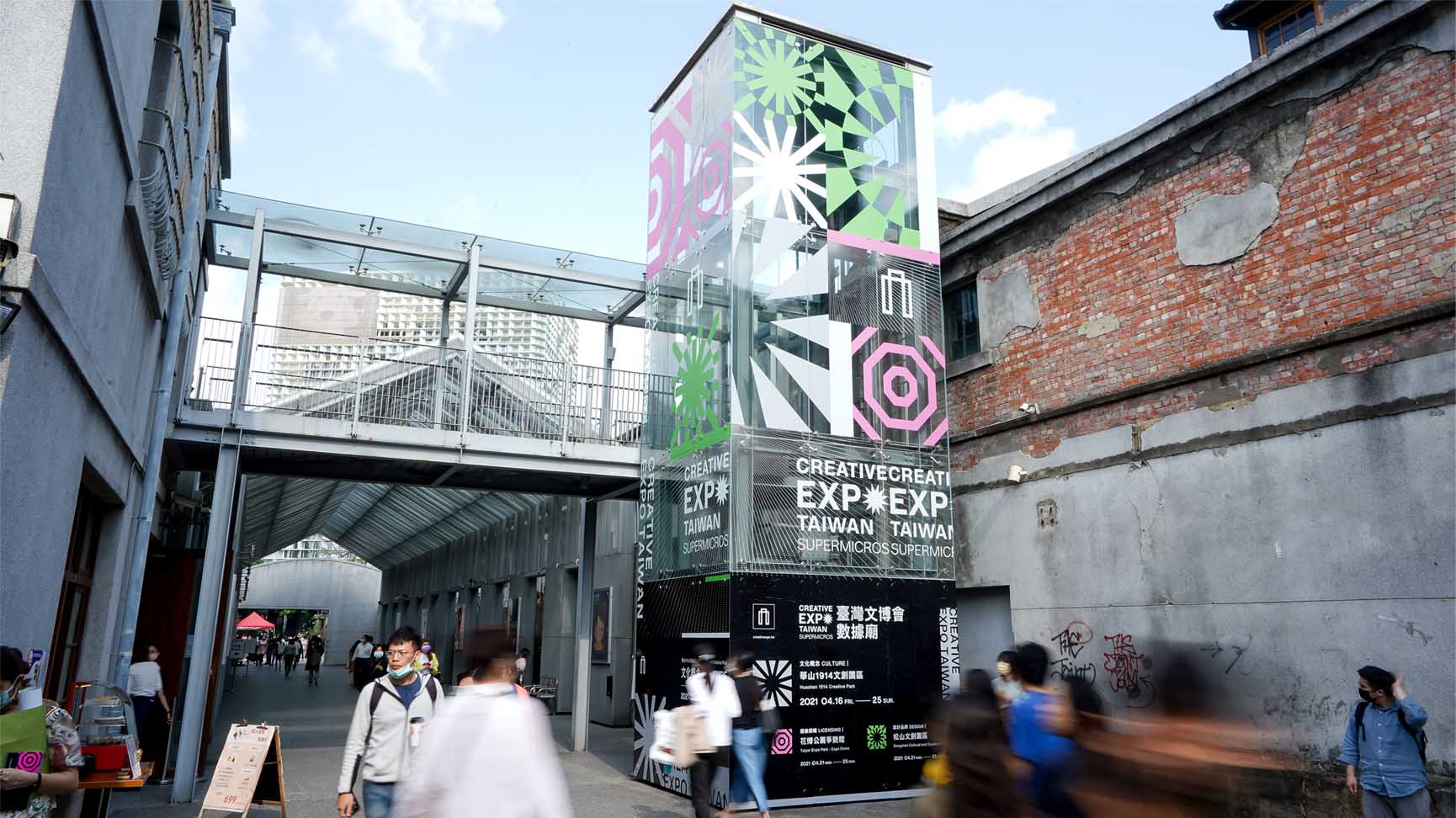 Nearly 380 thousand people graced the three locations of 2021 Creative Expo Taiwan from April 16 to 25.
Asia's most thought-provoking exposition of culture and creativity, 2021 Creative Expo Taiwan took place from April 16 to 25. Chief curator, Lin Kun-Ying branded this year's expo with the theme "Supermicros", which he describes as "the connection between people, data and belief."
Thanks to Taiwan's successful handling of COVID-19, all exhibitions and performances were held at indoor venues. Everything was open to the public with temperature checks at all entries, an online form for contact tracing, and mandatory mask wearing inside each venue.
Nearly 380 thousand people graced the three locations — culture at Huashan 1914 Creative Park, design at Songshan Cultural and Creative Park, and licensing at Taipei Expo Park – Expo Dome.
The Law of Beliefs
The number of visitors to the 6 culture exhibitions at Huashan 1914 Creative Park fell just short of 180 thousand. The main exhibition there, titled "The Law of Beliefs", was curated by Lin Kun-Ying.
Visitors were greeted by a soul penetrating gaze as they entered the exhibition, followed by a gigantic, animated face, surrounded by spotlights and laser beams.
Several performances were staged at half-hour intervals in the second space, and visitors could watch the performances while sitting on an assortment of chairs from different stages in life.
Finally, at the center of the third space, Light Palace, visitors could activate a beam of light, setting off a chain of LEDs around the perimeter of the space, which would lead them to a table of offerings.
Craft Land
Directly opposite the main exhibition was "Craft Land", sponsored by National Taiwan Craft Research and Development Institute, and curated by Janet Hsu-Chieh Fang and Kamm Kai-Yu.
The curators presented juxtapositions between traditional and contemporary craft wares, which encouraged visitors to consider the role of craftspeople in the modern, industrialized world.
For example, a master carpenter carved traditional Taiwanese figurines, juxtaposed against a 3D printer performing the same task, and highlighting the superior craftsmanship of the master.
Lastly, taking center stage in the exhibition space, a satellite-shaped installation made from used Nespresso capsules posed a critique on the Anthropocene, consumerism and sustainability.
Coop of Love
Hungry exhibition-goers leaving "Craft Land" could head next door to Slow Food Design's "Coop of Love", which offered a series of tantalizing meals with cocktail pairings.
Every two days, a new cooperative of Taiwan-based international chefs and cocktail mixologists would create a fresh menu of 3 drinks and dishes, fusing flavors from far and wide.
Diners who weren't sure what to order could play an online question and answer game, which would recommend a meal and cocktail based on their interests or preferences.
The furniture and decor within the "Coop of Love" space was made from paper mache blocks containing love messages, and was intended to reflect the concept of food made with love.
Tropic of Cancer, Chiayi and Hualien
Also at Huashan 1914 Creative Park, Taiwan's Hualien and Chiayi County governments, along with the Ministry of Culture, sponsored 3 culture exhibitions connected by the Tropic of Cancer.
Curated by artist and designer Kan Ko-Ping, "The Tropic of Cancer Route" exhibition traced the latitudinal line more than 200 kilometers across Taiwan, from the outlying islands off the west coast, through Chiayi County and all the way to Hualien County on the east coast. Visitors to the exhibition could explore samples of food and nature found along the route.
The Chiayi County exhibition, curated by Wang Jhao-cian and Zutto Wu, and entitled "Shine on the Infinity", was a celebration of the workers, artists and craftspeople from Chiayi County. It compared the relationship between Chiayi and Taiwan to the back- and front-stage of a theater.
And in the Hualien County exhibition, "The Tales from Where the Land Emerged" curated by Ling-Li Tseng, marble fragments were displayed alongside Taiwanese aboriginal origin stories, which are based on the belief that civilization and humankind emerged from the rock. The core concept of the exhibition was to help people reconnect with the land.
Interested in knowing more about exhibition design? Don't miss Spaces that tell a story – Interview with Jotta Studio.
Licensing
Approximately 3 kilometers from Huashan 1914 Creative Park, more than 125 thousand anime fans visited the licensing exhibiton at Taipei Expo Park – Expo Dome, queuing overnight for the opportunity to be the first inside.
Cowper Wang and Mark Chang curated an installation about the Taiwanese comic book generation and how it relates with the contemporary licensing industry. They also created an online application to help visitors discover artists and illustrators in the licensing exhibition.
Inside the main exhibition, there were almost 200 licensing exhibitors, including top agencies Sanrio Taiwan, Muse and more, exhibiting marquee names such as Hello Kitty and Pui Pui Molcar.
Alongside them, the annual Talent 100 exhibition presented a lineup of 100 emerging artists and illustrators, showcasing their latest characters and artworks for licensing agents and the public.
Design
Lastly, some 6 kilometers across the city from Taipei Expo Park, the design exhibition at Songshan Cultural and Creative Park welcomed more than 70 thousand visitors.
Independent gift, homeware and lifestyle brands launched new products during the exhibition, and feature sections of the exhibition focused on trends such as work-from-home.
Nearly 300 exhibitors participated in the design exhibition, hoping to connect with corporate buyers, retailers, international distributors and the public.
To help boost their sales, the executive organizers, Taiwan Design Research Institute, collaborated with Taiwanese e-commerce platform Pinkoi to create an online shopping experience.
Now in its eleventh year, Creative Expo Taiwan continues to integrate curated exhibitions about Taiwanese culture, alongside trade exhibitions for both Taiwanese and international artists, designers, illustrators and brands.
The expo's longterm goal is not only to stimulate the Taiwanese cultural and creative economy, but also to demonstrate Taiwan's cultural confidence on the world stage.
Curious to know about design studios creating mesmerizing experiences? Head to Crafting deep experiences with 1kg studio.