Design
5 Reasons why designers should consider Digital PR
Nowadays if you want to take full advantage of the digital landscape, having a cool website is not enough: embracing Digital PR has become key to a designer success.
With a million new people around the world coming online every day and the global digital growth showing no signs of slowing down (Digital Report 2019), the billions of news published daily on blogs and digital magazines are turning the Internet into a tangled jungle where inexperienced users could get lost – or worse, not found by a potential new customer.
Learning how to master Digital PR will result in an enhancement of the online reputation of your brand and an increase in sales. Often, Digital PR goes hand in hand with smart use of social media (which we have already talked about here): working synergically on different online platforms could have a much stronger resonance and bring to better results.
If you are still doubtful and wondering if this article could be relevant for you and your brand (spoiler: it is!), let's get down to what Digital PR is and why you should consider dedicating time to it.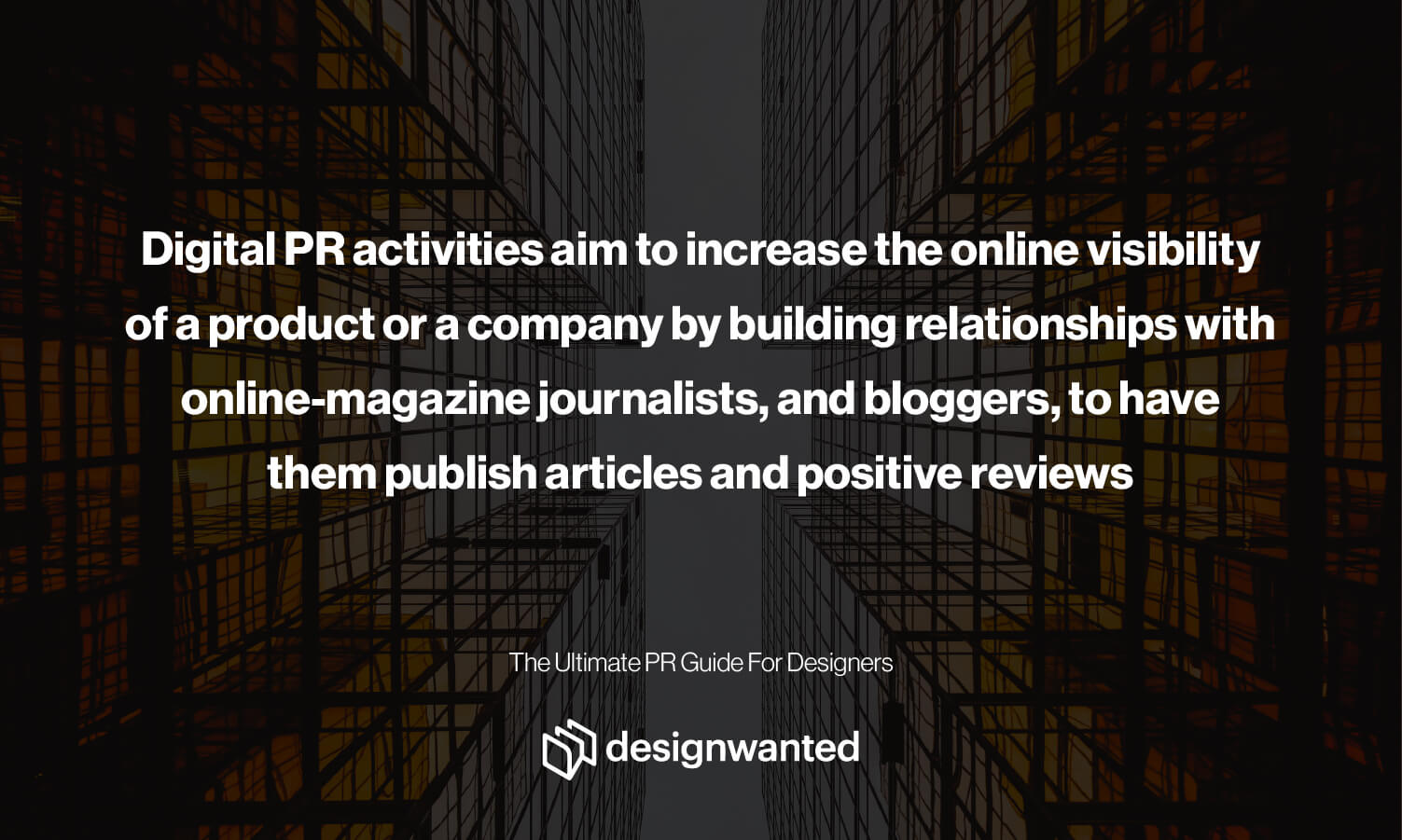 Digital PR includes all those activities which aim to increase the online visibility of a product, a company or a project by building a relationship with online magazine journalists and bloggers in order to have them publish articles and (positive) reviews.
Thus, the first thing that stands out when approaching Digital PR are the words "Public Relations": though targeting online publications, Digital PR has a lot to do with people. More specifically, people who will write about your brand and people who will read about (and luckily buy) your products.
Targeting people's emotions and learning how to be flirty is key to the success of your Digital PR campaign.
You need to stand out in the crowd and capture the attention of as many people as possible, encouraging their curiosity and slowly driving them towards your brand.
Interesting… and a bit scary, huh? Let's dive deep into this with five reasons why today is the day to consider Digital PR for your brand!
1 – Increase brand awareness
Digital PR is fundamental for any designer as it helps you identify your potential customers and be more effective in reaching them throughout their customer journey.
Before purchasing a product, any potential buyer goes through a journey: from searching for information online to reading news and reviews about it.
Having significant online visibility and working on your online reputation play an important role in making sure your brand appears in this journey, thus increasing the chances that your desired customer becomes aware of your existence.
This is exactly where the concept of brand awareness lies: the stronger it is, the higher the probability that customers are able to recall or identify a brand. Needless to say, brand awareness becomes something you should really pay attention to.
However, it is important to favor quality over quantity. Be selective and critical towards the blogs and magazines' visibility you could benefit from. Just like any marketing activity, Digital PR implies an appropriate strategy.
Do not rush into it, you could be bitten!
2 – Build your brand identity
What's the story morning glory?
Starting by telling your story to journalists and bloggers, you will end up building and slowly strengthening your brand's identity, both offline and online.
But, how to do that?
You will need to focus on what's behind every product you design: a memory, a fun fact about your life, a popular tradition of your country.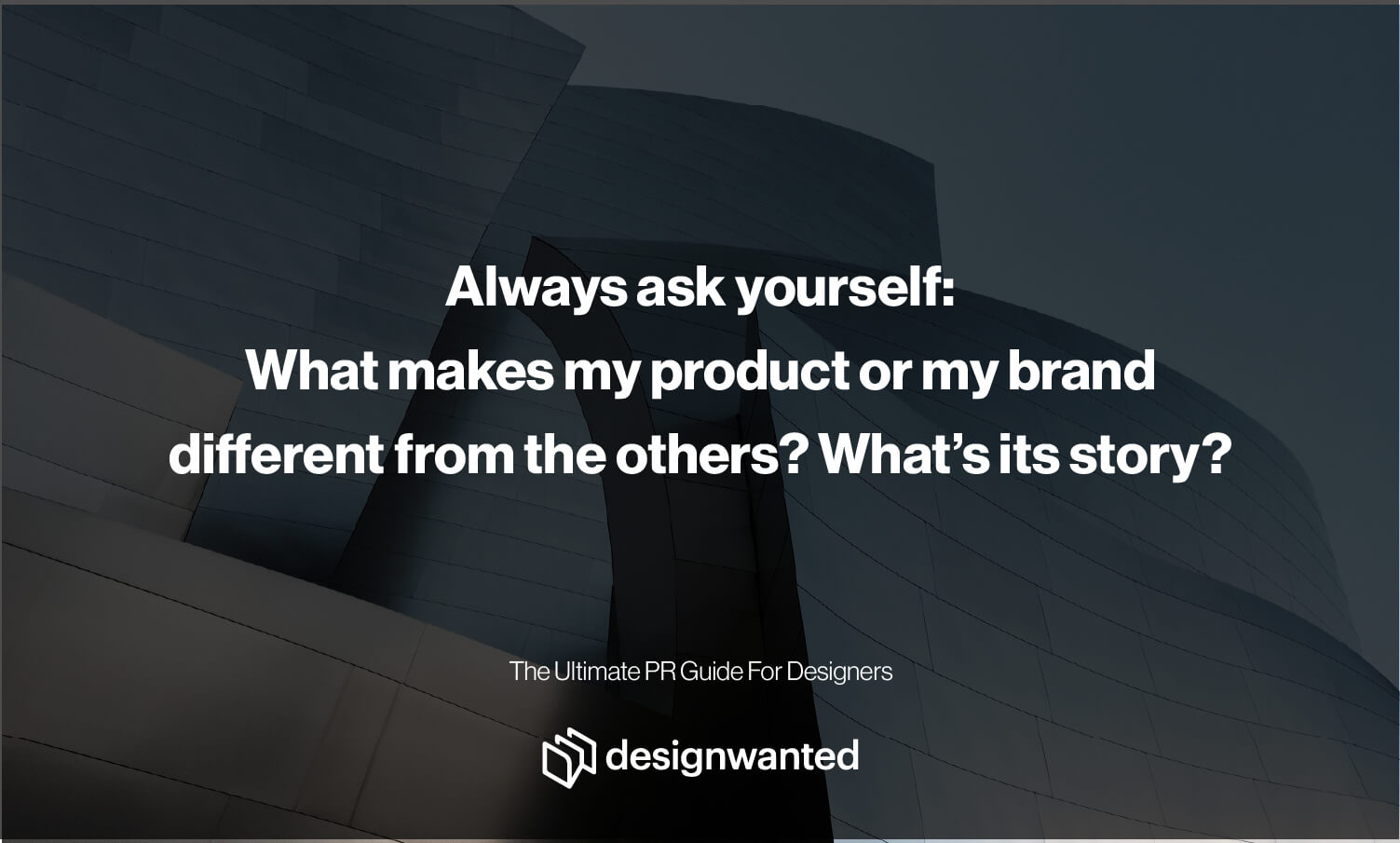 Always ask yourself: "What makes my product or my brand different from the others? What's its story?"
This is an important task for any designer. Reflecting upon your practice and learning how to put it into words is an important aspect of your business in both the short and the long run.
Understanding what makes your brand unique is key to positioning yourself in the market. Here are a couple of questions you could ask yourself to start reflecting upon the main characteristics of your brand: are all of your products handmade? Is your brand all run by women? Is your brand sustainable? Do you donate part of the proceeds from the sale of one, or all, of your products to an association? Did you successfully patent one of your products?
3 – Build a relationship with your target audience
As mentioned above, Digital PR is about building a relationship with other people, which needs to be based on recognition and respect. This way, you will increase the chances articles get published about your latest products or the story of your brand and, as a consequence, the chances these articles get read by the audience you are targeting.
Sharing something intimate and unique generates interest towards what you are communicating and creates a greater empathy between your brand and bloggers, or your customers.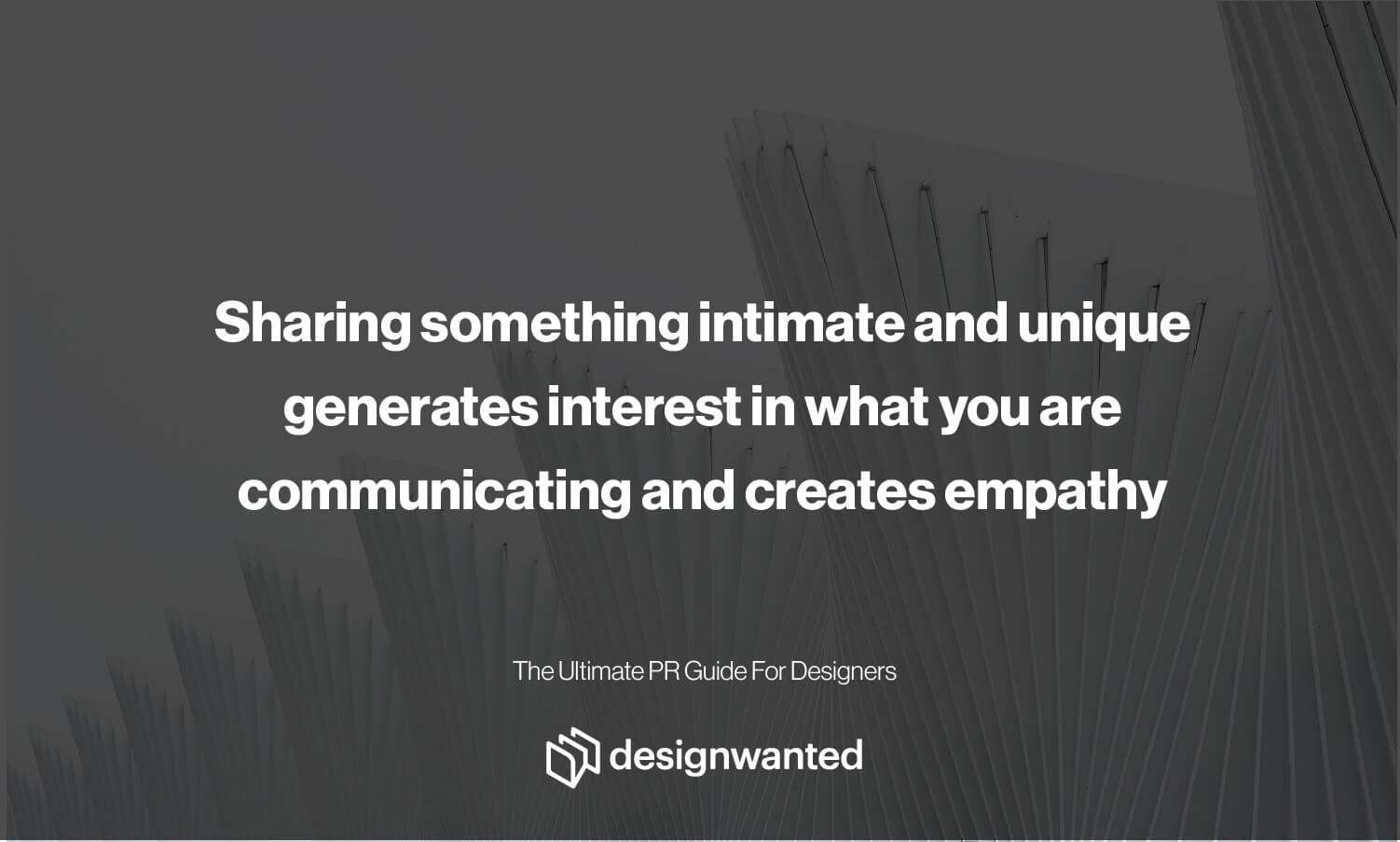 Once a customer has bought one of your products, he is more likely to buy again from your brand if you were able to create that empathy.
So, dig deep and share!
4 – Boost your brand's reputation
Let's look at it this way: when a designer is not paying too much attention to what people say about his products online, he may only have sweet dreams but in the long run, his brand is destined to a crisis.
Digital PR becomes relevant when you want to drive the reputation of your products in a certain direction.
Having trusted and influential magazines or bloggers talking about your brand constitutes a vote of confidence in your favor.
After all, having your grandpa telling all his friends how cool is the latest product you designed is an undeniable expression of his love, but what about having designwanted.com doing it?
5 – Increase your website backlinks
Digital PR and your SEO strategy should be simultaneously carried out as both of them aim at driving your targeted audience to your website.
Have you just got lost in the word SEO? No panic, we got you!
Let's put it this way: What do you do when you want to find something on the Internet? You just type in the word and search for it, right?
For example, if you are looking for a new sustainable wood supplier, you would just type in "sustainable wood suppliers" maybe adding your location to make everything easier. Most probably you would then click on the first 3 or 4 results that Google provides you.
Ever wondered how those pages got up there? That's because they are Search Engine Optimized.
SEO is not some kind of magic, it is the result of two main factors: keywords (knowing your target keywords) and links. As a matter of fact, an important role is played by gaining wide online coverage and high-quality backlinks.
While positively positioning your brand in the design sector, Digital PR also has the benefit of generating a relevant and authoritative amount of leads to your website.
So, are you are ready to start your first Digital PR campaign?
It's a hard, time-consuming job but we can assure you: it is SO worthy!