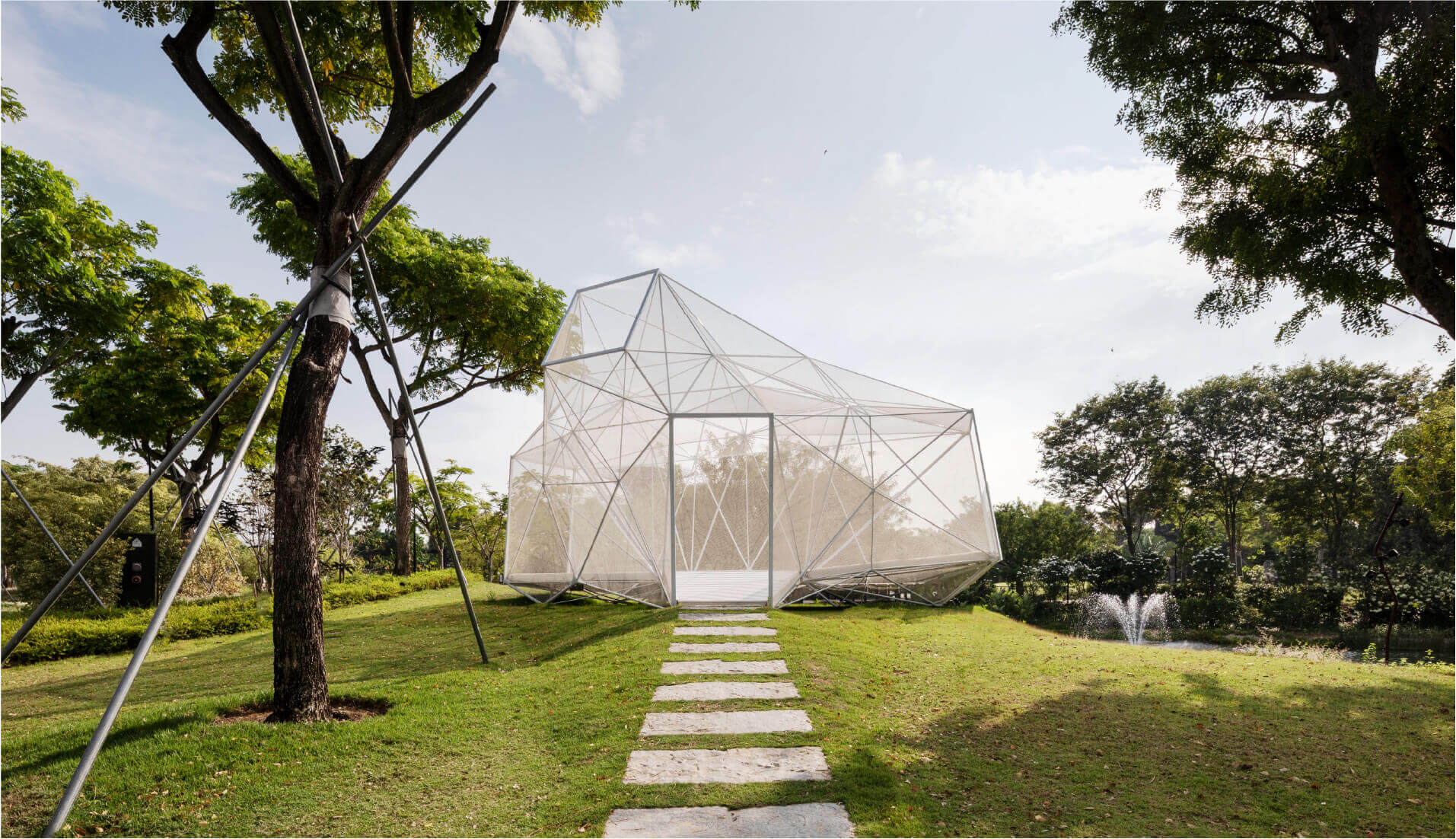 Having research, technology, innovation, and creativity in its DNA, AIRLAB makes unimaginable structures a reality.
Founded in 2015 by Carlos Bañón and Felix Raspall, AIRLAB is a multidisciplinary research laboratory focusing on architecture, science, arts, digital design, and manufacturing. AIRLAB stands for "Architectural Intelligence Research Lab", a term that resonates not only with the advancements in technology but clearly states what this studio is all about.
With two branches, one within the Singapore University of Technology and Design and the other one in Santiago, Chile, AIRLAB combines new technologies and digital manufacturing to create efficient, light, and versatile products that aim to increase sustainability and reduce wastage in construction.
AIRLAB's constant exploration of materials, new technologies, and manufacturing processes result in continuous improvement in the way they design, build, and utilize resources, hence, pushing the limits of innovation every time. Their forward-thinking perspective, design process, and limitless creativity makes AIRLAB one-of-a-kind, and definitely one to watch.
Who are Carlos Bañón and Felix Raspall? How did your journey in design begin?
AIRLAB: "We both are architects and professors with a keen interest in the merger of technology and design and its implications in design processes. We have a shared background as practitioners and an interest in computational methods and creative coding. We believe that parametric design allows for precise control of the geometry of the spaces that we design and opens a whole new potential for design exploration. That mindset is applied in our Architecture Design Studios in SUTD Singapore and UAI Chile.
Our first opportunity to materialize a joint design was in 2015 in Singapore, with the design of the SUTD Open House pavilion. By coding bespoke scripts, 3D printed steel and nylon nodes were fabricated, to achieve a very lightweight structure that spanned 15m. It was a new exhibition and gathering space in the main hall of SUTD, becoming the first of a series of exciting, innovative projects. They were only possible with the help of our phenomenal researchers and students at the Singapore University of Technology and Design. Since then, every single project in Airlab ambitioned to push the limits of innovation in digital design and fabrication."
Why AIRLAB? Why focus on architectural intelligence research?
AIRLAB: "AIRLAB was founded in 2015 in Singapore, and stands for "Architectural Intelligence Research Lab". In the era of Artificial Intelligence, we coined the term "Architectural Intelligence," which resonates with the purposeful use of recent achievements in machine learning, robotics, parametric design, and digital fabrication that lead Architecture to a next turning point. And, "AirLab" incorporates the "Air" component, evoking the idea of lightness, ethereal, and efficient, by placing material only where it is optimally needed, and creating inner voids and thinner members with the aid of 3D printing technologies.
AIRLAB's ambition is to achieve more efficient, adaptable, versatile, and lighter products by introducing new technologies like 3D printing and digital manufacturing. We target zero-wastage in construction by using additive manufacturing in functional components, and to explore further, meaningful ways to utilize technology to increase sustainability and efficiency (to shorten development and assembly time) and introduce new typologies with the potential for adoption.
And last, in AirLab, we genuinely believe in the human experience and have the utmost respect for nature. Additive Manufacturing (also commonly called 3D Printing) can contribute to lower the levels of energy used in the production, ranging from 4% to 21% with the most substantial effects in the feedstock, conveyance, and usage phases. We do trust that 3D printing shall become instrumental in fulfilling a circular economy model."
AIRLAB creates unique and innovative projects, pushing the boundaries of architecture through your research and use of technology. Can you describe the general process behind your creations?
AIRLAB: "AIRLAB is a multidisciplinary Research Laboratory that works in the space between Architecture, Science, Arts, and Digital Design and Manufacturing. We explore new technologies, materials, and workflows from ideation to fabrication, to redefine and improve how we design, build, and utilize resources. By combining Additive Manufacturing (3D Printing) with Parametric Design, we envision to minimize the use of material, reduce wastage, increase performance, and generate new aesthetics in Architectural Design.
Traditionally, the design process in architecture goes from conceptual sketches to a highly technical project, followed by the production phase. By incorporating 3D Printing and Digital Design in the equation, creativity can be enhanced as uncertainties at the fabrication, assembly, and operation stages are reduced. Besides, having faster and more accurate information in the design process improves design decisions.
Therefore, in our lab, we code our algorithms for the design and fabrication of our ideas, in combination with other software libraries. Most components are printed in a precise and delicate manner, allowing tolerances of less than a millimeter. This feat is more common in aerospace and rarely seen in the architectural industry. In doing so, errors in construction are minimized as the design and fabrication processes are entirely digital and almost fully automated.
AIRLAB will also continue to push the envelope as 3D printing costs drop steadily in the future, which can generate even more mainstream traction."
If you are curious to know more about the use of 3D printing in design, don't miss Making Data Matter: MIT Media Lab creates data-sculptures with multi-layered 3D printing
You recently created AirMesh, the world's first architectural structure made of 3D Printed components in stainless steel and constructed through an innovative digital design and manufacturing technologies developed by AIRLAB. Can you tell us how this project came about and the process behind it?
AIRLAB: "With the fame of Super Trees and Domes, Gardens by the Bay is known for its boldness to create architecturally different structures and combining technology in a way that the world has rarely seen.
AirMesh's primary design ethos is to present a bold method of design, construction, and leverage 3D printing technology to blend structure with nature. The pavilion delivers a seamless indoors and outdoors experience for users to enjoy framed views even when inside the structure.
We also wanted to address sustainability issues in terms of construction wastage, efficiency, and costs. 3D Printing technology is selected because the process of design can be so deliberate that it generates no material wastage during the fabrication.
We wanted to showcase that even in complex neural networks, characterized by non-standard geometries, it is not more costly due to intricacy, as the cost is directly related to the amount of material used and the bounding box of the printed components. This gives designers an incentive to develop free-form structures that use the material in an optimized way and where necessary. The result of this process produces lightweight and more slender structures compared to typical standardized systems that are usually bulky, non-aesthetically pleasant, and geometrically discontinuous.
A case in point is that we have chosen to 3D print the joints while the bars are standard customized profiles concealing the bolts. In this way, the cost is reduced by combining both 3D printing, which is still a new technology in construction, and components available in the market.
In addition to advancing technology in construction, we wanted to be able to test the delivery of a plug and play "IKEA-like" assembly system, setting the precedence for future 3D-printed structures, which can replace traditional construction methods in the near future."
What are the most difficult and most exciting parts of your practice?
AIRLAB: "A constant challenge that we always face persists when we carry out our designs. The lack of precedents and construction standards in 3D printed architectural designs becomes a difficulty in getting approvals from the building construction authorities. Therefore, we need to conduct tensile tests and run additional simulations to prove that our systems can be applied in real-life conditions. AIRLAB typically fully develops the structural calculations in our designs, as part of an iterative process. That allows us to have full control of what happens in each of the components involved. Our structural design follows Eurocode regulations. Airmesh, for instance, is the first 3D printed structure approved by the Singapore Building Construction Authority (BCA) for temporary occupation in Singapore for up to three years.
And, for the same reasons, our practice is very exciting. There is not much done in this field yet, so we have more space to experiment and unlimited motivation to keep innovating. Usually, the results turn out beyond our expectations. We involve the whole AIRLAB team in every step, from conception to final assembly, and a great sense of bonding is developed through that process. The significant synergies between architects, material scientists, and engineers happening in our team help push the boundaries of physics, mechanical and material properties, to make an impact in the built environment."
Business question: what is the most effective marketing technique that you have experienced to effectively drive new sales or projects?
AIRLAB: "In the last five years, AIRLAB's research on 3D printed functional structures is highly rigorous and has been echoed and well-studied in a growing number of papers and scientific publications internationally such as IASS and ACADIA in MIT, or CAADRIA in Beijing. That gives us solid trust in the field of technology innovation.
Besides, international recognition with prestigious awards backs our design approach. Prizes like the German Design Award 2020, the Rethinking The Future Awards in 2019, 4 SG Marks (two of them just announced!), and a Nomination to the President Design Award in Singapore contributed to getting more visibility and prestige.
Besides, we have been selected for two consecutive editions, for the Venice Biennale of Architecture. In 2018 in the Singapore pavilion, and this year as part of 'Uncertainty,' the Spanish Pavilion, which has recently postponed to May 2021. Moreover, AIRLAB gets full visibility with publications like Dezeen, Archdaily, Designboom, and printed magazines like IW Magazine Taiwan or Detail Germany. It helps disseminate our work amongst the designer's community."
What are the challenges or goals for AIRLAB in the near future?
AIRLAB: "We want to keep leading the change for the way we think, design, and fabricate architecture in the new AI paradigm. Therefore, we are embarking on new design challenges, exploring new fabrication processes, and targeting larger scale designs in our pipeline.
AirLab is currently producing a bespoke work cell to 3D Print recycled PET from scrap bottles to make furniture and other architectural features and products. That is in collaboration with new and super supportive industry partners like DB Schenker or Netatech. We expect to have shareable results by the end of Q3 2020 (if the Covid-19 situation allows!).
Besides, we are tackling food-security challenges by designing vertical farming modules utilizing large-scale 3Dprinting in clay and sand, in collaboration with HDB Singapore.
And lately, we are working on Airmesh 2.0 with the ambition to be the first fully-permanent inhabitable construction to get full approval by a Building Construction Authority. It will open the potential to scale the system to larger structures, like bridges, stadiums, or even skyscrapers."
If you are curious to know more about studios utilizing digital technologies to manufacture products, don't miss THEVERYMANY – Lightweight structures to explore form and spatial experience.