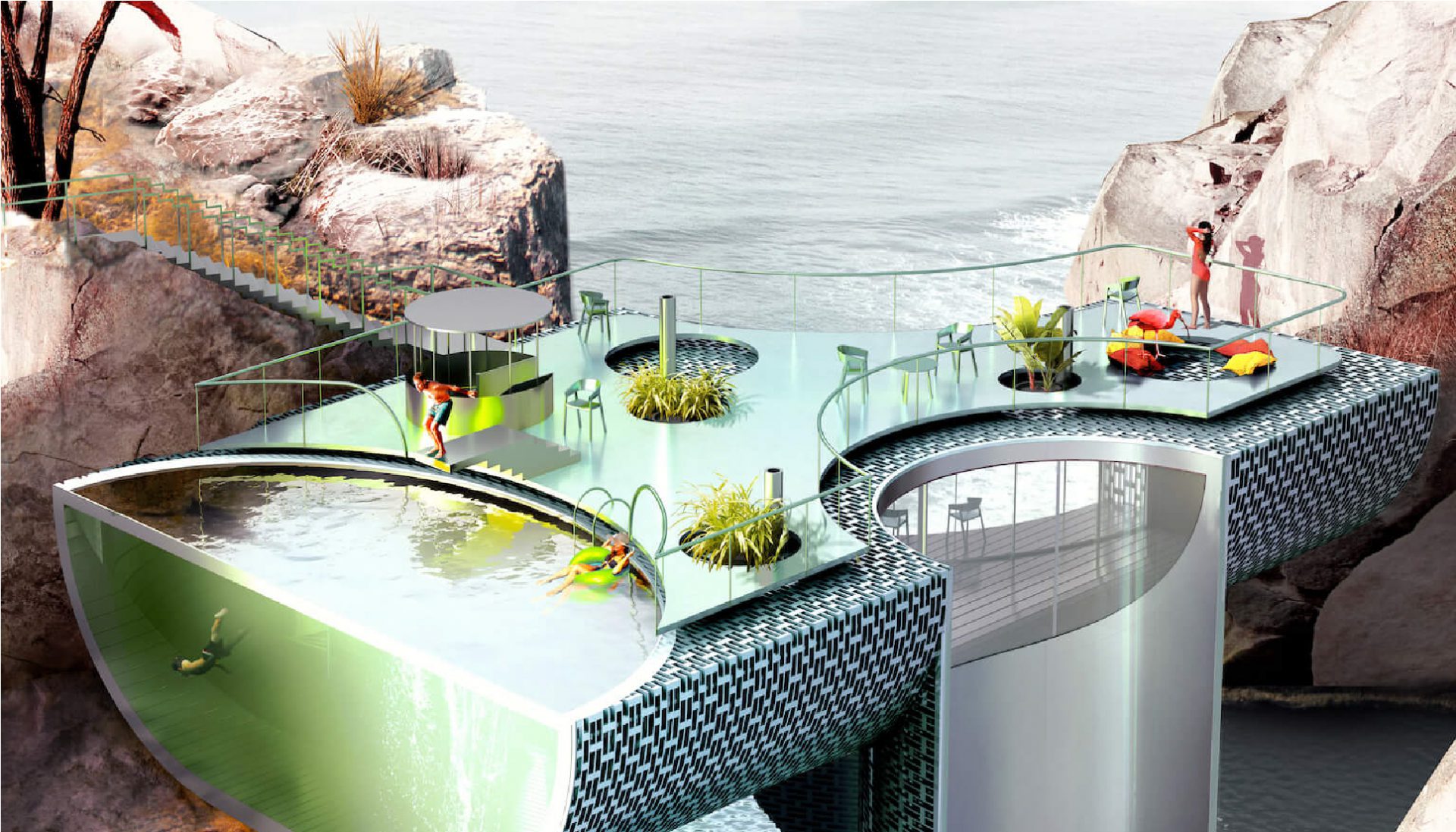 Antireality is a collection of conceptual architecture proposal series on Instagram. As the username suggests, these renders offer abstract visions of alternative worlds that question the relationship between people, architecture, and nature.
It is through futuristic and imaginative concepts that Antireality submerges you into a unique fantasy world. The use of vibrant colors and limitless architectural opportunities tell a story that makes you think twice about your own relationship with architecture and nature.
Each architectural design balances a thin line between reality and inspirational design, it is truly a space where fantasy meets reality. The line-based structures shared in each image add a level of tranquility and zen, and the inclusion of nature makes every render beautifully hypnotic.
Real or not, these mesmerizing designs make you want to escape to the Antireality world, where imagination rules and every element used evokes unparalleled joy.
What is Antireality? How did your journey in design begin?
Antireality: "ANTIREALITY is a conceptual world built on the basis of abstract ideas about reality. It is a space that escapes realism and pragmatism and is dedicated to exploring ideas that oftentimes can be neither adapted to the existing reality nor implemented. The reality I have created is founded on seeking unconventional architectural-spatial situations, that often oscillate between reality and dream.
For me, Antireality is a kind of a get-away from daily life, a space that shows an alternative image of the world that tells a story about fairy-tale-like utopias. It is a diary of my architectural imaginations and non-materialized ideas aiming to stimulate recipients' imagination."
Antireality: "The alternative world of Antireality is characterised by the absence of limitations and standards, it is an experimental place that at times borders between dream and reality. This space is like the first stage of sleep. The sensation of still being awake but already experiencing some surreal visions entering a semi-conscious mind. At this time, it is hard to distinguish what is real and what is just a construct of one's imagination.
Architecture objects in Antireality are almost like illusions of buildings, at first glance they may seem possible to construct but laws of physics allow them to exist only in this parallel reality.
My adventure with design commenced nearly 10 years ago when I started my education at the Faculty of Architecture. Prior to my enrolment, I have been interested in art and architecture for a long time, yet in that period I was only a passive recipient of design. All that has changed since my adventure with architecture began when I took on an active approach to design and started my own attempts at creating."
Why Antireality? Why focus on conceptual architecture?
Antireality: "I have always been fond of experimenting with form and context, and for that very reason I was searching for an opportunity to broaden my horizons by participating in student contests and additional projects. Since I graduated, when I started working as an architect, I was trying to find space where I could continue my abstract-architectural search.
This is where the idea of Antireality stems from. It is a place where I am free to experiment, play with form and face unordinary challenges. Conceptuality and a sort of a utopian thinking have always accompanied me.
Assuming endless possibilities, both in the area of construction and abstraction of nature, is a highly interesting thought experiment. It is a way of becoming unattached from patterns that over time transform into a routine while depriving one of a fresh view on reality. Antireality allows me to take a break from the monotony, this kind of thinking affects my daily perception of reality and will make it easier for me to keep an open mind."
Which are the main values, core concepts or style inclinations that, above all, will always represent Antireality?
Antireality: "Basically, I try to break away from rules, I do not want to restrict myself to any pattern or style, I find it important to remain open to different views on space. This is what I perceive as my design creed, it is a path based on searching and openness. Despite this approach, one can clearly see common denominators in my works, be it visual or ideological, which I would not rather consider being inherent rules.
My projects are utopian, surreal and quite fairy-tale-like, but this results from my current need for seeking such forms and topics. Here, the dominant theme is a get-away from the daily routine daily and immersion in a world of phantasy. This is not something I will necessarily stick to forever; I rather follow my instincts and a need I feel at a given moment. For me, it is significant to have freedom in searching for topics and expressing them spatially."
Antireality's work creates an experimental space between dream and reality. Can you tell us the process you follow when bringing your projects to life?
Antireality: "I like to dream of space; in a way, I try to wait until concept outlines "appear" in my imagination, but sometimes I have to provoke this process. I am rather the type of person who has her head in the clouds, which to some extent contributes to abstract thinking. After initiating the concept, I go to doing sketches; at that time, I try to get proportions right, describe project assumptions and create diagrams.
The next stage is, alternately, sketching and trying to transform a two-dimensional form into a spatial figure. In 3D software (Rhino) I model variations based on previous drawings while experimenting with the form and materials. Having taken final decisions, I create renders using V-Ray. The last stage is work on the atmosphere, surroundings and the content of the visualization, which I also make in Photoshop."
Your work is not only a visual expression but an inspiration and an invitation to a world of possibilities. What designers are you inspired or influenced by? What other fields and inputs, inside and outside of the design world provide you inspiration?
Antireality: "My main source of inspiration is nature, no doubt about it. I am influenced by both colours and forms that plants and animals take. Whenever I get the chance, I try to run away from the city and spend time in nature. Getting away from the screen helps me gain some distance towards reality and fuels numerous ideas.
I am also inspired by a large circle of various architects, painters, designers, 3D artists, and graphic designers, and these are influences of very different fields of design. I seek diversity and I like to observe various approaches to art and design. I don't want to list here names or offices; it would be enormous and surely deciding on a few of them would be difficult. I am open to most trends and various approaches to creating, and I always try to seek new inspiring creators. "
The use of vibrant colors and original shapes in your work create striking visuals. If you could pick one, which project of yours would you like to see being built in real life? And why?
Antireality: "When seeking the answer to this question, I think of structures that are more realistic in terms of construction. Probably that would be "Forest Library" or "Red Cube"(I know…I was supposed to pick one 😉 ). I would like to see a library in the context of nature.
I think it is a low-invasive structure that would be consistent with natural space, acting as an interesting point for lovers of both nature and reading. In turn, in the urbanistic context, it would be interesting to see the "Red Cube" pavilion, whose form could be suit a city park serving as a small exhibition pavilion with a vantage point."
What is the message Antireality wants to convey through its work?
Antireality: "Each of these illustrations presents a different story of escaping reality and dreaming of a world of unreal ideas. This story is a kind of an architectural oasis that allows the brain to free itself from daily routine. My aim is to create works that allow the recipient to get away from reality and encourage them to explore spaces immersed in the world of imagination.
I try to show reality from a different perspective, breaking away from a standard outlook on architecture and nature. Through my works, I wish to capture different possibilities for interpreting space and architectural forms. It is also an invitation to explore and expand boundaries of imagination and seeking new means of expression. For me, it is a journey that aims to search for nonstandard ideas as well as inspiring paths of visual expression."
What kind of reactions do you receive when people see Antireality creations?
Antireality: "Reactions are very different and depend to a considerable extent on the level of familiarity with the central theme of Antireality as well as individual projects. The prevailing reception of works was positive, though I also encounter words of criticism regarding the naivety of construction and an overly radical disturbance of nature.
It is a convention in which architectural proposals that I create have a character of a preliminary design, a fantasy unburdened with an excessive number of restrictions. Antireality is characterised by a sketch-focused approach to architecture. These objects could not be constructed in the presented form but are rather an outline, a study of an architectural vision.
I think that disorientation among some recipients stems from the type of graphic representation of an idea, which happens to be misinterpreted as a final design proposal."