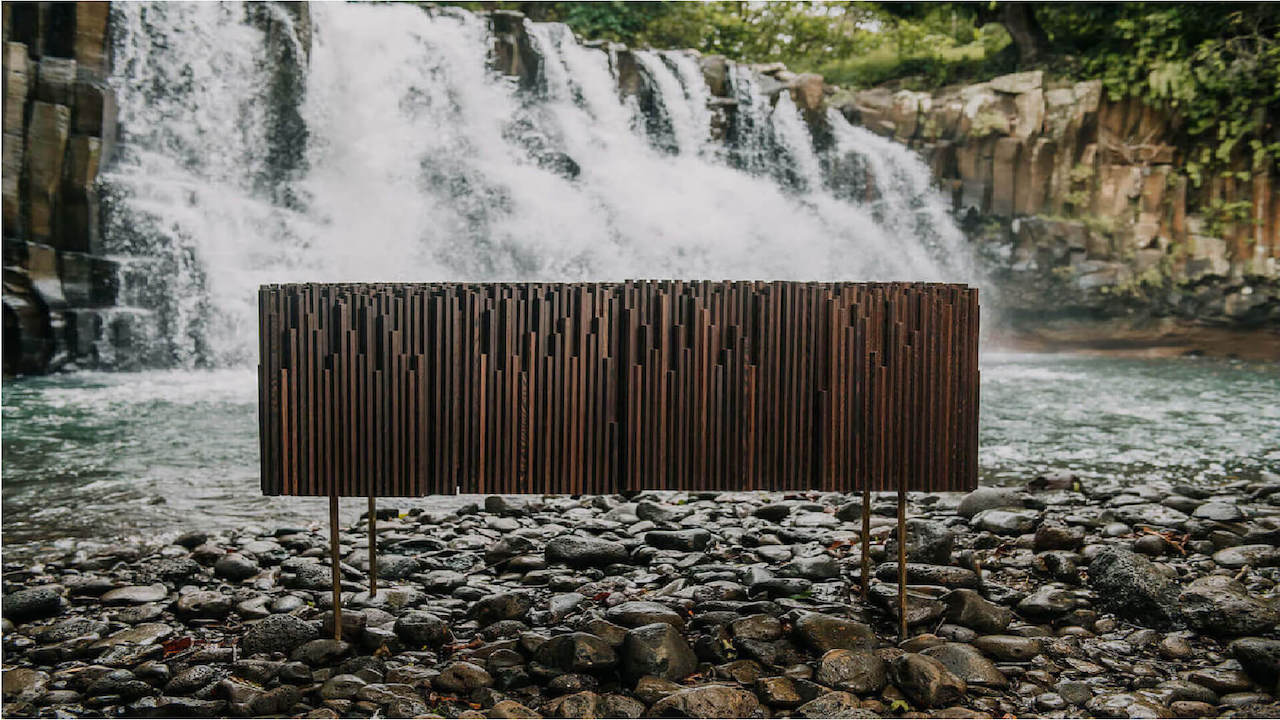 Luxury brand Cypraea offers striking limited edition furniture pieces inspired by the beauty and fragility of Mauritius.
The tiny Island of Mauritius is considered a tropical paradise. Yet, it has a long history of colonization and exploitation for sugar production and tourism. This has significantly depleted the natural forests and biodiversity.
Why Cypraea? To showcase the beauty of Mauritius through innovative and original designs, from a core value of environmental stewardship.
Cypraea's approach mirrors the unique and precious quality of the small island. They produce collectible design objects. Only nine pieces of each item are made. Each with its own unique features.
Cypraea actively supports the work of local conservation and wildlife associations.
The minds behind Cypraea – Cedric Lincoln and Francesco Maria Messina
Cypraea is the result of a unique collaboration curated by Cedric Lincoln and designed by Francesco Maria Messina.
Cedric is at the helm of this design business which was first established in 1974. Originally a small family-owned company Cedric joined in 2016 and a new vision has developed.
Previously Cedric obtained a Wood Science degree from École Supérieure du Bois in France. He also has spent time working in Canada, the UK and Romania.
Francesco trained in architecture and was recruited by Cedric to bring fresh and innovative design ideas. Francesco was born in Italy and studied in Paris at the Ecole Speciale d'Architecture, then in Lyon at Odile Decq's Confluence Institute for Innovation and Creative Strategies in Architecture.
Materials and techniques – Authentic and unconventional
A very important aspect of Cypraea is the choice to focus on authentic natural materials. The brand deliberately eschews any materials which are merely lookalikes.
A wide range of materials is used in the collections. Timbers of wenge and walnut, lava stone, coral sand, acrylic, marble, glass, cast bronze and other metals are used. Cabinets boast Italian leather interiors.
Inspired by the hexagonal basalt forms of the Rochester Falls, some pieces in the 'Rochester' collection are composed of more than 2000 separate wood pieces. These are hand-assembled over many days
The unique sand finish featured in the 'Aqua' collection took a year to finalize.
There are also some very thoughtful and discreet electronic elements incorporated into the range. Sensors detect when the Pieter Both cabinet is opened, and the interior is gently lit with LED lights.
The top of the Cube Bar raises to reveal its infinity mirrored interior. Its LED lights can then be controlled via a phone app.
Style & aesthetics – Organic with bold contrasts
Each collection possesses its own distinct style, yet the brand is unified by a strong concern for materiality.
Natural textures, shapes and growth details become striking focal points of the pieces. Materials are artfully juxtaposed against each other.
Wood, stone and metal can come together in a single piece. Glossy gold and silver mirrored surfaces sit adjacent lava stone or a matte sand finish.
Bark has been used to create the distinctive cabinet and sideboard doors in the Naturae collection. And, moulds have been taken from real tree branches to create the intriguing multi-pronged cast bronze bases.
Inspired by the beautiful Cowry
The name Cypraea is a reference to the Cowry shell. Cowries are sea snails found widely across the tropics, and all belong to the Cypraeidae family. Some species are now quite rare.
Since ancient times Cowry shells have been highly prized and a symbol of wealth and fertility. There are only around 200 species of Cowries yet their shells are among the most collected. Cowry shells were used as a traditional form of currency, as well as in jewelry.
According to the Cypraea website: "Today, they epitomize the island's tropical identity, as well as the elegance of its nature."
Design memento – Tell a story
A clear strength of Cypraea as a brand is its strong conceptual identity.
This is reinforced and carried through to the development of the collections. The story behind each collection becomes an undeniably important element.
Browsing a collection is not only about exploring the designs. It is a portal into the history, cultural heritage and mythology of the Island of Mauritius.
The desire to raise awareness of environmental concerns is embedded and emphasized. In the 'Rising Ocean' collection, this point is made particularly explicit.
As Cypraea explains: "we combine art, meaning and purpose in our collections".
The writer's comment – Presentation follows style and agenda
The photography and video presentation of the Cypraea collection is distinctive. And, in contrast to the minimal block color backgrounds so often used for design products.
Placing the furniture pieces directly in the Mauritian landscape beautifully communicates the focus of the brand and adds another dimension to the designs.
Once exposed to these images, it is hard to imagine the furniture pieces completely separated from their surroundings. Even when installed within a home or office traces of this strong visual connection to Mauritius will remain.