A remarkable growth for the recently ended Design Shanghai 2017
This year's edition of Design Shanghai not only followed on seamlessly from its success in 2016, but significantly improved in many areas.
The event in numbers
+ 50,000 visitors (+11% vs 2016)
+ 70 countries
+ 400 exhibitors and partners
+ 12,000 VIPs (+35% vs 2016)
The incredibly diverse audience was attracted by a varied array of over 400 exhibitors and partners, from world-renowned brands and international galleries to emerging Chinese talent.
Architects, designers, collectors, buyers, artists, property developers and key international and domestic media visited the Shanghai Exhibition Centre between 8-11 March.
Some facts
The Contemporary Design Hall featured a remarkable selection of both western and eastern, high-end home products with a wealth of products on show for the very first time.
World-renowned Italian brand Magis launched its latest design in China, the Milà chair designed by Spanish artist-designer Jaime Hayón.
Milà is elastic and dynamic and inspired by the forms of Catalan modernism.
Danish furniture design brand HAY exhibited two of its latest collections, both designed by Ronan & Erwan Bouroullec:
Copenhague Deux, a new range of tables and benches for compact spaces
Can sofa, a new concept of the sofa from something inherently complicated to something simple, relaxed and for everyone.
Thonet, one of the oldest furniture manufacturers in the world, presented a vast range of its well-known chairs and tables, including the new model 1060 by Dutch designer Jorre van Ast, a solid wooden dining table with a graphic formal language characterised by subtle details.
Leading Italian furnishings firm Driade showcased some of its latest designs at Design Shanghai, such as the Cinemascope and Lou Eat armchairs, as well as the Wow sofa, a luxurious modular system inspired by the Sofa Royalton, a design icon created in 1988 for Hotel Royalton, New York, and produced by Driade.
The quirky Monkey Lamp and Mouse Lamp, by young emerging Italian designer Marcantonio Raimondi Malerba, have been brought to the Chinese audience by Seletti.
Most of the production by Raimondi Malerba is inspired by the relationship between man and nature. The result is his work is simple and ironic, in keeping with the brand's philosophy of improvement, innovation and originality.
A new versatile flooring collection has been launched at Design Shanghai 2017 by international design brand Bolon.
Bolon By You, created by Marie Eklund, gives architects and designers the opportunity to create tailored products using a new interactive design tool.
Visitors also enjoyed a selection of the latest products by some of the world's top emerging brands such as Artisan and Nikari, as well as designs by notable names, including Daniel Libeskind, Ron Arad, Tomás Alonso and Zaha Hadid.
Chinese Brands
Among the most exciting Chinese brands is Domus Tiandi, leader in the retail industry of imported furniture.
Domus Tiandi offered visitors the opportunity to experience its extraordinary collection under the theme of 'ENCOUNTER' and to present the 'REN' concept kitchen series, which comprises carefully selected high-end western home products and amazing traditional eastern products.
Beijing-based Frank Chou Studio showcased its Suit Lounge Chair & Stool, the shape of which is inspired by a top-quality fashion suitcase, alongside its Fan Side Table, which is composed of parallel and well-spaced desktops with metal framing.
Benwu Studio, which won the "Best Design" award for its beechwood Sumo Chair as part of the AD China Design Shanghai Emerging Chinese Designer Award at the 2016 edition, presented 4×4 Vessels at this year's show, a collection of four ceramic vessels combined with four kinds of functional silicone lids, allowing the product to be adapted for 16 different functions.
The Contemporary Design Hall also welcomed leading Chinese brands such as X+Q Art, FNJI, ziinlife, Beyond Object, MZGF and Suyab, which presented its latest collections, including the Delicate and Modest series.
Collectible Design Hall
Showcasing the best of the limited edition and one-off design pieces, the Collectible Hall was stronger than ever in 2017 with a new, dedicated hall for VIP guests.
Visitors enjoyed a curated selection of refined antique furniture pieces by Frank Partridge, one of England's leading antique firms, which has dealt in the very finest English and French furniture and Chinese porcelain since 1900.
World-renowned international names including Galerie Dumonteil and Zaha Hadid Design presented their latest designs alongside local galleries Refined Antique and PUSU.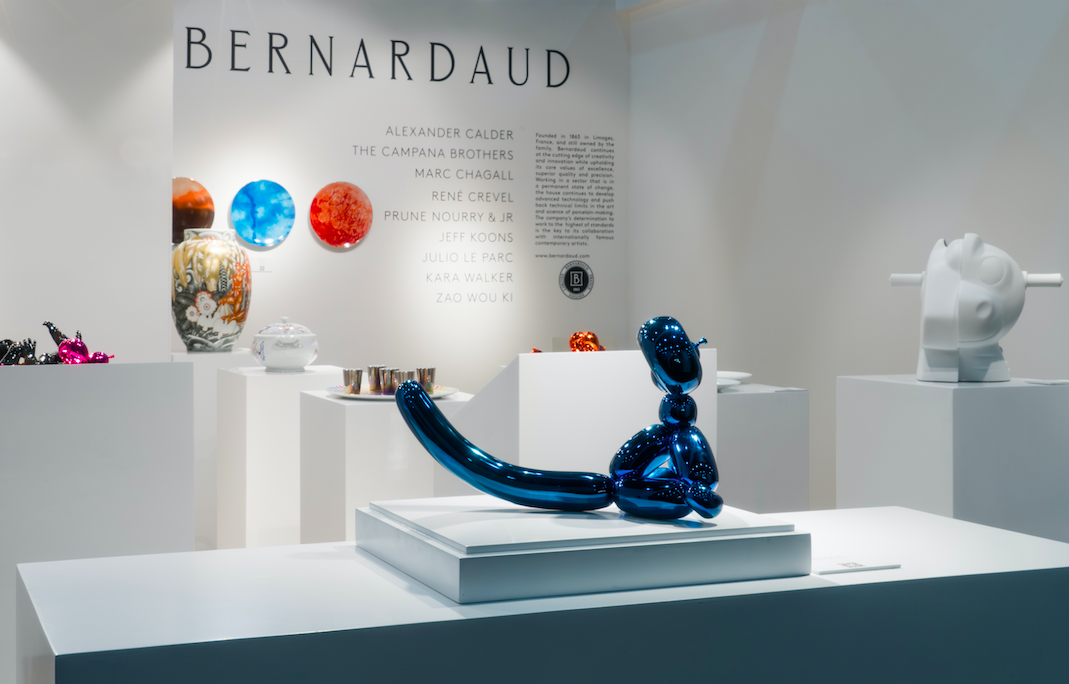 Bernardaud, which has been synonymous with Limoges porcelain for over 150 years and is now a major player on the French and international luxury and decorative arts scene, showcased its extraordinary artworks and luxury pieces.
Louis Vuitton came alongside with its Objets Nomades collection, including 10 items sold in limited editions or experimental prototypes and conceived in collaboration with some of the most creative designers of our times: the Campana Brothers, Patricia Urquiola, and Marcel Wanders, among others.
Workplace Design Hall
The world's leading office brands showcased their products in the dedicated Workplace Design Hall, where visitors had the opportunity to discover the latest innovations in office design and new trends that are shaping the way we work.
Swedish brand Kinnarps presented a series of new products, including the innovative Lean In, a wall furniture system designed by Kaja Solgaard for a dynamic use of the interior space.
Plycollection, which combines unique technology of moulding plywood with modern design, presented its chair collection for public and private interiors, alongside Slovenian contemporary brand Tokio.
MATSU Group returned to Design Shanghai, launching a new series of high-quality and exquisitely-designed office space solutions for the first time at the show, including the 'Copenhagen' series, 'Motu' Table and 'Extremis' outdoor furniture.
Exhibitors also included German office furniture brand Planmöbel, UK leading furniture manufacturer Triumph and Dutch brand Royal Ahrend, international leader in office furniture committed to delivering highly collaborative and sustainable working environments to corporate end users around the world.
Design Shanghai in the City
Design Shanghai teamed up with famous landmark Shanghai Xintiandi to bring the best of international and local design across the city.
The Design Shanghai @ Xintiandi Design Festival, whose inaugural edition theme was "In Future", took place from 6th to 19th March 2017 in Xintiandi and was open to the public for free.
Curated by Song Tao, Hou Zhengguang and Du Xinyue as main curators, as well as Hu Zeming, Tian Mengran and Deng Min as joint curators, the Festival populated the streets and public spaces of Xintiandi for 14 days, showcasing a selection of 18 interactive installations and spaces by international and Chinese designers and artists, and offering both the local community and visitors the opportunity to experience and rethink design, art, creativity and culture in a new light.
During Design Shanghai, visitors had the opportunity to join Design Tours between Design Shanghai and Shanghai Xintiandi.
The tours took place every day from 1pm to 9pm and offered stops to 10 carefully selected interesting design showrooms. Visitors could hop on and off and enjoy special offers for Design Shanghai ticket holders at a vast range of restaurants and bars.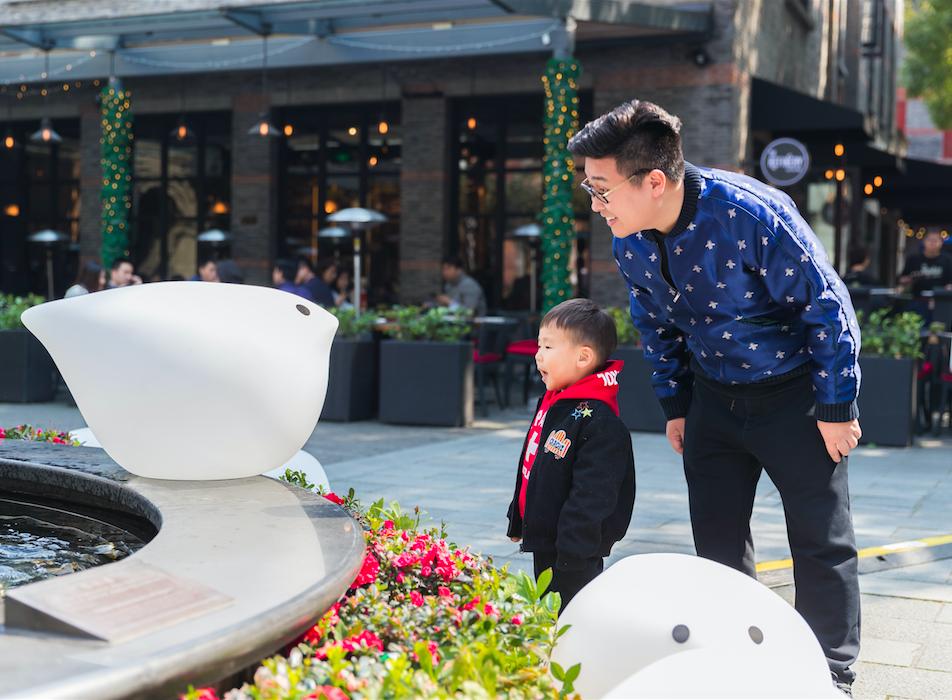 AD China Emerging Designer Award and IDEAT Future Awards
The AD China Emerging Designer Award – judged by leading designers Bethan Laura Wood, Benjamin Hubert and Virginie Moriette, co-founder of Studio MVW, together with Creative Director of Design Shanghai Ross Urwin and AD China Editor-in-Chief Wang Xu – went to Qingtong Qian due to her overall outstanding design performance.
Her works are inspired by mother nature and elegant architecture, using clean lines and splendid colours to enhance the beauty of the art of modern living.
The winning designer was awarded a complementary exhibition space at Design Shanghai 2018.
IDEAT Future Awards, launched in 2016, presented the best international design across 9 categories during a public awards ceremony that took place during Design Shanghai's first night late opening.
This year's winners include:
Benjamin Hubert for Designer of the Year
Elbphilharmonie by Herzog & de Meuron for Best Architecture / Public Building
Book and Bed Tokyo by Makoto Tanijiri & Ai Yoshida for Best Interior Design
Hotel Axor One for Axor by Edward Barber & Jay Osgerby for Best furnishing product
Bath and Swatch Art Peace Hotel Residency artist project for Best art inspiration project