Exhale, the world's first living Bionic Chandelier which purifies indoor air
Lighting is a fundamental component of any space: well-designed lighting sets the right mood. But what if light also cleaned the air? It is from this premise that Julian Melchiorri started Exhale.
Inventor and bioengineer Julian Melchiorri has been exploring how biotechnology and biomimicry might help purify the air in urban spaces or even space stations for years.
"Exhale", a revolutionary bionic chandelier, explores how advances in biotechnology and engineering can be applied to the design of everyday objects and architecture to increase the quality of our lives.
The chandelier purifies the air indoors through photosynthesis performed by living microalgae enclosed into leaf modules.
Exhale is the first living object which continuously grows while performing biologically-driven depurative functions. The light of the chandelier illuminates the space but also stimulates photosynthesis performed by tiny microalgae, this living microorganisms feed on carbon dioxide while releasing breathable oxygen into the room.
This organic process performed by the chandelier establishes and explores a new symbiotic relationship between objects and people where life-giving resources are constantly exchanged, and where each other waste enables respective metabolic processes. This exchange recalls how biospheric systems work, where waste doesn't exist but is a valuable resource for other elements in that system.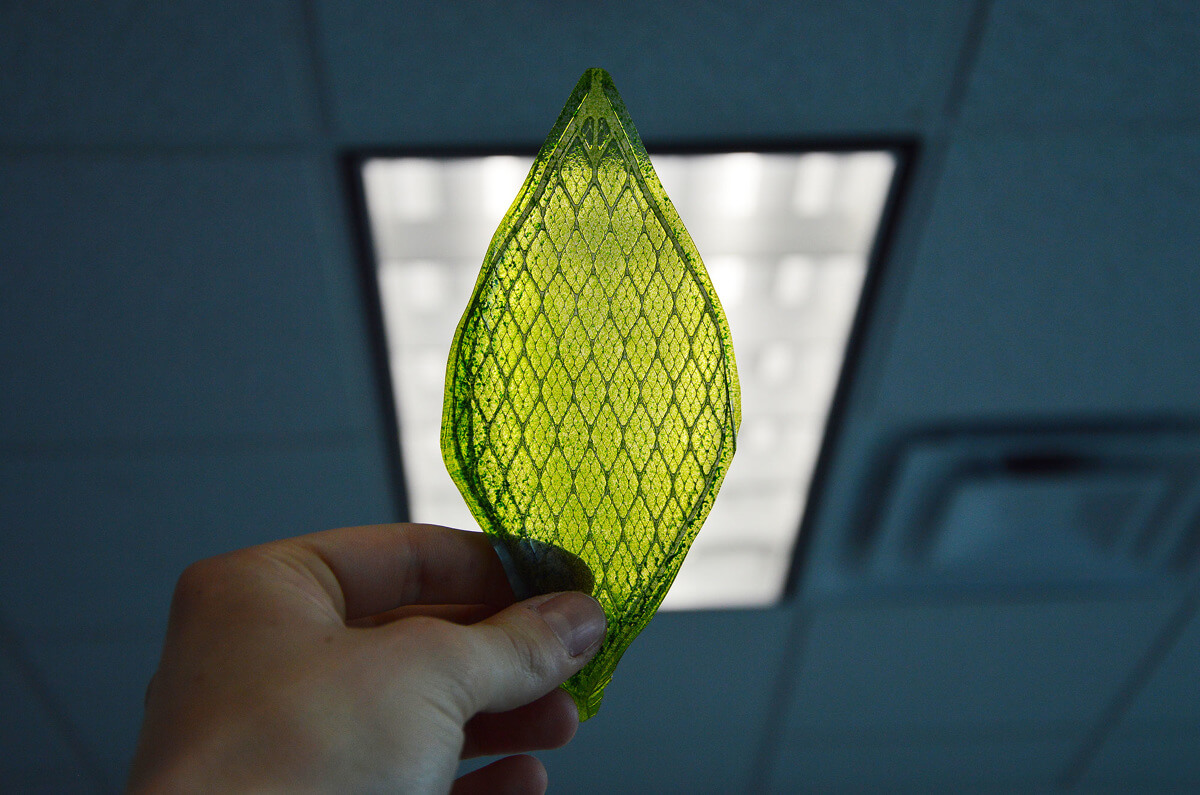 The design follows Julian's biomimicry approach of "forming through function" while taking inspiration from nature and the V&A's Art-Nouveau and Islamic Art collections.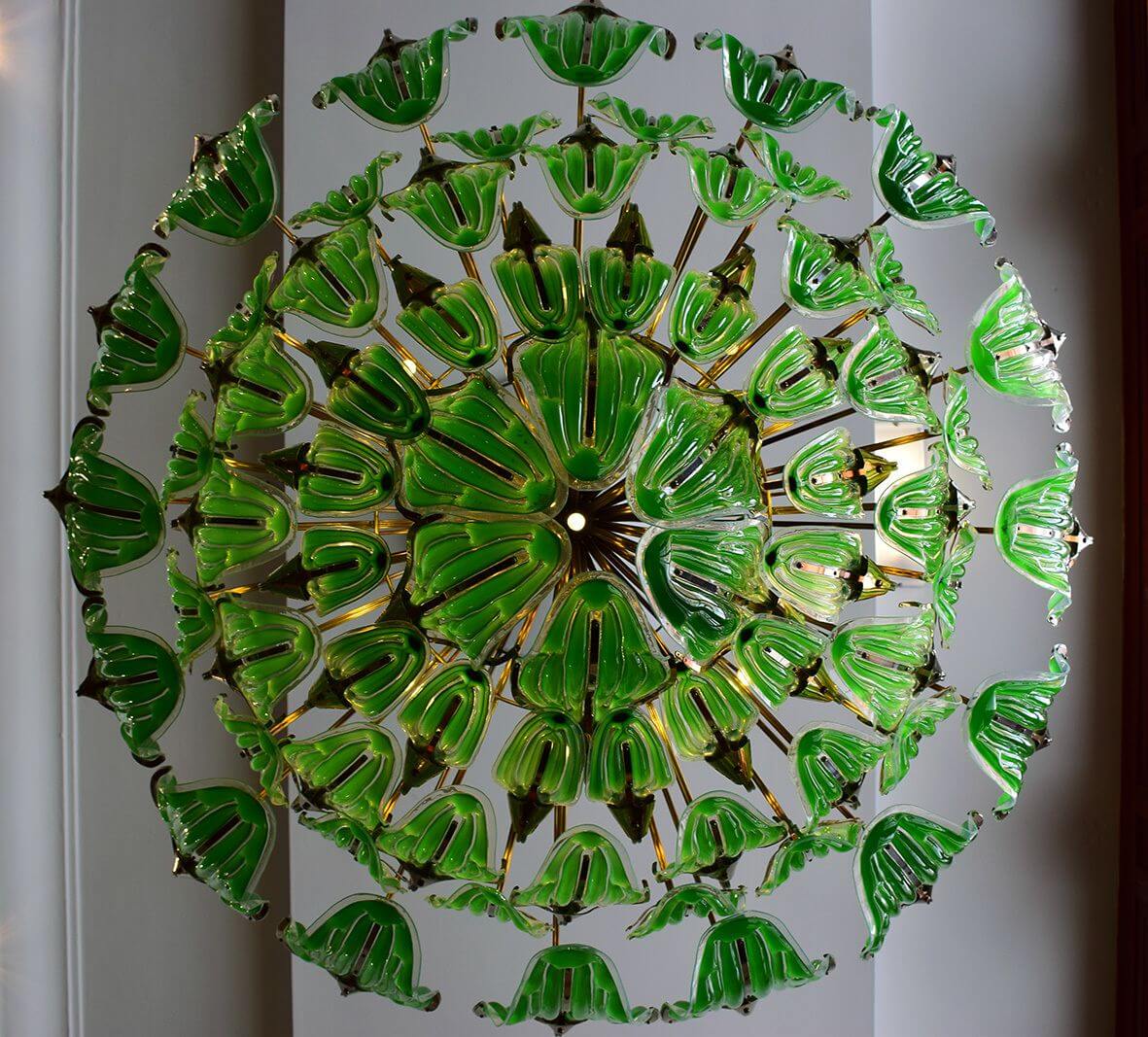 The design consists of glass leaves, populated by green algae, kept alive by daylight, capable of absorbing carbon dioxide from the air and constantly releasing oxygen to breathe. Exhale is basically composed of a metal structure, entirely handmade and burned-colored, where each structure holds a single glass leaf module of three different sizes that repeats itself seventy times on a radial array, just like nature shapes plants and shells do.
The Bionic Chandelier is connected to a life-support-unit device, developed by Arborea's engineers, which nourish and maintain the culture of the microorganism alive.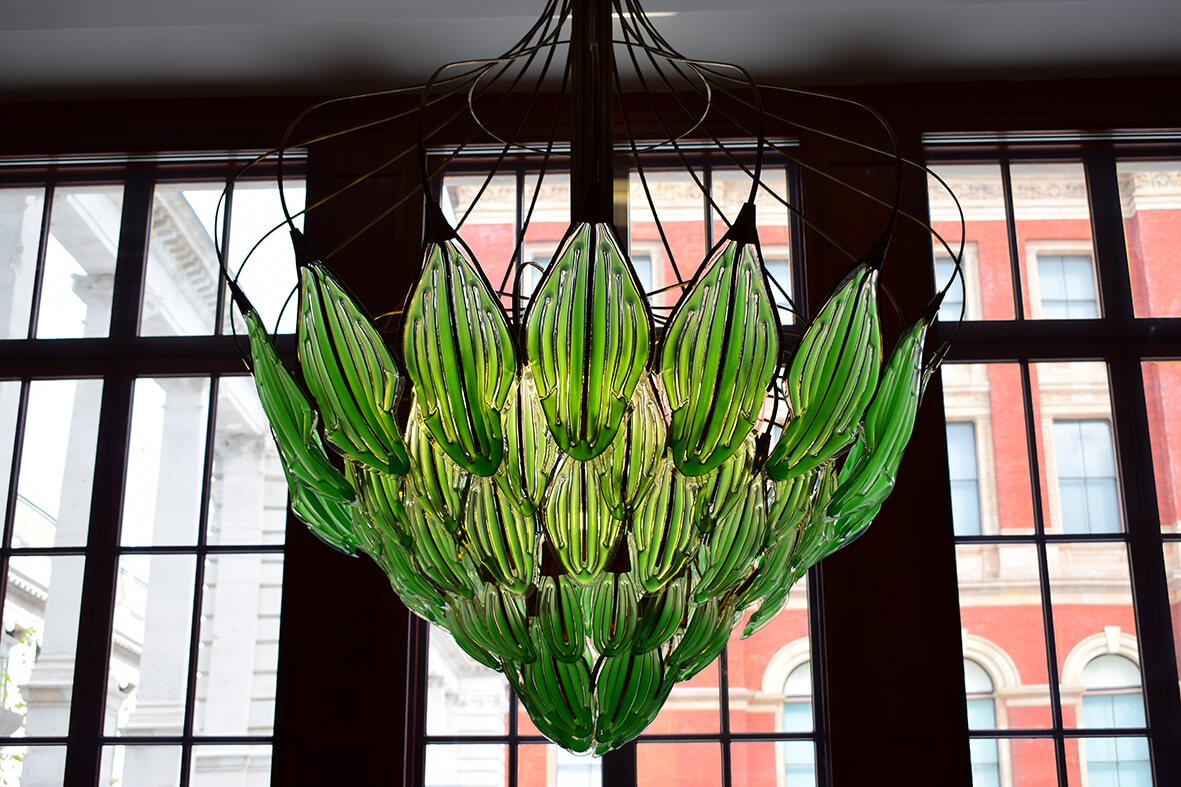 "In the last century" – declares Melchiorri – "our growing population is burning fossil fuels and destroying the life of plants, and basically forcing a change in the atmosphere and climate, transforming our planet."
"With this constant issue in mind, I have experimented different ways to produce new materials and positively influence the world around us. These technologies can revolutionize our urban environment both in terms of product and architecture by purifying the air we breathe, capturing carbon dioxide and producing precious bio-products, only using water and light."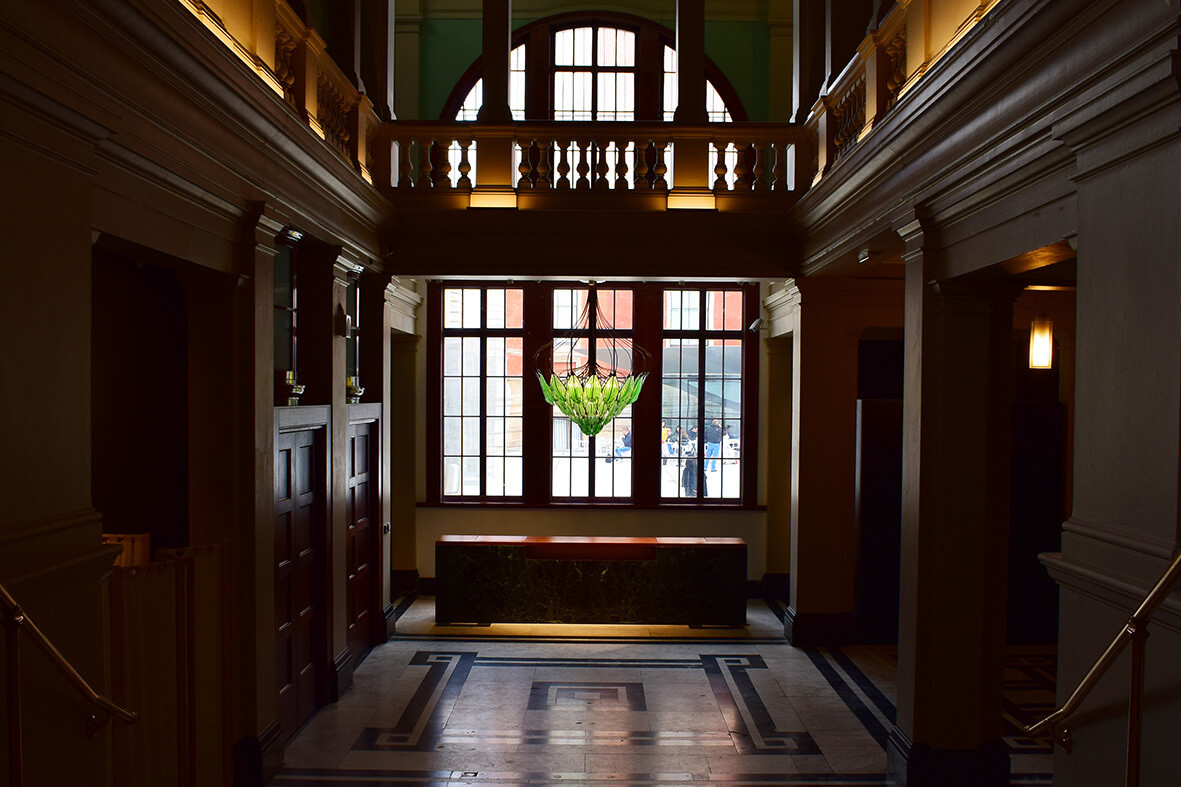 That is what Biomimicry is about: transferring biological processes from the natural to the artificial world and imitating the mechanisms of Mother Nature to find solutions to long-term sustainability issues.
The Exhale chandelier was exhibited at the V&A Museum for London Design Week 2017 then became part of the prestigious permanent V&A collection and earned Melchiorri the Emerging Talent Award.