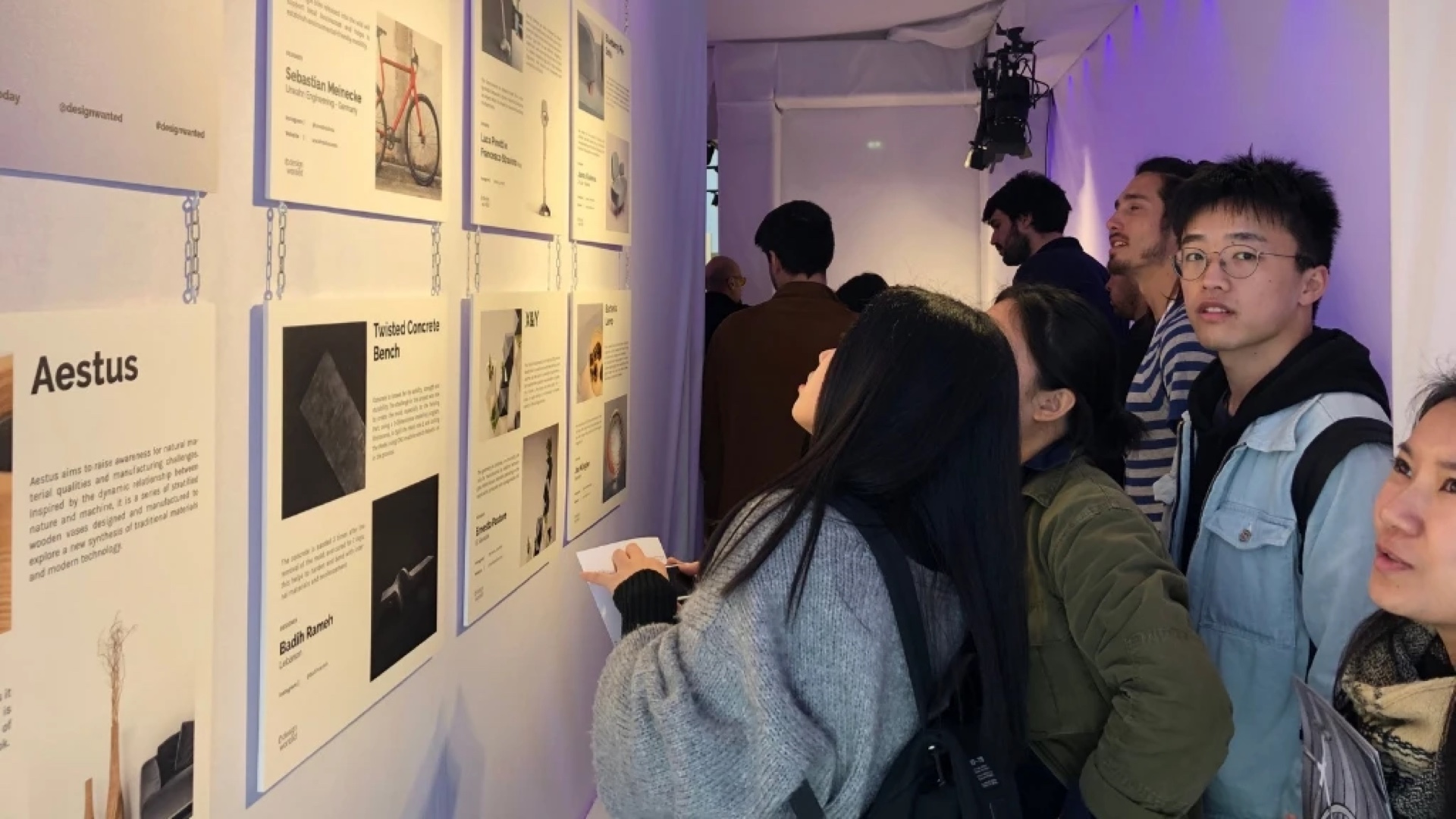 This is the 1st edition of our product design contest ExpoWanted.
Call it Fuorisalone or Milan Design Week or the greatest design fest in the world, evolving and expanding year after year and this time welcoming over 550'000 people from 148 countries.
The city of Milan unleashes its creative spirit and every corner is turned in a design-based exhibition, from product design to interior, architecture and graphic, experience and art.
During 6 full days the city offered 1600 events.
With the great majority of participants being design and furniture brands, a lot of players from different sectors join the game with design-oriented installations and experiences to leverage the large audience strolling through the city.
Zooming on the historical design district of the city, we are not looking on Tortona District and the 220'000 people that walked its streets last week.
Offering a mix of emerging designers as well as established furniture brands, music events, art exhibitions and interactive installations, Tortona represents the spirit of Milan Design Week at the fullest.
Right in the heart of this district, this year the Dutch organization Ventura Projects found a new home called BASE, a 12'000 sqm old factory converted into exhibition space.
The collective exhibition hosted countless brands, government delegations and universities showcasing their latest works to 90'000 paying visitors: a symbolic €5.00 entrance ticket, representing a revolutionary and bold choice of Ventura, aimed at targeting an engaged and interested audience
Ventura Future @ BASE became our home for 6 days, where our first product design contest took place.
ExpoWanted, a unique way to join the Milan Design Week
The first edition of ExpoWanted was launched in January 2019 to involve product designers from every corner of the world and give them the chance to exhibit at Milan Design Week without the costs and the burden of setting up an exhibition autonomously.
ExpoWanted gathered over 500 projects submissions from more than 40 countries worldwide, later voted and selected by a professional jury and the public vote, reaching over 15 million people through our coordinated communication involving online and printed design magazines and blogs, like Fee Desain and Design42Day, radio spots by primary Italian radio group RDS 100% Grandi Successi and design influencers.
The 10 winners selected were officially part of Milan Design Week 2019 at our show in Ventura Future @ BASE, Tortona Design District.
Welcoming over 6'000 visitors from 25 different countries through our exhibition, the products were showcased by a flow of buyers, journalists, designers, architects, students and design lovers.
Our partners Colbit and Airhome Invest offered also a realistic virtual reality experience to present the winning products in a live rendered home setting: over 240 virtual visits were recorded and experienced by the curious audience
Now sit back and get comfortable, we present you the 10 winners of ExpoWanted 2019:

Aestus by Oliver David Krieg, ODK Design
Hundreds of layers of beech wood are aligned, combined, pressed and gently sculpted by the robotic hand of a 7-axes industrial machine.
The waves on the surface expand and contract in dynamic spirals creating a wooden vase collection made of soft natural curves and a futuristic, warm appeal.
A stainless-steel internal cavity is a water-resistant repository and functions as stable a base for the vase too.
Architecture and wood researcher Oliver David Krieg designed a poetic interior piece blurring the boundaries between handcrafts and automated manufacturing.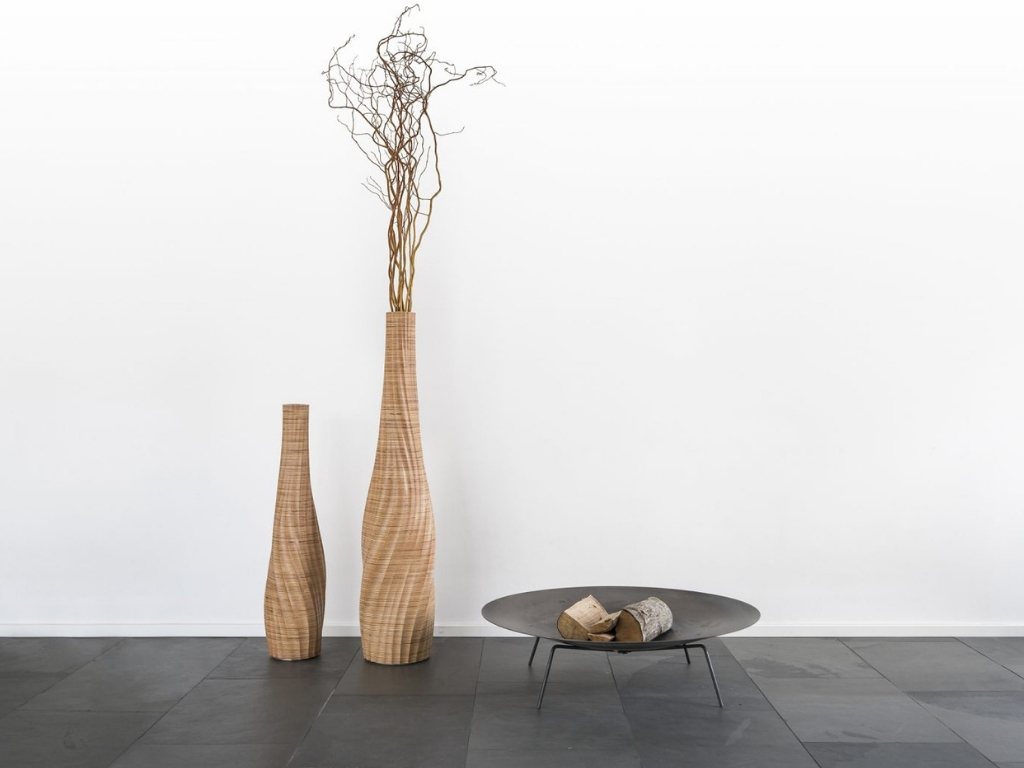 Big_b by Luca Pinotti and Francesco Stravino
Look at me, check on me, stare at me.
We are getting each day to Orwell's dystopic future where governments constantly check on citizens' movements, regulating their lives and reducing freedom of choice: this lighting piece represents a strong warning message, a statement of alarm.
A CCTV camera is subtly turned into a table lamp, emitting light instead of stealing our privacy; silently intruding in any modern living space, gently forcing its owner to get used to the presence of Big_b in his or her everyday life.
A piece with pop-design-culture ambitions, also featuring an ironic interactive switch mechanism: simply cover the lens of the CCTV with the palm of your hand and the light turns off.
Bacteria Lamp by Jan Klinger Designs
Great design creates true emotions and German designer Jan Klinger knows how to move something inside you.
The creation of this lamp, which stands across art and design, begins with a simple collection of bacteria samples from literally any surface: the lips of your lover, the place where you met, the ground from a special journey.
As a commissioned work, the designer will then grow bacteria out of your sample and after 24 to 48 hours cover it with silicone, halting the growth and preserving it for good.
Completing the lamp is a mouthblown piece from the south of Sweden, fixing a unique creation, for its personal story, colours and shape.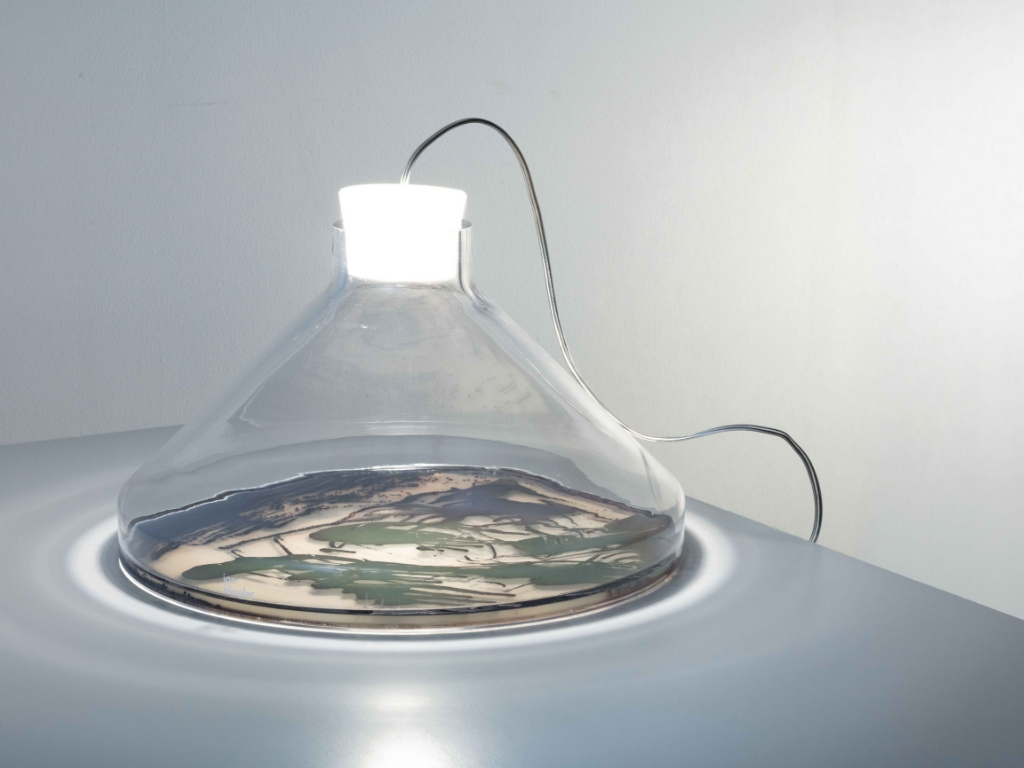 Industrial Craft Side Table 01 by Charlotte Kidger
"One man's trash is another man's treasure" should become a mantra we repeat with pride, involving innovative manufacturing processes for a sustainable approach to industrial production.
British designer Charlotte Kidger introduces the use of a new recycled material to the world of art and luxury interior pieces with her Industrial Craft Side Table 01, made of a composite she created out of polyurethane foam dust from CNC fabrication companies combined with resin.
This waste material is unique in its texture, colour and stiffness, representing an original signature for the designer and her personal message of hope for the use of new environmentally sustainable composites in the high-end interior sector.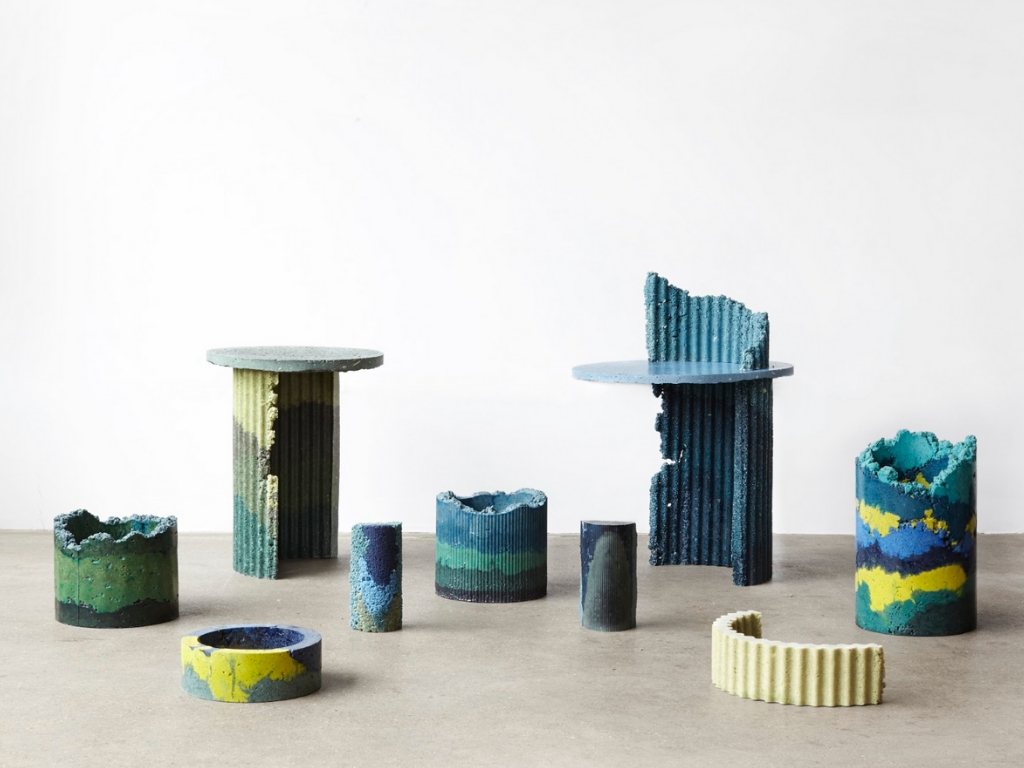 Sustainability was a central theme at Fuorisalone 2019.
Luna Smart Lamp by Woodie Milano
Aiming at making people's life easier through design, technology and functionality, Italian company Woodie Milano presents the working prototype of Luna, the first device integrating Amazon's voice artificial intelligence Alexa with Qi Wireless Charging and a whole range of other functions.
Luna is conceived as a performing tech-piece with the vest of a minimalist and modern design object. Serving as a multiple-colour atmosphere lamp for a bedside table or a bar's countertop, it also features a speaker to play music which can be easily controlled by the user, interacting directly with Alexa.
The crowdfunding campaign to launch Luna will start soon, make sure to follow Woodie Milano to support the birth of this new promising product and make our homes a little smarter and little prettier.

Did you know that Amazon was at Milan Design Week 2019 with its very own interior collection and smart home devices?
Stadtfuchs by Sebastian Meinecke, Urwahn Engineering GmbH
On a mission to bring the concept of bicycles on a whole new level, German company Urwahn introduced a set of innovative elements in the design of Stadtfuchs Bikes.
A tech-based & economically sustainable approach combined with clean aesthetic shapes: this bike is created around the life of an urban commuter, providing the "athletes" with an integrated LED light system, a GPS tracking system to trace the bike back in case of theft and a light steel frame incorporating an elastic rear suspension for maximum comfort when riding on bumpy grounds.
The uber-clean and essential design of the whole bike represent the future-oriented mindset of Urwahn and its clients.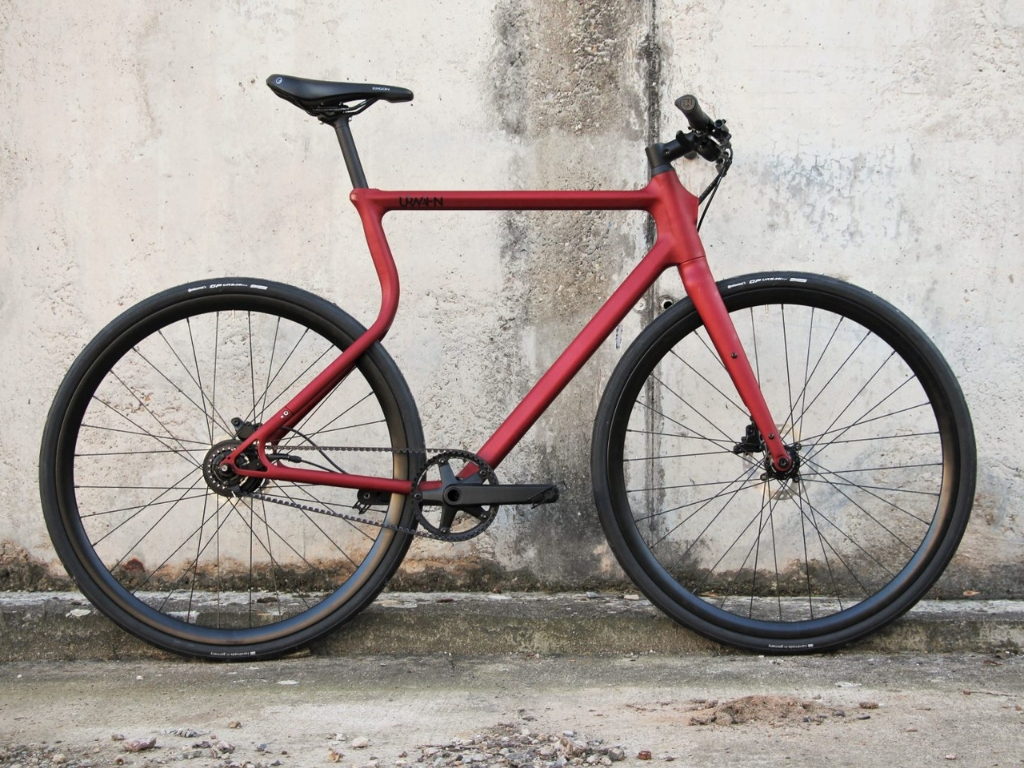 tinyFarm by Modgarden
As an example of excellence in human progress, Tinyfarm is a compact and modular piece of technology serving a sustainable and literally green purpose.
The clean and simple design integrates perfectly in a modern house, introducing a completely new concept of home appliance which, with hope, the majority of us will adopt for their kitchen or living room.
Enabling urban-dwellers to appreciate the process of growing edible greens and aromatic plants is crucial to the education of people on the processes of food production, reconnecting the urban population with traditions and a conscious understanding of natural dynamics.
Controlled by an App and an automated watering system, Tinyfarm can be stacked one on top of the other to easily increase the production areas keeping in mind critical space constraints of city apartments.
Twisted Concrete Bench by Badih Rameh, BR Design Studio
This almost surreal bench is hard to believe even in real life when standing in front of it.
The contrast created by the hard-concrete piece and the soft wavy twist of its shape tricks the viewer into either thinking of a simpler material to mould or just not accepting that such creation can actually exist and support 3 people sitting on it.
The Lebanese designer modelled the design with 3D software Rhinoceros and then sanded the concrete 3 times after drying.
As a result, a modern and physics-provoking seating object is generated, inspiring further original uses of concrete, already being a widely appreciated material in the current interior trends.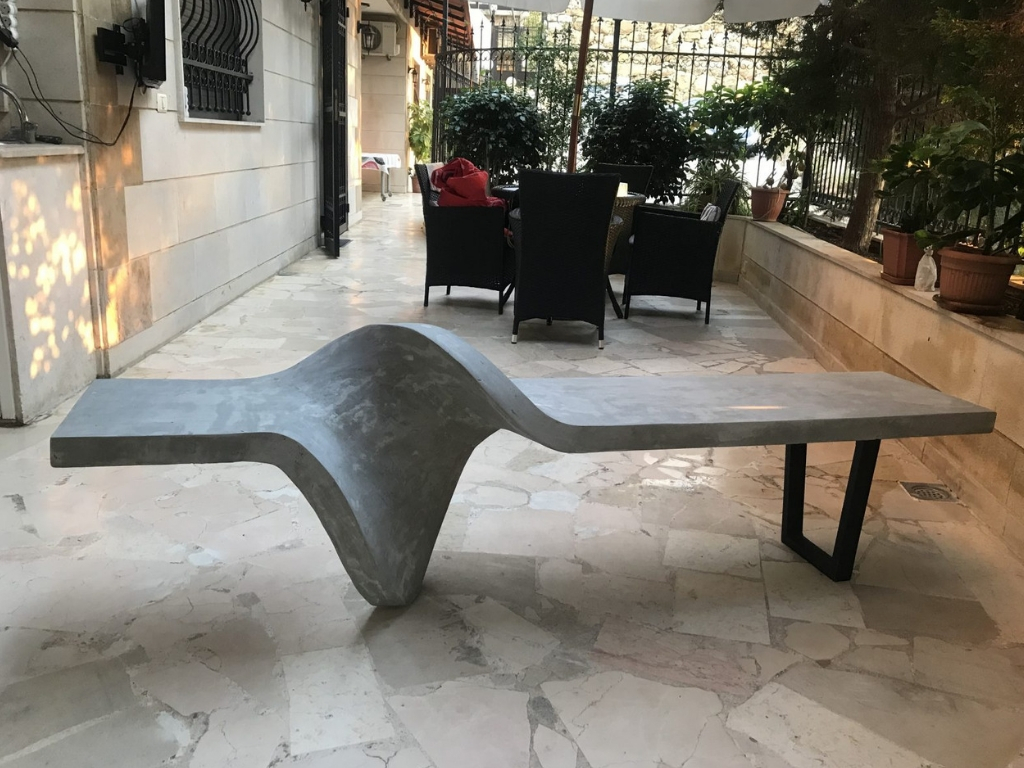 Y&X by Ernesto Pastore
3D printing enables experimentation on multiple levels, from materials to shapes and design process, radically shortening the time required to evolve an idea to a concept to an actual prototype realization.
Y & X are prototype blocks manufactured with additive technology and serving different purposes in the interior space.
Easily used as planters, the infinite potential combinations of the two block types can also serve a divider, filling empty spaces and regulating fluxes of people in commercial areas or hospitality spaces.
The modular nature of this "architectural product" can generate endless compositions in height and length, mixing nature with a highly geometric robot-made creation.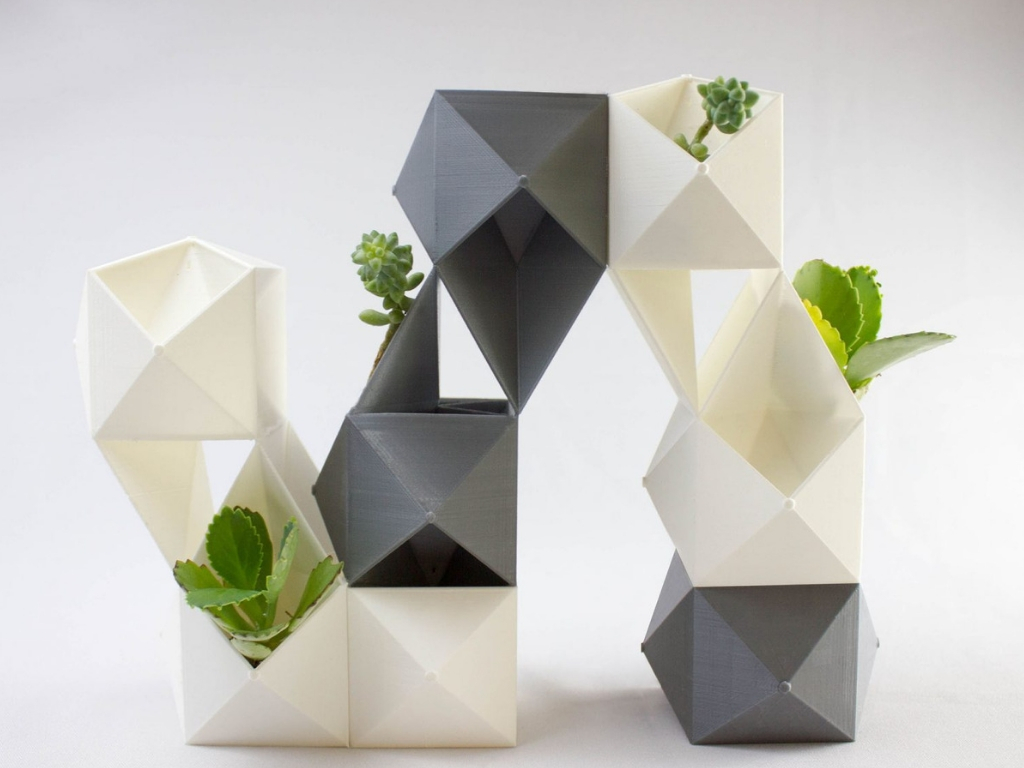 Blueberry Pie Sofa by Janna Kiseleva, JK Lab Architects
This piece is part of a full collection designed by Janna Kiseleva out of inspiration generated by a real need: finding children furniture for her kid and some interior project she got commissioned.
Since there were not valid options on the market, the answer was to design and launch a production by JK Lab Architects.
The whole collection is inspired by desserts, touching a pretty sensitive theme for kids and each piece has a hypoallergenic inside, crucial for children's health and wellbeing.
The sofa was named Blueberry Pie after the choice of light blue textile and pink legs, reminding the dessert also through its puffy curves.
Are you a product designer?
You got some skin in the game?
Should we show your creation to 15 million people?
If you said YES trice and each time a little louder, it's time jump in and join our next contest.
Subscribe now to our newsletter and be the first to know when the second edition of ExpoWanted will be launched!