Design events
History in the Making at the National Gallery of Victoria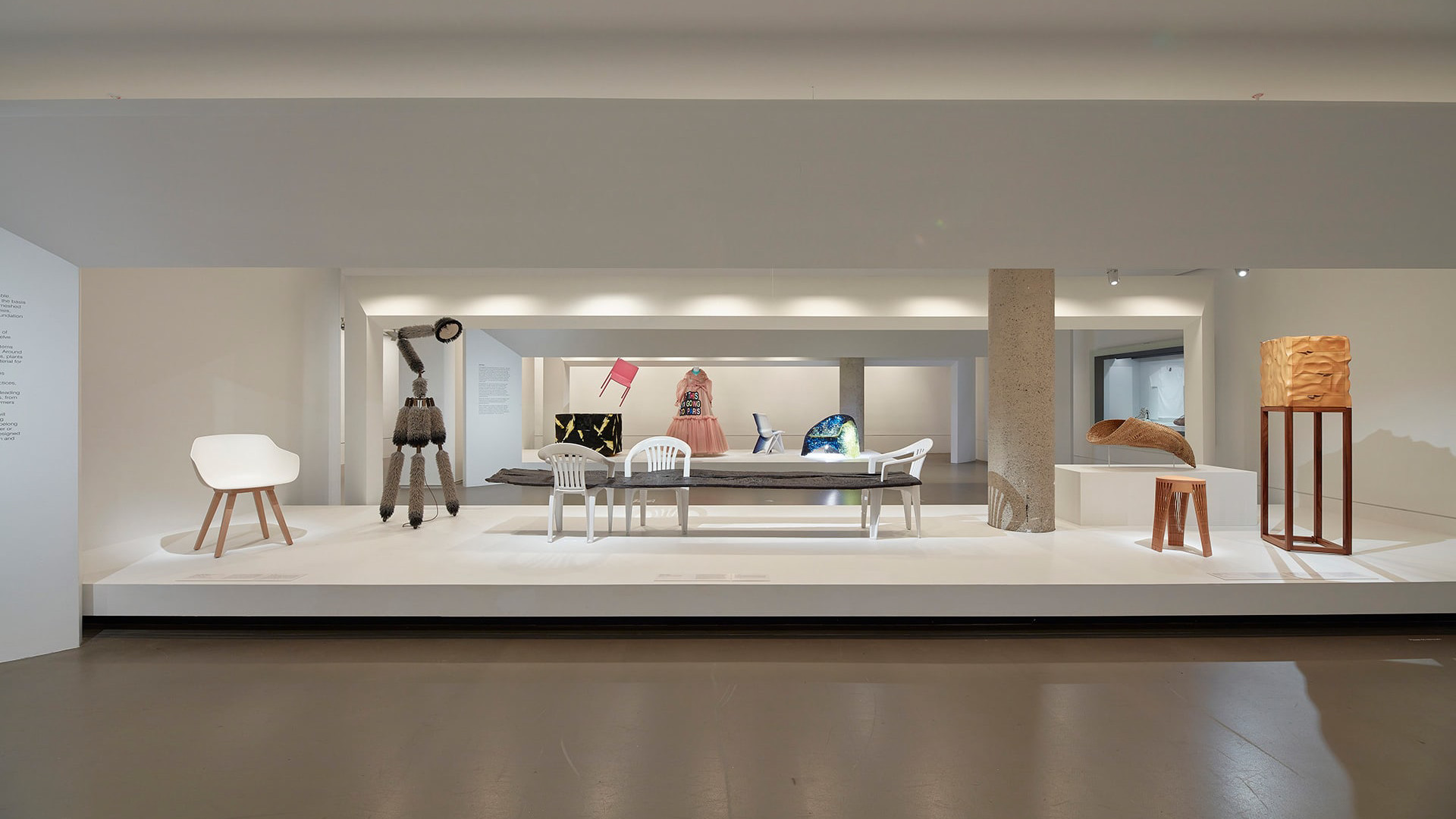 A new exhibition at the National Gallery of Victoria delves into materials and systems of production.
History in the Making at NGV draws on the gallery's permanent collection to showcase contemporary design across diverse creative fields, including limited-edition craft and design, as well as mass-produced goods and fashion to provide insight into the physical properties and origins of materials and explore the design histories and narratives that have emerged over time to better understand the implications of material production in the present.
Through a simple set of classifications, animal, plant, mineral, and synthetic the works in the exhibition offer dialogues between the past, present and future of materials and broad perspectives are presented on social, ethical, environmental, economic and technological issues that are driving present-day innovation, debate and change.
Looking to the relationship between humans and other animal species, whether founded in traditional cultural practices or facilitated by factory farming and commercial hunting the exhibition examines how the complex, and often unbalanced, the relationship between humans and animals has shaped material culture and continues to do so.
As an illustration of this, Sol Shapiro's Armchair (1973) upholstered in sealskin from his homeland draws our attention to the signing of the North Pacific Fur Seal Convention in 1911. Considered the first international treaty to address the preservation of wildlife it set a precedent for future environmental protection acts.
Contemporary Western attitudes to animals as a source of infinite material are also on display, with attention drawn to the ubiquitous (and often invisible) use of material by-products enabled by industrial livestock production.
The iconic biker's Jacket (2015) reinterpreted by Australian fashion label Di$count Univer$e speaks to the pervasive use of cow leather today in fashion. Similarly, Marc Newson's Dinner set from the Qantas A380 project (2007) by Japanese company Noritake is mass-produced in bone china invented in the U.K in 1748.
A composition of cow bone ash, kaolin, and feldspar, it remains a versatile porcelain variety for the mass manufacture of standardised consumer products. While Brazilian designer Estudio Campana's Hippopotamus sofa prototype (2017) challenges us to consider the relationship between art, craft and design, and the enduring techniques that humans have developed, working with skins and leather since Palaeolithic times.
Alongside animals as a primary source of materials, the exhibition reveals the even greater importance of plants. The unique physical and mechanical properties of different species have given rise to countless applications, inventions and industries impacting agriculture and forestry and leading to a vast marketplace of plant-based products, including textiles, timber, fossil fuels and new biopolymers.
Alerting us to the prefabrication of a single-use product with its origins in the nineteenth century, Lucy McRae's limited edition Prickly lamp for Broached Commissions (2019)features 60,000 hand-dyed timber toothpicks. Invented by American innovator Charles Foster in 1870, his patented toothpick machines foreshadowed our contemporary era, where the small act of picking one's teeth with a seemingly innocuous object results in vast production and waste.
Drawing attention to the vast timescales of plant matter, Damien Wright's 5:45 pm bench seat (2020) features a slab of Australian river red gum from a 10,000-year-old tree. Part wood and part fossil, it reminds us that when buried for millions of years plants and trees transform into organic compounds, including crude oil, a fossil fuel and a key ingredient in the production of the ubiquitous, mass-produced white polypropylene plastic chairs we see in the work.
Find out more about exhibitions that explore sustainable design, don't miss Let's raise a glass to circular design – Glass in Nature exhibition by HSIANG HAN DESIGN.
Meanwhile, Jean Louis Iratzoki's, Kuskoa bi, armchair (2014), signals the acceleration of a biomaterial revolution where industry no longer uses fossil fuel–based plastic polymers. A commercial chair thermoformed in a bioplastic derived from beet, cornstarch and sugarcane it may return to organic matter at the end of its long useful life.
From plants to inorganic compounds, the extraction, refinement and use of minerals is fundamental to the development of material culture, industry, supply chains, sovereign and corporate wealth. Modern systems of commodity extraction and trade propelled by developments in metallurgy, energy production, and technology, have enabled vast industries to emerge, perpetually reshaping human civilisation.
Few materials have played such an important role in the evolution of human culture as glass. Cini Boeri and Tomu Katayanagi's glass Ghost, armchair (1997) sits in a continuum of material innovation using molten quartz commencing in 4000 BCE and perfected by British engineer Alastair Pilkington in the 1950s resulting in flat, uniform, thick sheet glass. Having proved fundamental in the realisation of the global city, characterised by its skyscrapers, networks and technology – all is made on sand.
Laying down and fusing a mineral of a different order, Joris Laarman's Microstructures, gradient chair, prototype (2014) is 3D-printed in aluminium, an infinitely recyclable alloy comprising bauxite ore. An often forgotten fact is that aluminium was more expensive than gold in the nineteenth century.
By the twentieth century, cheap coal-fired electricity transformed the process and as production soared, prices plummeted and global demand for the lightweight alloy turned it into the second most commonly used metal after iron. Today, it is interesting to note that Australia is the world's greatest producer of bauxite.
As we continue to extract minerals at great scale, we are learning of the environmental consequences – so too, with the production and use of synthetics. Formulated in chemical laboratories over the nineteenth and twentieth centuries, their invention was stimulated by the scarcity and high cost of natural materials, such as ivory, silk and natural latex rubber. Accelerating since the 1930s, industrial use of petrochemical-based acrylics, polyesters, silicones and polyurethanes has dramatically transformed the material world.
Recognising the useful role synthetic materials have performed in modern society, their impacts, both positive and negative, come with costs. Not supported by adequate recycling and disposal, huge amounts of waste and pollution derived from synthetics are having unanticipated effects on human health and the earth's natural systems.
An example of this – where the true benefits and costs of a material remain unclear is, Xu Zhen's Sofa Turbulent (2015) made from polyurethane foam. Drawing our attention to one of the most popular materials used in home furnishings today. Turbulent side as polyurethanes like many synthetics, release toxic compounds when they degrade, making them one of the most problematic synthetics for recycling.
A terrific example of recycling plastic is Dirk Vander Kooij's Endless chair from 2010, which is 3D-printed using polycarbonate reclaimed from the interiors of old refrigerators.
Curious to know more about designers using 3D printing with recycled materials? Don't miss The New Raw gives new life to marine plastic waste with 3D-printed beach furniture.
Driven by enhanced consumption and urban development, humanity's use of materials in the twenty-first century is purportedly exceeding all the materials used throughout history. The amount of human-made mass, including concrete, metals, plastics and more, now exceeds the overall living biomass on earth.
Predisposed to issues of sustainability, ethics and politics – materials are not neutral. Because of this, designing and making today carries with it responsibility, as demonstrated by the seventy plus works in NGV's exhibition History in the Making.
Both synthetic and natural materials, when employed in a system of design and making, represent a constellation of ideas, choices, values, and principles configuring in a moral culture. This is a complex and confronting reality not only for designers, makers and manufacturers – but for all of us.