Experience design agency HUSH has a new studio. Care for a tour?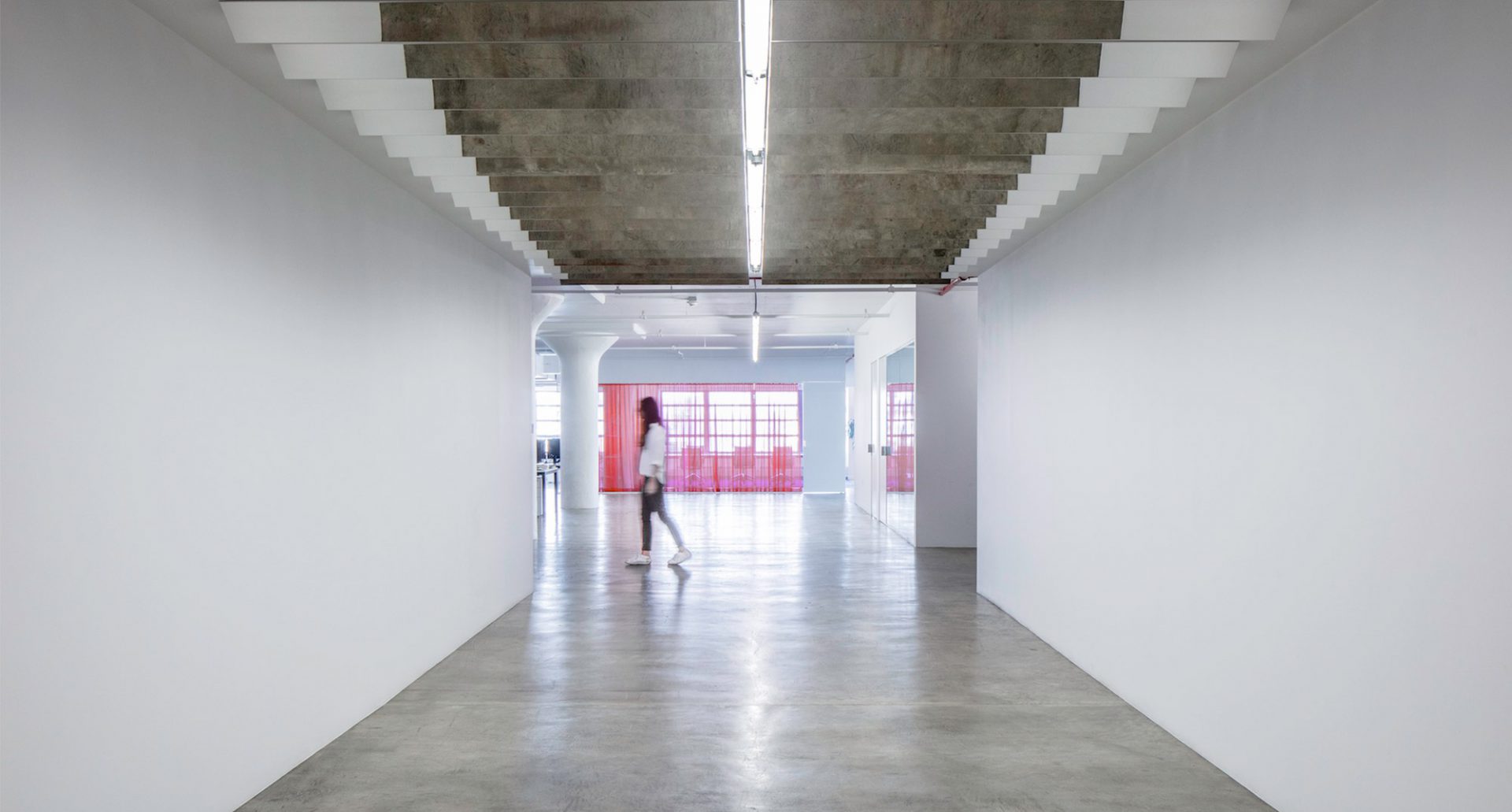 HUSH's new headquarters in the Brooklyn Navy Yard are dedicated to building the next era of business.
Experience design agency HUSH creates data-driven experiences for corporate clients to truly express the soul and purpose of an organization. Founding Partner David Schwarz takes us through the company's new studio space, revealing the design choices which led its development.
The mastery of lighting, colors, and texture capture HUSH's provocative work culture; bringing physical and metaphorical room for talent growth, thought leadership events, hands-on work stations, along with a sense of community amongst creatives, designers, and technologists.
Ironically enough, for HUSH, designing immersive environments for itself is always harder to do than for clients. As such, the agency enlisted Co-Founding Principal Jeffrey Inaba of multi-disciplinary design studio Inaba Williams to develop minimalist architecture that leaves lasting impressions.
Under HUSH and Inaba's shared vision (show, don't tell), a sensory approach was taken with every nook and cranny; compelling clients and team members alike to reconsider, even for a fleeting moment, what it means to feel, hear, and see their surroundings.
From the orientation piece to tunnel ceiling features and communal table to prototyping space and gallery, this hyperconscious aesthetic opens conversations about how the right stylized imagery can resonate emotionally with audiences.
When collaborators visit, the front doors will lead them towards a long axis situated through the workplace, connecting the entry hallway with a prominent view of the Manhattan skyline.
The next stop reveals an almost uncomfortably long, stark white tunnel. It's a bold and undeniable palette cleanser that reinforces the idea of fresh eyes when visualizing creative work.
If collaborators look overhead, bent fins of mirror-polished steel are affixed in a rhythmic pattern. The reflections ripple down the tunnel, triggering an optical effect that highlights visual receptors.
Past the tunnel is the communal area. At the heart, a custom fabricated table with beveled edges, pink/white stain, thirty stools, and nice design books (yes, real books) draws everyone together while simultaneously fostering independent pursuits across work, play, conversation, and inspiration.
Collaborators will subsequently reach the prototyping space which houses all of the necessary tools, materials, technology, and infrastructure to materialize early concepts.
Alternatively, the prototyping gallery preserves these early concepts in their nascent, but beautiful, stages to help collaborators better understand the design process.
In the background, collaborators will encounter Lunchbox, a carefree dog roaming around, and conference rooms named after optical phenomena such as Aura, Phantom, Mirage, Rainbow, and Moiré.
Mounted bikes can also be seen occupying the environment. Committed to doing its part in reducing the world's carbon footprint, HUSH empowers its talent roster to make sustainable transportation choices with a 100% Citi Bike Membership.
At the end of the visit, collaborators are free to make themselves at home and spread their artistic wings. Since relocating, the agency has already partnered with a diverse range of local innovators including SITU Fabrication, New Lab, as well as the Consortium for Research and Robotics.
We have five core cultural values: Proactivity, Respectfulness, Communication, Candidness, and Curiosity. They're not unique to us, but we're unique in actually living by them. They fed into the composition of our space – giving us suites to embody those ideals. They're all the things we hope to do for our clients as well.
Check how HUSH developed a visualization of one of the most sustainable buildings' energy consumption: The Unisphere Energy Dial.