Visual design
The ambiguous, immersive and dreamlike work of Massimo Colonna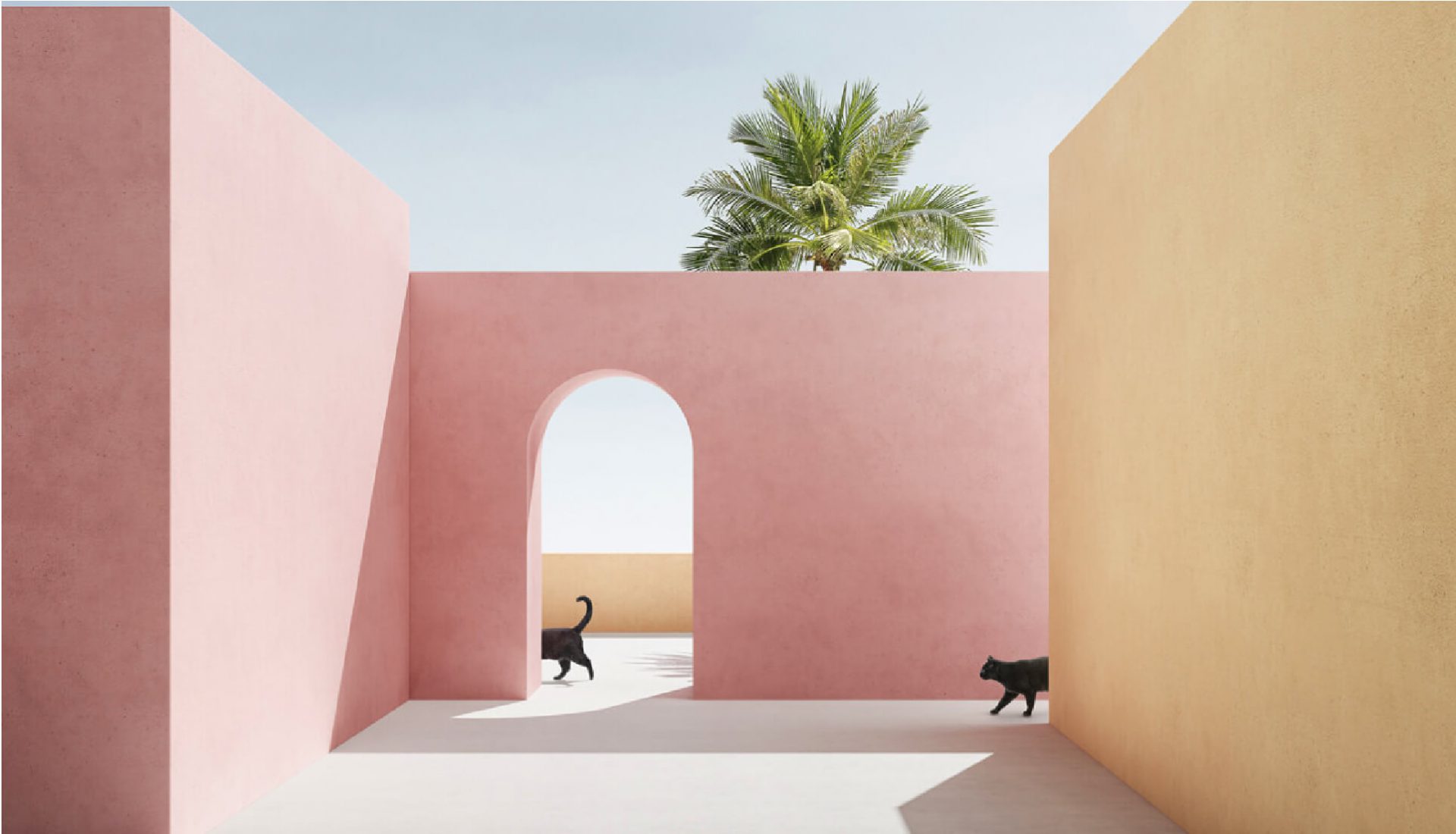 Italian digital artist Massimo Colonna creates abstract and surreal architectural landscapes with a captivating sense of nostalgia.
Discovering the work of Massimo Colonna is like a hypnotic and enchanting dream you never want to wake up from. His minimal and surrealistic sceneries captivate you, and his use of pastel colors creates a visually pleasing world you wish became a reality.
With photography as his background, Massimo is able to use his passion for new technologies to render architectural spaces that display his untamed creativity and imagination. His body of work is a never-ending fantasy that showcases his unique vision and sense of space, it is through these that he presents us his essence as a digital artist.
Whether it is through architectural structures, abstract landscapes, or surreal spaces, the digital artist will leave us speechless with his mesmerizing work of perfectly pastel-colored buildings, captivating settings, and clear blue skies.
Who is Massimo Colonna? How did your journey begin?
Massimo Colonna: "Massimo Colonna was born in Scandiano, a town in the province of Reggio Emilia, on August 3, 1986. After graduating as a surveyor, and never having practiced the profession, he found a job in a photographic studio as a retoucher of photos of furniture and ceramics, here begins his passion for photography.
When the photographic studio becomes a 3D image creation studio, his professionalism grows together with his passion for everything related to images and their realization. In 2018, after 10 years of experience in the field of image production, he decided to open his own studio in order to develop his personal and commissioned projects."
Why focus on 3D architectural renders?
Massimo Colonna: "Actually it all started by chance, the first personal project I created was "Non gravity". I simply wanted to understand if I was able to create something of my own, taking inspiration from the architectures that at the time inspired me the most. I didn't expect a famous Australian art gallery to contact me asking for exclusivity to sell those images online.
From there it all started. Mainly, at that time, I felt the need to create something that with the camera alone I couldn't do. So I ventured into the world of 3D. I try to create something beautiful, I mean from the point of view of the image, something that inspires beauty in some way, something desirable and sometimes incomprehensible, probably, I just try to give vent to creativity."
You create minimalistic and abstract spaces with very harmonic color palettes, can you tell us what is your creative process?
Massimo Colonna: "Usually, I start with an idea, which will not necessarily be the subject of the image or series, sometimes it's just a feeling of what I would like to create. Then I start to create volumes until I'm satisfied with the result, starting to combine colors with shapes. For the colors, I sometimes take inspiration from images that I find online, from movie scenes, from paintings or even plants."
With photography being part of your background and passion, how would you envision the realization of your projects in real life? Would you like to see a specific one taking shape and being able to photograph it?
Massimo Colonna: "Let's say that every project or image that I create I would like to live it. There is no image that I have created in which I have not imagined myself walking or living. Probably for me it's like being behind the lens of an imaginary camera, I'm in that place to photograph, but at the same time I'm not there. They would be places all over the world, probably in places I've never been to."
Which designers are you inspired or influenced by? What other fields and inputs, inside and outside of the design world, provide you inspiration?
Massimo Colonna: "There are many designers that inspire me or even other studios that do the same job as myself. Sometimes, as I said before, I'm inspired by paintings or films, but also images that I have seen on social media such as Instagram or Pinterest."
You've collaborated with other artists and were commissioned for various projects. Tell us about your first collaboration/commissioned work, how did you get it and what was the project about?
Massimo Colonna: "The first commissioned work was with Morgane Roux the founder of Atelier Aveus, towards the end of 2018. At that time I was already following her on Instagram because she had just released the images of some of her new products made with Six n Five, a study that I have always had as a reference point. She contacted me, if I remember correctly, after seeing some of my images online, and the images that I had to create for her had to be in Escher style with some of her new furnishings inside."
What kind of feedback/reaction do you receive when people see your creations?
Massimo Colonna: "Actually I often get a lot of positive reactions, unfortunately/fortunately sometimes my work is very subjective so maybe it doesn't leave too many interpretations. But I think I'm the worst critic of myself :)"
What is the next step for Massimo Colonna?
Massimo Colonna: "In a short time (I hope 🙂 ) my new website will be online, a Gestalten book called "Dreamscape" containing some of my images should be out soon, and I am carrying out a super nice project related to furnishings and interior design, for a year now, that I hope to be able to show soon!"