Design events
This year's theme at Moscow Design Week: '(In) Complete Design'
It took place inside the venues of the Central House of Artists, in front of the famous Gorky Park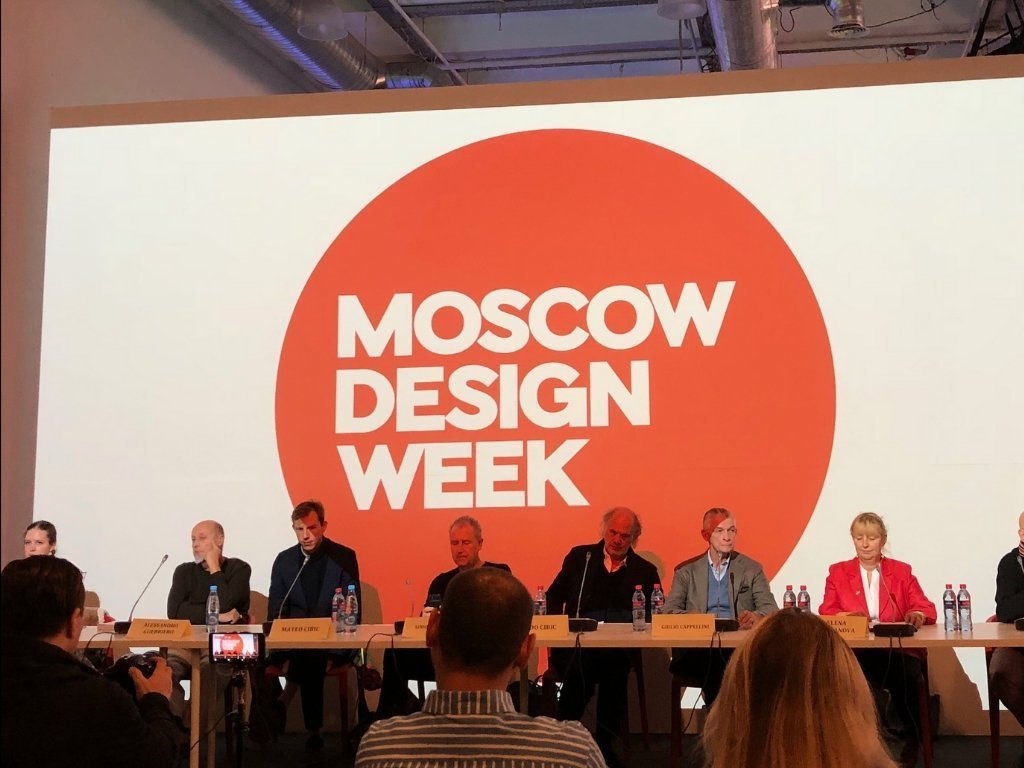 Visiting Moscow is like entering another dimension.
Like all the big cities, it consists of hundreds of buildings, venues, streets, citizens, details, each one with its own identity.
It was my fourth time in Moscow, but my feeling is that this time something had changed.
Moscow today is a different city, more cosmopolitan, more international, more welcoming.
From the street furniture to the new buildings: much more than the Kremlin and the Red Square, there's a brand new city for a tourist to visit and to get lost into.
This is how I decided to experience this edition of Moscow Design Week.
I felt it was time for Moscow to quit being far and exotic: there is a new, young wind blowing from East, and it carries on the conditions for an international development.
I could breathe it all around the city.
Design is not just a product, nor just a project, it is a balanced ecosystem made of influences and professionalism put together: the path takes time, but the work carried on from Alexander Fedotov, President of ACMG, and its team, laid the foundations for this development.
The great effort to bring to Moscow some outstanding Italian excellences gave life to a bridge between Russia and the northern Italy territory of Brianza, country of furniture makers, artisans and home to iconic design brands.
The final goal is still the growth of a local manufacturing industry and the launch of workshops with a strong Russian identity, but the cooperation of Russian talents with the more renowned country in the business represents a strong motivation to keep on learning and experimenting.
Moscow Design Week took place inside the venues of the Central House of Artists, in front of the famous Gorcky Park: two floors of installations, competitions, exhibitions, and even a real designer market.
Special guest of this year, the Italian architect and designer Aldo Cibic, who invited the public to a reflection on the theme of '(In) Complete Design', which mirrors the incompleteness of our lives and the process of creation and planning.
(In)Complete is an open source platform capable of data screening and elaboration, to guide our imagination towards a sustainable future.
Italy keeps playing an important part.
Among the others, a significant space in the Central House of Artist was given to 'iLari', an exposition by Alessandro Guerriero encompassing the works of more than 30 designers who were asked to create their own good brownie, personifying their faith in the ancient guardians of home.
Designer Matteo Cibic worked along with Mutaforma, a Milan based brand with a passion for mosaics, to create Naniform, a minimalist collection of patterns varying from the geometrical to the floral world, in a game of contrasts between the opacity of white and the sparkling reflections of the mosaics.
Florentine designer Simone Micheli presented his own vision of the future of living and hospitality through the lens of his Organic Shapes: an extreme lobby and design spa in which energy flows and unveils in the objects; sustainability here is the key, both in term of materials and spaces.
Giulio Cappellini is the curator of the '02.2.20' contest, held from the very first editions of Moscow Design Week and awarding the winners with a unique experience of interaction with the world-famous master of design.
As a matter of fact, and as a true Design Week should be, this Moscow edition was also a moment of learning and debate: every special guest held lectures to introduce to the audience projects and methods.
It was not just made in Italy.
Among the more interesting foreign suggestions, for the first time a Moroccan artist, Rashid Aboujad from Arzen Design, came to Moscow with a collection of pieces of furniture that broke with the usual vision of Moroccan classic style, able to be easily combined with other concepts but maintaining a strong Moroccan identity.
Arzen is a workshop of more than 80 local craftsmen with a great ability to adapt their creations to modern designs using ancestral craft techniques while respecting current requirements.
Among the Russians, Alexandra and Daria Gantseva – aka SashaDasha, two young Russian designers inspired by food and travel, whose bestselling collection is based on a new vision of maps of a modern city.
As a part of their inspirational travel, general and specific features have been identified in the maps of various cities in Europe.
The patterns are applied to different ordinary objects and materials, for a tasty and practical outcome.
More than a traditional design fair, this year Moscow Design Week featured more than 100 events and installations in each design district of the city:
Winzavod ArtDistrict
Hlebozadov Design District
Shellk Design District
They became fascinating frames for works such as the one presented by the famous Czech designer Maxim Velcovsky at Bistrot Ristorante, the little brother of the world-famous Italian restaurant in Forte dei Marmi.
Abstract by Qubus Design is the limited collection of gold vases used to create a composition which exists independently from visual references in the world.
Astore Moscow created this installation playing with lights and introducing a departure from reality in the depiction of imagery in art.
Moscow Design Week was also an history of contrasts
In the Shelk Design District, a gigantic wooden giraffe was built by the constructivist architect Vasily Poletov.
While WITHOUT, the elegant installation by Svetlana Golubeva and Zuzanna Niespor from INTHEGARDEN design team, was enlivened by the large horizontal circle inside, slightly lifted from the ground as if suspended.
From what I could see, the path is clear, there is still a lot of hard work to do, but new winds and circumstances are making it happen.
Living in a digital world and speaking in the name of it, I am positive that the Russian new generation of designers will be more and more inspired and able to be be noticed.
What's next?
Trying to figure it out what possible developments could take place in the world of Moscow Design Week, I can envision:
The creation of a design center in Moscow, to help and provide services to design professionals (educational and promotional activities, support in the research of materials and manufacturers and more);
Participation in key international events to introduce to a wide audience the excellence of Russian local design;
Strategical ongoing events, activities and media partnerships throughout the year;
The world is such a small place, especially if you travel a lot.
Here at DesignWanted we pursue the creation of bridges between countries and the filling of gaps between situations.
Watching design growing and spreading not only as a product, but also as a culture, is what fascinates and moves me.
I'll see you soon Moscow – just in time for the next Moscow Design Week!
Patrick