She calls her approach: handmade and heartmade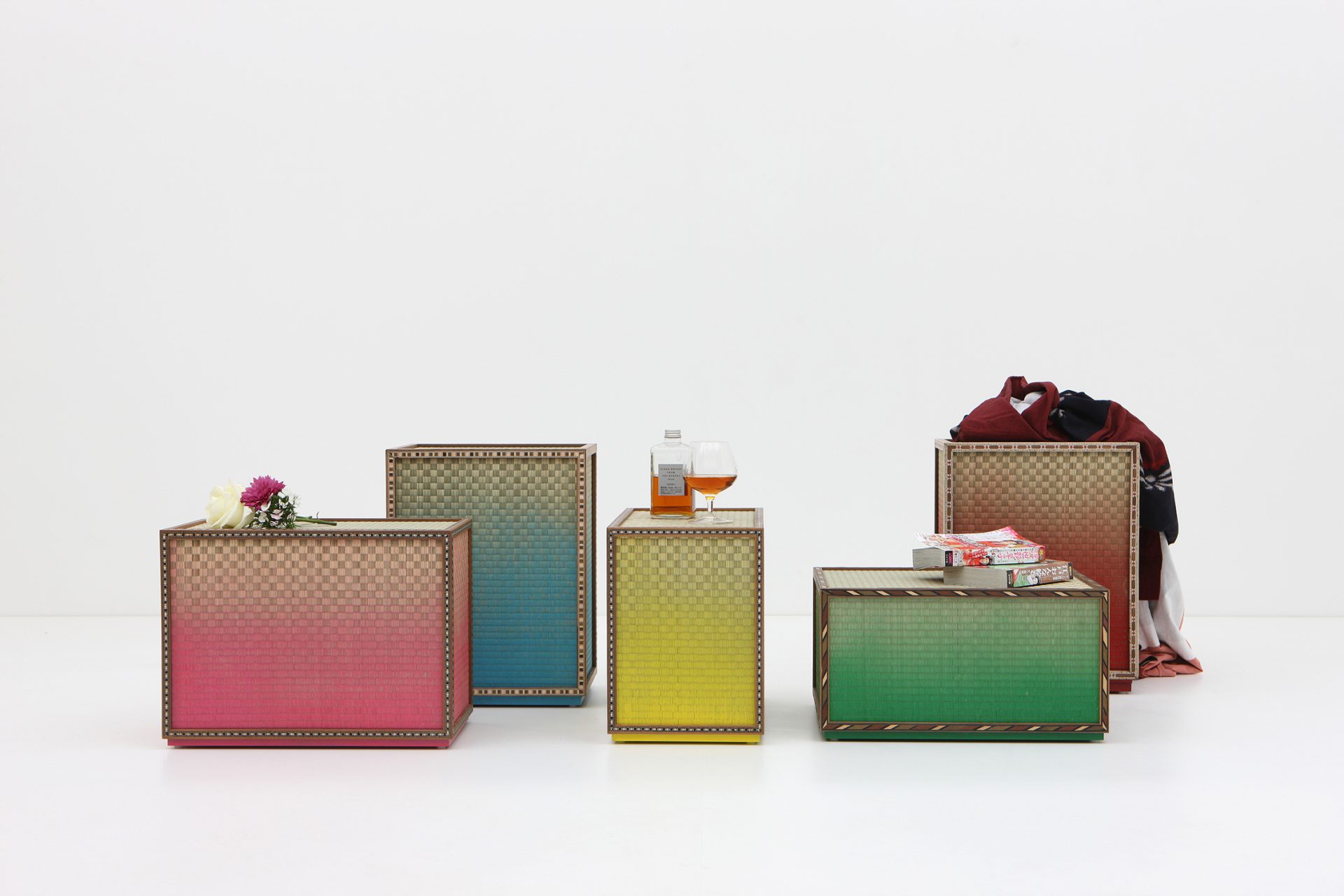 Nada Debs on getting up, close and personal and her Fuorisalone debut
We get to know Lebanese designer Nada Debs as she prepares for her debut in Milan with Up, Close and Personal', a four-collection show at Galleria Rossana Orlandi.
"'Up, Close and Personal' is a response to my own observations about materialism today and how we connect to objects. I realize increasingly that when we are involved in the creative process – of anything – we feel far more connected to it"
says Nada.
"We recently redesigned our studio in Beirut to create not just a working space but an open-door welcoming space for people to connect to the pieces we create, and to break the often transactional or impersonal side of design – where objects arrive finished, on shop shelves to be bought.

Getting 'personal' is about how we build relationships, as well as our personality as a studio. Inviting people in to get to know us feels like a natural way of making our relationships personal."
Indeed, the title could very well summarize Nada's philosophy to life and overall approach to design.
Her experience as a designer gives her the language to understand how things are made and how they can be made special.
She has a hands-on, human approach, she calls 'handmade and heartmade' that understands that good relationships and a collaborative attitude are the key to achieving good results.
Nada grew up in Japan before studying design at Rhode Island School of Design and has spent significant periods of time living and travelling the world. This international exposure has fuelled her interest in finding connections between different cultures through her work.
"I grew up in Japan and this exposure to an Asian way of life and its aesthetics, which are often pared down to its essence, certainly add a different dimension to my work.

I strive for purity and simplicity of design when applying Lebanese craft techniques yet, at the same time, want to begin a new dialogue around craft that has room for playfulness and joy too.

Today the discussion around craft and craftsmanship is louder than it's ever been, but too often it's taken too seriously!"
she says.
Tied to the value Nada places on connections – to places, to others and to our own identity within the wider world – is her belief in the power of telling stories, and the role of the human hand to tell those stories and evoke a sense of belonging.
She describes her belief in craft as "a feeling that goes beyond geography, language and culture."
She brings passion to process; combining ideas, skills and techniques together from her travels to form a unique cultural exchange:
"a designer is just a link to connect people, ideas, skills and materials," says Nada.
Nowhere is this more evident than in the 'You and I' rug collection in collaboration with Fatima bint Mohammed bin Zayed Initiative (FBMI), a social enterprise that supports and empowers female weavers in Afghanistan, that Nada will bring to Milan.
Inspired by a line in the poetry of Rumi – "Apparently two, but one in soul" – each of the four rugs Nada designed brings together two forms to create a single, interlocking rug.
In each of the four, one rug is a traditional form, the second rug is a contemporary style with a different geometric shape for each; the rug they make together has its own unique character.
The rugs are all hand-knotted using naturally dyed Afghan wool.
They are made to order and the different colours and shapes can be mixed and matched.
"I like to think of them as love stories between two textures, shapes and colours,"
says Nada.
"It's a story that translates across any culture – the women we worked were all so engaged with the concept.

It's a timeless, ancient story told through a new technique they'd never done before."
Geometry is an important tool for Nada, representing complex philosophies with intricate, simple beauty.
She uses materials to tell tactile stories, sometimes in pure and surprising forms, and sometimes with intriguing combinations and juxtapositions.
At Galleria Rossana Orlandi, Nada will show Funquetry, a furniture collection that explores a playful, contemporary interpretation of the traditional handcraft technique of marquetry. Strips of different coloured wood are inlaid to produce what's known as a "mother".
In some pieces, these are then sliced and shifted to create a break in the geometric pattern. In others, they are applied to what Nada calls pleated wood: a triangulated cut into the solid wood.
Our perception of these pieces changes as we move around them.
"Duality always interests me and how you balance and combine different ideas," says Nada. "Here it was about reinvigorating a traditional technique with a modern, almost rebellious approach."
Two additional collections complete Nada's debut show: refraction, a family of pivoting mirrors that can be adjusted to reflect different parts of a room, or to bring more natural light into spaces; and, Tatami, a collection of trays and boxes that combines woven Tatami flooring from Japan with marquetry craftwork from Beirut.
Nada has long been fascinated by the curious similarities and juxtapositions in the design sensibilities and techniques of both cultures.
What started out as a brief mention to a friend last year about a feeling of 'readiness' to exhibit during Milan Design Week has evolved to a spot at what is consistently of the most-talked about shows of the Fuorisalone: Galleria Rossana Orlandi.
"Rossana has an expert eye, a diverse passion and a compelling sense of fun, too. I have always admired her ability to bring people, products and ideas together, and to host them beautifully and effortlessly. She's the perfect partner."

"We previewed some of our collection prototypes to friends of the studio in Beirut last month when we celebrated the opening of our new studio and showroom space last month and they gained a lot of interest.

I'm really excited to now show these to the international audience that flocks to Milan each year," she concludes.
About Nada Debs
Nada Debs is a Lebanese designer living and working in Beirut.
Her work spans scale and discipline: from product and furniture design to one-off commissions across craft, art, fashion and interiors.
What ties her work together is her ability to distil culture and craftsmanship to create pieces of emotional resonance.
Nada grew up in Japan, studied design at Rhode Island School of Design in the United States and has spent significant periods of time living and travelling the world, nding connections between different cultures.
There is something of each of her experiences in all of her work.
In essence, she captures the power of the human hand to tell stories that touch the heart.
She calls her approach: handmade and heartmade.