Architecture
OBICUA reinventing a ski lodge with The Kinii
OBICUA's "The Kinii" is an eco-compatible reinterpretation of a mountain lodge.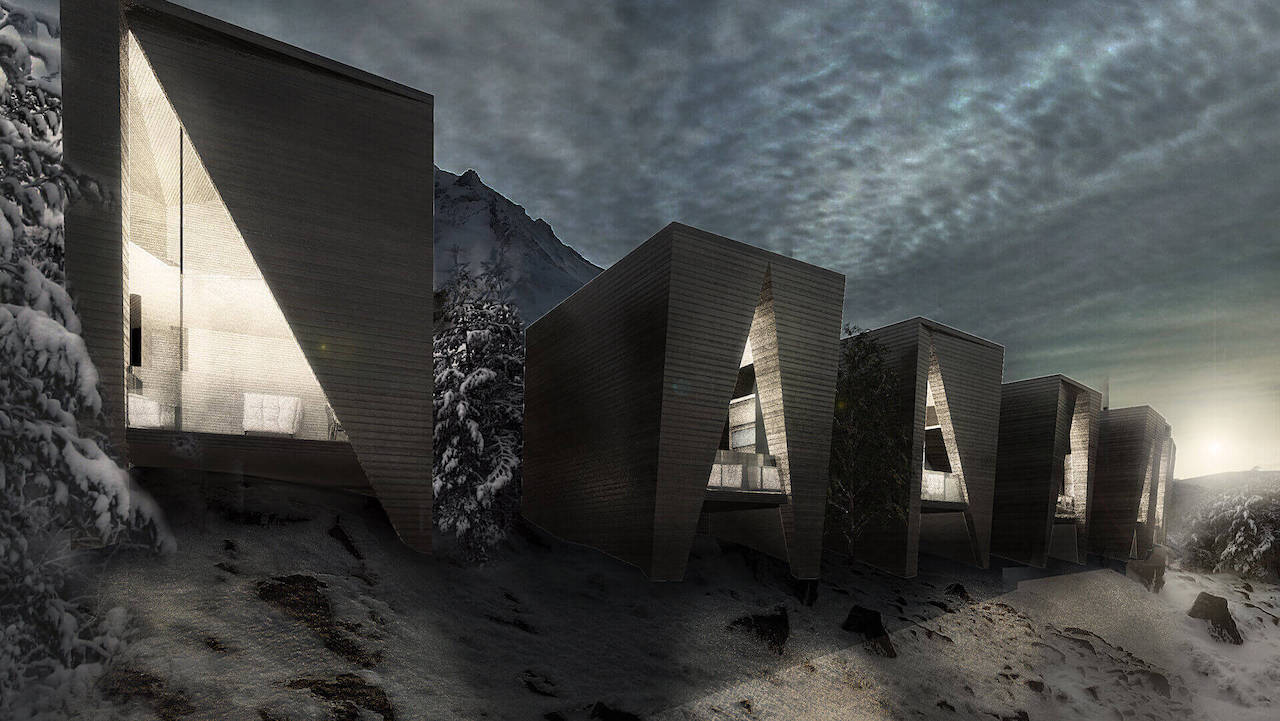 OBICUA, an Italian design-oriented architecture and design company was recently the center of attention at the ArchMarathon Awards Miami for their project "The Kinii" an eco-compatible reinterpretation of a mountain lodge. 
The Kinii is located at 3,000 meters above sea level in the Powder Mountains of Salt Lake City.
A 360-degree panoramic view makes it possible to see as many as 3 American states from within the lodge.
DesignWanted had the opportunity to interview Massimiliano Brugia, founding partner of OBICUA to gain insight on a project's concept philosophy and why sustainability nowadays is an abused word.
How did the journey of OBICUA begin?
Massimiliano Brugia: "Obicua is the evolution of Bicuadro Architecture, an Italian based firm established in Rome in 2008 by Massimiliano Brugia, Valerio Campi and Lucia Catenacci who teamed up together since the last years of university studies at the Faculty of Architecture La Sapienza.
Obicua is an Italian design-oriented firm with projects built worldwide.
Our portfolio includes high-end homes and residences, high rise mixed-use buildings, corporate offices, and retail interiors in 4 different continents, such as North America, Europe, Africa, and Asia. 
Obicua specialized in providing the client with a full vision of the design from urban scale down to interiors and most of our projects are conceived as a whole design incorporating the building shell together with the definition of small interior design details or furniture.
We aim to deliver masterpieces designed in every single detail."
Can you guide us through the inspiration, design process and challenges behind the construction of the 3,000m ski lodge "The Kinii"?
Massimiliano Brugia: "This home's concept was designed as a vacation house in one of the most beautiful mountain landscapes of America.
It was made to stand on the summit of Powder Mountain, Utah, resisting the hardest winter's climate conditions and at the same time to take advantage of the spectacular view over four American states the position allows: Idaho, Utah, Colorado and Wyoming.
it is supposed to be a cozy home for an amazing family that wants to spend some quiet time far from the stress of the city while staying in the Summit Powder Mountain community, a group of startuppers, innovators, and investors that are building their home at the same time.
We, therefore, conceived a very compact building with a strong metal shell protecting a warm colorful wooden interior environment. 
The building shape reminds of binoculars.
Large glass windows oriented both South and North are like the lens of binoculars and allow to explore the incredible panorama.
Glass windows are screened and protected by cantilevered balconies and canopies that in the summertime can also be livable and increase the contact with the natural environment."
Massimiliano Brugia: "The interior is designed to host guests and common spaces to expand community living.
The home is basically organized internally around a double-height core that is also the entrance and the main distribution space.
It is a full glass transparent space that makes you feel you are still outside even if you are protected from a roof.
The rest of the home is arranged in two semi-symmetrical volumes hosting living and dining spaces on the ground floor while having the night area on the upper floor.
There is an extra floor in the basement that hosts some facility like a small spa with Jacuzzi, sauna, and a fully detailed ski dept.
Maximum care was given to stay in touch with the wilderness outside.
This is a place where the Eagles and the falcons fly and build their own nests.
The home is surrounded by it.
The name of the home is inspired by such animals. "Kinii" means "hawk" in the local Indian American language.
A challenge was in building at such altitude for which we had to figure out a special solution and foresee potential problems coming from the use of materials and how these materials would react to the snow load, strong blizzards and ice long term.
Moreover, it was also a challenge to lower the impact on the eco-system as much as possible.
For example, we made arborist studies on the existing trees, avoid any kind of human landscaping, reducing the footprint of the home as much as possible to mitigating the impact on the existing rocks for foundations."
OBICUA has an effortless and direct design style. How does the team manage to cater to different projects and clients?
Massimiliano Brugia: "We put passion in what we do and act as a tailor artist.
We always aim to tailor the home or the office or whatever space/building on the client's shoulders as it was a dress.
Let me say: a unique dress. In order to do so, we do not use standard solutions, we do not repeat ourselves.
We always do something new.
It is more difficult for sure, but this is what makes us different.
Such approach requires an important involvement of me and my partners with the client.
This requires establishing a friendship, building up a trust.
A big part of the deal is spending time with the client, listening to his needs, and aims to help him to always make the right choice.
Clients don't simply buy our design, they put it together with us. 
If we get to go this way then manage a project is just all about staying on a path and not moving from there since the early stages until the construction completion.
In the end, what matters is the client's happiness and if the client is happy then the design will be a beautiful design as well.
For large scale projects, the client is not just who pays the bill. Let's think of a tower block for instance or an office.
When we design a tower block we have to consider also other "users", such as the inhabitants of the future building, the community; even the construction workers are a kind of user.
We also must design keeping into account their safety.
Our firm is small if compared to the big multinational corporations of architects and engineers. Anyways we can work at several scales.
Our architects are all creative and talented professionals.
We created flexible structures with one office in Rome where we do architecture and a few years ago we opened a branch in Milan where we moved the interior design team.
Moreover, we established long-lasting joint-ventures with local partners in countries where we have projects that help us to stay connected with the local issues."
As we glance through your project history, we notice a strong focus on sustainability. Can you tell us more about this approach?
Massimiliano Brugia: " 'Sustainability' nowadays is an abused word. It is so because it is difficult to define correctly what is sustainable. 
Many years ago we adopted the "LEED" philosophy, one of the first standards to deal with sustainability. We believe it is the right approach and we design with it always in mind.
LEED means "Leadership in Energy and Environmental Design".
It is an American protocol that diffused worldwide with accredited professionals that can certify if your building is sustainable or not and how much is sustainable.
It is based on the idea that it is impossible to make 0 emission buildings but if everybody constructs buildings that are a bit less polluting than the actual ones, then the global number of pollution coming from buildings would be dramatically reduced. It is a practical approach and it is extremely "objective"."
After an exceptional project like the Kinii, is OBICUA working on similar adventurous projects?
Massimiliano Brugia: "I like that you used the word "adventurous" because it is exactly what is it.
Since the beginning, we began to deal with extreme projects, located in the most exciting parts of the world.
We designed for the rainforest in Malaysia, we built homes in the Gulf of Guinea in Africa and we have been involved in projects located at the extreme far north of Siberian Mongolia where temperature can go to 40 degrees below zero.
Each time we experimented with all this on us, by going to the place.
At the moment we are involved in the development of the European Molecular Biology research center, in Rome.
It is an actual "theme" and it is adventurous because it is an extremely complex building where the best scientists of Europe study the human illnesses coming from the DNA. We are learning so much!"
Unlimited budget and resources, what is the one project OBICUA will design?
Massimiliano Brugia: "Thank you for asking this. There are many things that people need but the one thing I would love to design would be a new kind of city.
I am obsessed with how to make the current large cities better for humankind.
Very soon most of the global population will leave in huge Megalopolis. Already now we are spectators of huge cities that have an extension of regions.
I strongly believe it is time to re-think how such massive communities shall work.
If I had unlimited budget and resources I would cut down most of the suburbs of such cities and rebuild it according to contemporary life: much more compact, much more high-rise to reduce footprint and space, so no more cars, putting services in a more rational way, less time for movements and more time to take care of families.
Last but not least: neutralizing land-speculation because of course, it would be a government-lead project.
I'm thinking of similar opportunities such as the one Le Corbusier had for Chandigarh, India where he could design from scratch an entire city."