You are a 3D printing wizard: how do you build a circular company from here?
KEY TAKEAWAY:
Two designers passionate about 3D printing and an engineer expert on biomaterials share their do's and don'ts on how they used their skills to develop products for big brands and finance one's own collections
On its web site, Krill Design informs about its dedication to "the development of new design products within a 100% circular and sustainable process". And boosts a Best Performer Award for circular economy services and a recognition by the World Economic Forum as an example of sustainability.
Add to this a surprisingly good revenue (320K euro yearly), 10 employees, and one product selected for the prestigious Compasso d'Oro award and you get to the big question:
how did three design students get to this, in just 4 years (with a pandemic in between)?
Krill's story teaches us a lot. It tells us that, in order to start a successful design company today, you need:
to explore heavily into a technology or skill, so you master it intimately
to have a strong idea that can be developed using that technology or skills
to find the specialized knowledge to make it real (design is not enough)
to develop a scalable business plan (start small but can potentially grow)
to get support from a big player to start you off
Two designers passionate about 3D printing
Martina Lamperti and Yack di Maio met during their architecture studies at Milan Politecnico in 2016. They began to make models with 3D printers because of the urgency to see a three dimensional version of their drawings.
When they finished their studies, they invested some money in creating a 3D printing hub.
Martina and Yack believed in 3D printing technology as a tool to get to a circular production: they used the space to experiment heavily and, using a trial and error approach, they ended up attracting some attention from independent professionals and brands wishing to explore the possibilities that 3D printing offered. This helped them support themselves and the studio.
Add an expert on biomaterials
One of these professionals was Ivan Calimani, an engineer and an architect passionate about new biomaterials, who entered the scene of our story in 2018.
Ivan had already invented and experimented with a material developed from potato peels, but he wasn't a maker and lacked design specific skills that the duo already had.
Getting the idea, and looking for scalability
Ever looking for circular solutions, the trio decided to couple Ivan's knowledge on biomaterials and Martina and Yack's expertise in 3D printing to create a new business.
They called it Krill which is an ocean shrimp living in the ocean: tiny, but fundamental for the ecosystem and living in colonies.
Krill – that was totally self-financed – would make home products using food waste that people would love. They would make them locally upon request, using 3D printing facilities located in different places (like colonies), to reduce investments to a minimum.
The business plan was efficient: 3D printing logistics is easy and it's the ideal production process for a scalable project.
You can start in a very small space, with just a few machines. And then you may ideally grow to a very big and diffused production hub.
Learning from errors
The first invention used the biomaterial that Ivan had been studying: a potato peel-based bioplastic.
It never worked out: the trio was lacking the chemical knowledge to make it function.
Their big idea was to use PLA, a biodegradable bioplastic mixed with homogeneous food waste.
The long term approach is to move on at a later stage to use polyester polymers produced by the fermentation of sugars or lipids derived entirely from organic waste.
Why? Because PLA uses actual food to be produced (which is in itself a waste, considering the food issues the global population faces) and it's not compostable unless placed in an industrial composting facility at specific temperature and humidity.
But the passage is not as easy as it seems.
Finding the right partner in waste gathering
Krill Design started showing off their approach and materials research and during a presentation at an innovation fair they were noticed by Autogrill Spa, the main restaurant chain of Italian national highways.
Being actively searching for ways to be no waste, Autogrill proposed to Krill Design to develop their material using orange juice waste which its bars and restaurants produce in big quantities.
Orange juice waste is perfect to be reused: it's easy to recover, as juicers automatically store it in their containers. And it's collected without getting mixed with other materials.
Krill Design worked on their bioplastic production process with Autogrill's support and, through heavy experimentation, were finally able to create a stable material for use.
The first Autogrill commissioning was a very simple sugar holder made out of a mix of orange peels and natural bioplastic.
Krill Design provided 3000 Autogrill bars and restaurants with a product that actually came from its ordinary waste.
What's so new about this?
What makes the Krill Design story so unique is that they didn't just use a one-off material to make a stunt project but used the opportunity that Autogrill offered them to develop a process that can produce a usable bioplastic from any homogenous food waste.
How do you produce a bioplastic from food waste?
The chemical solution for a stable and rational material came from Marco Benedetti, a chemist and a biomaterial specialist who bumped into Krill Design during the Milan social innovation and green fair Fà la cosa giusta.
Another karmic encounter which resulted in the actual production process of Rekrill, a material that may be ideally composed of any kind of homogenous food waste.
The production process:
Dried and flaked orange peels are delivered from Autogrill to Krill Design
The rough material is micronized and transformed in granules with a specific grade of humidity
Then it is compounded with PHA, a bioplastic derived from the fermentation of sugar
It is transformed in the typical coil that will be used to produce the object with a 3D printer
Rekrill is very resistant, although its mechanical characteristics change according to the different raw materials.
It is not suitable for food contact. But it's biodegradable, which means that it decomposes completely like any organic waste. This is the main difference between eco compatible materials and biomaterials: the latter act like any organic thing. It simply melts if left in a natural environment thanks to the action of mold and fungi.
What's the point of re-using wet waste?
Krill Design nowadays is thriving thanks to a simple B2C business plan that involves the collaboration of brands which are able and want to provide homogene food waste. Clients are the raw material providers and commission Krill Design products according to their peculiar needs.
The aim usually is to integrate food waste reuse in brands' ecological transition. After Autogrill, Cimbali, Sanpellegrino, Enel, Lurpak, Nestlé and others collaborated with Krill Design to develop products on an on-demand B2B basis.
Their proposal always aims to work on a circular economy frame, so the pluses concern the reuse of an already existing material to create new products.
That means:
it's better to reuse than to simply get rid of bio waste, because even the process of biodegradation creates a considerable carbon imprint.
The output consists in the development of a reformulated Rekrill, produced each time with a different food waste, according to the specific bio waste of each brand.
Krill Design then works on creating a product or a collection of products designed for 3D production and based on the client's expectation and demands. Meanwhile Krill Design has been using B2C projects to finance its R&D area and create its own collections.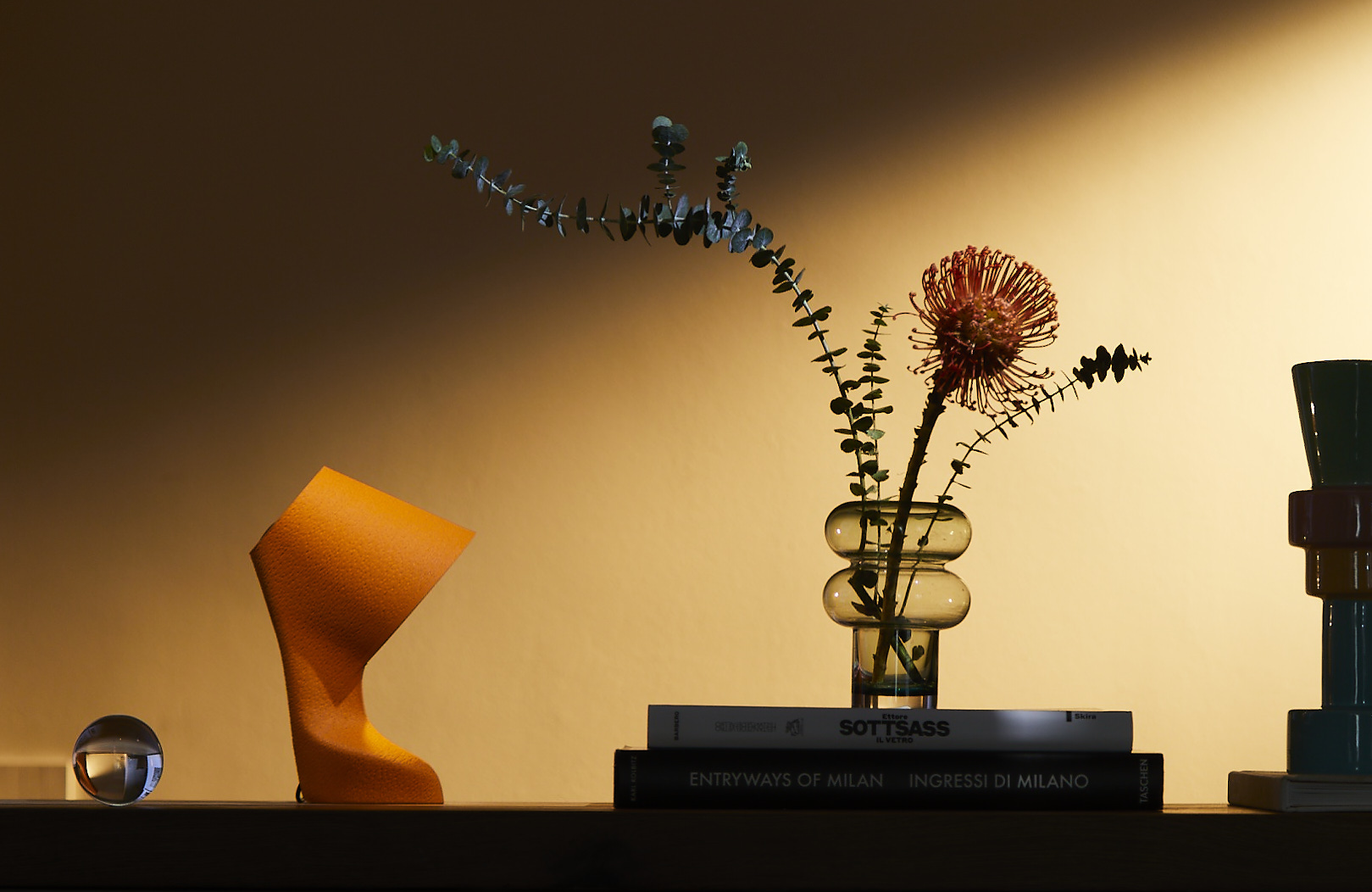 Design and research as the ingredients for today's success
Design, together with engineering and managing competencies, was the main ingredient of the brand's growing financial success.
Krill Design thrives on the demands of companies in need to pass from a traditional management to a more ecological one using smart, flexible and economic solutions. What they really need is research-driven design work.
The process leading Krill Design to a rational reuse of waste in a circular program is
strategically driven by research and a try and error attitude that doesn't dismiss restarts.
All of this has been made easy by Krill Design owning all the design process so as to create products that respond to good design imperatives: rationality, aesthetics and an unexpected twist.
Right now the company is producing three collections, based on different raw materials, coffee, orange peels and lemon peels: Ribera, Napoli and Amalfi.
They all have a strong aesthetic identity, along with the peculiarity of the materials. They speak loud and clear about a new kind of online Millennial consumer: a design and eco-centered one in search of products able to respond to a pragmatic and honest desire for change.