On the shores of Lake Como, within a prestigious location, a wonderful custom made staircase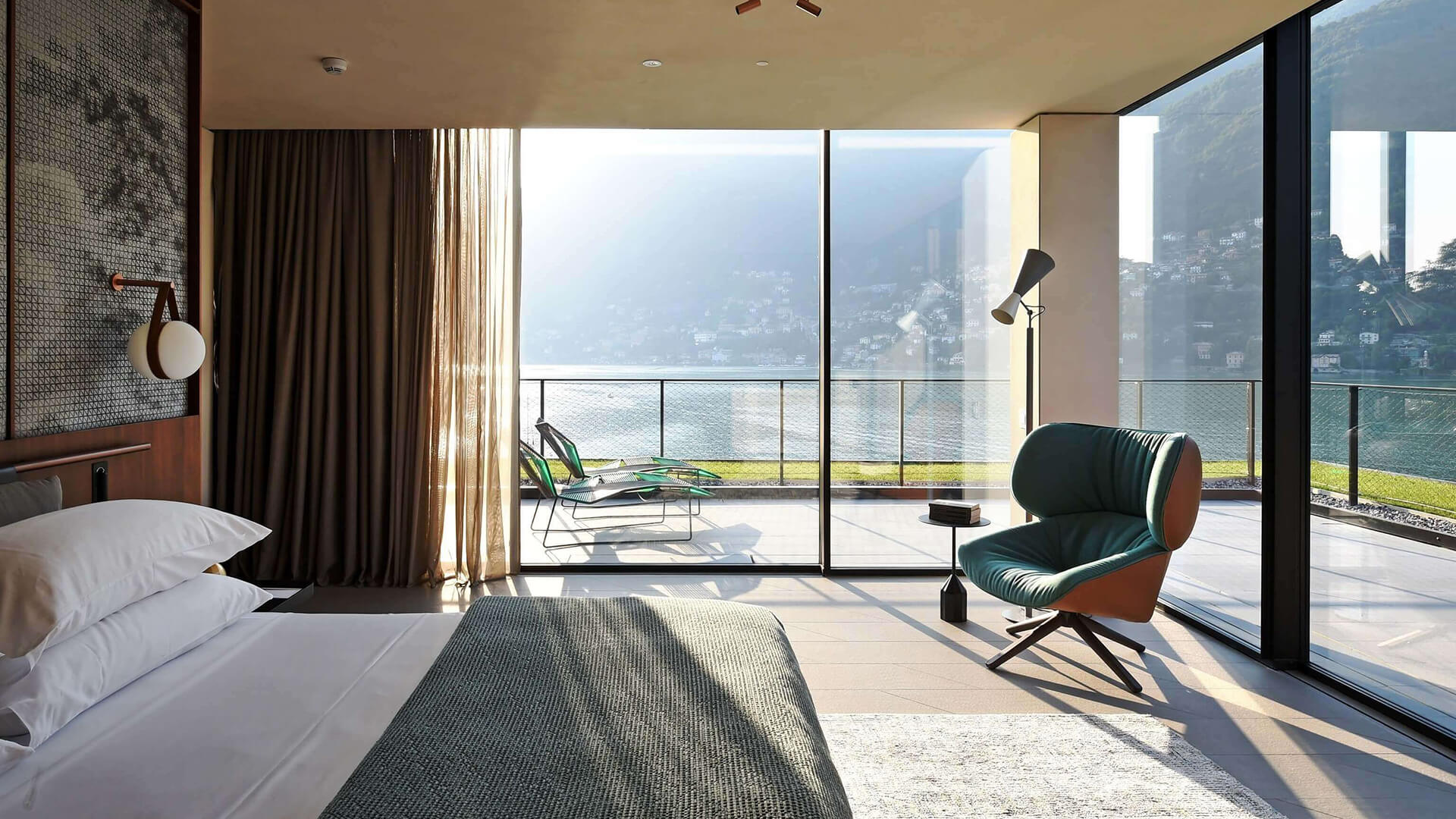 From from a typically handcrafted product, into an industrial project able to revolutionize living.
On the shores of Lake Como, in one of the world's best-loved tourist destinations – the prestigious "Il Sereno Lago di Como" – Fontanot realized a contemporary structure that was designed by Patricia Urquiola – and includes an entirely custom made Fontanot staircase.
Fabio Curcio Valentini – with his firm CVHP – also took part in the project having been entrusted with both project and site management.
In the majestic lobby, the Fontanot staircase in prized Canaletto Walnut, blends harmoniously with the interior decor, lending it that touch of excellence for which the Italian company is famous.
"I began manufacturing indoor staircases in the 70s"
said Enzo Fontanot, whose company is a leader in the field of International Industrial Design, which has helped transform the staircase from a typically handcrafted product, into an industrial project able to revolutionize living.
Fontanot also created another custom made staircase for the occasion: located next to the elevator, it leads to the prestigious building's various floors.
Some of the most quoted international newspapers – The New York Times, Forbes, New York Post and The Times – chose Il Sereno, Lago di Como as one of the world's 25 best hotels to visit in 2016.
Thanks to its privileged position between the lake and the mountains, the architecture ensures a stunning view and fits perfectly into the landscape, enhancing its natural beauty.
The surrounding atmosphere, characterized by sober design and personalized service, was a source of inspiration in the choice of materials: wood and stone are the protagonists, along with copper and textiles.
The project represents a true oasis of relaxation, offering many exclusive comforts, such as the small fleet of watercraft designed by Cantiere Ernesto Riva, exclusively for the hotel.
The location is magical also because it's possible for visitors to arrive directly by boat, admiring Lake Como's seductive, mirrored surface.
The hotel's entire F&B offer is managed by multi-starred chef Andrea Berton, the Berton Al Lago restaurant offers dishes that pay homage to local and regional ingredients.
In addition to the dining room, the restaurant also offers a charming terrace overlooking the Lake.
Fontanot staircases are an impressive example of unmistakable "Made in Italy" style, evident in the attention to detail, elegance and high quality.
The Italian company operates on the market motivated by strong values such as safety and respect for the environment and today is simultaneously moving towards 4 targets:
the contract division is working on complex, custom made projects and large commissions
while the consumer division meets the needs of every type of interior through a large variety of models and services, e-commerce, attractive products and DIY for DIY lovers