ONLY THE BEST, the manifesto proposed by Superdesign Show 2018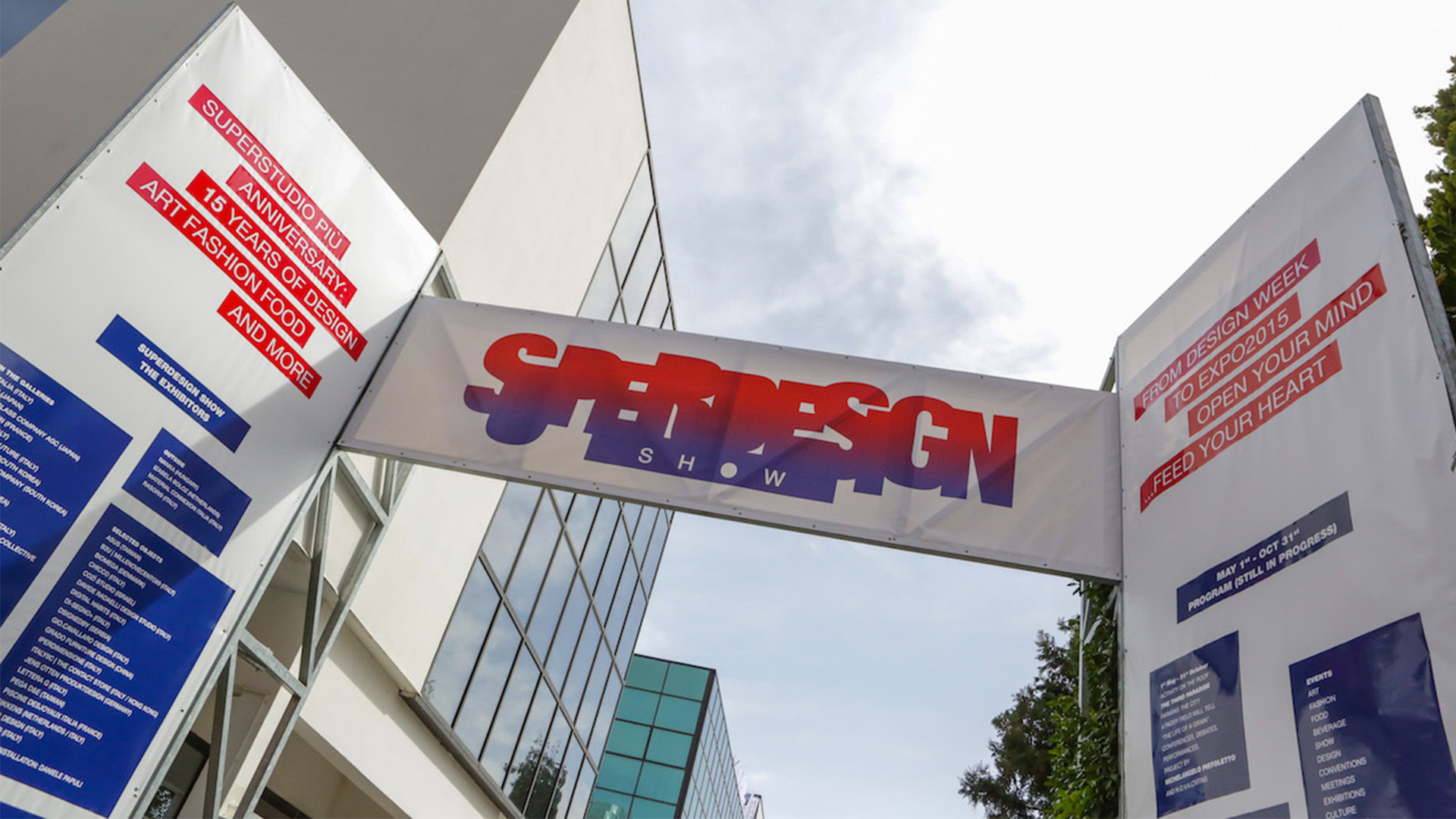 SUPERDESIGN SHOW is a project by Gisella Borioli, with artistic direction by Giulio Cappellini.
Although Superdesign Show's mission towards quality, excellence, research and the "less fair, more museum" original concept remains undiminished, the common theme that characterise every edition renovates: this year ONLY THE BEST, manifesto proposed by Gisella Borioli.
The selection focuses and highlights big names, innovative projects, life-style trends, technological solutions that improve the environment and everyday life, countries always at the top in the high-quality design such as Japan, and the emerging centres of new design, like a surprising Egypt.
"I can really feel the twenty years of Superstudio Più getting closer, and the creation, in 2000, with the new born Fuorisalone, a new way to communicate design and "to do fair", a concept that renovates and integrates the traditional, and yet important trade fair.

Looking towards the future without repudiating the past, I try every year to totally renew the Design event, aligning on the latest trends, on intuitions and on the most significant proposals.

The turning point of 2018 is called "Only The Best", and this is the reason why I wanted, at my side again, Giulio Cappellini as art director and protagonist.

These are the four compass points, the most anticipated and extended projects that will lighten up Superstudio: the super solo exhibition by Nendo, the maybe most successful design studio, the high-tech and sustainability international brand Dassault Systèmes with a project by Kengo Kuma, the Smart City exhibition extended until half May, as well at Superstudio Più, and Superloft the house that everyone fancies living in, with Italian top design brands"
says Gisella Borioli, creator of the Superdesign Show project.
SUPERLOFT
The Superloft imagined by Cappellini is an imaginary yet real home, cool and eclectic, cultured and elegant, with the participation of the most interesting protagonists of the Made in Italy design and the masters craftsmen who can create beautiful and precious things.
A house that combines side-by-side iconic pieces by the most important furniture brands, in a synergy between contemporaneity and vision.
Every space of a hypothetical home where a family could actually live will be explored. From the living to the wellness room, from the kitchen to the bedrooms, from verandas to service spaces. A proper superloft, in which the idea is to create an International home: that could be placed in Paris as well as in New York in Berlin or Shanghai.
"Now, more than ever, people want to live in a home that reflects their tradition, culture, identity.

I tried to create a wide-ranging space that is not just a status to exhibit but describes the pleasure of living in cosy spaces, surrounded by beautiful objects, now discreet and declared, that become essential presences in our existence"
states Giulio Cappellini.
The following will participate to Supeloft: Boffi, Cappellini, Flaminia, Fontanot, Icone Luce, Linvisibile, Living Divani, Magis, Meisterwerke, Oikos, Orsoni, Pecchioli Firenze, Poliform, Poltrona Frau, Salvatori. And designers: Michael Anastassiades, Ron Arad, Ronan and Erwan Bouroullec, Tom Dixon, Ron Gilad, Konstantin Grcic, Jaime Hayón, Piero Lissoni, Marcel Wanders, Alessandro Mendini, Jasper Morrison, Nendo, Philippe Starck.
Superloft will be running also in the evening, after the closing hours, with private dinners invitations in this top-design house.
A different view to share emotions of design with friends and business relations.
THE GREAT EXHIBITION BY NENDO
"Nendo: forms of movement" is the extraordinary, spectacular, sensorial exhibition, proposed by the award-winning and very well-awaited for Japanese studio Nendo, an undisputable icon of contemporary design, who will this year brings the viewer towards a mysterious labyrinth: in an over 800 sq.mt. space 10 concepts based on the idea of movement, is born from an object's function, material or way of production.
The exhibition will show not only the final products, but also samples and drafts, in a fascinating journey in the heart of design creation.
MORE JAPAN
Japan loves Superstudio.
In fact, beyond Nendo, an entire enclave of successful companies, start- ups and hubs of promotion of Made in Japan design arrives in Central Point, for an itinerary through space and time, contrasts between the most inventive technology and millennial traditions.
Kawai, in collaboration with the light artist Takahiro Matsuo, exhibits the poetic installation "Crystal Rain" where a piano with a transparent end, created to celebrate the company's ninety years, floats on a water glass generating a light waterfall to every note.
Yokohama Makers Village, a network of companies highly specialised in the production of metal located in the Yokohama area, is back with Reflection/Shadow to explore the material's characteristics in a game of reflections and shadows.
Japan Design Week, Japanese design festival supported by the Design Association npo for the distribution of local art and handcraft traditions in the world.
To complete the Japanese enclave there comes Yoy design studio in Tokyo of the duo Noaki Ono, spatial designer and Yuki Yamamoto, product designer, who aims at creating a new connection between the space and the objects and Budbrand, that is back at Superstudio Più presenting a project inspired by the "felicitations", with gift-objects to give joy to whoever receives them.
ENVIRONMENT AND TECHNOLOGY
With the "Design in the Age of the Experience" exhibition, Dassault Systèmes will reveal an iconic installation that encapsulates "Design For Life" concept and reacts with the increasing problem of air pollution.
In a bid to tackle this environmental and social issue, Dassault Systèmes has given Kengo Kuma and Associates a challenge to create a solution-based design that maximizes the use of existing pollution and neutralizing solutions.
INNOVATION OF MATERIALS AND TEXTURES
Superdesign Show is research and innovation also on contemporary materials, sustainability and new technologies with the two projects, Materials Village and Smart City, by Material ConneXion Italia, that are back, expanded and renovated, for the edition 2018.
Materials Village, a successful and by now consolidated format, for the fourth year in a row at Superstudio
Più, is a hub of events and initiatives dedicated to experimentation and promotion of the most performant materials.
Materials Village proposes every year a strong-impact set up, doubles this year presenting two great installations dedicated to the theme of sustainability and material in the Art Garden.
"The Tower of Colours" by Studio Marco Piva, a spectacular tower of materials whereas another installation of excellence on the theme of circular economy is curated by the famous designer Yona Friedman.
Among many new entries, a name of excellence stands out MIT Media Lab of Boston that will present a research project on a performant fabric that reacts depending on the percentage of atmospheric pollution.
On materials' theme, the itinerary continues through a Polyrey exhibition, a French company specialised for over 60 years in the production of top quality ornamental laminates.
Focused on trends and in constant renovation, Polyrey launches the new collection (317 decors of which 93 unreleased and 8 new surface finishings) intended for interior design, emblems its ability to blend technical performances and daring aesthetics aims.
A technical-ornamental itinerary, for Caimi Brevetti, 65 years of history and hundreds of patented projects, among which Snowsound's soundproofing panels and textures stand out.
Back this year, Superdesign Show's partner is Radici Contract, number one for personalised carpets upon requests, for a soft and elegant floor chosen by the most important fashion brands.
For 2018 edition, Radici created in the common corridors a sophisticated carpet of two contrasting dark browns, burgundy and dusty turquoise.
A MONTH-LONG SMART CITY
Impossible talking about new materials without developing also the current issue of the Smart Cities.
Under the direction of the architect Giulio Ceppi and supported by the Municipality of Milan, the second edition of the event-exhibition "Smart City: Materials, Technologies & People" by Materials ConneXion expands this year taking up 1000 sq.mt.
The exhibition suggests a reflection on the theme of the intelligent city starting from its citizens introducing materials and technological solutions that can be applied to the most significant changes in the fields of Advanced Building and Infrastructures, Connected City, Smart Living – Smart People, Sustainable and Circular City, Integrated Mobility, Food Policies and Urban Agriculture.
The exhibition will launch along with the Design Week and will stay on show for one month so as to be visited during the Milan Food Week in May, this thanks to Superstudio's hospitality and partnership with Seeds&Chips, international hub on Food Innovation.
URBAN TECHNOLOGY
New Mobility is the main theme of the Stahl & Partners research that, within the "New Mobility meets Interior Design" project, the question begins "can a car fulfil further needs other than simple mobility?" and imagine a self- driving vehicle, a future "living space" to live when and where you want.
The possibility to shape the space is also the focus of the "Prospettive_Perspectives" project in which dArk studio highlights the MacroPix technology, Italian manufacture company of sophisticated LED displays.
A multi-sensorial experience that plays with three-dimension images, transforms a well-defined space into a moving architecture.
LIFESTYLE ICONS
An ironic and amusing exhibition curated by the Danish designer Niklas Jacob, "IDEA – The Design Supermarket" as a tribute to the Swedish colossus IKEA: 18 designers from 6 different nations will exhibit flat-pack projects with a "Do it Youself" assembling, not however the usual objects.
So here is the assembling spare tyre, the hiding-lovers wardrobe, the pedestal for the egocentric ones, the bookcase for only a favourite book, a dining table for those always on a diet, the cradle that seems a boat, a portable shelter for dogs, the table with interchangeable legs, and many more.
Three international designers celebrate the iconic S.Pellegrino water with a new "Special Design Edition": 3 different bottles and 3 emotional installations will display the thirty-year journey of S.Pellegrino water, from the spring to the table.
The project is coordinated by Giulio Cappellini, who once again confirms his extraordinary ability to value new designers.
On the other hand, Istituto Marangoni of Milan – The School of Design and the Swiss watch makers maison Rado will present the very anticipated final project of "Rado Star Prize Italia 2018" an original pop-up store inspired by the "Natural Freedom" theme created by the students of Instituto Marangoni in the fields of Interior, Product, Visual, Fashion and Accessories Design.
NEW BOARDERS OF DESIGN
Superstudio extends the horizons of contemporary living by exhibiting "Nile Selection" in MyOwnGallery, the best proposals of Egyptian furniture industry selected by Giulio Cappellini.
A house swinging between tradition and innovation in a game of alternating woods and natural materials with fabrics and lacquering that explore the theme of colour.
The twine between art and traditional handcraft, on one hand, contemporary design and graphic, on the other, they characterize "Java Blues", exhibition of furniture, art objects, fabrics and ceramics presented by Indonesian Contemporary Art & Design by Artura, that since 2009, organizes every year an art and design exhibition to explore the treasures of Indonesian heritage from a contemporary viewpoint.
COLLECTIVE THEME EXHIBITIONS
SELECTED OBJECTS are back at Superstudio Più, expanded and renovated, a successful section dedicated to small innovative companies and individual iconic objects in the running to stay in the design annals.
Freely selected by Superstudio's artistic board, every "prêt-à-vivre" design objects are on show in a large collective exhibition that highlights new aesthetics, research, innovation, a result of a team work, of a young designer, a new company, a consolidated brand.
And so here comes Barcelona Rugs, who moves the elegance and modernity of the Spanish city within its rugs, Faina, an Ukrainian brand that presents the furniture and accessories collection of natural "lively design" materials, Size M who designs a wardrobe for kids able to transform itself into an actual playground.
And moreover, DISCOVERING, a unique opportunity of visibility and diffusion that Superstudio gives to young emerging talents from all over the world, selected for originality and research, who present one single product or a representative prototype of their creativity, important for trends of the contemporary living.
The selected creatives will have the possibility to confront themselves with a group of Experts among which companies, manufacturers, architects, press, influencers and professionals who will find an overview of possible ideas for the future.
On exhibition among DISCOVERING: DiciannoveDieciDesign, Elena Rurua, Simoncini Studio.
The PARADES, a sequence of selected objects run through common spaces and interact with art.
Lounge, Rooftop, meeting and conference room, press office, coordinated image, common areas, garden, restaurants and much more.