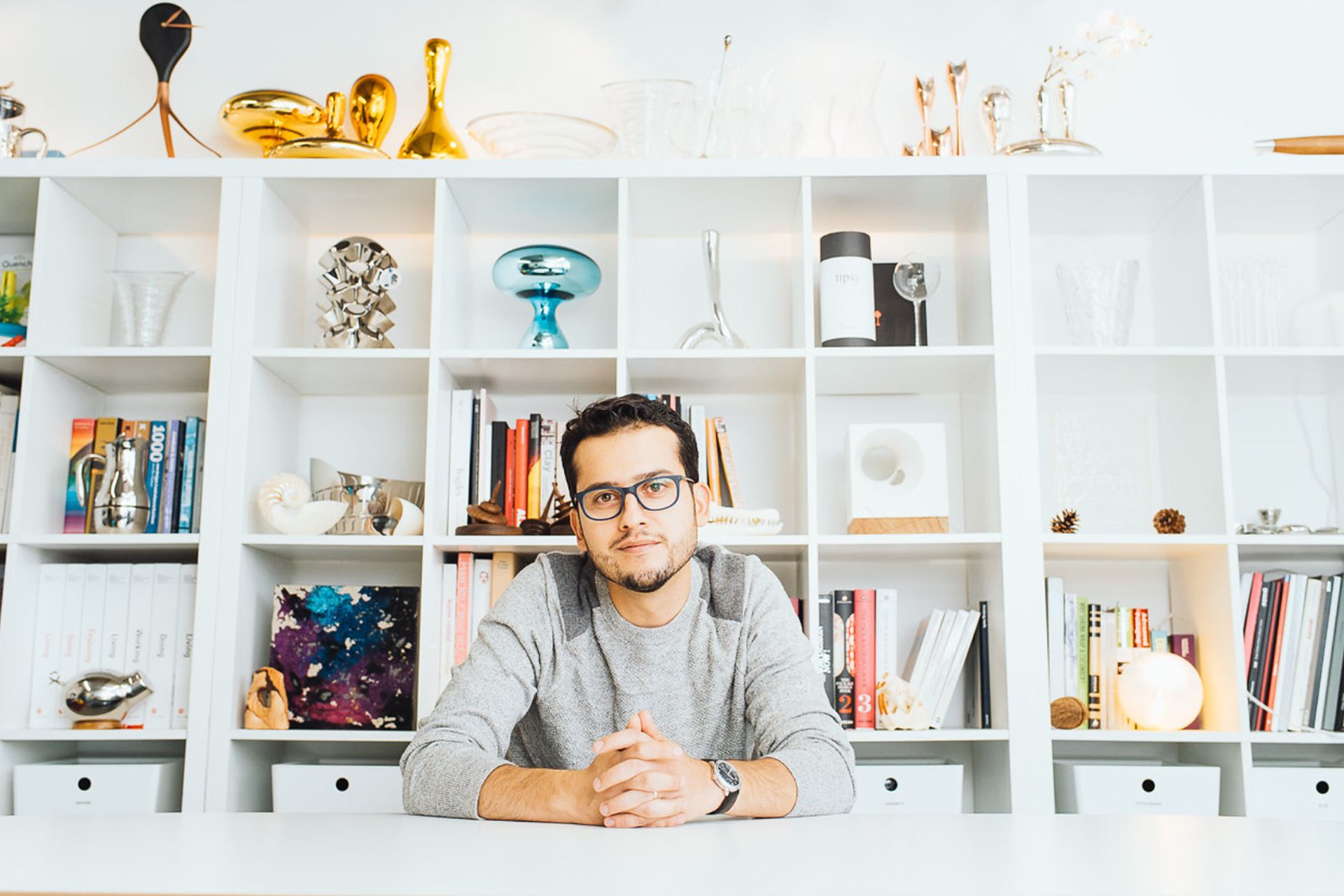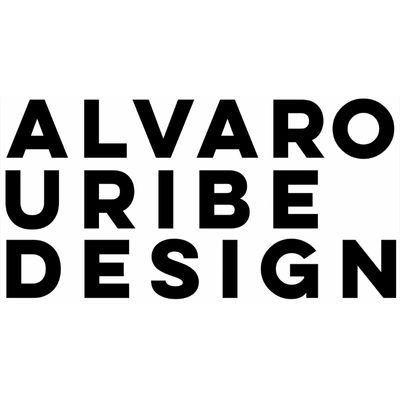 Ridge Carousel
Inspired by the forms of coral reefs, Ridge is a pod holder for the revolutionary instant coffee cups. The Ridge Coffee Pod Carousel is a stylish coffee pod organizer for 25 coffee pods. With a minimal countertop footprint, it delivers users the option to choose between different types of coffee. Its sculptural design conveys a sense of dynamic flow and lends it a pleasing tactility and feel. The harmoniously curved ridges create an enticing interplay of dynamic light reflections. The Coffee Pod Carousel comprises five levels that have been brought together with innovative laser welding.
Plum Series 2
The Plum Stool is a concept that organically combines structure, form, and material into one. The aerodynamic form of the Plum Stool emulates the way that natural forms grow and evolve, always aiming for efficiency. The name Plum is a derivative of the word "Pluma" in Spanish which translates to "Feather"; hence, capturing the idea that by combining new material, form creation, and structural logic you can accomplish astonishing lightness.
Pure Collection
Elevate your bar with the Pure collection – and give new life to your entertainment tools. Riffled lines from the Functionalist period are applied with a distinct touch of elegance on contemporary sensual sculpted bodies in stainless steel.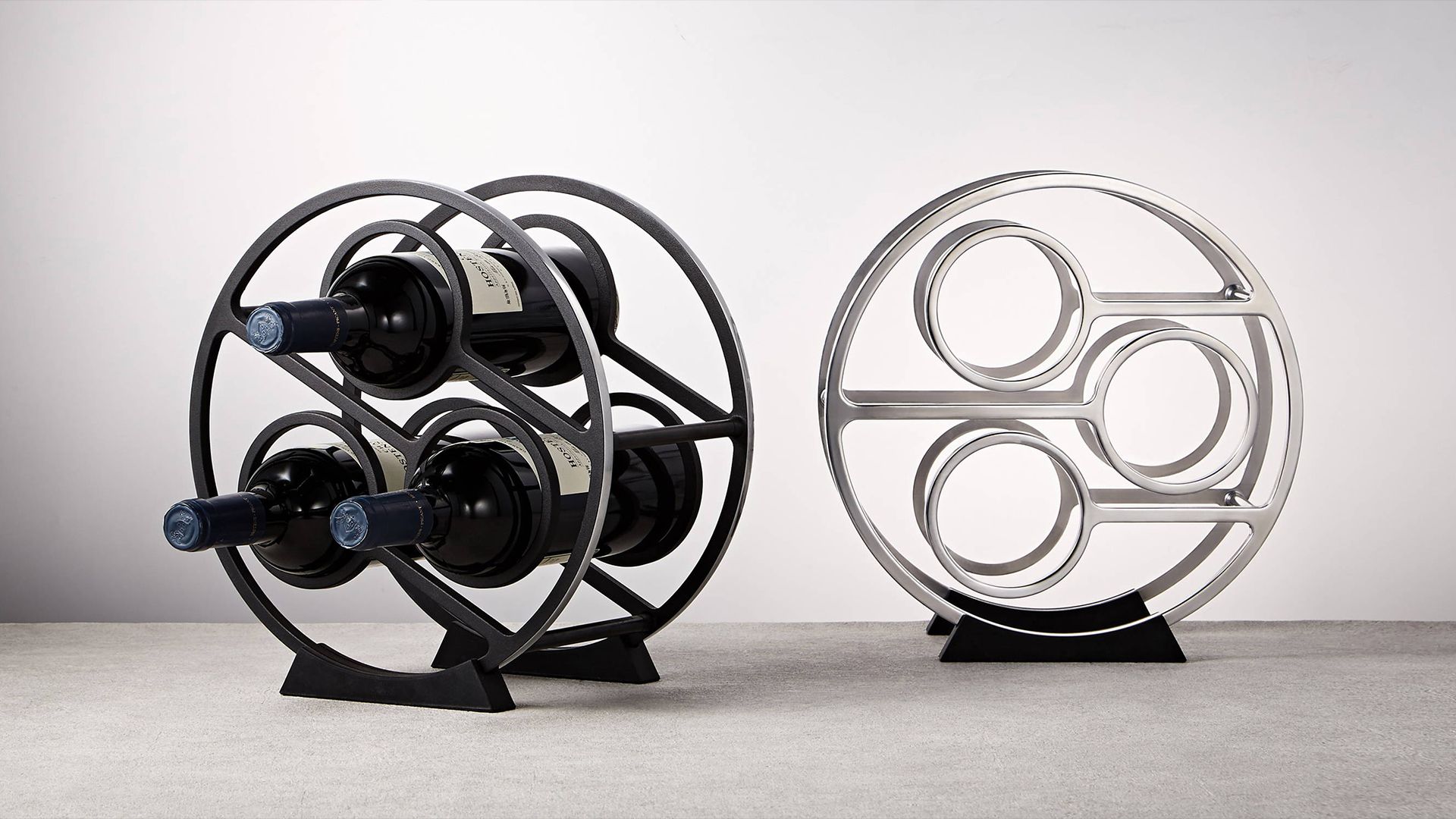 The Pure Wine Rack was designed to display three special selections of your wine in a unique and elegant way, one that captures the imagination. Inspired by geometrical patterns used in jewelry making, the Pure Wine Rack uses three interlocking supporting elements that hold each bottle as if it was levitating within a stylish stainless steel ring. Two independent supports allow the overall structure of the design to rotate giving a different feel to the design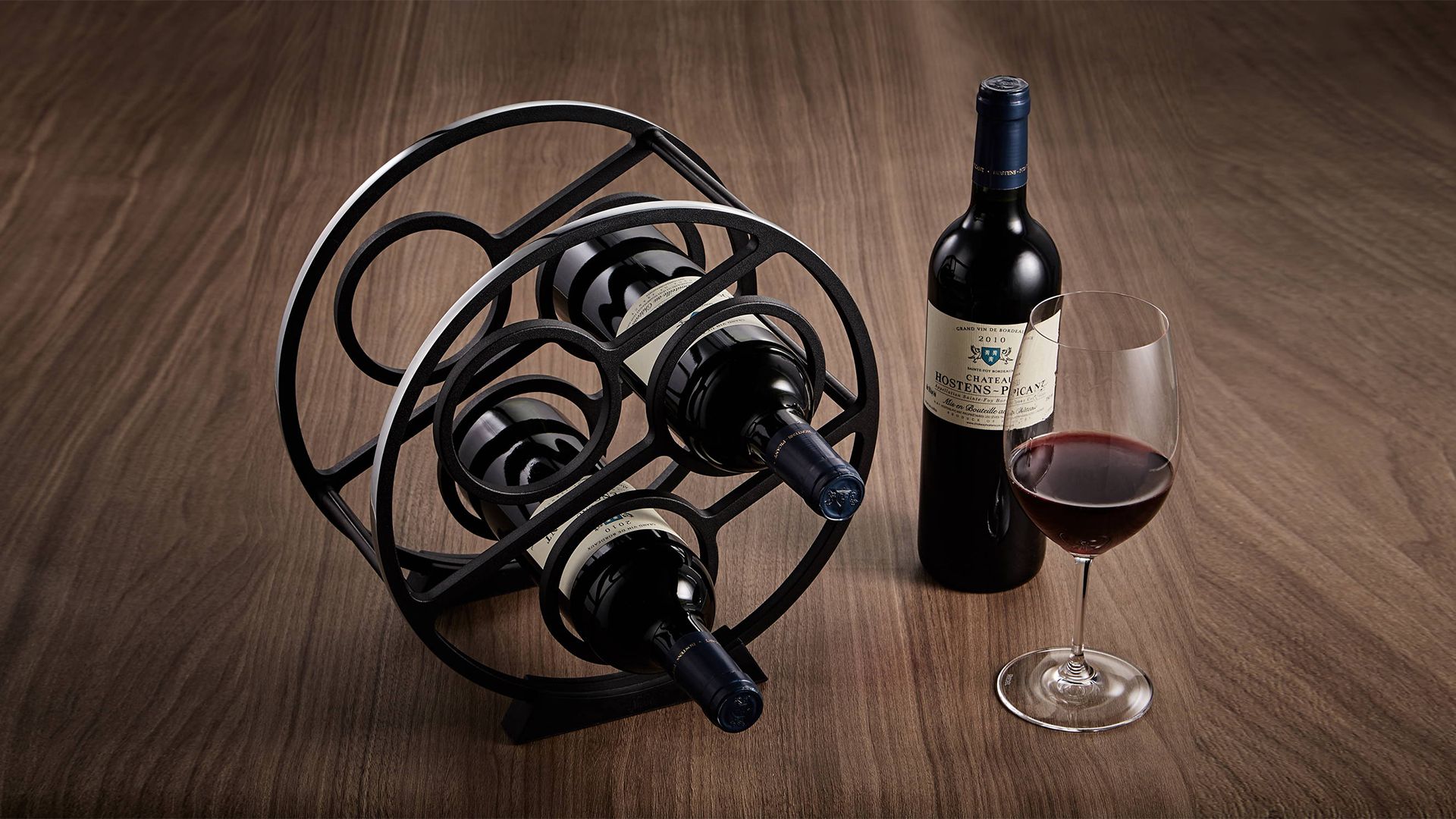 The Pure Wine Rack was designed to display three special selections of your wine in a unique and elegant way, one that captures the imagination. Inspired by geometrical patterns used in jewelry making, the Pure Wine Rack uses three interlocking supporting elements that hold each bottle as if it was levitating within a stylish stainless steel ring. Two independent supports allow the overall structure of the design to rotate giving a different feel to the design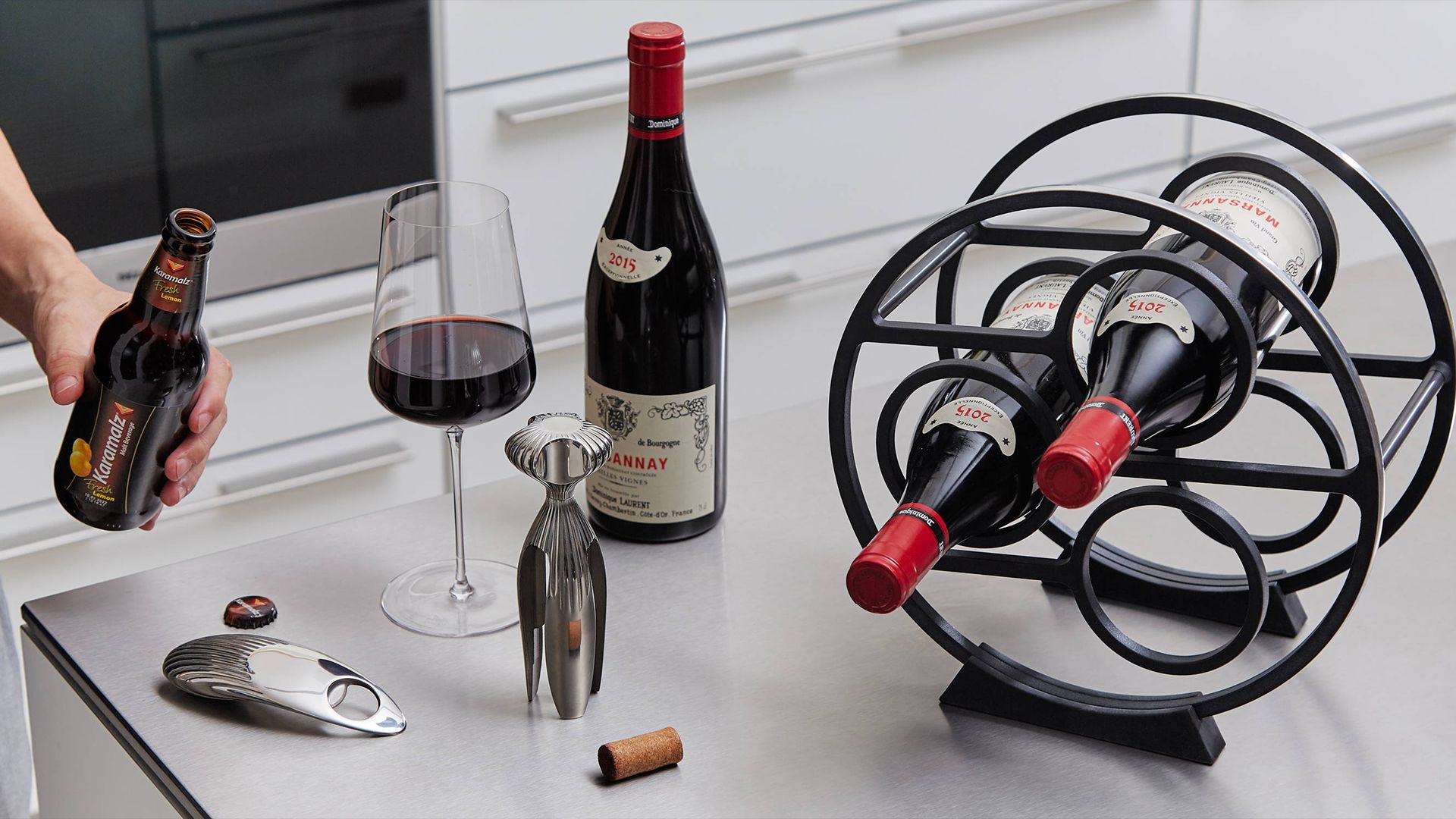 The Pure Wine Rack was designed to display three special selections of your wine in a unique and elegant way, one that captures the imagination. Inspired by geometrical patterns used in jewelry making, the Pure Wine Rack uses three interlocking supporting elements that hold each bottle as if it was levitating within a stylish stainless steel ring. Two independent supports allow the overall structure of the design to rotate giving a different feel to the design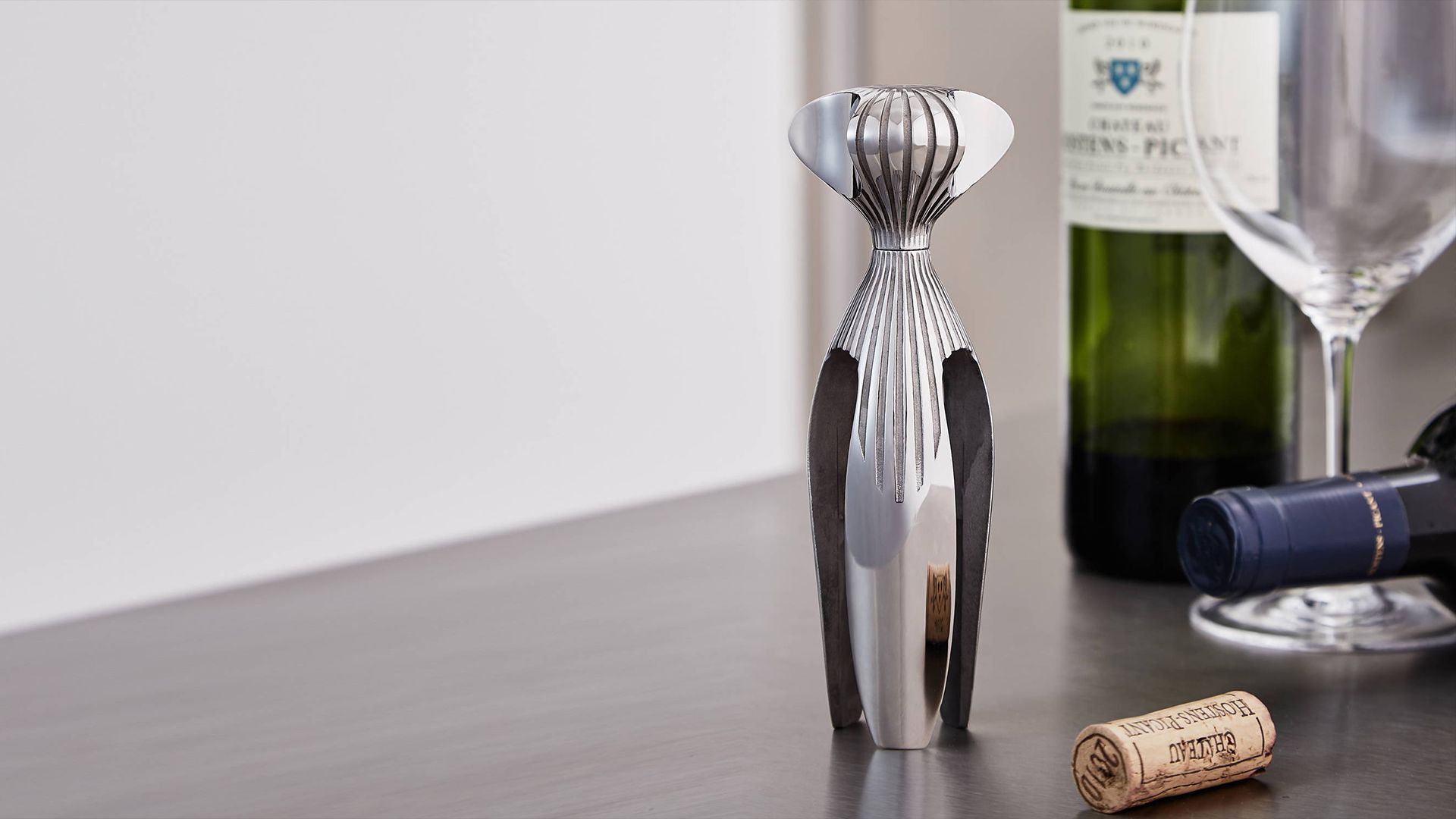 The Lyfe Bottle Opener takes a fluid aerodynamic shape that immediately lures to be held and used. The ridges on its back capture light and shadow as if it were a fine jewelry piece and make the design a display piece to share. The bottle opener instantly forges an emotional connection with the user, with an expressive form unique to Alvaro Uribe's vision. Made of cast Stainless Steel, the bottle opener is compact, and its smooth polished surface is pleasing to the touch. Its durable construction makes it a piece to pass down for generations, making it a design for life
The Lyfe Bottle Opener takes a fluid aerodynamic shape that immediately lures to be held and used. The ridges on its back capture light and shadow as if it were a fine jewelry piece and make the design a display piece to share. The bottle opener instantly forges an emotional connection with the user, with an expressive form unique to Alvaro Uribe's vision. Made of cast Stainless Steel, the bottle opener is compact, and its smooth polished surface is pleasing to the touch. Its durable construction makes it a piece to pass down for generations, making it a design for life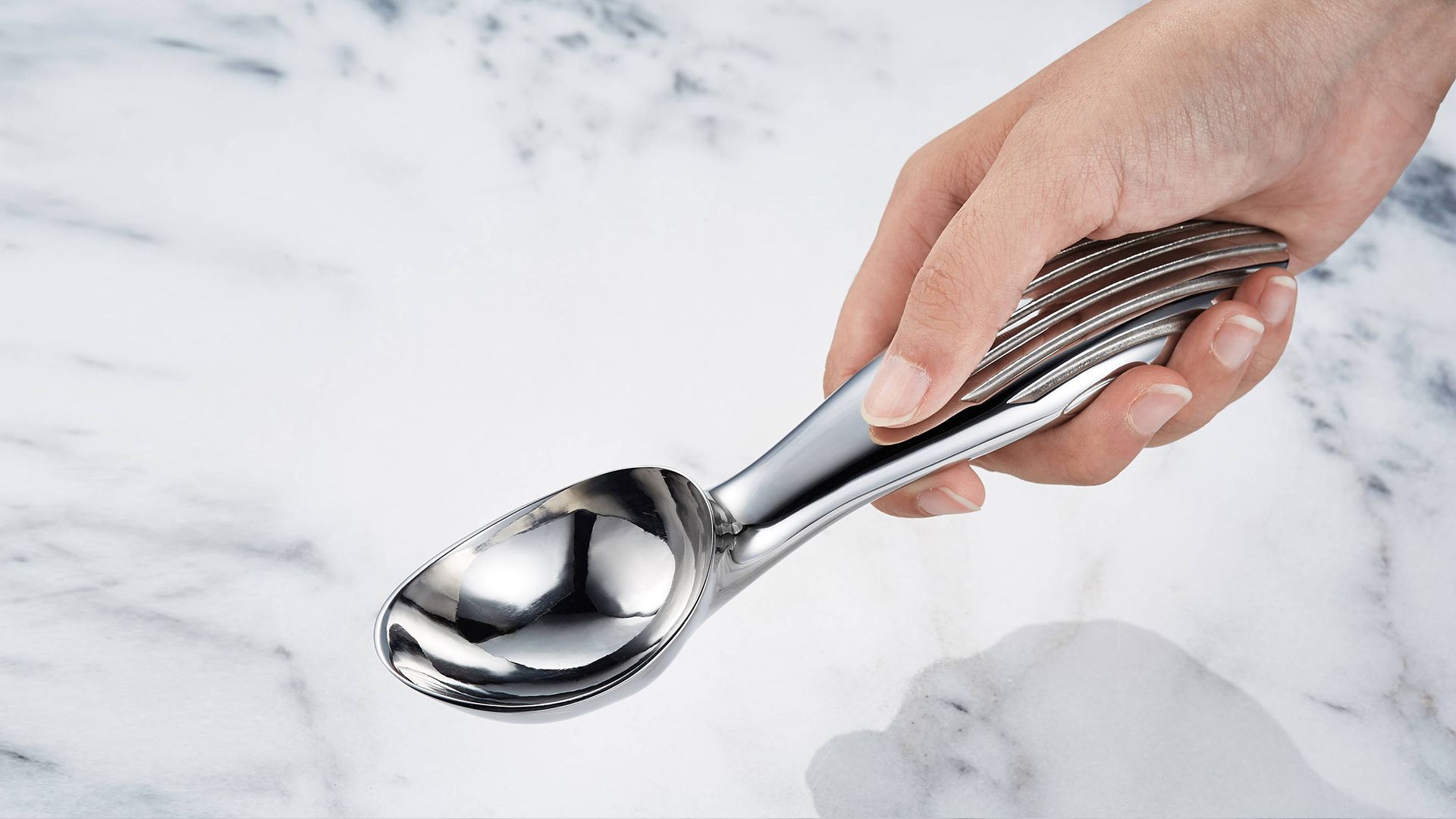 The Pure Ice Cream Scoop brings a modern and sophisticated feel to your party, serving with a sculpted handle and ideally proportioned body. The head is carefully designed to roll out the ice cream naturally and effortlessly. The ridges on its back capture light and shadow and make the design a display piece to share. Made of cast stainless steel, the tool has the ideal weight and strength needed to carve that cold ice cream out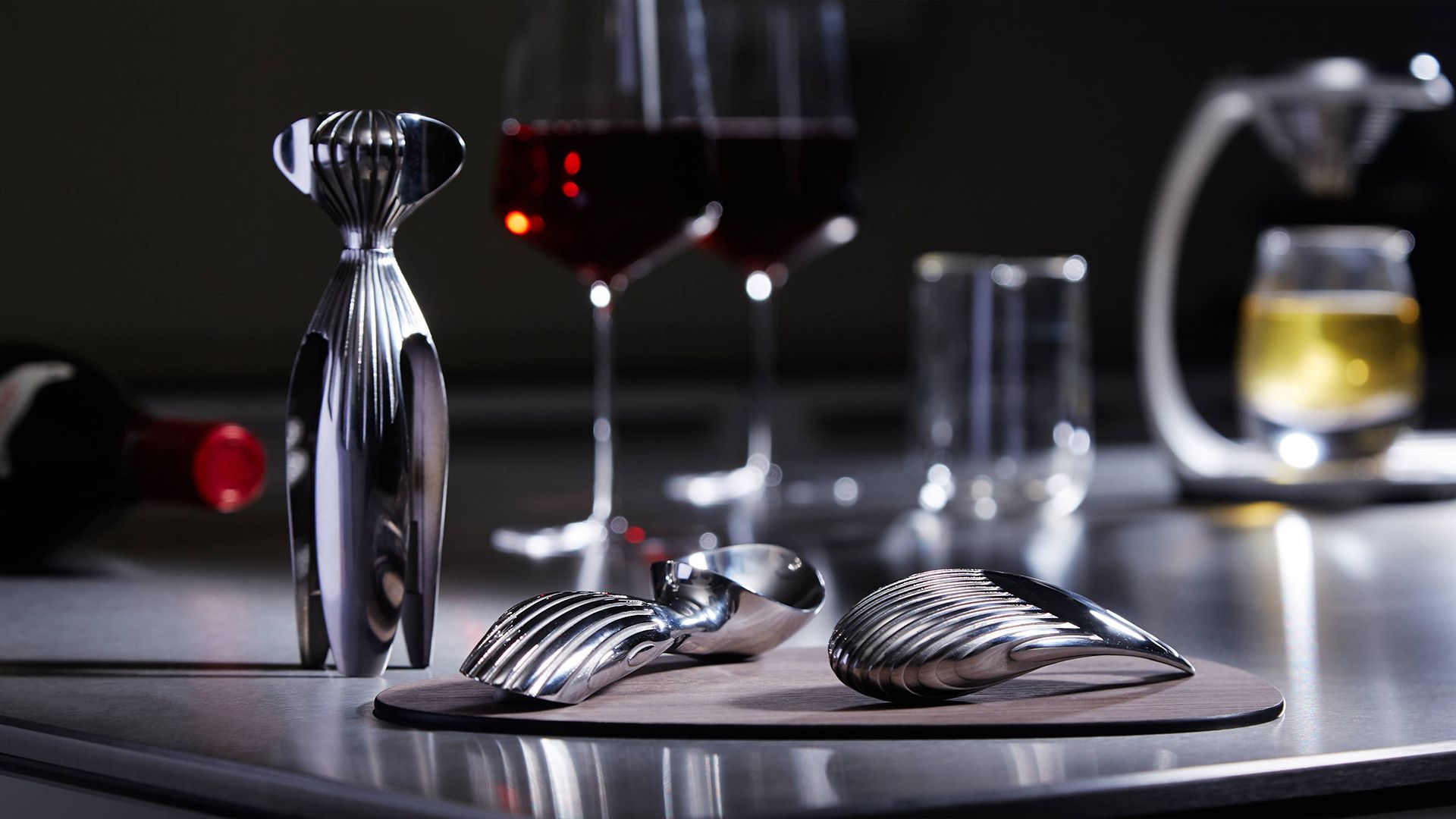 The Pure Ice Cream Scoop brings a modern and sophisticated feel to your party, serving with a sculpted handle and ideally proportioned body. The head is carefully designed to roll out the ice cream naturally and effortlessly. The ridges on its back capture light and shadow and make the design a display piece to share. Made of cast stainless steel, the tool has the ideal weight and strength needed to carve that cold ice cream out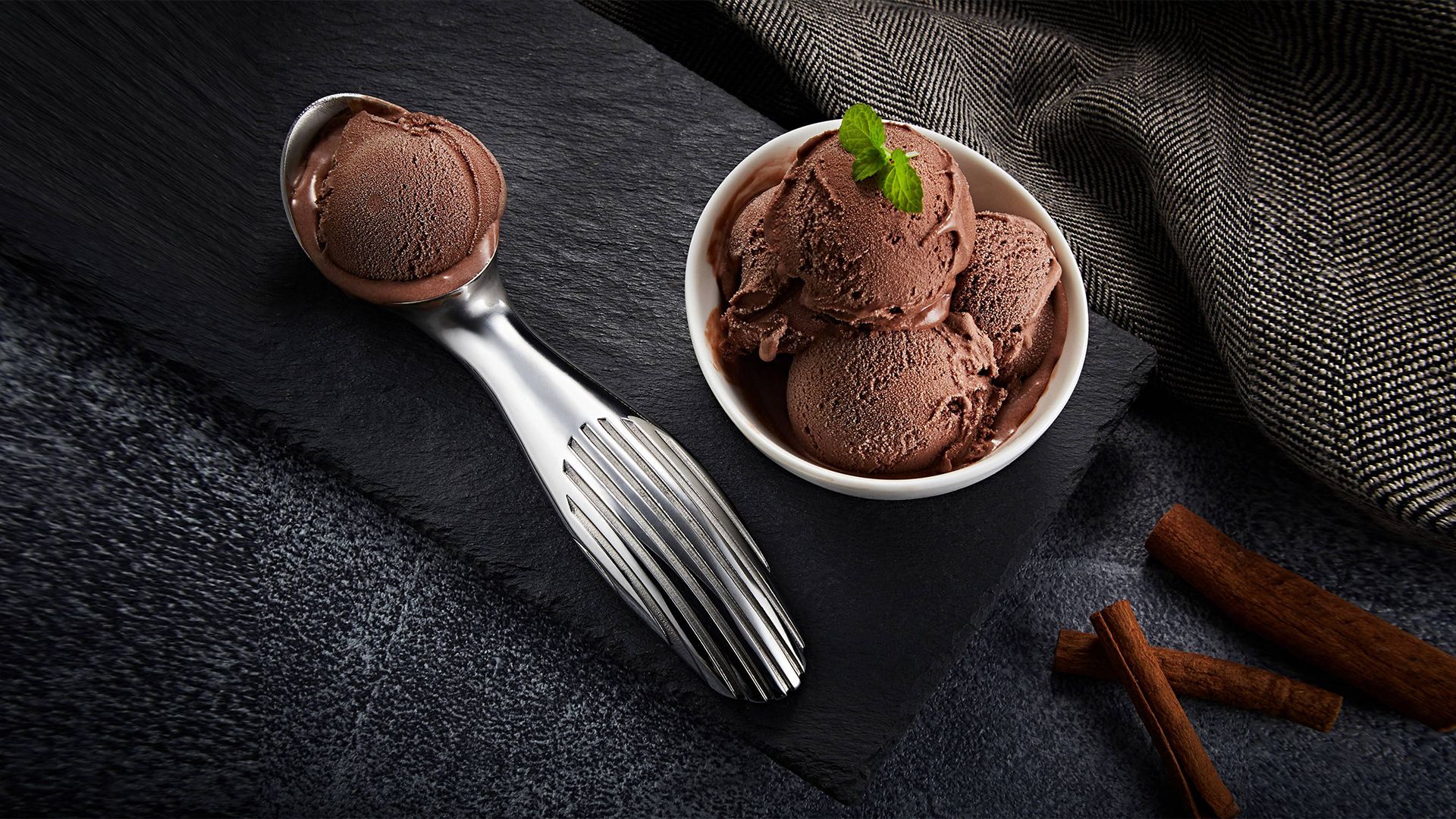 The Pure Ice Cream Scoop brings a modern and sophisticated feel to your party, serving with a sculpted handle and ideally proportioned body. The head is carefully designed to roll out the ice cream naturally and effortlessly. The ridges on its back capture light and shadow and make the design a display piece to share. Made of cast stainless steel, the tool has the ideal weight and strength needed to carve that cold ice cream out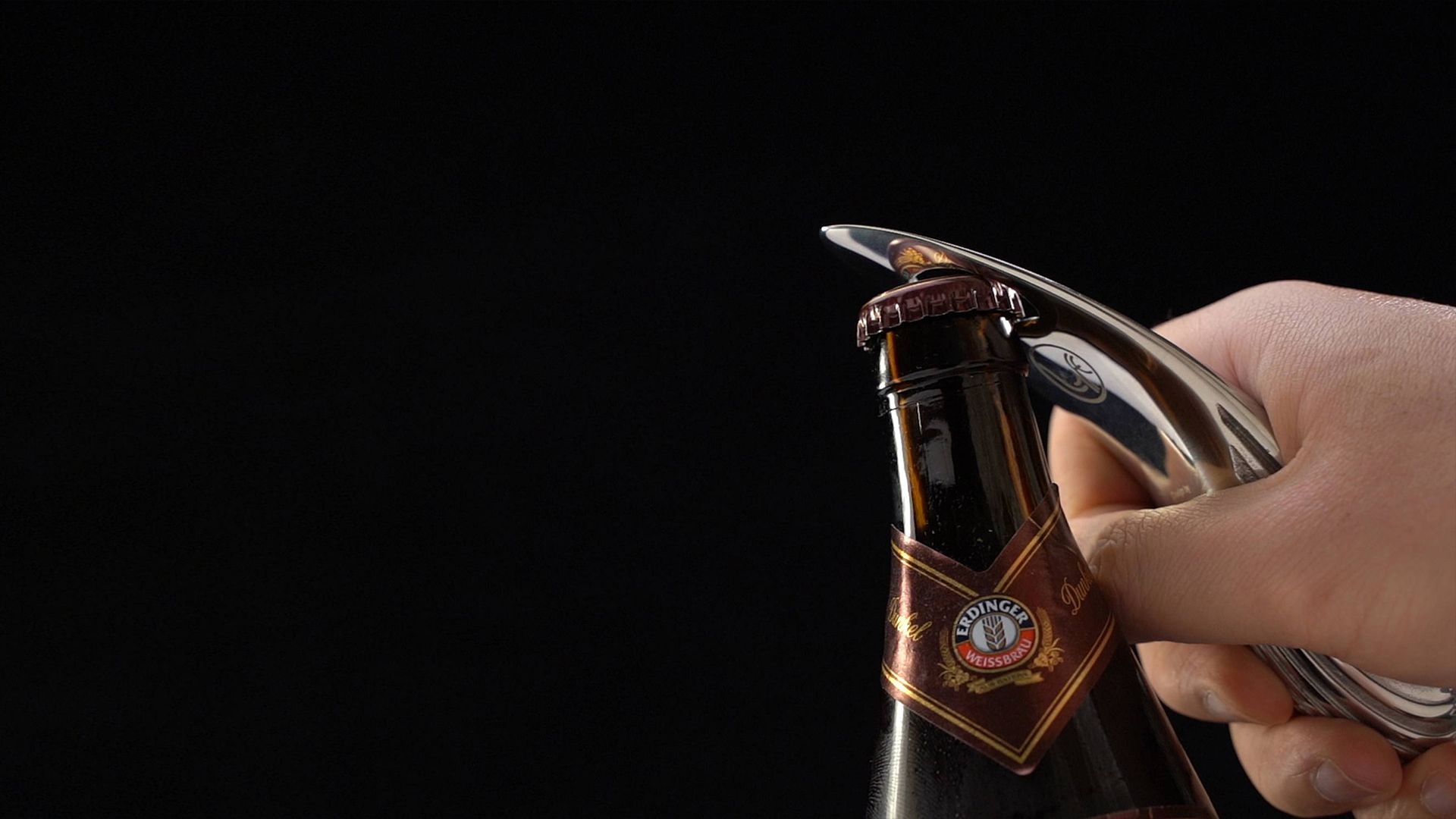 The Pure Bottle Opener takes a fluid aerodynamic shape that immediately lures to be held and used. The ridges on its back capture light and shadow as if it were a fine jewelry piece and make the design a display piece to share. The bottle opener instantly forges an emotional connection with the user, with an expressive form unique to Alvaro Uribe's vision. Made of cast Stainless Steel, the bottle opener is compact, and its smooth polished surface is pleasing to the touch. Its durable construction makes it a piece to pass down for generations, making it a design for life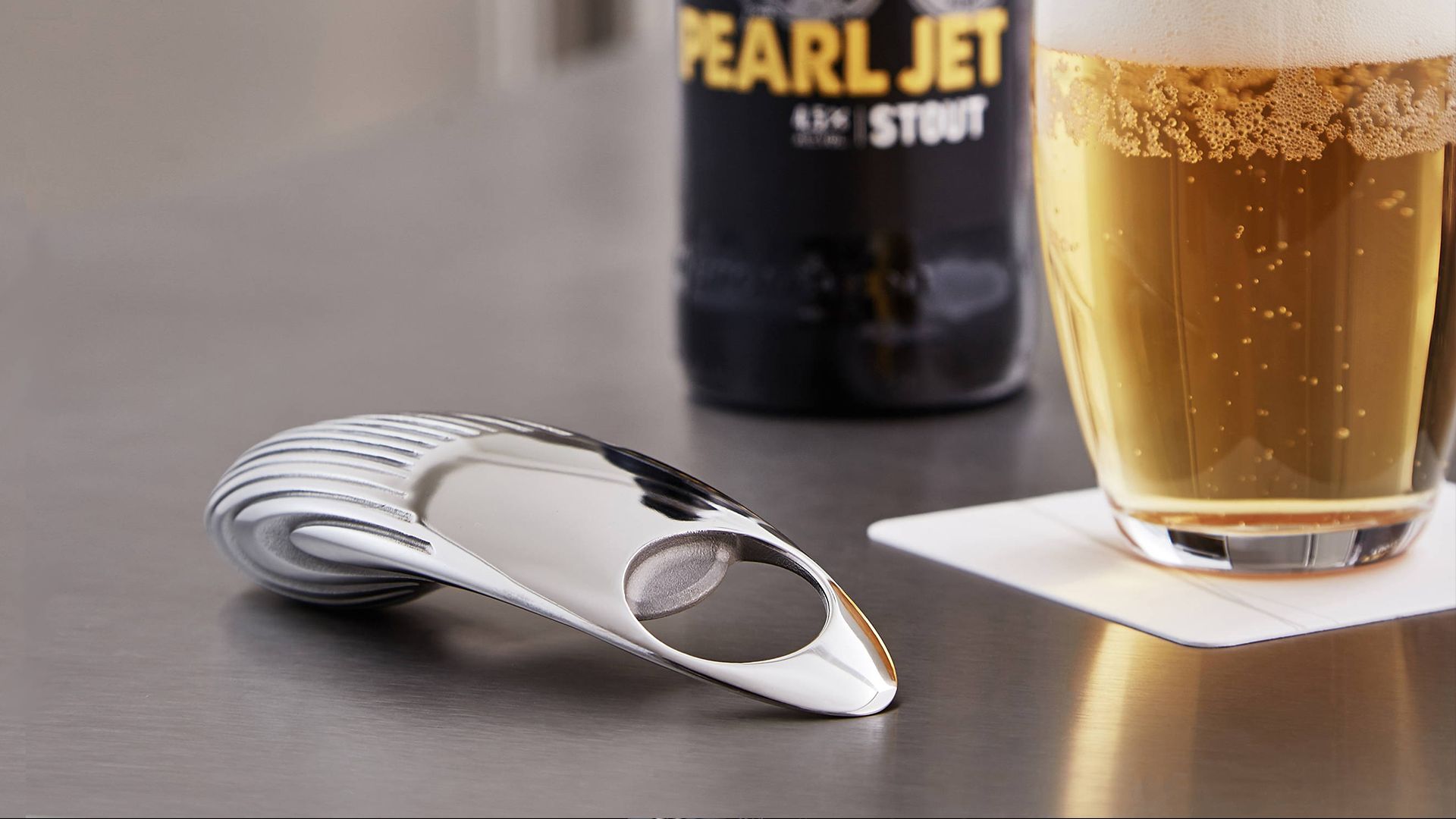 The Pure Bottle Opener takes a fluid aerodynamic shape that immediately lures to be held and used. The ridges on its back capture light and shadow as if it were a fine jewelry piece and make the design a display piece to share. The bottle opener instantly forges an emotional connection with the user, with an expressive form unique to Alvaro Uribe's vision. Made of cast Stainless Steel, the bottle opener is compact, and its smooth polished surface is pleasing to the touch. Its durable construction makes it a piece to pass down for generations, making it a design for life