The 'oddly satisfying' animations of Andreas Wannerstedt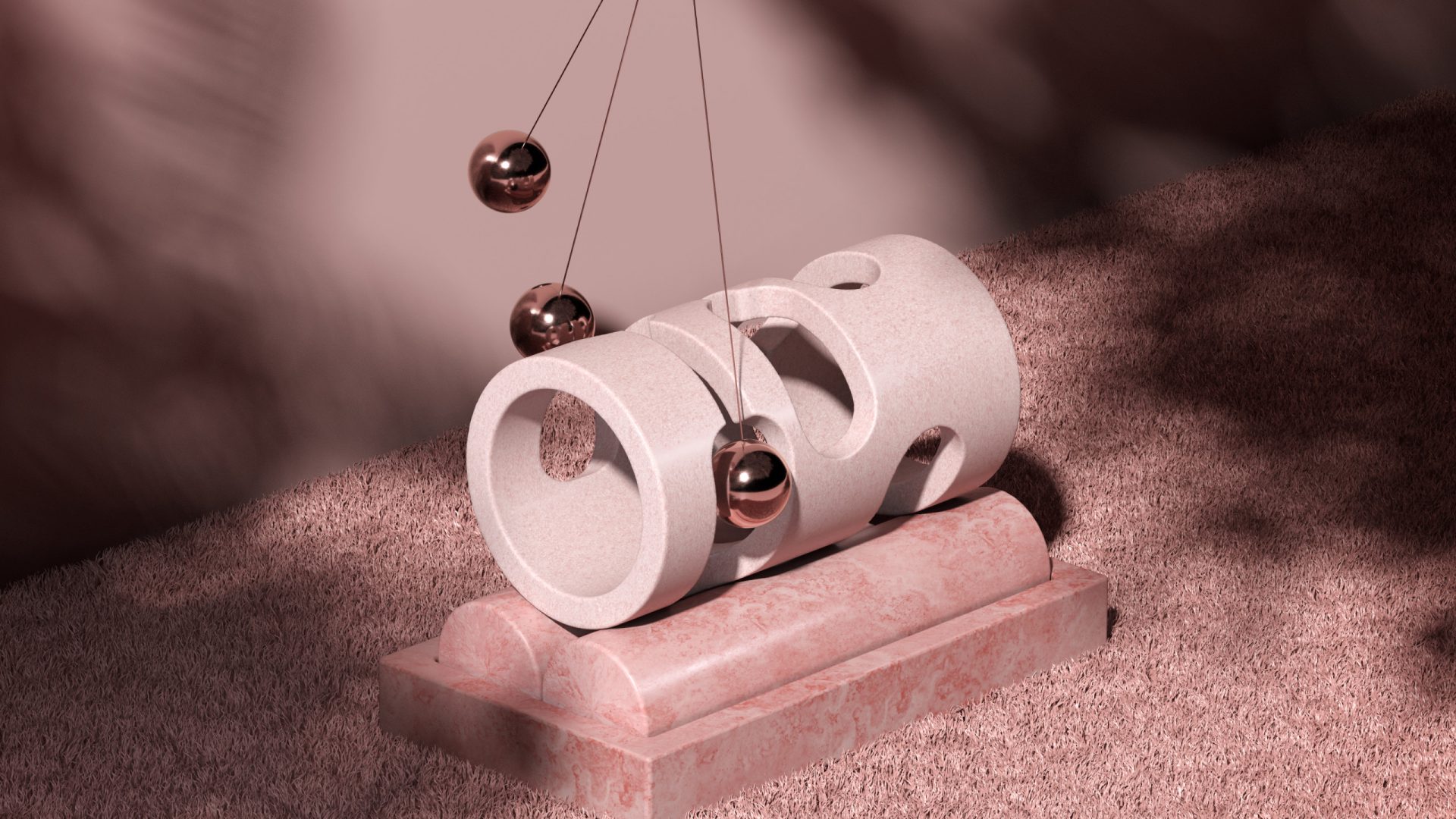 Andreas Wannerstedt 3D artwork evokes a strangely hypnotizing feeling, making the viewer relaxed and even meditative.
Crafting unique 3D sculptures and mesmerizing looping animations, Andreas Wannerstedt is a Stockholm based artist and art director whose work has often been described as "oddly satisfying", since it evokes a strangely hypnotizing feeling, making the viewer relaxed and even meditative.
With around 20 years of practice, Andreas 3D artwork often breaks the boundaries of tolerances, friction and gravity, enabling endless motions of the cleanest order featuring simple and playful geometric shapes. Although his animations are vaguely based on real world behaviours, he has been commissioned to work for international recognisable brands and his animations have fascinated millions of followers around the world.
Who is Andreas Wannerstedt?
Andreas Wannerstedt: "I'm a Stockholm based 3D artist and art director who crafts 3D sculptures and looping animations.
I was born 1981 and grew up in a small town in Sweden, called Trollhättan. I've always been interested in design and drawing, but it wasn't until I was introduced to 2D animation in high school that I found a real outlet for my creativity. It suddenly became very clear what I wanted to do in life, and I spent a lot of time mastering the tools I needed to be able to realise my creative ideas.
A few years later I applied to a "Digital Media" program at a school here in Sweden, called Hyper Island. Mostly since their internship program was popular among big, international agencies at that time, and I got the chance to move to Los Angeles for 8 month to do some work at a studio called Exopolis, which did a lot of great work for Apple and Hollywood blockbuster movies etc. During my time at Exopolis, I was introduced to 3D, and I think that's when I really started to develop my own style."
Andreas Wannerstedt: "I started to work as a freelancer right after school, primarily with 2D animations for websites since Flash websites were very popular at that time, and then transitioned to 3D animations around 2007.
So I've been doing animations for about 20 years now, and been freelancing for about 15 years or so, doing commissioned work for recognisable brands such as Google, Adidas, Ikea, Coca-Cola, Spotify, COS, Audi, Omega, Swarovski etc. All practical skills are self taught and it's really my passion for digital art, in combination with a lot of practice and patience, that has taken me to where I am now."
Why focusing on 3D sculptures and loop animations?
Andreas Wannerstedt: "Creating 3D sculptures and looping animations started out as a hobby that turned into a full time job. Nowadays, I use my personal 3D artworks as an outlet for all my creative ideas and thoughts, and to satisfy my need to create something.
I like the challenge that comes with making infinite loops, even though it's pretty straight forward from a technical point of view. For a true seamless looping experience, you need to pay attention to the details. The thing that attracts me most about 3D work, is the possibility to visualise almost anything that comes to mind. I did a lot of digital illustration work before I started with 3D, and I often found myself limited, since I couldn't produce the designs I envisioned in my mind due to my lack of technical skills at that time. 3D knowledge is such a valuable tool for any designer, even just the basics. Now, I can create all kinds of objects, environments and animated worlds."
The imagery you create is both sophisticated and whimsical, often featuring perfectly synchronised animations which makes the viewer relaxed and even meditative. Which are the core concepts that will always represent your work?
Andreas Wannerstedt: "My animated loops have often been described as "oddly satisfying", and it's all about the interactions between shape and space, a portal into the perfect world of physics, movement, and predictability.
Timing and precision are key elements in my animations, since most of them are based upon the idea of flawless synchronisations between different objects and shapes in order to make the animations loop seamlessly.
Most of my work is slightly abstract and somewhat related to digital surrealism, but as an artist I always try to anchor my work in reality and take inspiration from nature. However, thanks to the digital medium, I'm able to break the boundaries of physical laws, and ignore real world behaviours such as friction and gravity if needed."
If you would like know about other 3D artists have a look at The world through the eyes of 3D digital artist Alexis Christodoulou
What is the impact of social media on your work as compared to the "real" world?
Andreas Wannerstedt: "Social media has affected my work a lot, most of my clients nowadays reach out to me after seeing my work on Instagram and it has opened a lot of doors for sure, so I would like to say it's my main marketing source. With the help of social media, there's a lot of potential to reach a lot of people, which makes it easier to get accepted as an artist, especially if you find your own niche. You should never underestimate the power of sharing.
Also, my art is very much influenced by modern society and the ways we consume art nowadays. In a time where we are flooded with art and visual stimulation, I've found that infinite loops are optimal in order to attract the attention of the viewers."
During the last 15 years you have been working with clients such as Adidas, Google, Omega, Swarovski, Ikea, Spotify, Absolut Vodka, Red Bull, and many others. How do you choose the type of client and project to work on?
Andreas Wannerstedt: "I often get a lot of creative freedom when working with client projects, since most requests are based upon my personal artworks I post on Instagram, but I also do tons of commercial projects in all kinds of styles and with very specific briefs. This is not something I post on my social channels or in my portfolio very often though because I really prefer to showcase the projects that I've been a part of during the entire process.
However, I definitely choose some big-budget projects only for the financial gain from time to time, but I prefer to work with clients and brands that I'm personally interested in, and with projects where I'm in full control of everything from concept to art direction."
What is the next step for Andreas Wannerstedt?
Andreas Wannerstedt: "I'm constantly working on new personal projects and I'm currently working on a short film that, hopefully, will be ready this autumn. I also have a couple of interesting commercial projects in the pipeline, but nothing I can talk about at this point.
I do however, have a big upcoming exhibition in Saint Petersburg this winter, at Erarta, the largest private museum of contemporary art in Russia, and this is something I'm very excited about."