Architecture
HANNAH clads Ashen Cabin with infested wood, in New York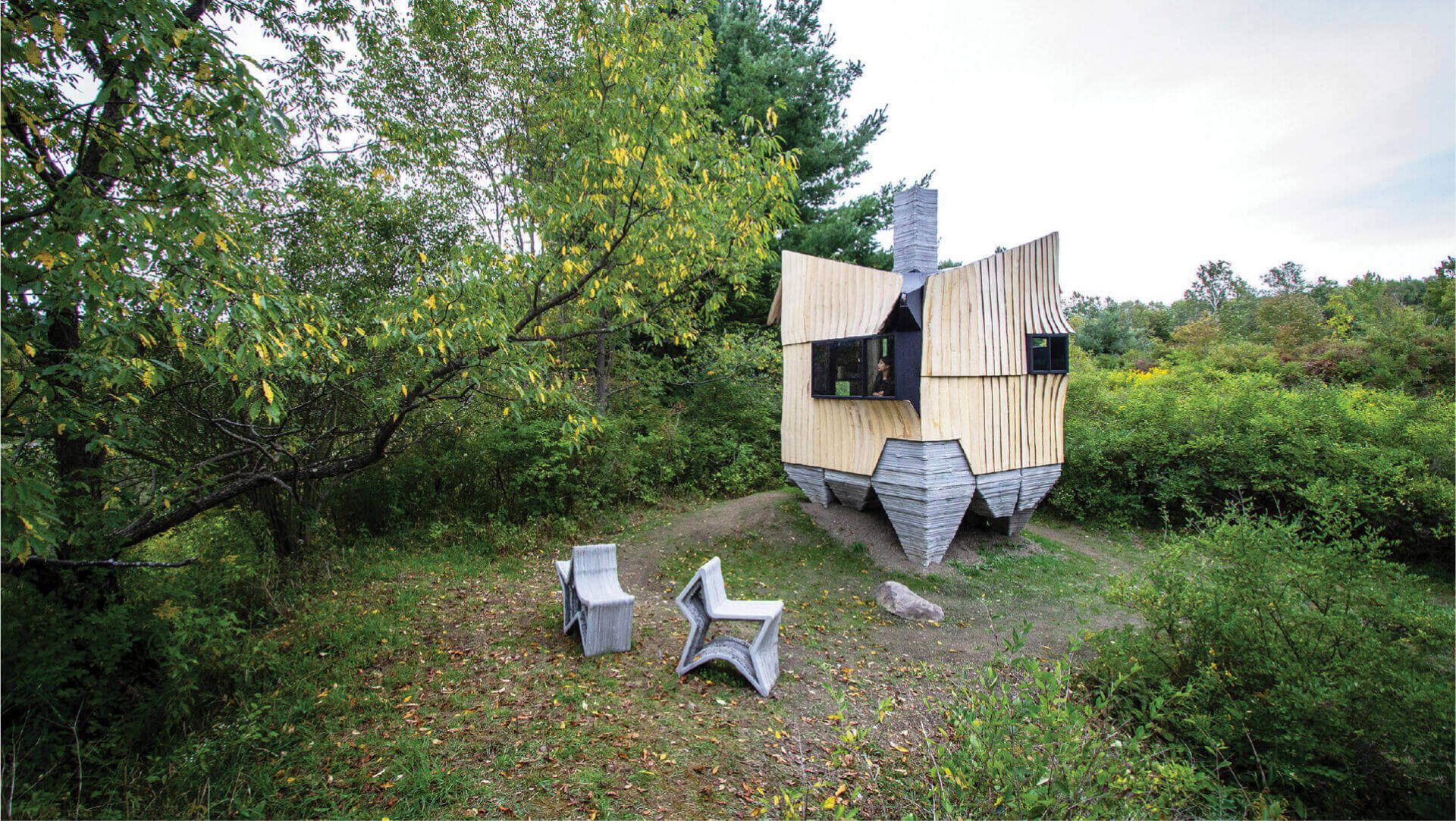 Ashen Cabin is an architectural prototype that explores new 3D technology and "waste wood" to form a sustainable cabin that offers beautiful concrete contours and timber curvatures.
American architecture studio, HANNAH, has designed Ashen Cabin by implementing high precision 3D scanning and digital fabrication techniques resulting in an architectural prototype that facilitates new materials and new forms of construction.
Why Ashen Cabin? To explore how wood infested by Emerald Ash Borer can be transformed into a sustainable building material using digital fabrication technologies
Ashen Cabin is intended as a small-scale architectural prototype to demonstrate new sustainable methods of construction. The prototype combines lumbar that was destroyed by a beetle infestation with contemporary digital fabrication methods.
The minds behind Ashen Cabin – HANNAH
Headquartered in New York, HANNAH Design Office is an experimental design and research studio led by Leslie Lok and Sasa Zivkovic. The studio was named the Next Progressives by Architect Magazine in 2019 and won the Architectural League Prize in 2020.
HANNAH explores the tension between construction processes and sustainability to discover ways in which we ought to build in the future. Their work is inherently derived from materiality, digital construction protocols, robotic routines, and new technologies. But at the same time, they are inspired by history, ecological considerations, and the creative misuse of technology.
Curious to know more about designers using of new technologies in architecture? Don't miss Breaking the architectural paradigm with Gilles Retsin.
Materials & Techniques – Concrete, infested timber, and 3D printing
HANNAH has used 3D printing to create concrete stilts to elevate Ashen Cabin off the floor, stacking layers of concrete to form the cabin's angular base and bulky extrusions. Concrete was not only employed for the legs of the cabin but also for a chimney that protrudes from the roof.
The concrete elements (including the curving chimney, fireplace, textured flooring, and furniture) feature a linear pattern marked by jagged edges that showcases the various layers of printed concrete. The layering of concrete was explored by the studio to reveal the idiosyncratic tectonic pattern that's created by relentless 3D depositions of extruded lines of concrete.
Ashen Cabin is clad in wavy panels of infested timber, while the windows are framed with linear black plywood. The irregular shaped logs cannot be processed in a sawmill, therefore the studio devised a way to cut the logs using a robotic arm and band saw attachment.
Style & Aesthetics – Following the contours
The curvature of the Ash is strategically placed to highlight moments of architectural importance, including windows, entrances, roofs, canopies integrated shelving, desk space, or storage. Over time the timber will naturally turn grey to match the 3D printed concrete used throughout the cabin construction.
Internally the walls are covered in the same timber used on the outside of the cabin. 3D printed concrete is used internally to form the flooring that interlocks with the curves in the timber. The concrete is also used to form a seating platform, a surface for the sink, and the fireplace.
HANNAH worked with students at Cornell University to realise the Ashen Cabin
Ash trees that have become infected by the Emerald Ash Borer beetle typically are not used for construction because of their difficult shapes and they can't be processed using a sawmill. They are usually left to decompose naturally or burnt for energy, which releases harmful carbon dioxide into the atmosphere.
The advantage of using this comprised Ash in construction is that carbon dioxide emissions are decreased, and the harvesting of other popular timber species is postponed.
Design memento – Using 3D printing for sustainable construction and reduce the projects carbon footprint
HANNAH chose to use 3D printing technology to help reduce the amount of waste and carbon footprint associated with the project. 3D printing eliminates the requirement of a mold, which reduced the amount of material needed for concrete construction. By using 3D printing the studio can deposit concrete intelligently and only where structurally necessary.
The writer's comment – Testing materials to refine the thinking and use of materials and digital techniques
Ashen Cabin should be looked at as an exploration of sustainable construction techniques rather than a refined architectural form. The cabin is a prototype that explores construction methods to help develop the future of architectural design and construction.
I like what HANNAH is trying to achieve. Their work is a creative exploration of how architecture is evolving to address the issues surrounding the future of construction. Their choice of materials is interesting and sets a base for further exploration into carefully considered architectural designs using new technologies to utilize materials that are otherwise overlooked.
If you want to know more about architecture that explores sustainability, don't miss We must rethink architecture by learning from nature – Interview with Kristoffer Tejlgaard.