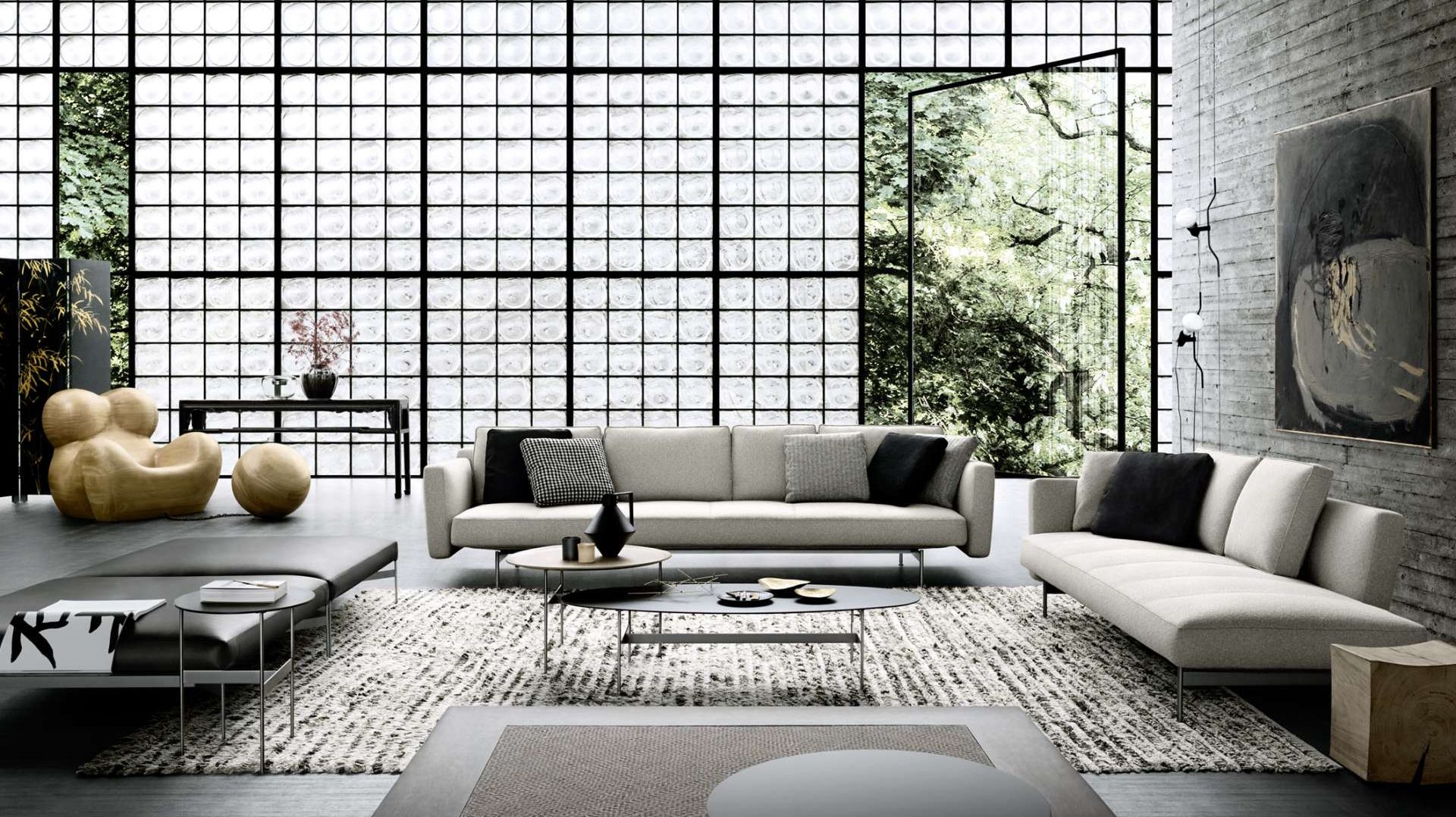 B&B Italia is an internationally renowned Italian Group leader in the high-end designer furniture sector built on a strong entrepreneurial spirit and a future-oriented mindset.
After 53 years since its establishment, it counts 600 employees, 70 single-brand stores and 1000 specialized stores worldwide, the oldest Italian Contract Division and a fascinating story beginning a few kilometers away from Milan in 1966.
Let us bring you through the facts, the people, the products and the events that wrote a chapter in the grand history of Italian design, named B&B Italia.
The Founder – Piero Ambrogio Busnelli
Meet Piero Ambrogio Busnelli, the energetic personality that kickstarted the success of B&B Italia.
The ones who had the chance to meet him in person describe him as a magnetizing personality with a quick and intuitive mind and a fascinating obsession for innovation.
His ability to make the right strategic choices, combined with the strength of executing them and turning an intuition in concrete results had been crucial to the endless growth of B&B Italia in the furniture industry and ongoing exploration towards new markets.
The Name – From one B to C&B to B&B Italia
While working at the family company alongside his brother Franco Busnelli, Piero is firmly oriented towards making a big change which would revolutionise the sector.
In the 50's the whole Italian furniture industry is still based on handicraft production, requiring extended manufacturing times and resulting high prices on final products.
Piero Ambrogio is motivated to find a way to industrialize the production process: this is what pushes him to research beyond Italian borders and into different sectors besides his own.
While visiting Interplast fair in London, Piero Ambrogio's attention is caught by a machine producing little toy ducks out of cold polyurethane foam: he senses a potential application of the same technique in furniture production, which will be soon revealed to be the right intuition.
In 1966, Piero Ambrogio Busnelli starts a new venture with 10 employees, focused on the industrial production of furniture pieces.
This move gains the attention of Cesare Cassina, founder of furniture brand Cassina, which is intrigued by Piero Ambrogio's unique manufacturing process for sofas and armchairs: firstly, switching from a hand-crafted wood frame to a more resistant one made of iron, and consequently inserting the frame in a mould to shape the rest of the furniture piece injecting cold polyurethane.
The collaboration between Piero Ambrogio and Cesare results in the birth of C&B, Cassina & Busnelli, that will last for 7 years: when the newly born company overtakes the revenues of Cassina itself, the two entrepreneurs decide to split up.
B&B Italia gains is current name as a family company driven by Piero Amrogio Busnelli and his sons.

The Product – Manufacturing design icons
Over its 53 years of history, B&B Italia has designed more than 1200 products which marked the evolution of the furniture sector on a global scale.
Many of these products became design icons that hold a spot inside museums and prestigious public locations: their timeless and innovative nature will serve as inspiration for future generations of designers.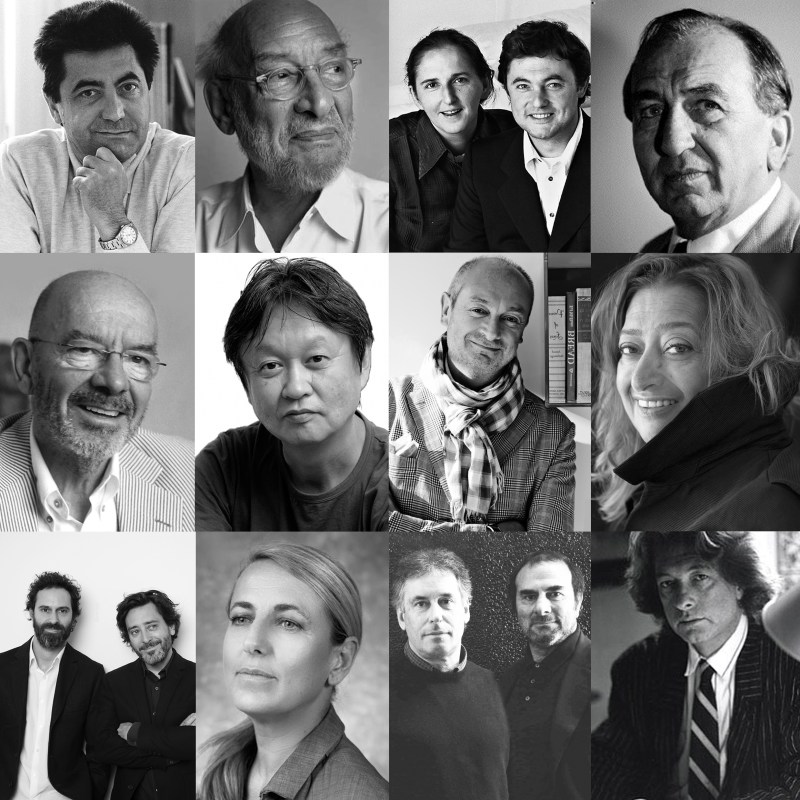 Follows a selection of landmarks, each of them belonging to different designers, all of them united by the high-end manufacturing signature of B&B Italia: scroll through, and find out the one thing you should know about each one of them.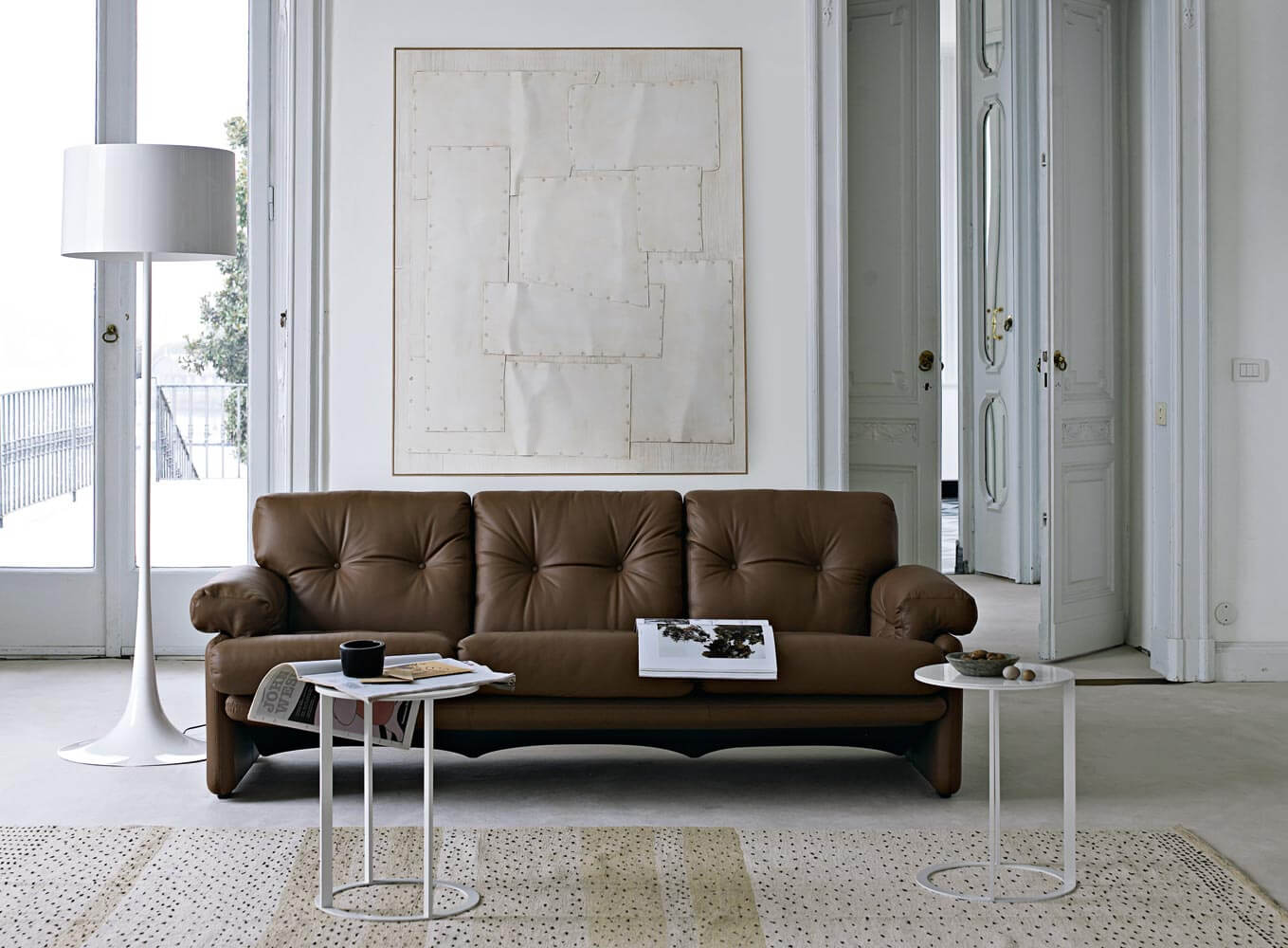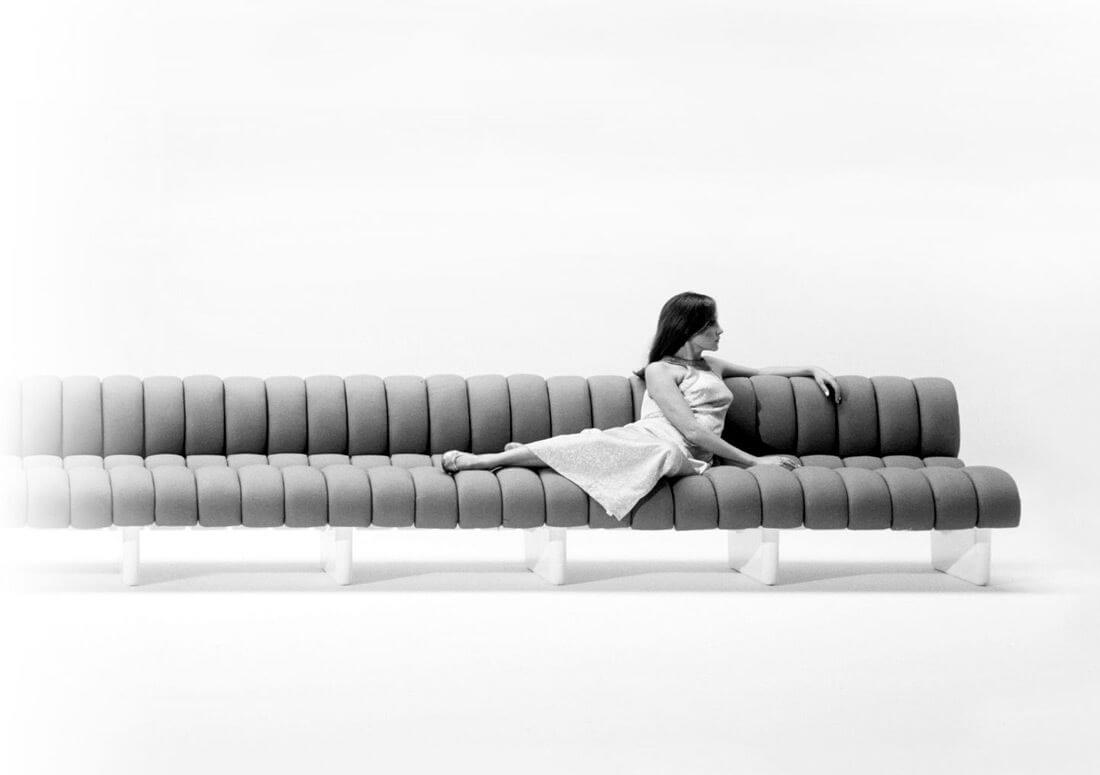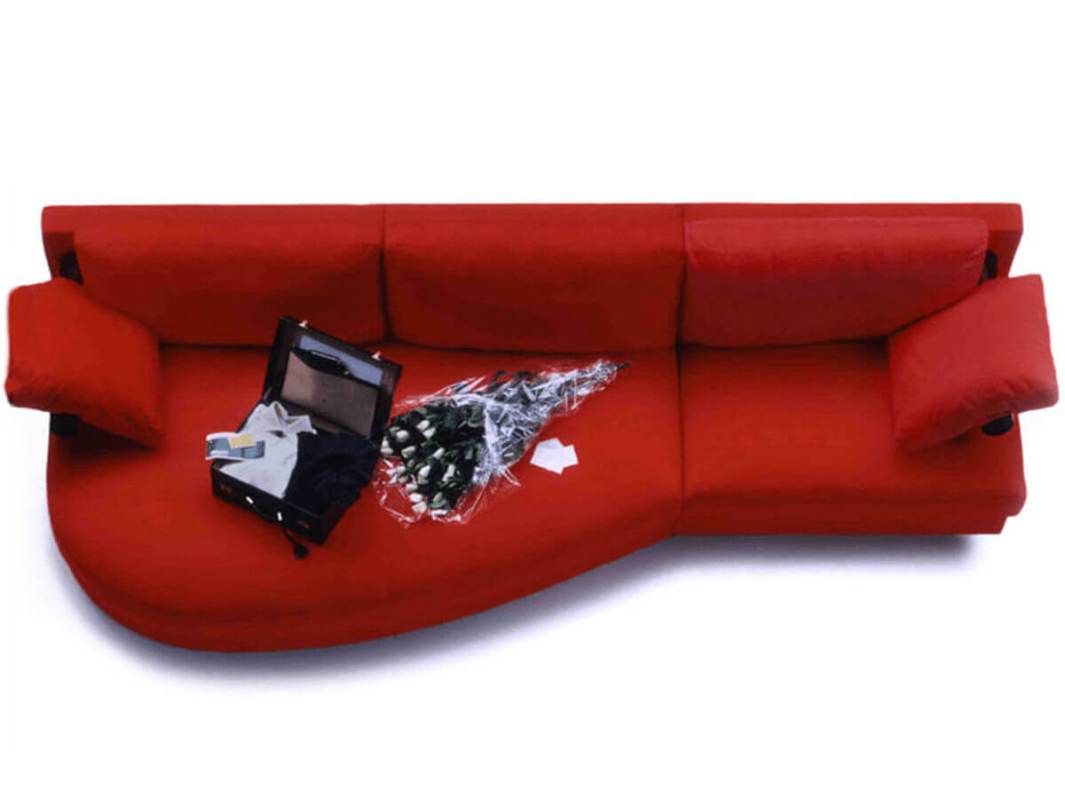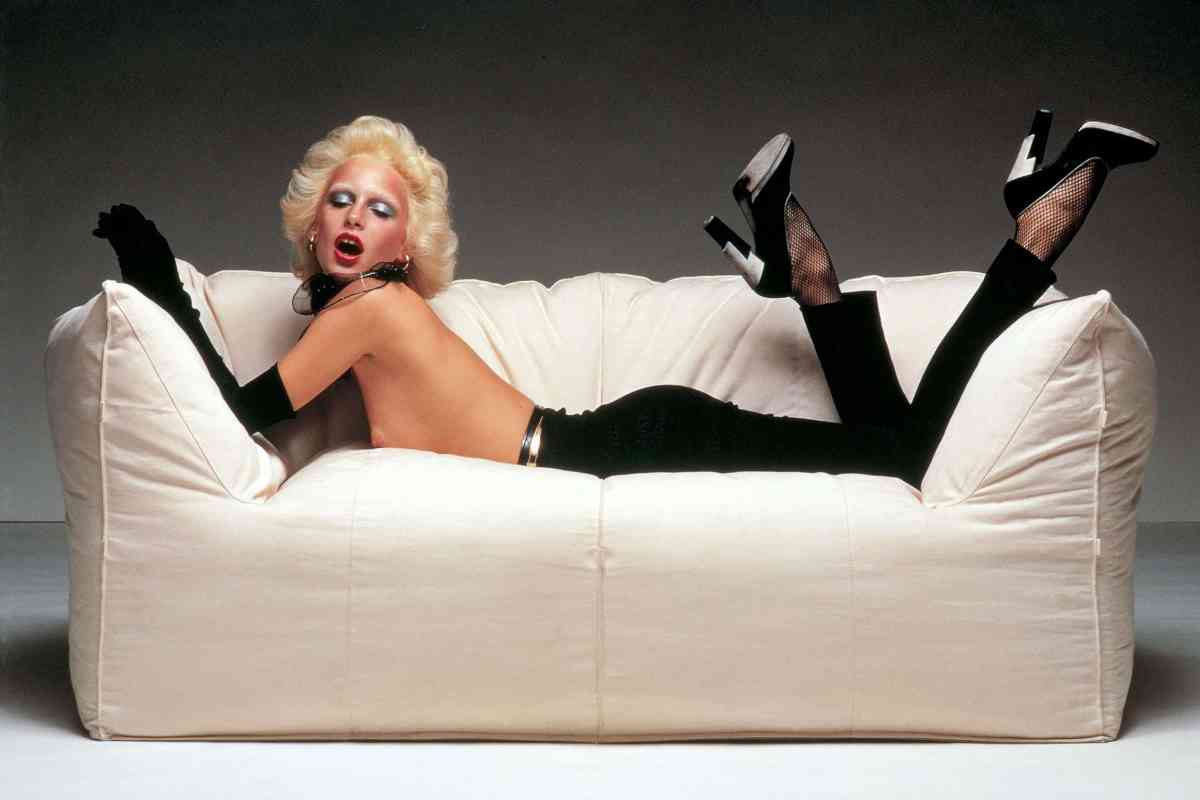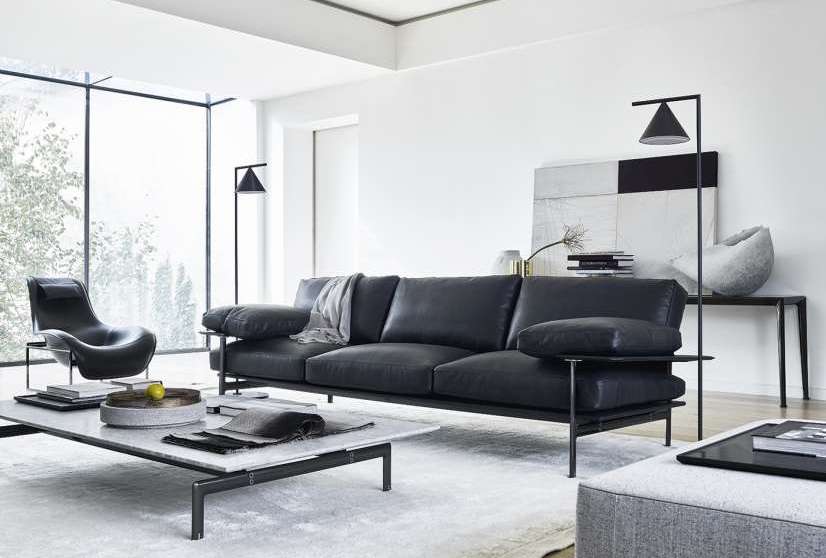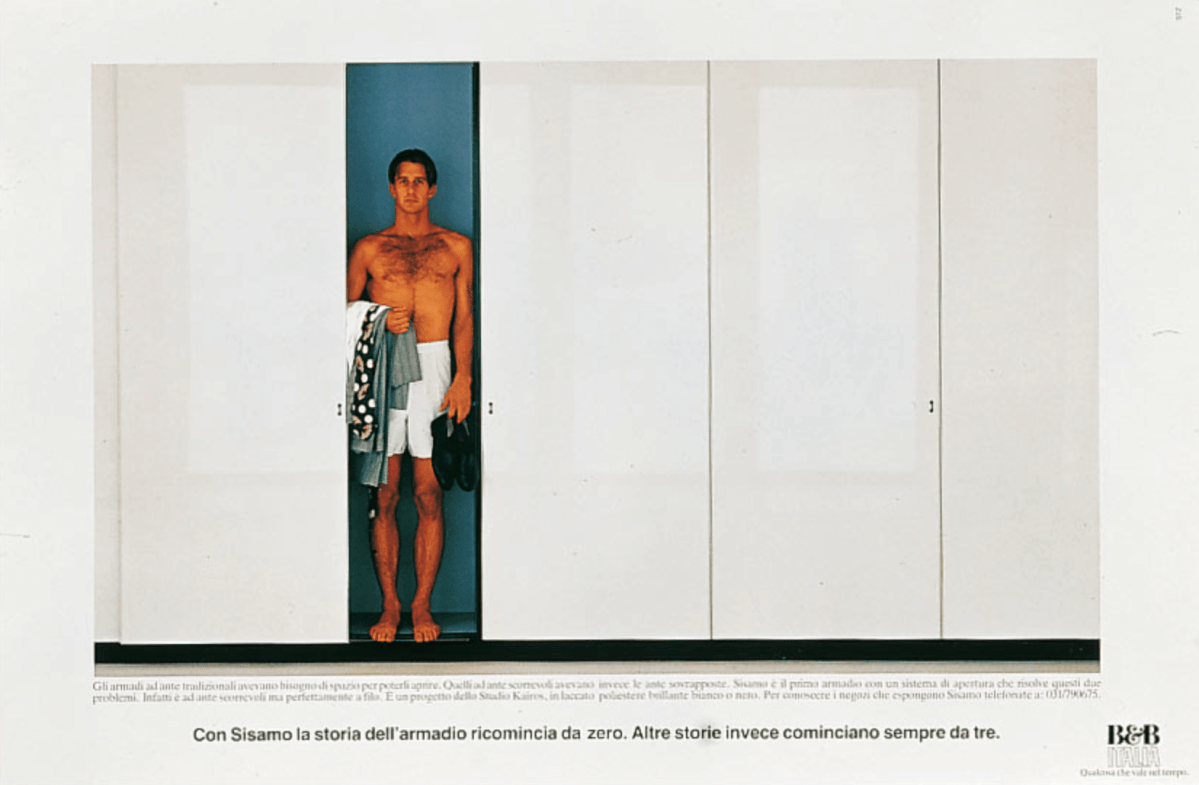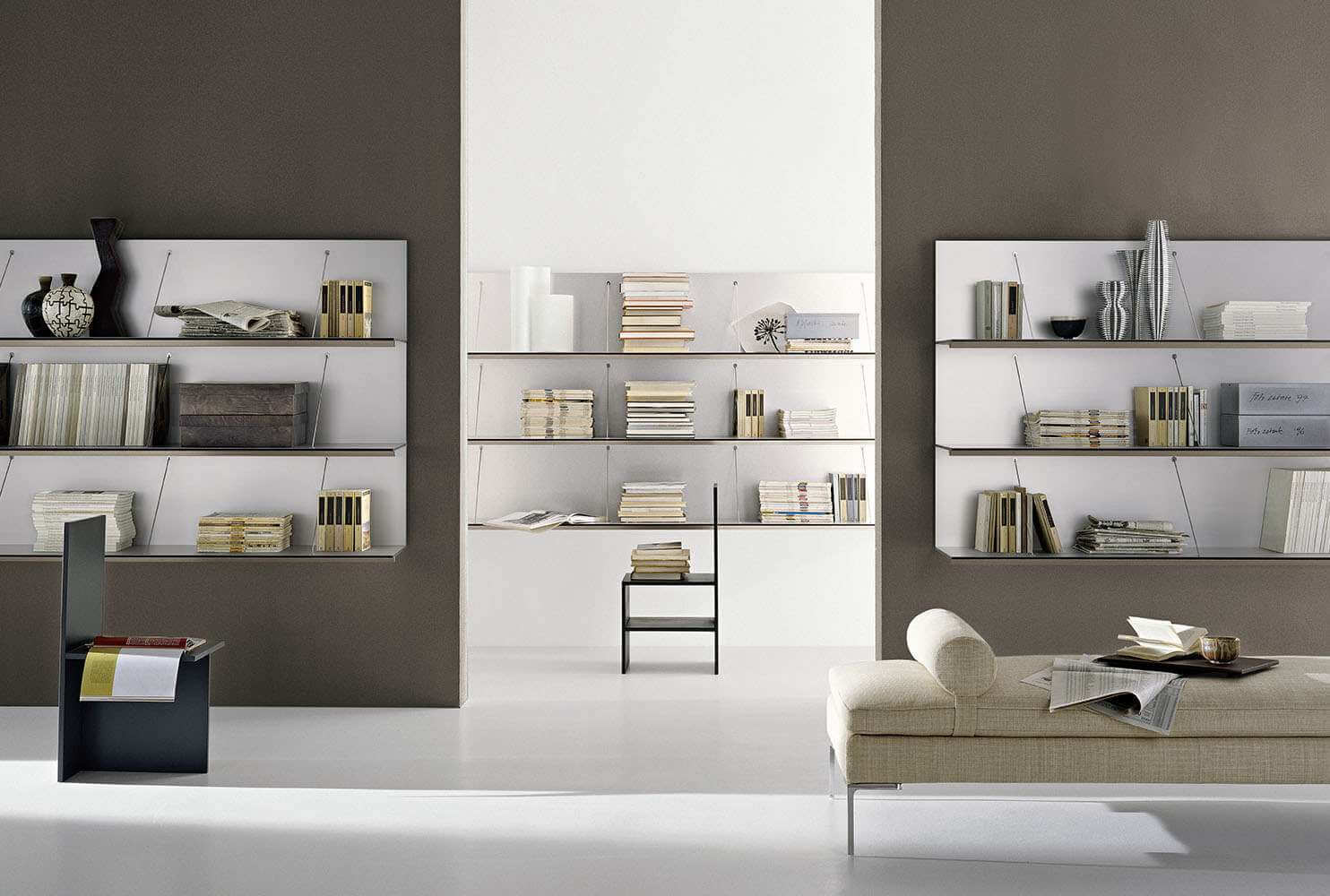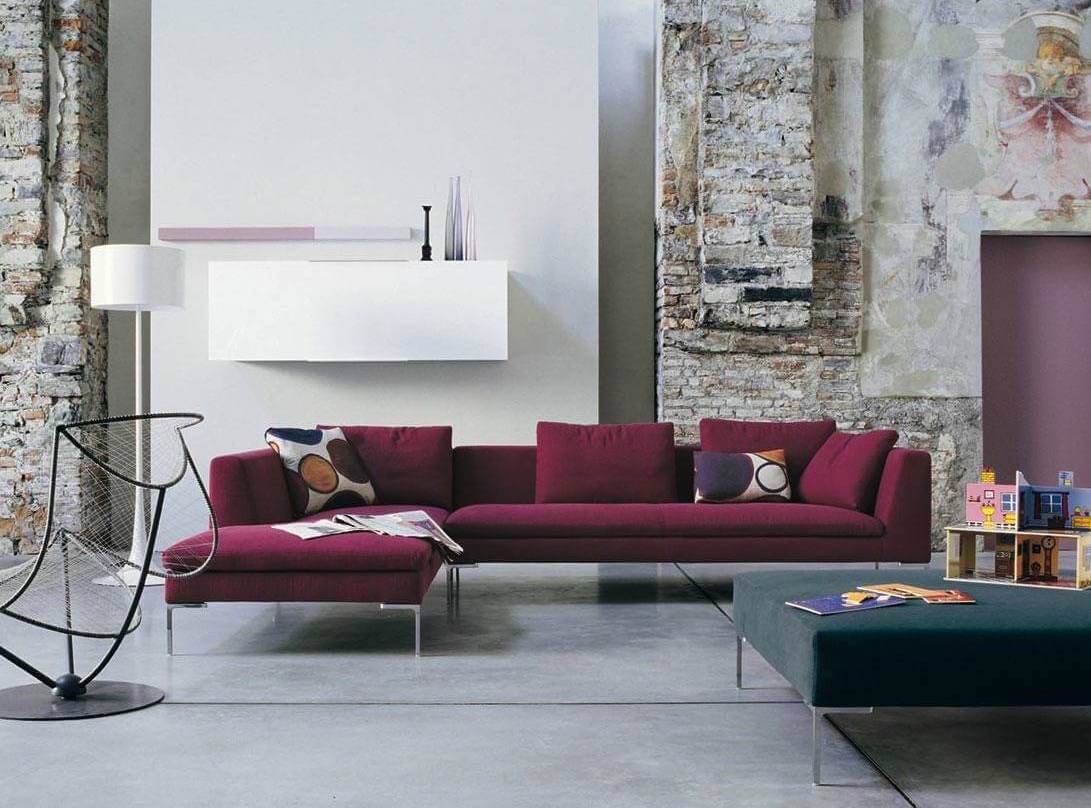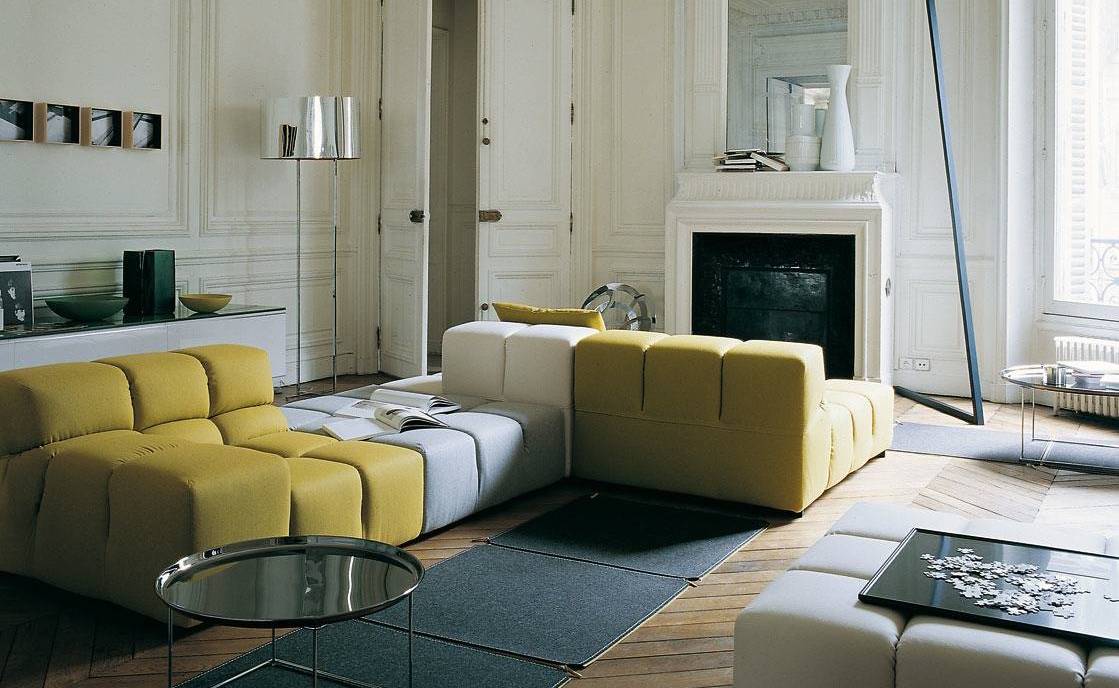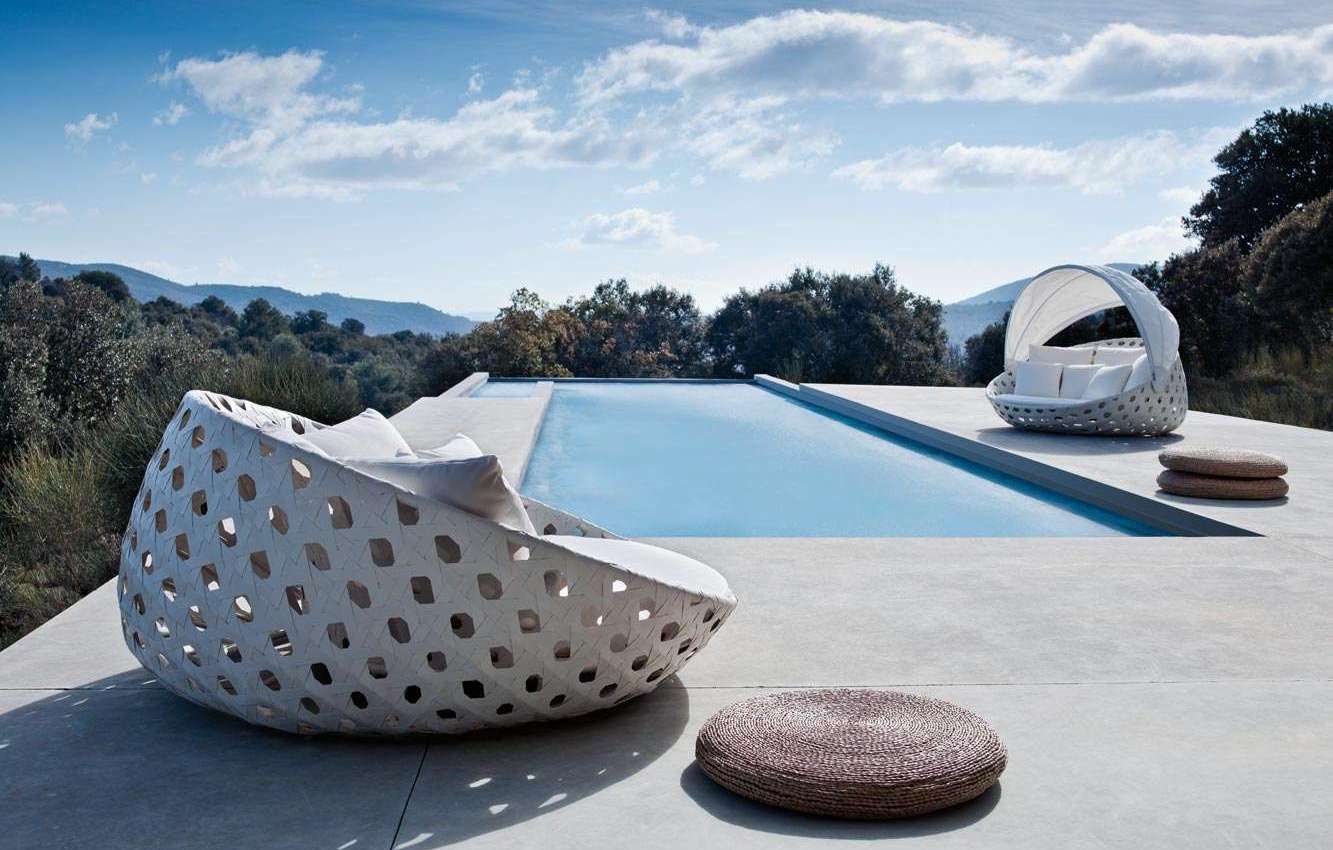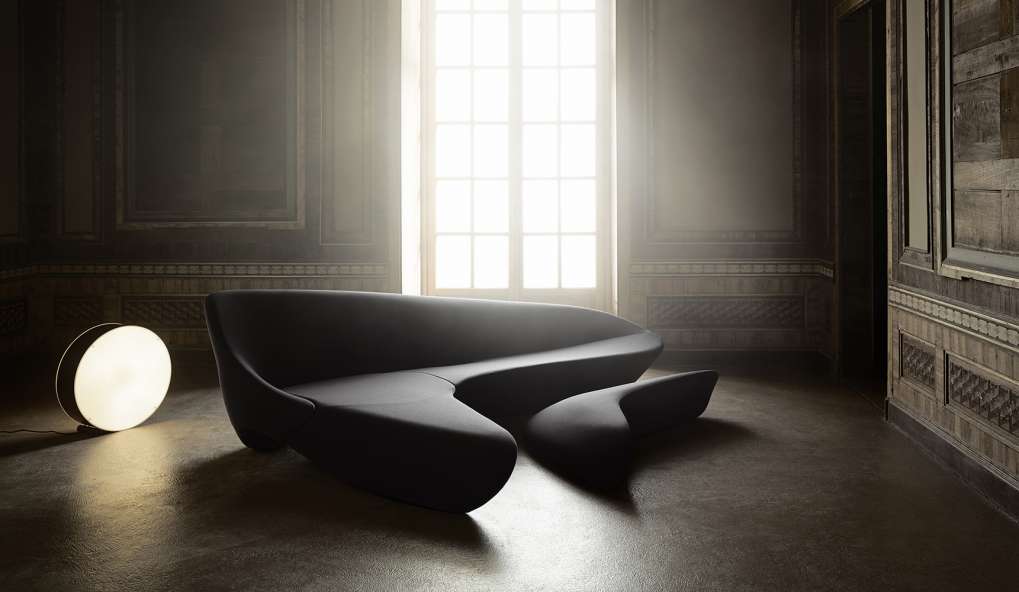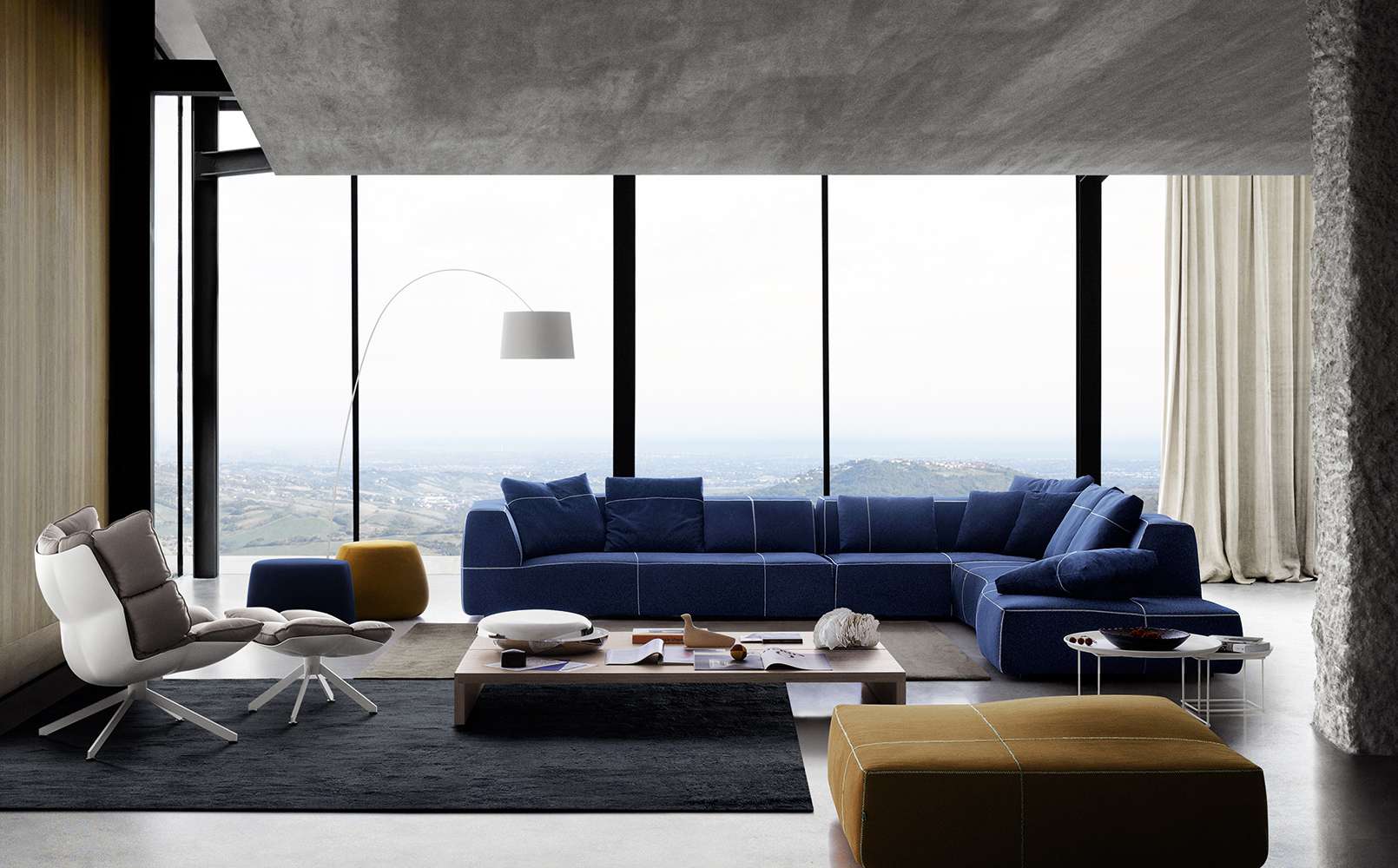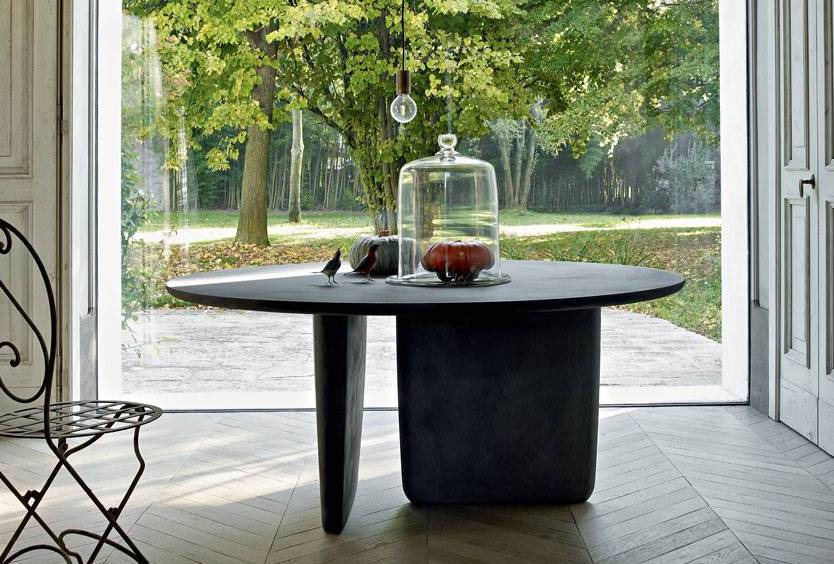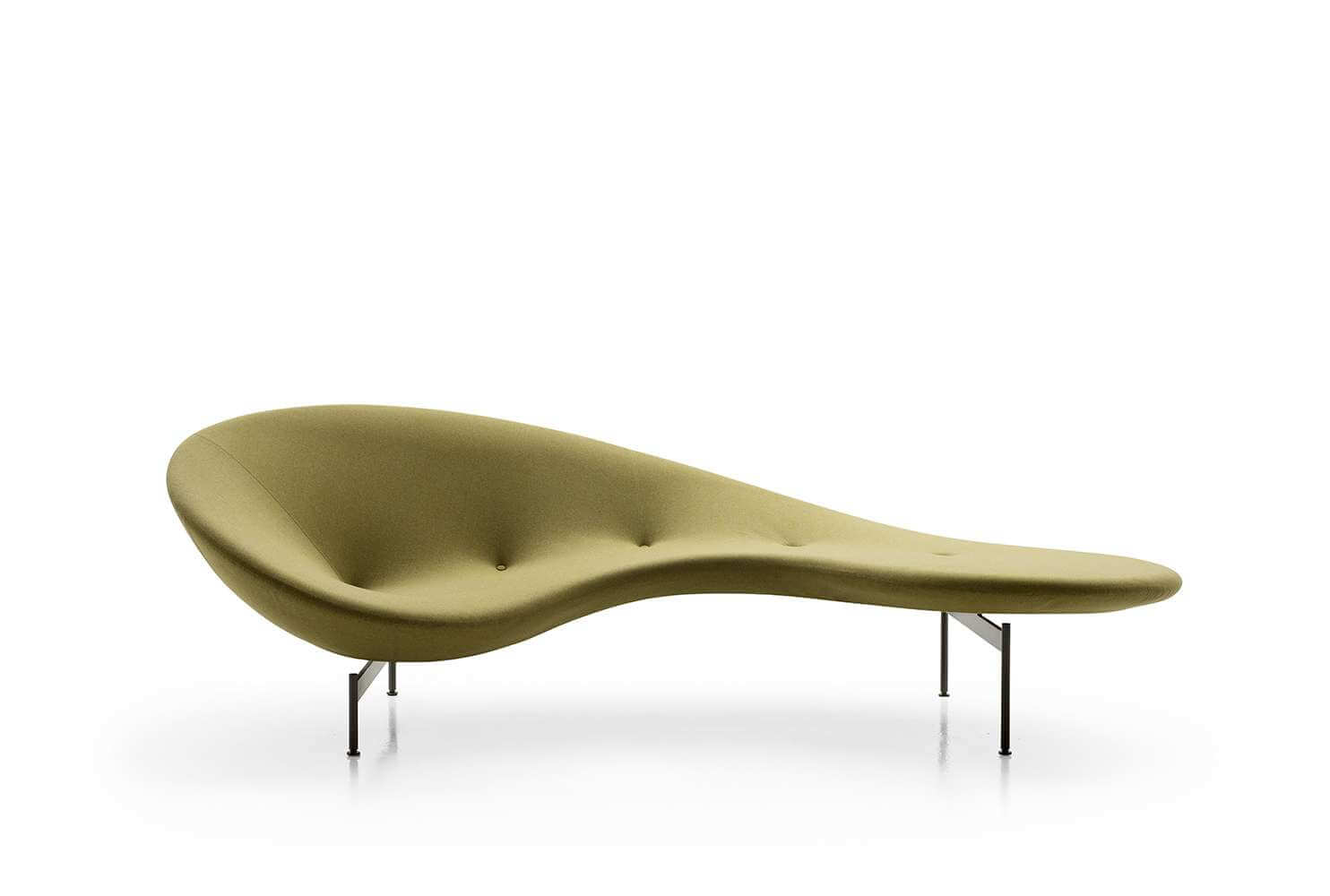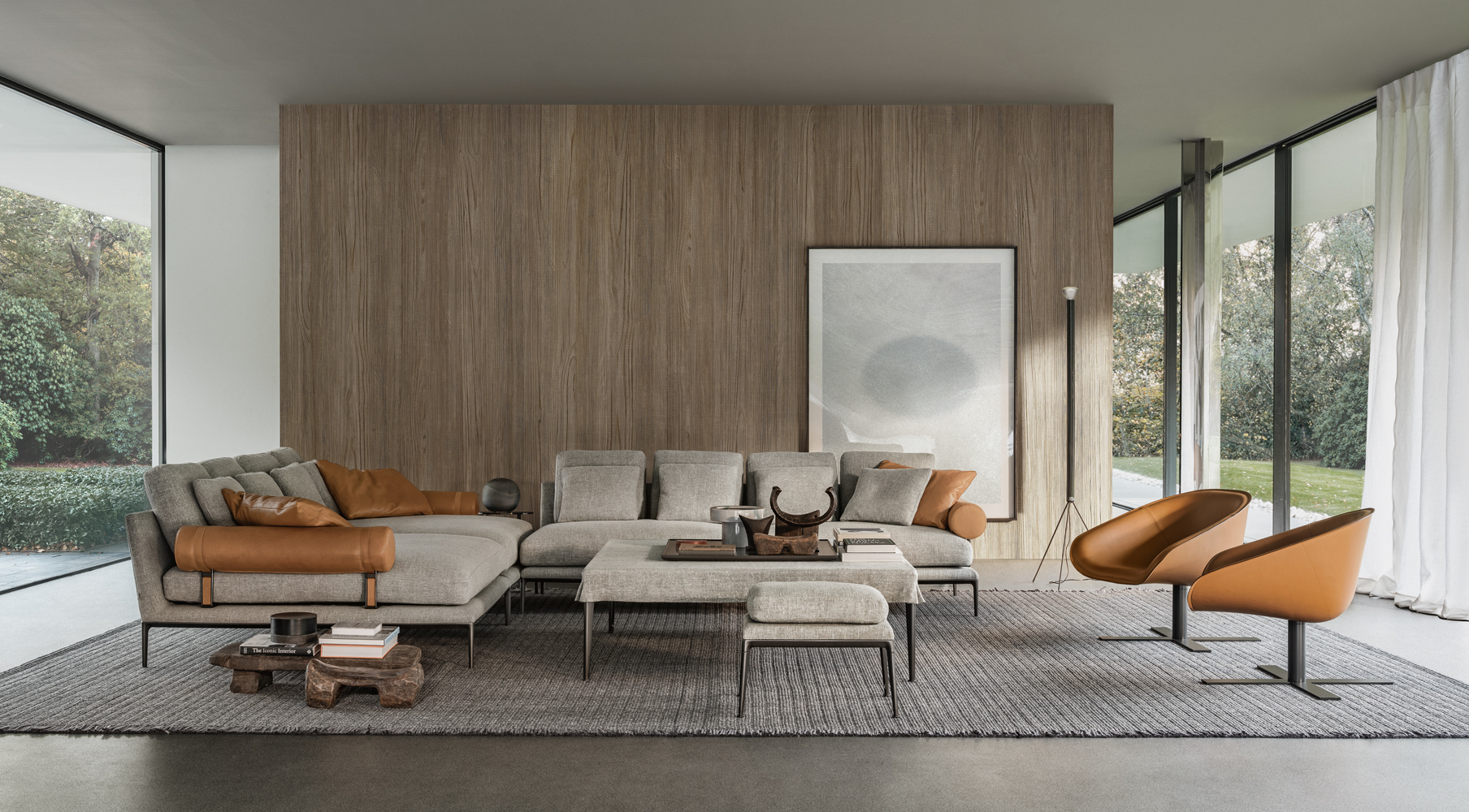 The Marketing – Give those products the voice they deserve
The overall success of a company is made by the combination of single successful components. Marketing and communication for B&B Italia have been a priority since its establishment, aiming at large groups of people due to its industrial-scale outputs, while holding an upscale brand positioning.
The first brand image for the company was designed by Bob Noorda, memorable Dutch-born graphic designer who contributed to shaping the modernist graphic style.
He is also remembered for developing logos with historical relevance such as the Milan Metro and NYC subway signs, Feltrinelli, Eni and Ermenegildo Zegna.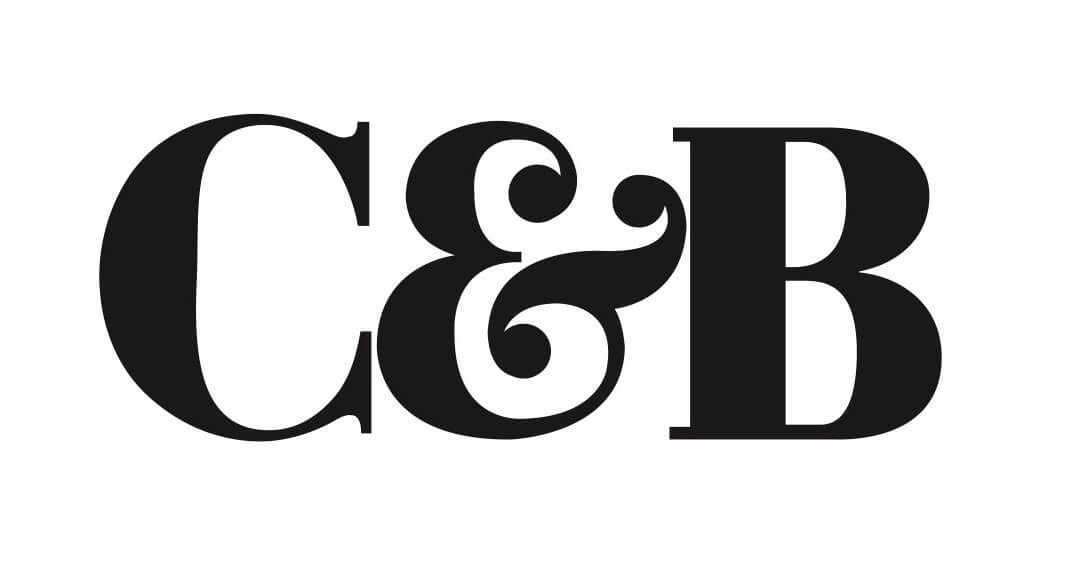 Launching its first furniture piece in 1966, Coronado, B&B Italia focused its communication on technology, explaining the shift from handcrafted to industrial production as a core value of the company.
In the years ahead, as new pieces are designed and produced, the topics of each advertisement are intertwined with the concept of the product themselves.
The influential statement on women's oppression conveyed by the Up Series of Gaetano Pesce was supported by an impactful and bold communication campaign developed with photographer Klaus Zaugg. The ad also leveraged on the technical peculiarity of the piece which is purchased flat packed and vacuum-sealed, acquiring its very own shape only once opened at its final destination.
The series Le Bambole by Mario Bellini is probably the most notorious example of B&B Italia provocative and daring communication, developing the campaign for this collection with fashion photography icon Oliviero Toscani and model Donna Jordan. The campaign was presented at the Milan furniture fair, Salone del Mobile, in 1972 and to get instantly censored, fuelling further buzz around it.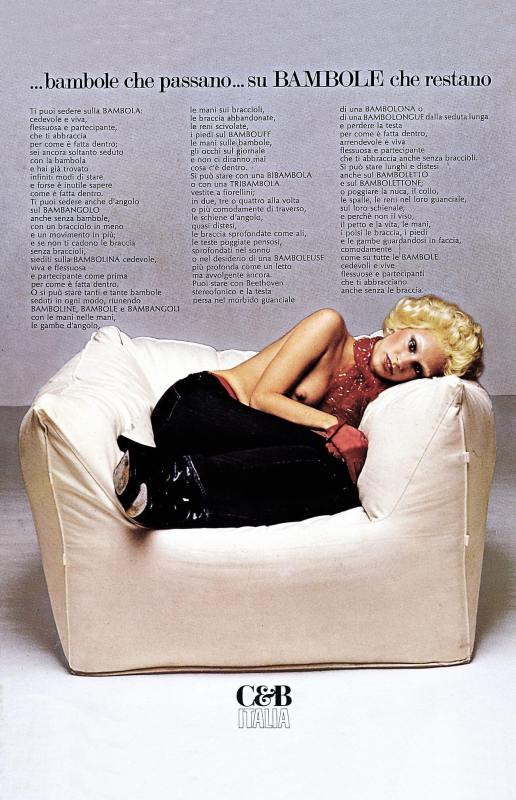 In 1970 B&B Italia once again takes advantage of the innovations and trends of its time, becoming the first furniture brand to promote and stream television commercials:
The Future – B&B Italia Research & Development Centre
Giorgio Busnelli – first son of Piero Ambrogio and holding key positions at the firm between 2003 and 2018 – refers to Research & Development Centre as the "mind and the heart of B&B Italia".
The Research & Development Centre was established since the birth of the company with the purpose to facilitate the conversation between designers and production team, in order to transform sketches and ideas into functioning prototypes within a very short time.
This division is central for B&B Italia: 3% of the annual sales are invested to sustain and support its activities.
The technical staff from CR&S division helps designers refine their ideas and creative process through experience and knowledge on materials and manufacturing techniques: leaving maximum freedom to the designer on the creative side, the B&B Italia staff supports on production aspects, generating a powerful synergy resulting in new design products.

Besides research & development labs and training facilities, the CR&S also serves as a historical archive for the company: all the sketches and prototypes of products which did not make it to production are meticulously stored and preserved to be reused in the future as inspiration, or even turned into special collections.
The Scale – B&B Italia Contract Division
Being the first Italian company to establish a Contract Division, this branch of the business expresses the full potential of B&B Italia, where entire interior projects are developed from scratch providing large scale furniture solutions to high-end brands.
Over 40 years, the division has carried out projects of all sorts, from hospitality to retail, as well as public spaces like museums or airports and even cinemas, theatres and cruise ships.
Follows a selection of their most striking realizations.
The Retreat at Blue Lagoon, Iceland – A five-star luxury geothermal spa located inside an 800-year-old lava plain on the Reykjanes Peninsula, also featuring a hotel, restaurant and library for which B&B provided all the furnishing.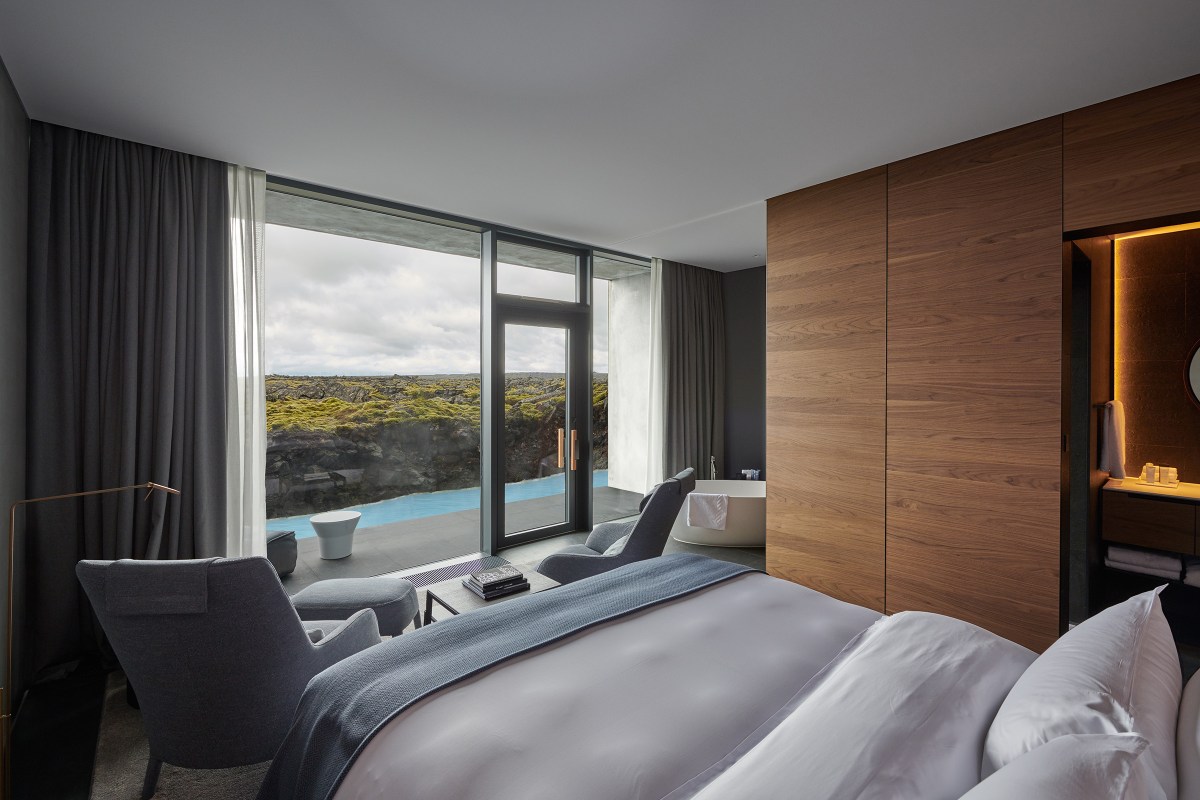 Bvlgari Hotel Beijing – The collaboration begins with Bvlgari Hotel & Resorts group in 2000 with the Milanese hotel followed by the London one. Bvlgari Hotel Beijing is developed in 2018 featuring special editions of pieces from B&B Italia, Maxalto and Outdoor collections as well as custom furnishings specifically developed for the project.
Starbucks Reserve Roastery Milan – The challenge-oriented mindset of B&B Italia was expressed at its finest in this unusual project. The contract division was involved to engineer and produce the 8 meters high cask positioned in the center of the first Italian Starbucks. This hand-polished bronzed brass piece is the main element of the roastery, where coffee beans are processed and transformed into different blends.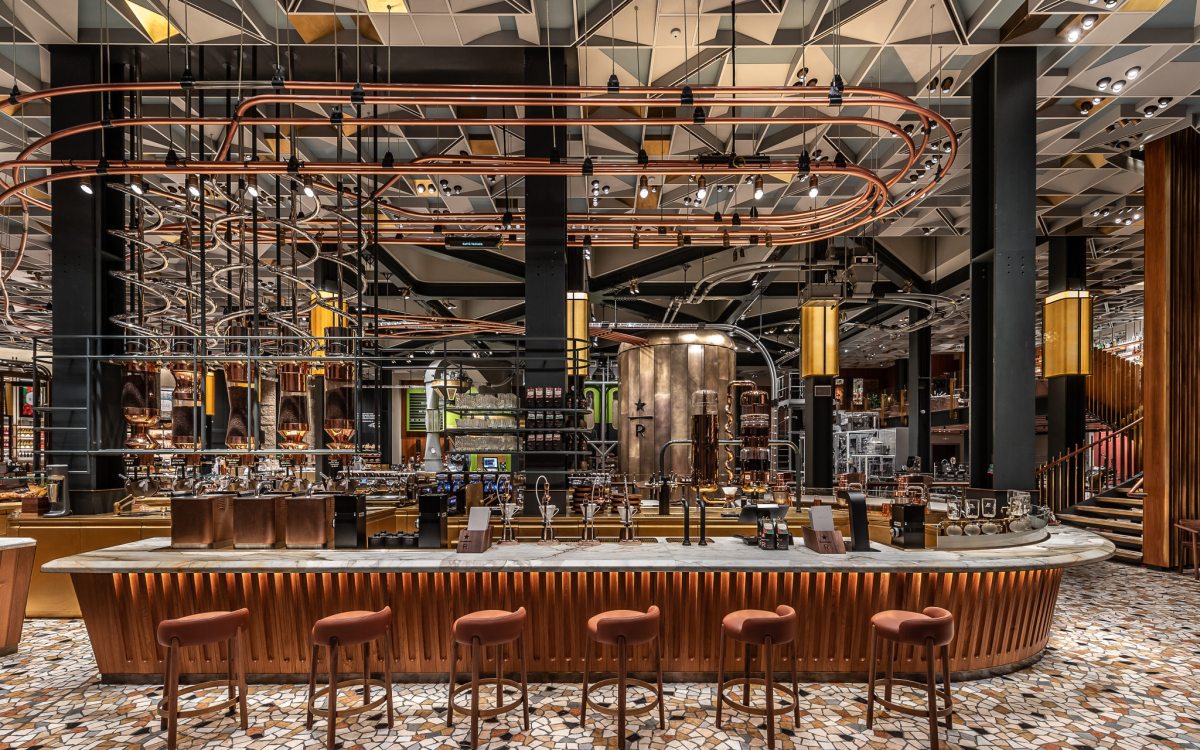 The Presence – Developing a network of premium stores and showrooms
In the year 2000, Piero Busnelli is focusing on the Contract Division of B&B Italia and is time for his first son Giorgio Busnelli to begin leading the home division of the company. Giorgio has an international and global mindset: among the many, one of his big decisions is to establish a directly operated retail network of B&B Italia Stores around the globe.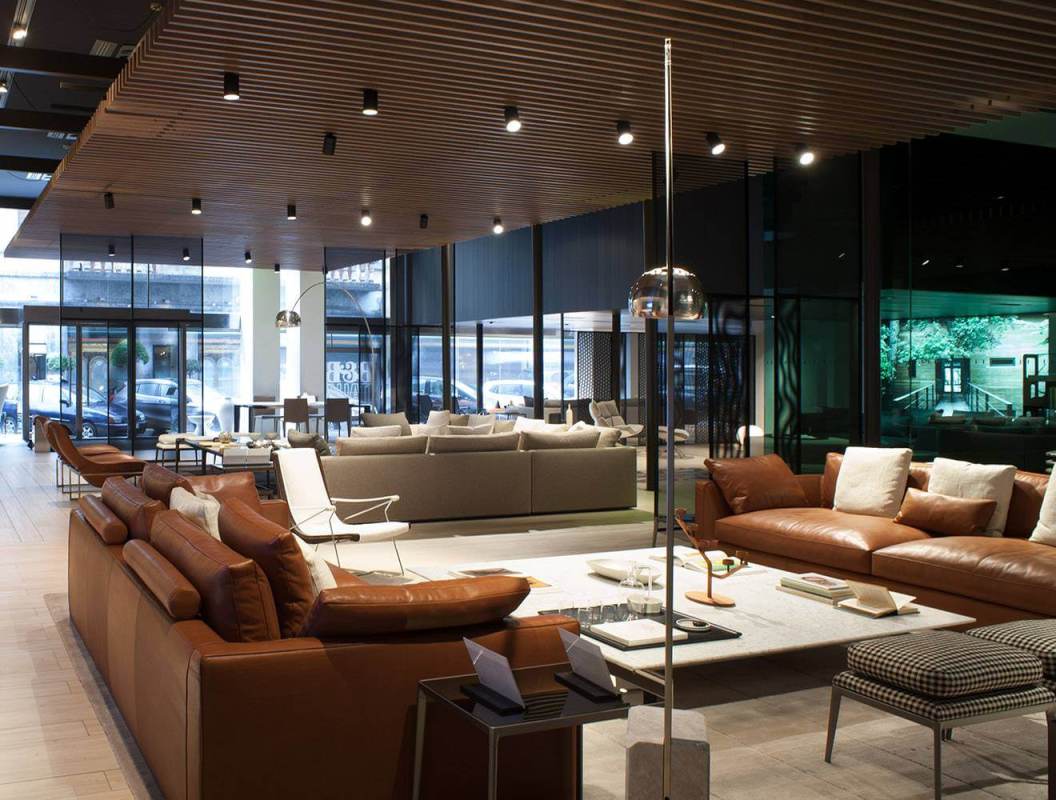 With over 70 premium single-brand stores in the main cities of the world, 8 flagship stores are directly owned and operated by B&B Italia throughout Milan, Paris, London, Monaco, New York, Dallas and Washington.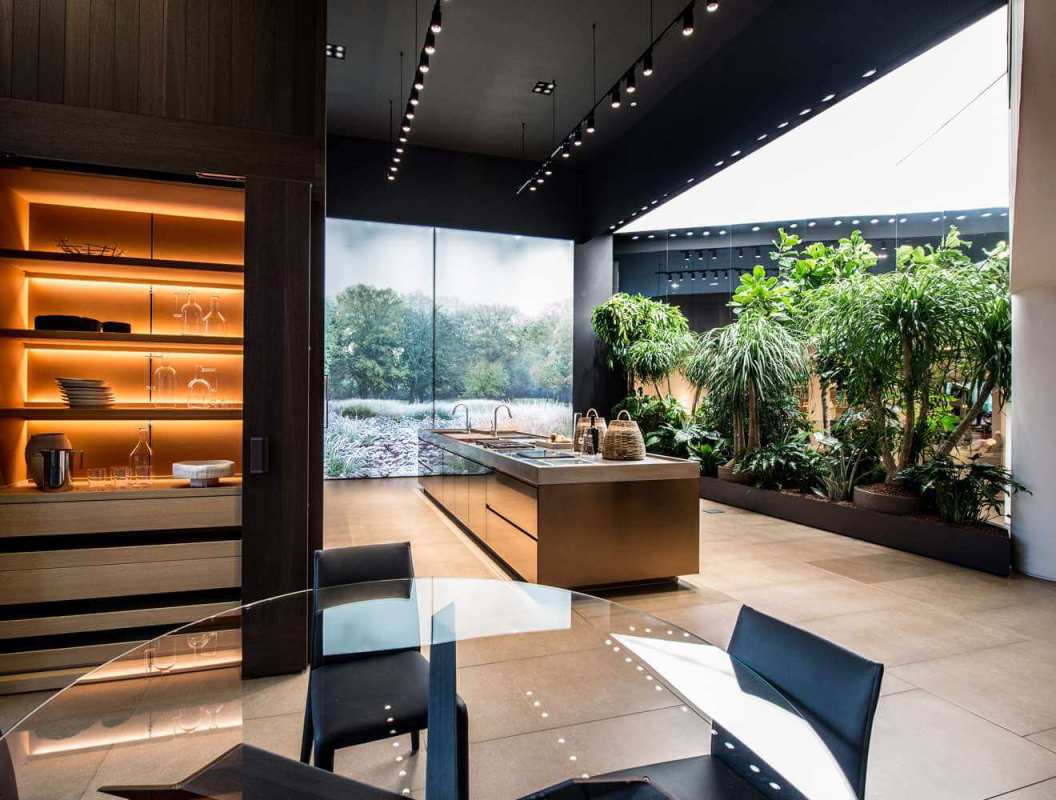 Developing a retail presence is crucial for the brand to design a context around its products and establish a direct connection with its customers.
The showrooms of B&B Italia tune a fine ambiance around its pieces: they are the perfect place to get involved in the brand universe and breathe its pure, refined essence.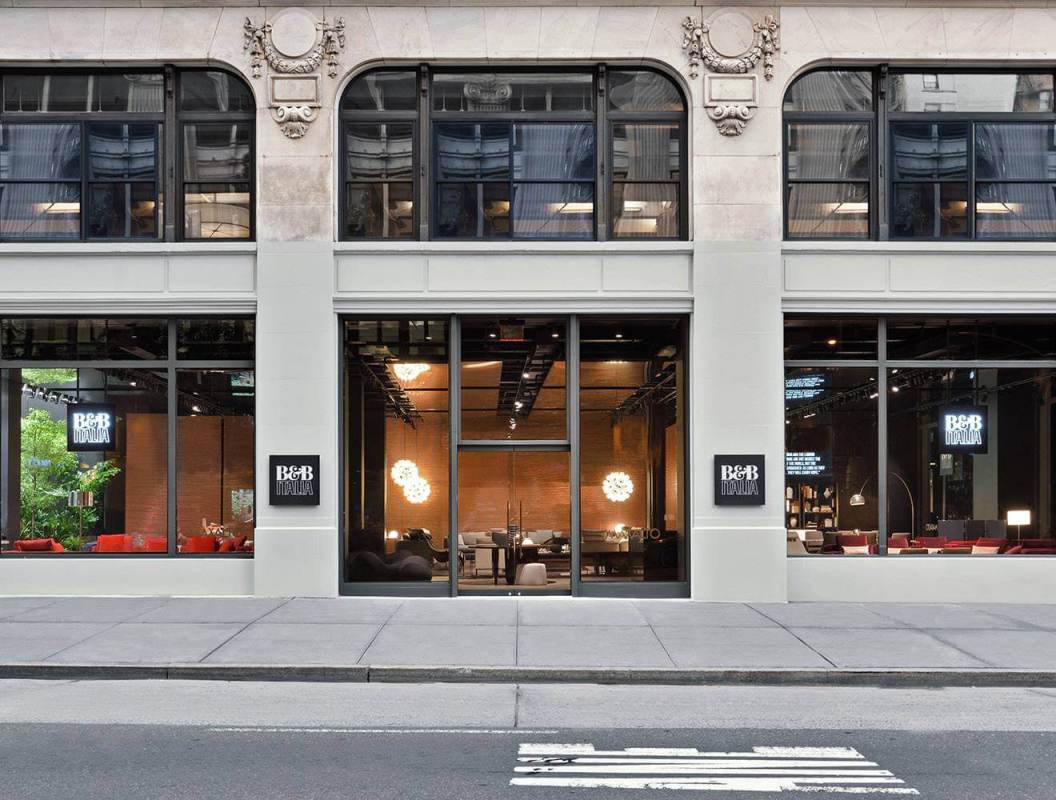 Today – Where is B&B Italia today?
B&B Italia continues on its innovative path, keeping the spirit of Piero Ambrogio Busnelli alive in its strategic decisions and development of new products.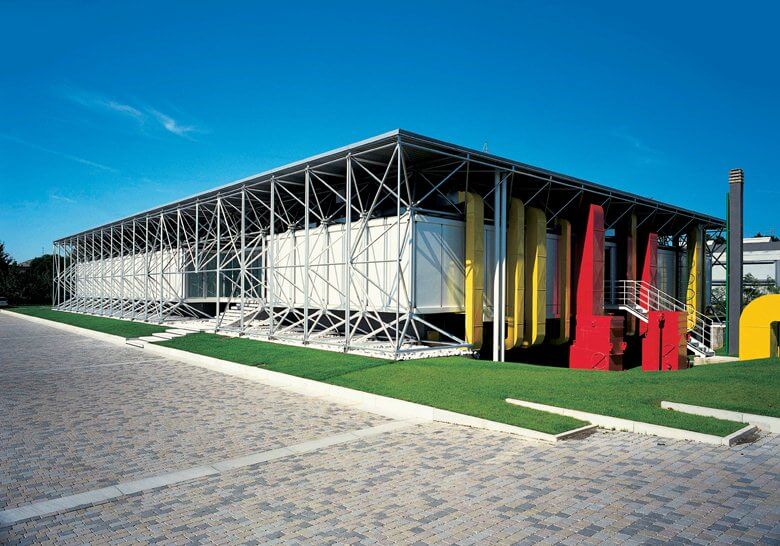 The B&B Italia Group currently works in the residential and contract sectors (hospitality, retail, offices and nautical) with its four brands, B&B Italia, Maxalto, Arclinea and Azucena.
B&B Italia operates from its headquarters located in Novedrate, Como, 1-hour away from Milan. The iconic building was designed by a young Renzo Piano in 1971 as a first inspiration for his monumental work in Paris, the modern art museum Centre Pompidou, and Richard Rogers.
Since December 2018, B&B Italia has been a part of Design Holding, the world's largest European group in the high-end designer sector. Investindustrial and The Carlyle Group jointly own Design Holding which includes B&B Italia Group as well as leading lighting companies such as Flos and Louis Poulsen. Design Holding has consolidated revenues of more than 500 million Euros.
Besides the offices, Novedrate also hosts all the production facilities, the logistics center shipping towards the whole globe, the historical Research & Development Centre and a 1300 sqm showroom with the addition of 350 sqm open-air area to host the B&B Italia Outdoor collection launched in 2007.
This year, B&B Italia launched new B&B Italia and Maxalto designs at Salone Del Mobile in Milan.
B&B Italia celebrated the 50th anniversary of the legendary UP Series by Gaetano Pesce and displayed the Catilina chair, quintessence of Italian design by Luigi Caccia Dominioni, for Azucena. Next to these evergreen icons, B&B Italia also unveiled absolute novelties by internationally acclaimed architects and visionary designers such as Michael Anastassiades, Antonio Citterio, Piero Lissoni and Vincent Van Duysen.
Dock is the new seating system designed by Piero Lissoni. This new collection was designed with current generations in mind, interpreting the lifestyle of young adults: shared experiences and moments of entertainment, alongside a "nomadic", often changing approach to living tend to be a common habit influencing interior spaces and the role of furnishings.

The seating system takes a fresh look at the use of a sofa: designed with millennials in mind, the pieces have a low and large seating area, inviting for an ultra-relaxed reclined position. Around the soft cushions, the wooden platform serves different purposes as a low support area completed by sleek glass shelves.
The seating system Ribes by Antonio Citterio was also presented at the event: the collection of outdoor furnishing pieces is inspired by trips in South-America, featuring a range of colorful and nature-themed prints. With flexibility as a central matter, the different elements of the collection are designed to be combined in the most preferred arrangement of sofas, chaise longues and ottoman couches.