Design events
The best of Dutch Design Week 2021: here are our highlights from the event
Celebrating its 20th-anniversary last month (16 – 24 October 2021), Dutch Design Week returned to Eindhoven with a city-wide programme of events, exhibitions and initiatives
With this year's theme of 'The Greater Number', Dutch Design Week 2021 (DDW) called for a critical look at our way of producing and consuming. Designers were invited to think about the current state of the world, considering major influences including the pandemic as well as the climate crisis, inclusivity and health and wellbeing. 
"With this theme, on the one hand [we] call for less," reads a statement introducing Dutch Design Week 2021. "Less consumption, less production, and therefore less waste. On the other hand, we know less isn't always possible and that when it comes to more, it should be better."
"DDW21 came at the right time," says Martijn Paulen, the event's director. "There is so much happening in the world. We need the perspective and enthusiasm of designers more than ever."
"Whether it concerns the carbon problem, housing shortage, mobility or social issues related to inclusiveness, designers are the trailblazers to chart a new course—a course that leads us to a sustainable, more social and more just future."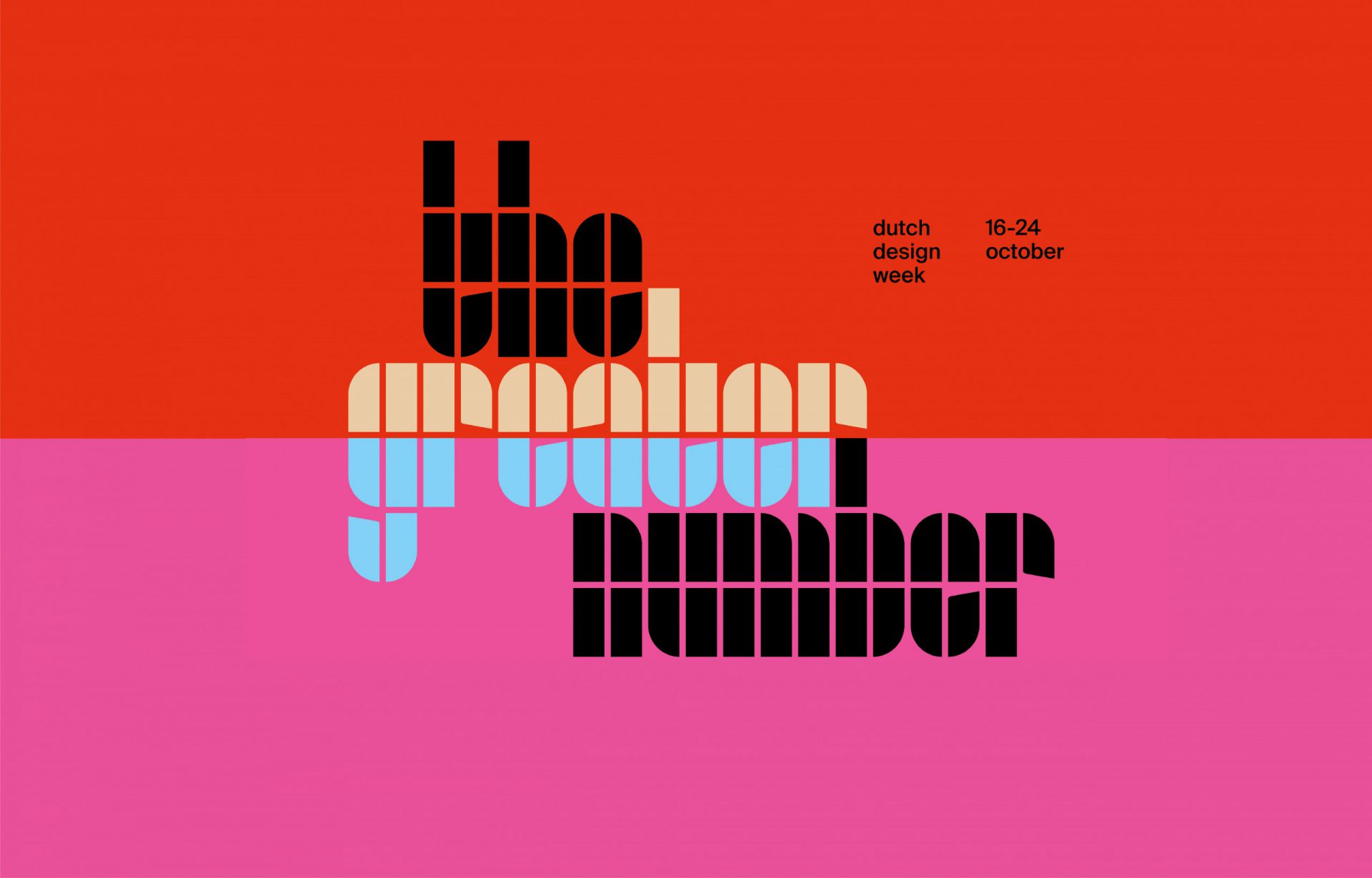 The annual fair is the biggest design event in Northern Europe, normally showcasing the work of over 2500 designers during the nine days of the festival. After a virtual edition in 2020, this year's physical showcase celebrated its 20th anniversary with a slightly more 'intimate' selection of over 1,000 designers across 120 locations in the city. 
And more than ever, Dutch Design Week has shown itself to be a manifestation by and for the designers and leaders from the entire creative industry.
"It's not about the exhibitors, the installations, the projects, the locations, the events or the dinners, it's about all of these things coming together in a platform for reflection and experimentation," recalls Fabio Colturri, DesignWanted's Head of Content who attended the event.
"And despite there not being a commercial fair, established design brands and industry players participate by finding a way to integrate themselves with the true stars of the festival—the small studios and the emerging designers."
[ Read also Interview with Jorn Konijn, Head of Program at Dutch Design Week ]
The Exploded View at Strijp-S
Eco-design studio Biobased Creations built a showhome made up of over 100 different plant-based or natural materials including wood, mycelium, seaweed, straw and sewage. It aimed to illustrate that circular design.
The building, which was erected at Eindhoven's Strijp-S district during Dutch Design Week, also demonstrated the potential of circular construction. It featured a scalable and demountable timber frame, which could be easily relocated or recycled.
Joost x Moooi at Kikiandjoost
Dutch design duo Kiki Van Eijk and Joost van Bleiswijk presented 'Meanwhile', an exhibition that aimed to capture the optimism and healing qualities of the making and creative processes. It presented several one-off pieces as well as new collections for Maison Dada and Moooi, an installation for the Queen of Hearts Foundation, and the results of a ceramic residency at Cor Unum.
[ Read also The third edition of EDIT Napoli is ready to open doors from 29 to 31 October 2021 ]
Object Density at Sectie C
The product of a close inquiry into an optician's process and production, Dutch design studio Object Density created a lighting series made up of waste optical lenses. Unveiled as part of the design hub Sectie-C, 'The Lens Luminaire' was inspired by the city's history of lighting innovation while demonstrating the innovative use of an unexpected waste product. "It's a physical expression of the past and present," the studio explains. "We reflect upon how this interplay may shape its future."
DesignEuropa Awards at Evoluon
The DesignEuropa Awards, which are held during Dutch Design Week every two years, celebrated the life's work of André Ricard, the 92-year-old Catalan designer famed for his functional aesthetic, particularly his industrial take on the 1992 Barcelona Olympic Games bearer's torch.
It also awarded a portable patient monitor by Philips and the latest version of  Relio2's sun-mimicking lamp.
Motorskins at Isola
Drawing inspiration from the hygroscopic movement of plants, Motorskins has developed a prototype exoskeleton that applies "artificial muscles" to the user's joints to assist them in walking.
Designed to power regular movement, compensate for medical conditions or muscle weakness, the device comprises several layers of digitally fabricated textiles embedded with pneumatic and hydraulic systems, which can perform movements such as pull, push, bend, or stiffen.
Macarena Torres Puga at Isola by Wisse
By forming aggregate mixtures of crushed concrete and brick, Chilean designer Macarena Torres found a way to make manmade materials appear natural.
The "Waste Epiphany" project upcycles two of the most abundant waste materials used in the building industry: brick and concrete and seeks to reduce these negative environmental impacts by repurposing the materials to create unique designs. They include vases, planters and a series of small tables with glass tops.
A blast from the past at Strijp-T
Curated by Studio Joachim-Morineau, "A blast from the past" showcased work from several emerging designers whose projects reinterpreted Greco-Roman aesthetics to create sculpture, furniture and ceramics. Our favourite objects on display included lighting shaped like Roman arches and seating inspired by Classical Greek architecture.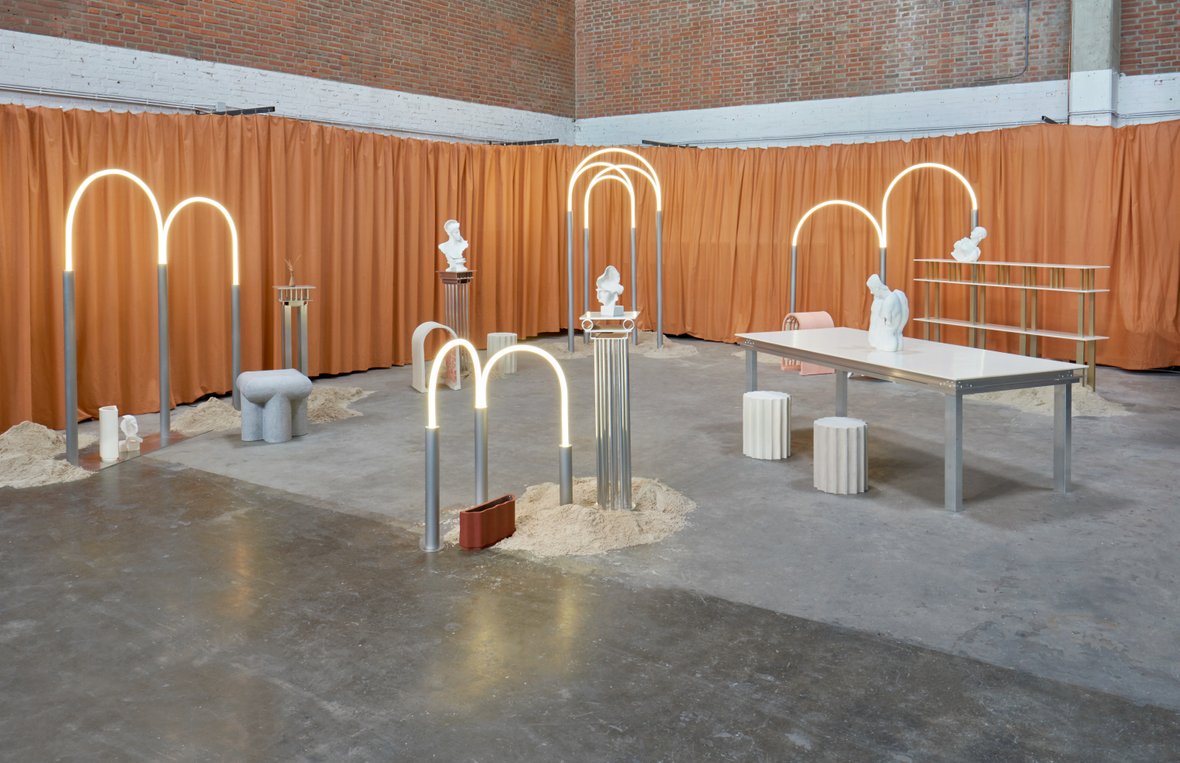 Urban reef at BioArt Laboratories, Strijp T+R area
The "Urban Reef" concept by Dutch designers Pierre Oskam and Max Latour aims at making cities more biodiverse by transforming urban elements using natural materials. Their solution involves using porous materials including ceramics as well as other composites made from coffee grounds and mycelium to build fountains or other elements integrated within a city.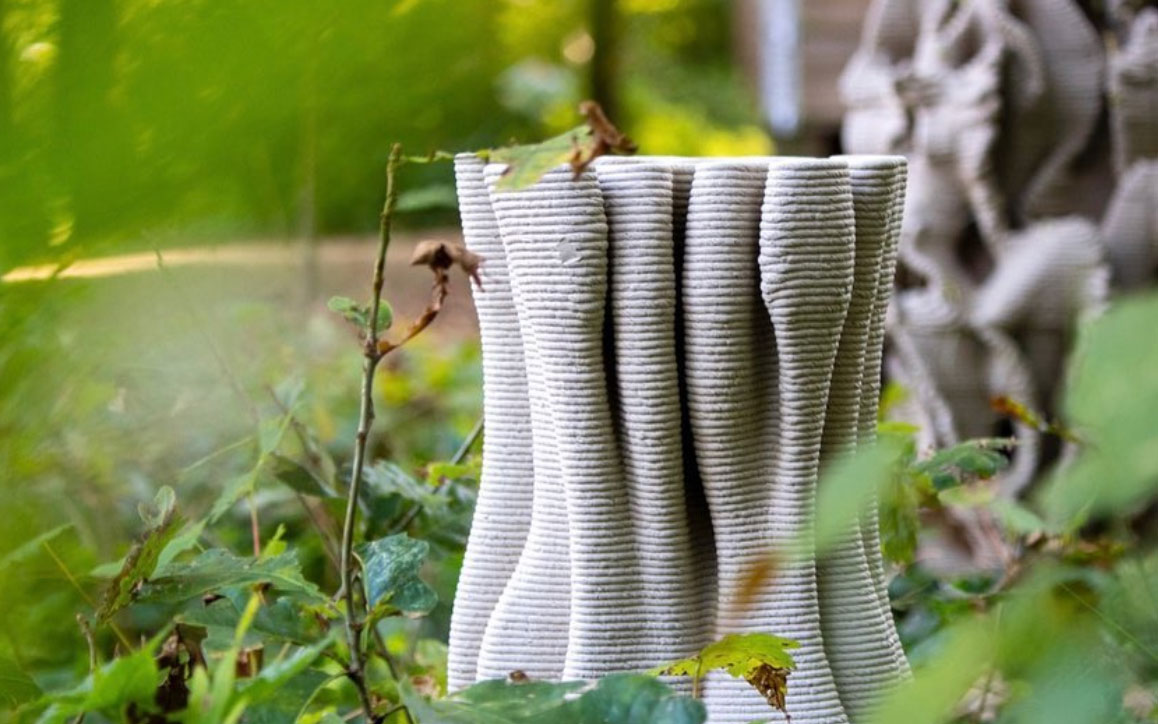 The Whispering Wood by Studio Sho Ota at Kazerne
Japanese furniture designer Sho Ota unveiled "The Whispering Wood" exhibition highlighting the quality of knots in wood, a characteristic often treated as a defect and neutralized in industrial processing. Centered around his latest collection, the design chisels down 12mm from a flat surface to reveal a three-dimensional texture intended to enhance the "unique materiality" of Swiss Pine.
Cabinet of Collaborations at Fuutlaan
Co-curated by design collective Envisions and Studio Rick Tegelaar, The Cabinet of Collaborations exhibition showcased an interdisciplinary group of designers focusing on the value of working together.
As such, it presented projects that are the result of larger companies joining forces with independent designers including a hydrogen-powered bicycle by studio MOM and a collection of semi-transparent screens showing off the wire weaving craftsmanship of Dinxperlo.