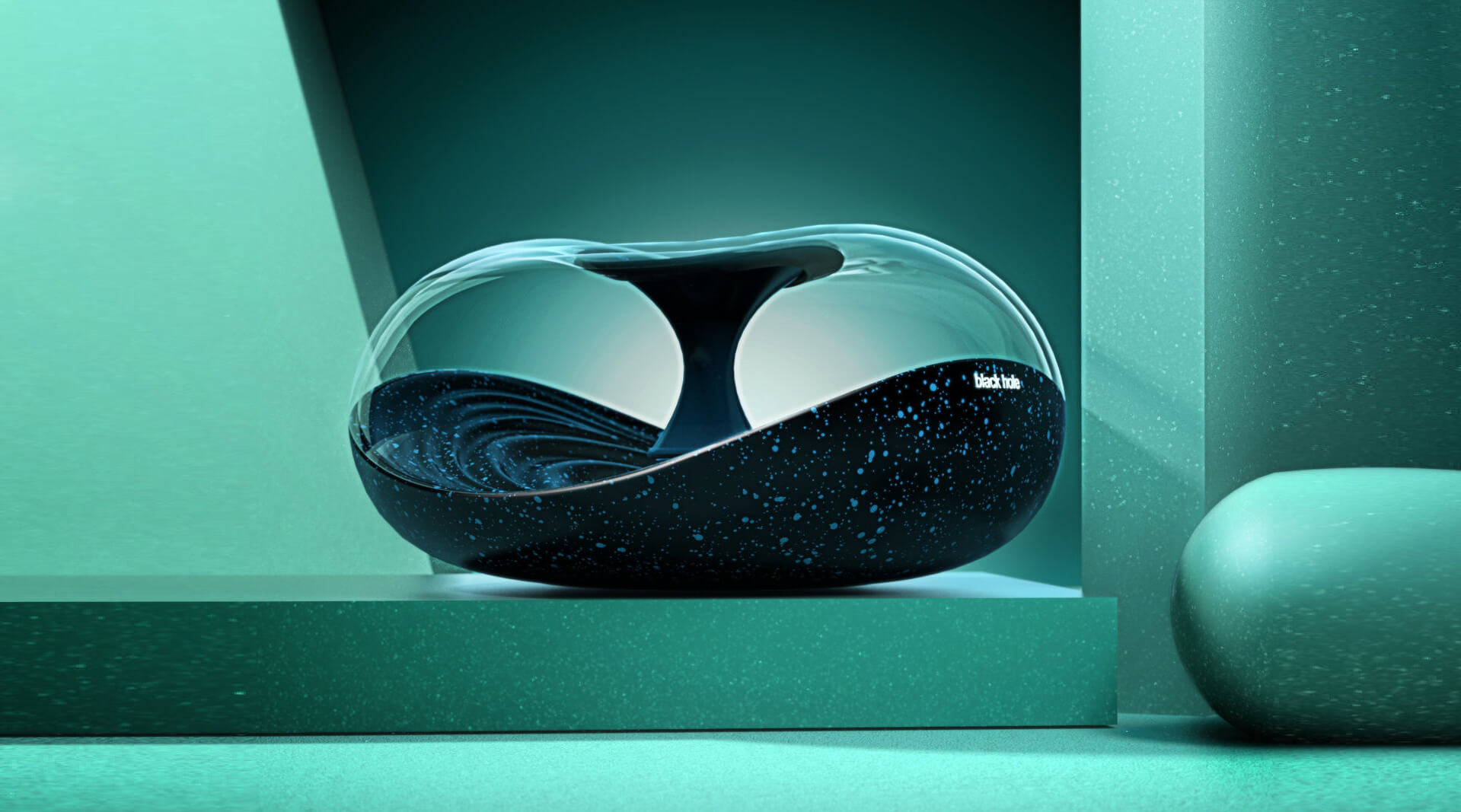 This delightful space-inspired speaker designed by Arvin Maleki recently scooped Gold at the 2020 Gold A'Design Awards
If you were to put this object down on a table, it might not be immediately obvious what it is. It has a mysterious quality to it, but it is definitely designed with purpose and function in mind.
Why Black Hole Speaker? To create an engaging and delightful portable speaker that is creative and engages the user with its unique concept.
In a world full of colorful tubes and lozenges, this transparent portable speaker definitely stands out.
The minds behind Black Hole Speaker – Arvin Maleki and Ayda Mohseni
Lead designer, Arvin Maleki is an industrial designer from Tehran, Iran. He also lists his titles as Entrepreneur, AI Specialist, and author. He completed his undergraduate studies in Information Technology Engineering followed by a Master of Computer Systems Architecture from Islamic Azad University in Tehran. Makeli has written several books on programming languages and deep learning. Ayda Mohseni is credited as a design team member.
Maleki's Instagram and Behance profiles show sketches and 3D renders for automotive and consumer electronic and footwear designs. He cites architectural design powerhouse Zaha Hadid as an influence and admires her use of curved forms and aspirational approach to design. His design philosophy emphasizes efficiency along with meaning and creativity. He also enthuses about the possibilities of utilizing AI to extend design creativity.
If you want to know more about incredible electronics for your home, don't miss Lenovo Smart Frame displays your memorable moments and favorite art pieces on a digital canvas.
Materials & Techniques – Portable Bluetooth speaker with internal light
To allow wireless operation and portability the speaker uses Bluetooth technology. It also features a USB port to allow an external storage device to be connected directly.
A light ribbon that rings around the internal core provides a moody glow and can function as a small desk or table lamp. Along the top edge of the vortex runs a touch panel control strip.
It is comparable in size to other small portable speakers, at 200mm in diameter, and 120mm high.
Style & Aesthetics – Enticing and futuristic
Black Hole is all about a sophisticated and enticing design. Its beautiful curves and transparent bubble enclosure immediately draw you in. It is as though you can pick up a model of a black hole and observe it from all angles.
The futuristic toroid shape is slightly flattened, with a contrasting dark wavy form at the base. Ripples across the base inside radiate out like sound waves. And, the speckled finish further emphasizes the space imagery.
Despite its small form, Black Hole Speaker has a big presence. It is a gorgeous object which anyone would be happy to display.
A speaker for your pens and pencils
The designers also won a Silver A'Design Award for another portable speaker called Seda. This dual-purpose model has a rounded base and sits perched on three legs. On top is a spiral and container which functions as a desktop organizer for writing and drawing implements.
Design Memento – A unique concept that attracts attention
Black Hole Speaker has managed to attract attention with its bold, unusual design. It appears to be a stylish baby brother to the Harman Kardon Aura. Its success lies in the perfect union of an idea, the right product, and exquisite execution.
The designers say that creating and implementing the black hole form was the biggest challenge. Solving the challenge seems worth it as Black Hole has also done very well at attracting design awards. As well as the Gold A'Design Award, it won an Industry Award 2019, and an Azerbaijan Design Award.
The writer's comment – Looking forward to seeing it in production
There is no word yet on any full specifications, availability, or price for Black Hole. However, given its success with design awards, this speaker could be on the shelf or online to purchase in the near future. If it sounds as good as it looks, then it should prove very popular.
If you are curious to know more about unique speaker designs, don't miss YKMA design: upcycled concrete speakers.