HOK's method: warm culture, cool work
Hellmuth, Obata and Kassabaum, one of the oldest architecture firms in America, keep serving humanity, inspiring culture and designing with meaning.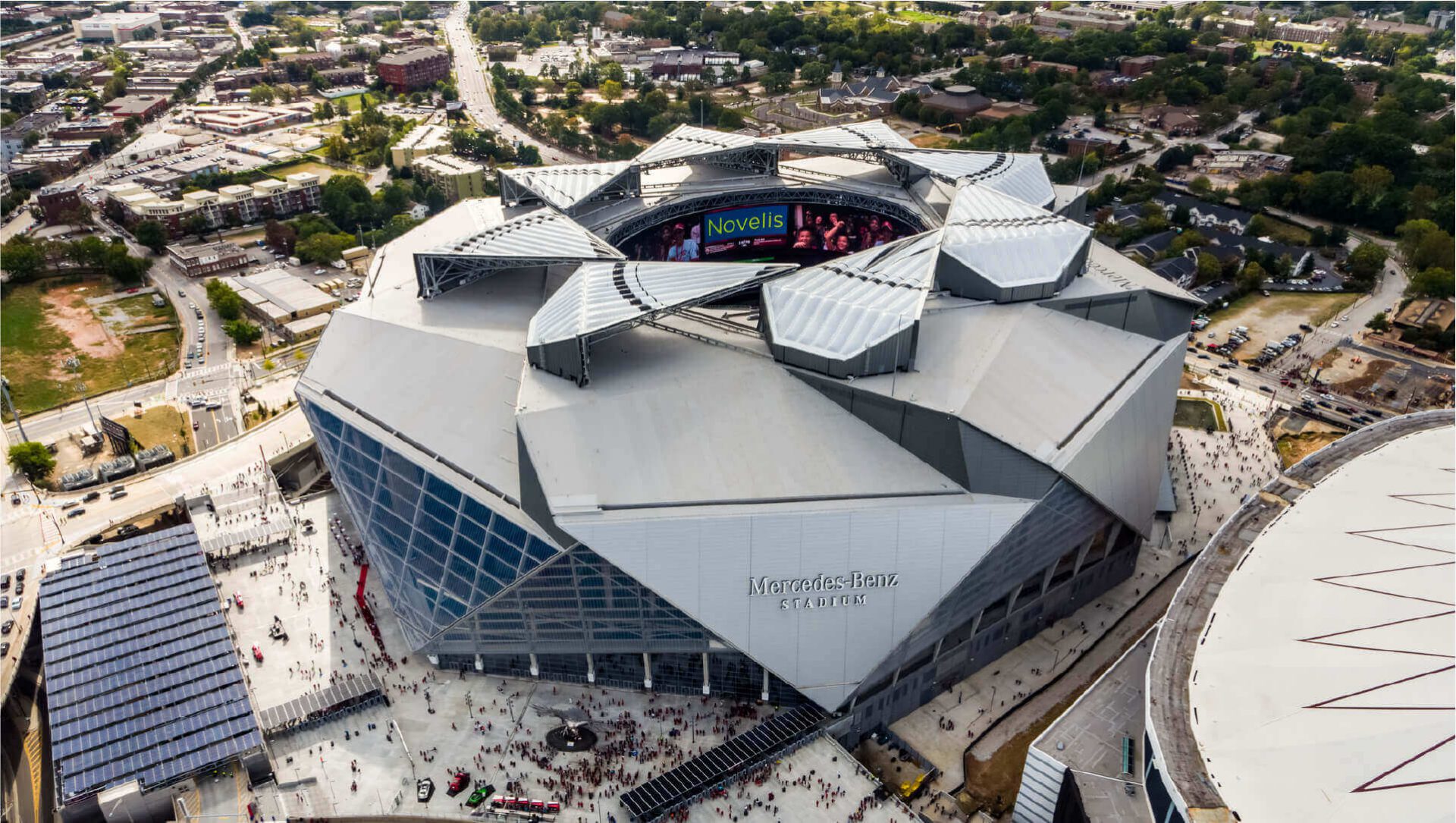 The son of an architect, in 1955 George Hellmuth joined Gyo Obata and George Kassabaum to found HOK.
Fellow architects with different perspectives and backgrounds, they had a shared desire to design exceptional places for inspired people and to establish a different kind of design practice, centered on the concept of culture, starting with a group of 26 employees.
Today, HOK is a global network of designers with 23 offices on three continents, whose guiding principles remain function, light, beauty, and service to mankind.
Every studio has a local vibe, but their highly collaborative method pushes people from different cultures, both inside and outside the firm, to exchange techniques and knowledge: the final goal is the creation of a space or a building that, as well, shapes cultures, as was the case with American professional sports.
Mercedes Benz Stadium – Atlanta
HOK's ballparks had already broken the mold of the stadium as a concrete monolith, as in Oriole Park at Camden Yards.
More recently, the architects re-imagined again what a stadium can be with the Mercedes Benz Stadium: North America's most sustainable sports arena features an iconic roof inspired by the oculus of Rome's Pantheon and a 16-story glass facade that offers panoramic views of Atlanta.
Find out more about the most influential architecture firms, don't miss Brand Story – Bjarke Ingels Group.
The Francis Crick Institute – London
The idea behind the Francis Crick Institute reflects HOK's culture and vision: a place without divisions and closed doors, an open environment for collaboration and idea-sharing.
A deliberately transparent building with a distinctive form, located in the heart of London, to show how research and improvement are about social life and exchange, not only lab work.
LG Science Park – Seoul
Everything about LG Science Park speaks big: the 11,8 million sq.-ft, 26 buildings-campus is designed to inspire up to 25'000 researchers, visitors, and engineers.
Following HOK philosophy, the Seoul parkland is planned to stimulate synergies through transparent, flexible partitions, while reflecting LG's minimalist approach to form.
King Abdullah University of Science and Technology – Thuwal, Saudi Arabia
Evocatively facing the Red Sea, at the time of its certification, the King Abdullah University was the world's largest LEED Platinum project.
HOK's sustainable solutions, in this case, find inspiration in the Arabic Bedouin tent: the roof system is studied to block sun rays and facilitate natural ventilation into the pedestrian spine, while fountains on the ground level cool the air, constantly flowing through the chimneys.
Salvador Dalì Museum in St Petersburg, Florida
On the inside, HOK's Salvador Dalì Museum is a suggestive tribute to the painter's obsession with spirals. On the outside, the reference to the art movement is clear with the building itself being a surrealistic, hybrid creature.
The sculptural glass atrium opens up to the bay-side and to the sky, while the concrete 'treasure-box' protects Dalì's most comprehensive collection outside of Spain from the hurricanes that threaten Florida's west coast.
Curious to know more about iconic architecture? Don't miss Archi Icons – Frank Gehry.