Design events
Cabinet of Collaborations showcases the power of working together
From a hydrogen-powered bicycle to 3D-printed fabrics, Cabinet of Collaborations celebrates the processes and results from engaging collaborations between designers and industry
Taking off from this year's overarching theme at Dutch Design Week, "The Greater Number" at Dutch Design Week, design collective Envisions and Studio Rick Tegelaar have curated an interdisciplinary group exhibition – The Cabinet of Collaborations – focusing on the value of working together. As such, it presents projects that are the result of larger companies joining forces with independent designers.
The selected projects address the challenges and responsibilities of design in a time where mass production overshadows the availability of resources. They also highlight the encouraging interactions between creatives and industry, which often lead to innovative and unexpected results. 
"Often I get the question: "Why should we collaborate with these designers?", but in my humble opinion, it is not about "WHY" but about "HOW" should you collaborate," states Vincent van Herk, curator of Cabinet of Collaborations.
"Having the creatives close to and in your organization should be a standard attitude and probably even more necessary than ever before. Not only in industrial processes but also in connecting to societal urges."
On this occasion they range from pavements designs for the city of Eindhoven to new ways of wire weaving. Below is a selection of our highlights from the exhibition…
Lavo bike by StudioMOM
Dutch design office StudioMOM unveiled a compact modular transport concept powered by hydrogen. It incorporates an Australian-developed hydrogen storage technology known as the LAVO System that splits water into its component parts of oxygen and hydrogen to generate power.
Designed to be portable and versatile, LAVO's sleek design features a series of modular elements, which we assume makes it easier to repair as well as upgrade the bike. Inside the frame is a compact hydrogen tank, which is about the size of a sparkling water canister. It weighs 1.2kg whereas, for the same power on an electric bike, it would take 6kg of additional battery. 
"We designed it as a toolkit for a new emission-free mode of transport," says Studio Mom. "The form language is that of a means of transport—not of a bicycle. All technical elements can be assembled like Lego blocks."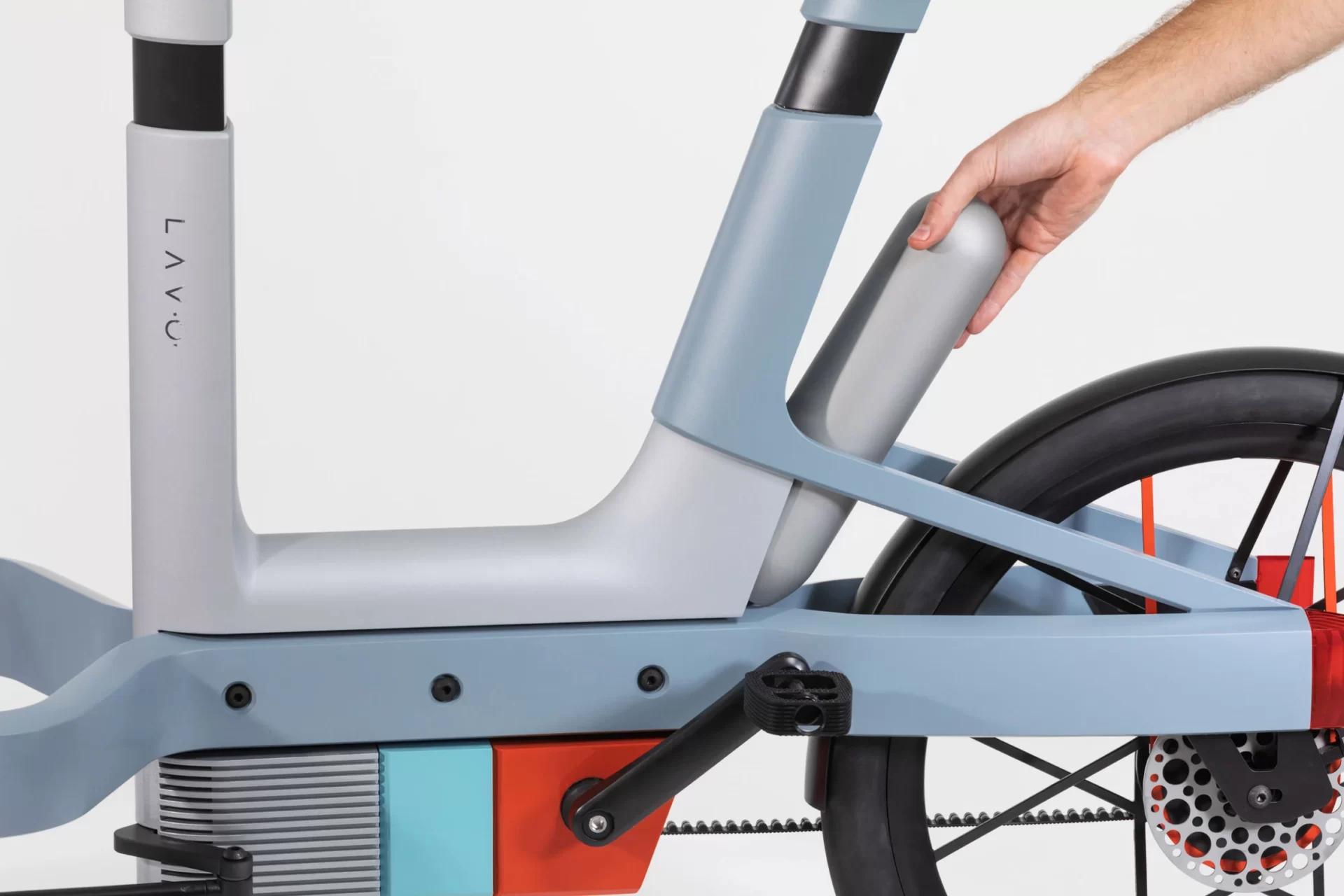 Transitions by Baars & Bloemhoff
Material specialists, Baars & Bloemhoff showcased the latest iterations of "Transitions", its annual series of designer collaborations. It featured the work of three designers including "Inside Out" by Klaas Kuiken, which saw the designer dissect the companies Finsa MDF Greenpanel to expose its honeycomb structure. He then used it to create a collection of cupboards with a unique gridular surface.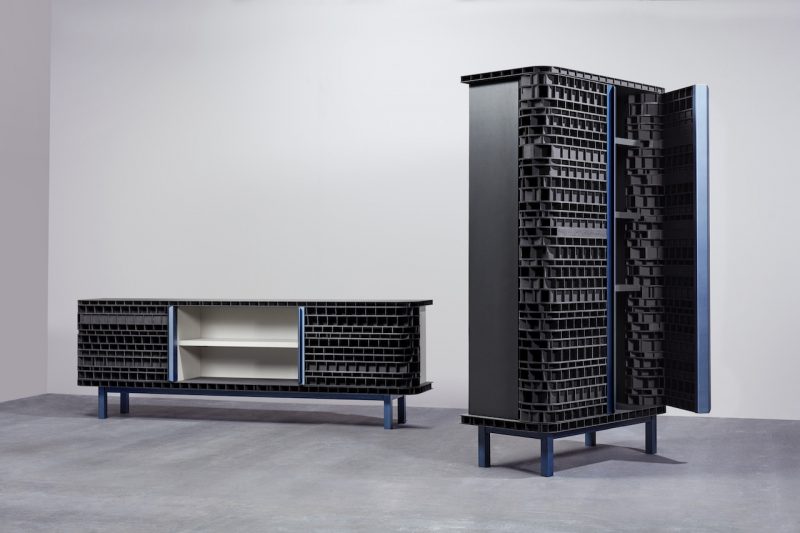 Also on display was the O – Floor Lamp by Job van den Berg that uses the Decospan Veneer and mimics the warmth of wood. The designer uses an incredibly simple technique of rolling the veneer to create hollow tubes, which he then pieces together to create the lamp's final shape.
Meanwhile, design duo Daphne Laurens created a collection of chairs, lights and tabletop organisers using a naturally-dyed linoleum. By glueing various colours together, the designers have created a two-tone aesthetic with a sleek matt finish.
Gradient mesh by Rick Tegelaar
A collection of semi-transparent screens supported by slender steel frames showed off the wire weaving craftsmanship of Dinxperlo. It worked with designer Rick Tegelaar to develop a way of weaving material gradients that underscores the refined qualities of wire meshes.
"Alternating wires of contrasting materials add a subtle glow to the material that changes from alternating perspectives," explains Tegelaar. "Ultimately this material effect creates an ever-changing object. The wire mesh gets its strength from a pleated structure that reinforces its play with light and the environment."
[ Read also A mesh of materials, spaces, and experiences with RappUnger ]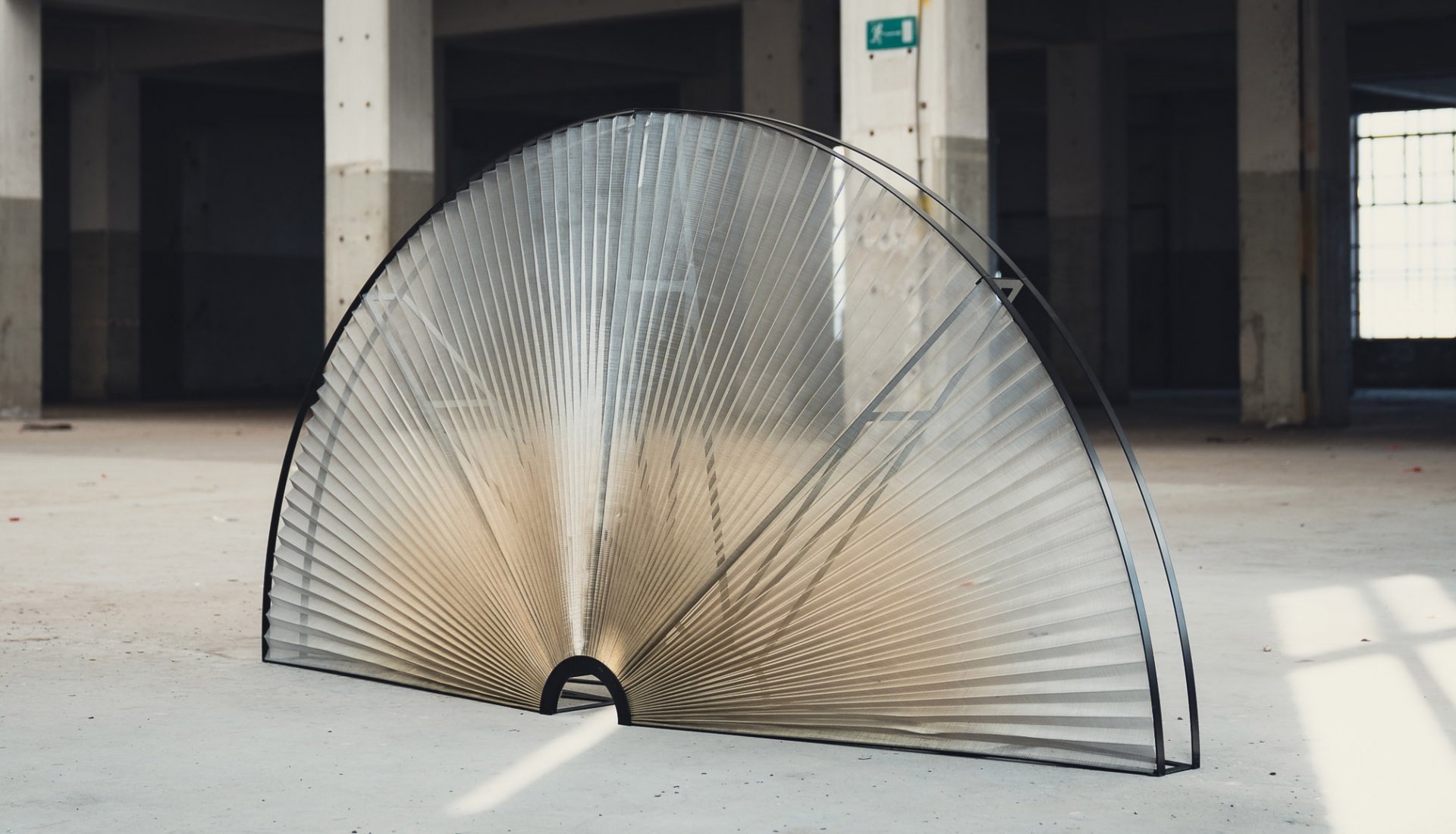 3D™ for Natuzzi by BYPORRE
The collaboration between Italian furniture company Natuzzi and Dutch textile innovator ByBorre was also on display. Unveiled earlier this year, ByBorre has created a collection of interior fabrics to the Natuzzi selection including 3D textiles inspired by the Mediterranean sea. The collection's textures mimic the movement of the waves, created through a combination of traditional knitting techniques and new technologies, using a yarn that mixes high quality wool and recycled PES.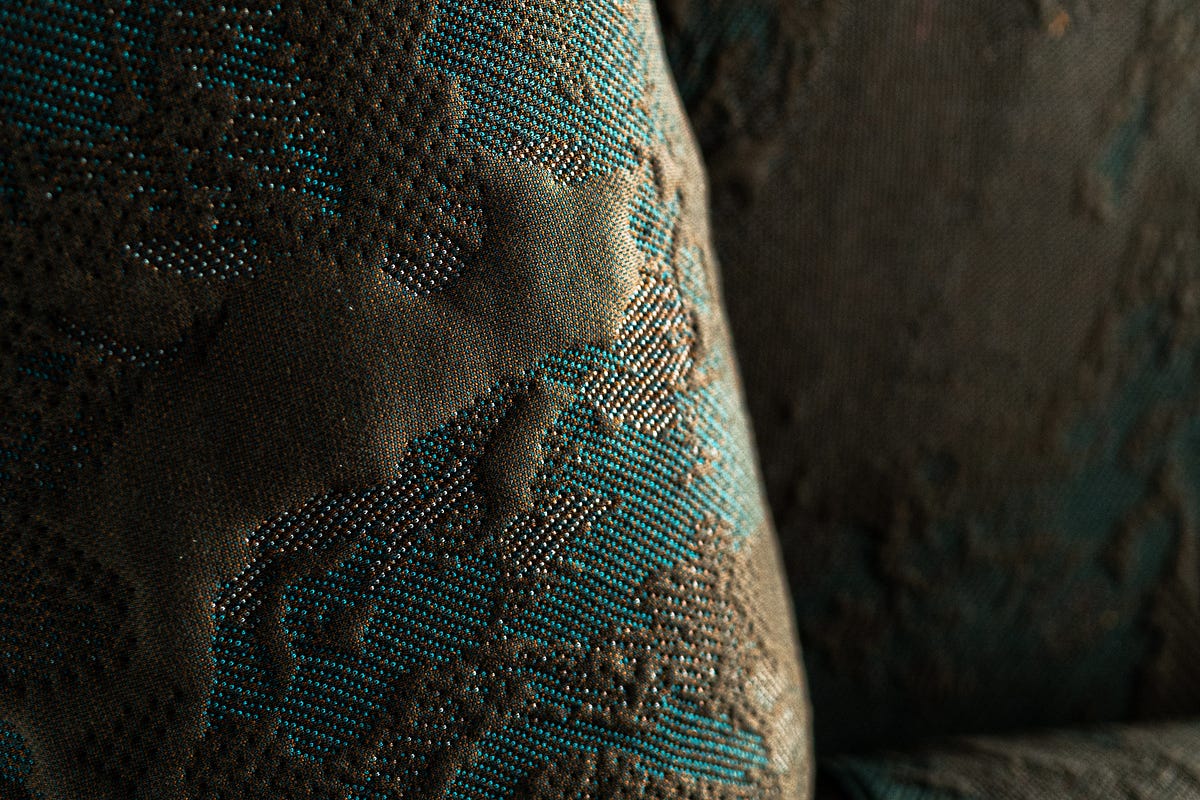 Stone in process by Envisions.nl
Finally, a paving strategy for the city of Eindhoven by design collective Envisions was exhibited. It involves various innovative processes including washing to reveal the gravel typically hidden inside paving stones and create a unique texture. For this, the designers teamed up with concrete manufacturer Morssinkhof.
Meanwhile, a "cut out" method makes use of the city's existing stones by recycling them and combining them with new materials. Lastly, the studio has also developed a stamping technique for imprinting the stones with wave-like patterns.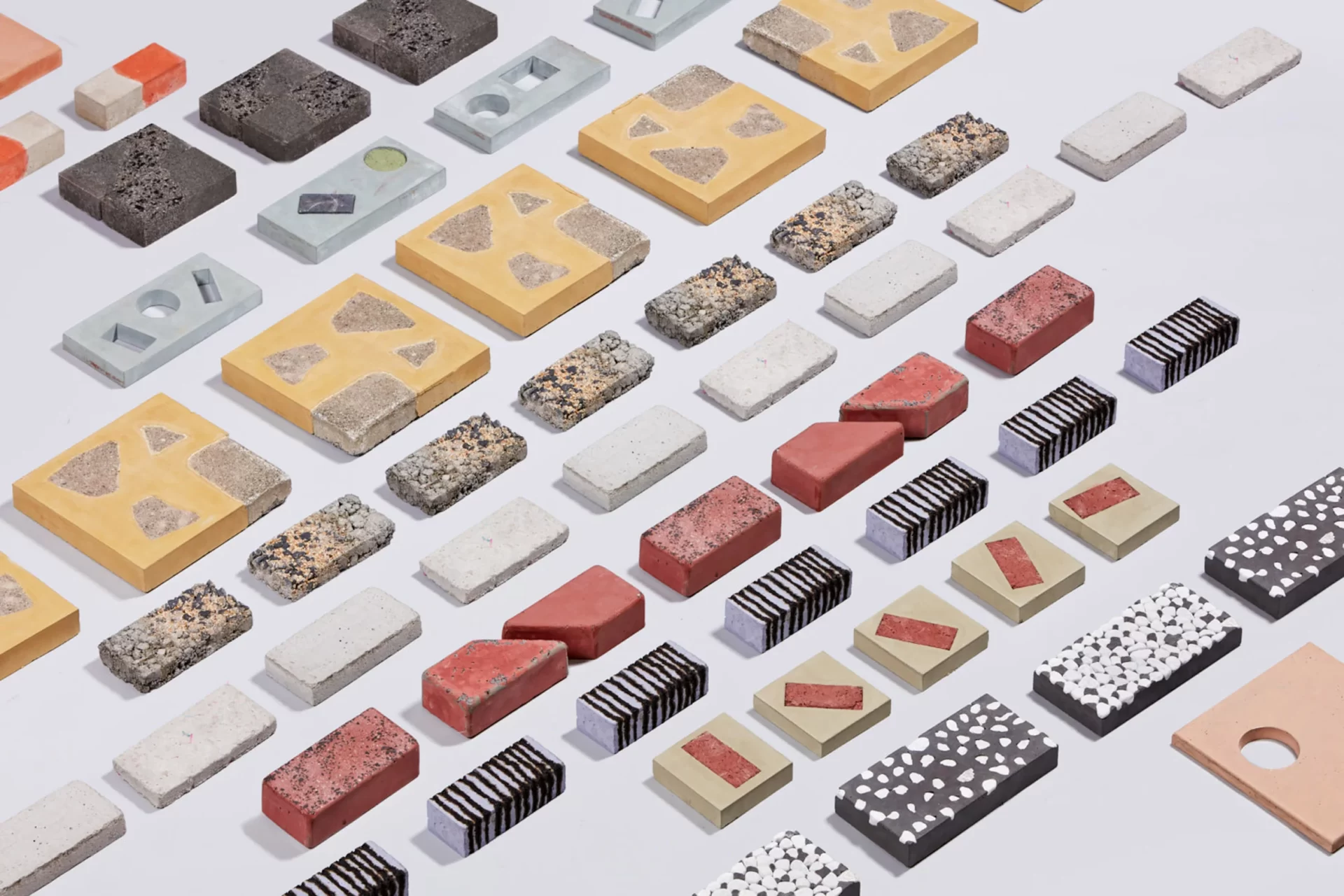 The purpose of the project is to uncover the manufacturing process of concrete stones, while trying to develop a cohesive identity for the city through pavement design.
[ Read also "A blast from the past" gives Greco-Roman aesthetics a modern twist ]