Design
Clap Studio recreates a sunset on the beach inside Valencia's Baovan restaurant
Baovan asked Clap Studio to design an experience that channels its motto of – beach, beers and baos.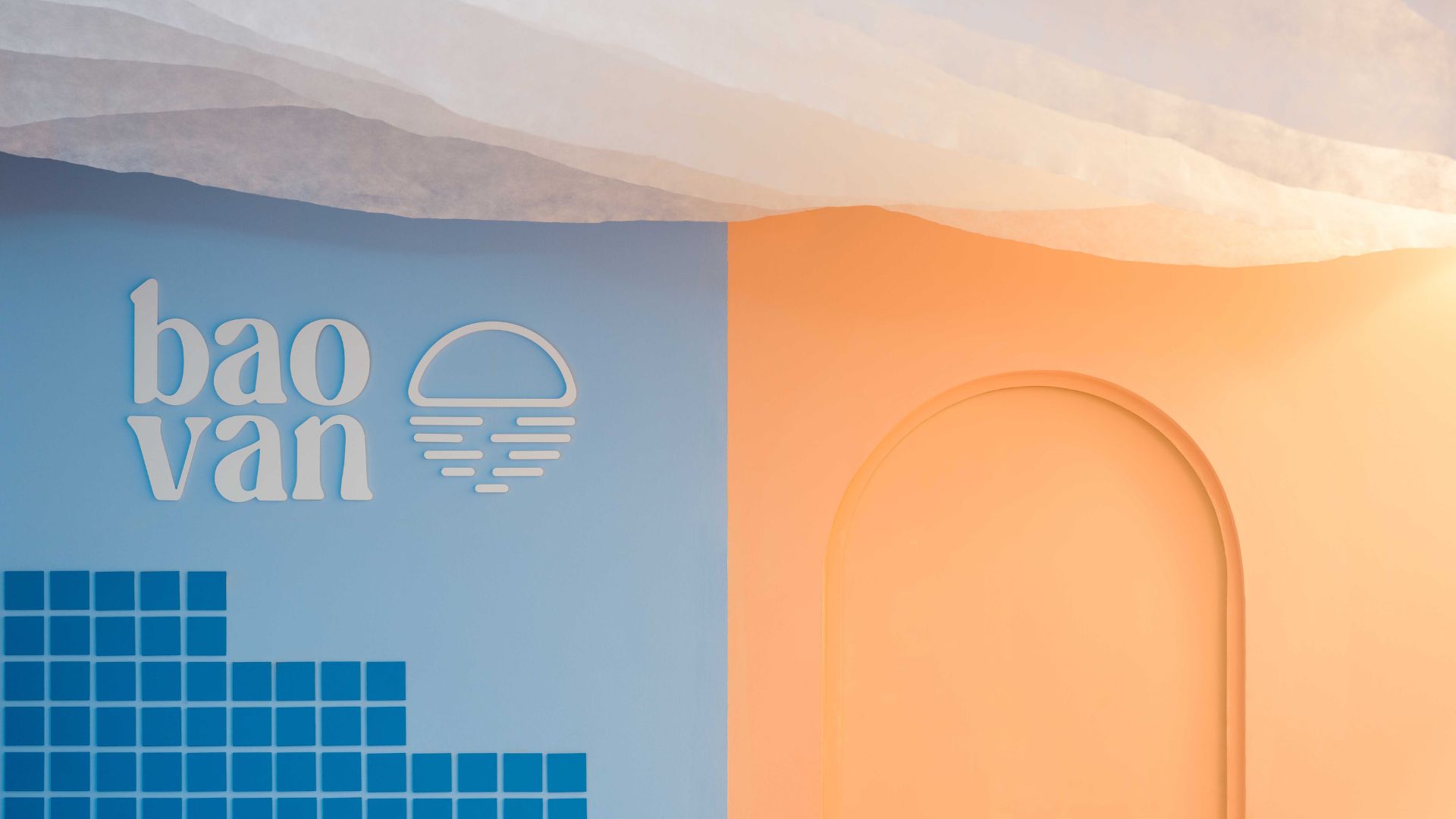 Brilliantly designed by local interiors firm Clap Studio, an eatery set in a modernist building in Valencia's Ruzafa neighborhood marks the first permanent outpost of Baovan – a local food truck delivering steamed Chinese bao buns, found amidst the pandemic.
A half-moon-shaped screen is programmed to mimic the changing breathtaking hues of a sunset in this bao restaurant in Valencia, Spain.
Born in 2017 and based in Valencia with a philosophy guided by simplicity, elegance and playfulness – Clap is a global design studio formed by Jordi Iranzo and Àngela Montagud, creative director and technical architect respectively.
Skillfully focusing on crafting extraordinary products, interiors and artistic installations – the studio's goal is to help both brands and institutions connect with their customers through unforgettable experiences.
"Less than a year ago Nacho and his partners contacted us at Clap Studio.
They had just created the first home-delivered artisanal bao company in their hometown and had the dream of opening the first bao restaurant in Valencia.
They had been living and traveling for years around Asia, America and Africa and with the same adventurous spirit they created Baovan – a project clearly inspired by the surfing and exploring lifestyles of all the partners who have given it life!" says Iranzo and Montagud.
The challenge was to design a refreshing experience in line with the spirit and personality of Baovan, a brand linked to the sea with a motto of – beach, beers and baos.
"Our goal was to transport one to a beach and make them watch the sunset as they enjoy some handmade baos – so we simply made a whole experience around it!
The shape of the space was however a challenge, as we were faced with a narrow, elongated floor plan with no natural light" they add.
In a bid to turn the restaurant's lack of daylight into a positive feature – Clap Studio crafted an immersive interior that makes visitors feel as if they have stumbled across a secret beach.
"In this way, it would invite the user to enter and discover the interior!" they say.
They went on to divide the space into three distinct eye-catching areas that one effortlessly discovers upon entering the restaurant.
From the outside one comes across 'the forest' – a porch full of ropes that falls from the ceiling representing dense vegetation.
Once the visitor crosses the forest, they further see the beach and its sunset – featuring a fascinating screen in the shape of a half-moon attracting the eye.
The pièce de résistance of the room is this half-moon-shaped lighting panel that was programmed by local creative studio Vitamin to seamlessly recreate the alluring changing colors of a sunset, over the time it takes for the restaurant to complete its dinner service.
Building innovative strategies to materialize ideas into one-of-a-kind interactive experiences – Vitamin is a creative studio based in Valencia, Spain.
Moving on, Baovan additionally hides another eclectic area – a reserved space for around 10 people where they can have dinner in the moonlight.
"On the ceiling we recreated a blanket of clouds that brings a magical atmosphere to the interior reflecting the lights of the sunset that is in constant movement.
The stunning interior beautifully showcases a duality of colors that takes us in and out of the water!" adds the duo.
Inspired by the shape of a bao bread, round and crescent shapes are repeated throughout the space – from the windows that connect the exterior to the interior, to the lighting installation and the Baovan chairs fabricated exclusively for this restaurant