Design
CuldeSac's 'F SolidPod' banishes single-use plastics in the shower
How can a simple cosmetic product improve a daily routine such as taking a shower? How can we revolutionize this experience and make it easier for everyone all while approaching a sustainable solution in a world overloaded by packaging?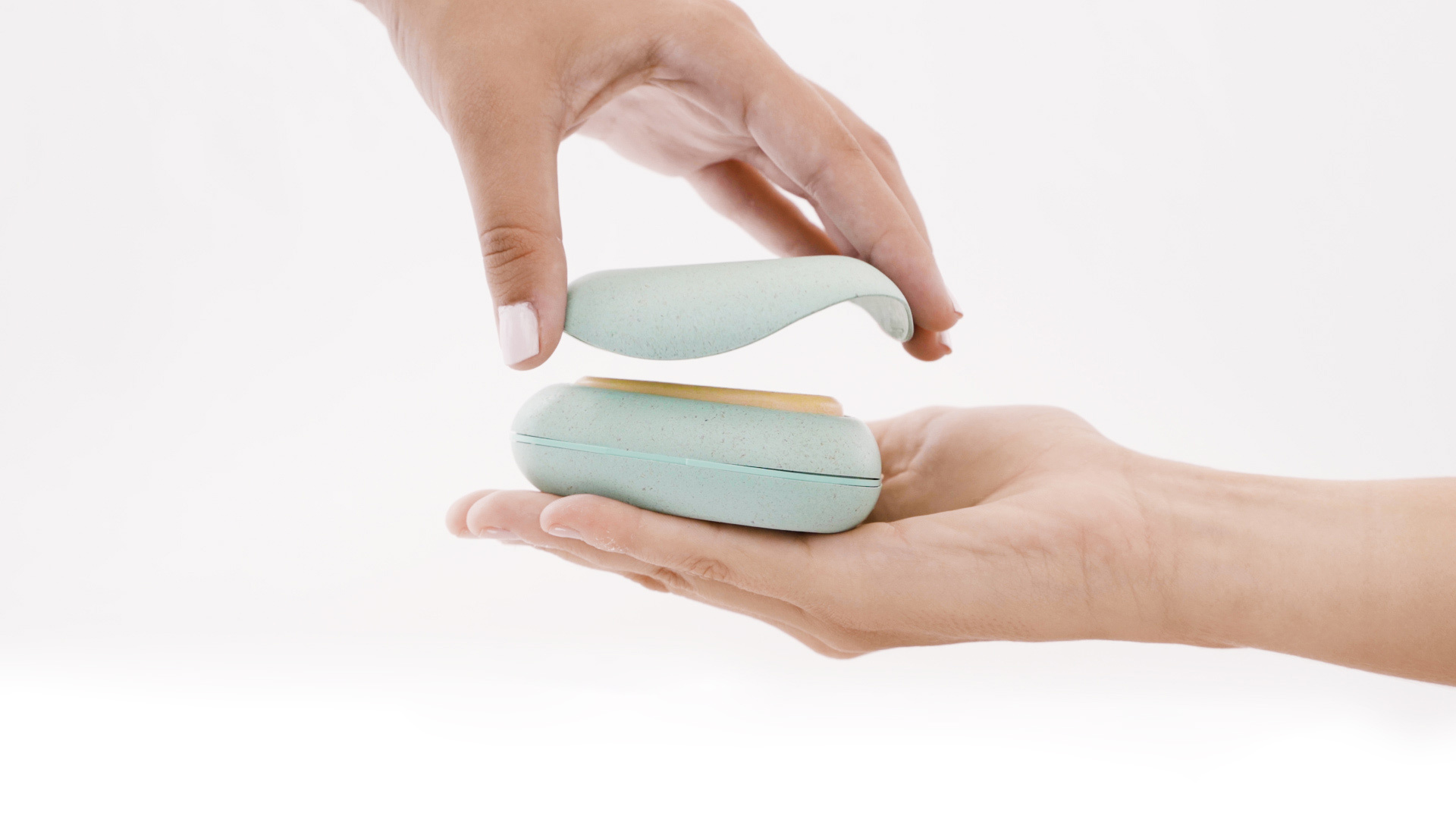 Pepe García from Valencia-based Design Studio CuldeSac explains why simplicity was key to defining the F SolidPod, a unique gel and shampoo applicator made from recycled elements running an estimated durability of more than 10 years.
Despite what people believe, our work as designers is not based on the addition of layers to an idea but the opposite; as an endless exercise to dispense the unnecessary until reaching the soul—the real essence of a product. 
The path towards that level of simplicity demands a constant defying of existing paradigms, only possible through an exhaustive team working.
Changing the paradigm 
When our client Freshly Cosmetics approached us with the need of "developing alternative solutions to tackle the growing concern of the excess of single-use packaging in the cosmetics and personal care industry" we already knew that we were about to start a collaborative journey full of questioning and unclear answers. 
From the beginning, we addressed the project in an honest way: we didn't want to cover up this issue with aesthetic solutions and keep designing alternative versions of discarded plastic bottles. So, we asked ourselves whether the starting point was the bottle or the liquid inside it. 
Changing the paradigm was the answer: the focus during this phase wasn't going to be the packaging, but the product. We shifted from liquid to solid and started developing shampoo and gel bars that wouldn't need a bottle, thus increasing the possibilities of how to use them.
F SolidPod: research, development & involvement 
After agreeing to this substantial change, our client started developing a vegan line of solid shampoo and gel bars formulated with more than 99% natural ingredients without sulphates, silicones and parabens. It was up to us to transform it into a design icon, a revolutionary object for all types of users in the need of handy and sustainable products.
This was the main assignment our team led for the last ten months. 
Working alongside the research and development team at Freshly Cosmetics, we started from scratch and investigated the feasibility of manufacturing a product that would improve the traditional solid bars through an ergonomic, practical and functional design made from recycled materials that could be used for several years.
This was not an easy task if we also wanted to make it look sexy and simple, ensuring a perfect balance between functionality and aesthetics.
[ Read also Concentrated shampoo sticks are the future of personal hygiene ]
Shaping the right shape
The brief was clear: the solid bars needed a practical container that would be easy to use in every possible context in the user's daily routine while improving the conventional designs present on the market. Regardless of the shape, the layout also had to include an operation system able to prevent the bar from falling apart or slipping.
As a starting point, we experimented with flexible formats replacing plastic like the classic fabric crochet bags and the Japanese technique of Furoshiki. We also researched biodegradable materials such as loofah and approached the first sketches incorporating a strip easy to transport and hang.
However, we felt these ideas weren't strong or original enough. In addition, all these biodegradable products were incapable of offering a hygienic solution to stop bacteria growth.
After more research, we began to raise the idea of a rigid concept; a kind of tray to grasp the bar that would include an elastic band. Although none of these concepts fulfilled the functions that we wanted to incorporate in the design, the intention of adding a tray evolved as a potential design solution that would help collect the leftover soap and reintroduce it again –a sort of funnel that would also prevent excess water and extend the product life cycle.
The potential solution suddenly came through a question: how about "inserting" the bar in the tray and helping it rise? This is when we introduced the "carcass" concept but we realised that a circular shape wouldn't work, as the diameter was too large for the hand to hold comfortably.
A triangular, rounded shape seemed to be ideal for gripping the product effortlessly and attachable between the fingers and the palm; a form easy to store and not very seen in the cosmetics world.  
After many debates, sketches and brainstorming sessions, the solution went even further, by shaping a more hygienic applicator that does not stick, is adaptable and helps maximise 100% of the product, making gel and shampoo bars' lifespan twice as long.
It sounds incredible, but defining its singular form was the simplest part of the project. It made us wonder how no one else had presented this solution before.
Production & launch of F SolidPod
In collaboration with the manufacturer, we tweaked every detail to fit the groove measures and modelled the final version in three different colours: mint, black and coral.
The production process was fast. Unlike classic plastic moulds that usually take several months before achieving the tolerance required for manufacturing, our well-resolved design allowed us to produce the samples within a few weeks.  
The final F SolidPod applicator is made from a mix of recycled plastic and wood chips (17% wood particles, 17% post-industrial and post-consumer PP and 66% virgin PP). It also has a 10-year shelf life and weighs only 45 grams, which is much less than a bottle of disposable gel or shampoo therefore making it more sustainable and cost-effective to distribute.
Both the applicator and the tablets generate a reduced carbon footprint and once consumed the user can purchase new refills on the website.
In the meantime, multiple rounds of market research and branding consultancy helped to develop the product identity until we arrived at the name: F SolidPod.
This final activity was a collaboration with the client, and we are pleased to say that since its official launch a few weeks ago, the product has exceeded our expectations in terms of sales.
[ Read also This sustainable SOAPBOTTLE packaging is made from soap ]
Spoiler alert 
At CuldeSac, we seek to create impactful and exciting products that are bold and last over time.
F SolidPod is another example of this vision: we developed a highly innovative product not only for the natural formulation of its components, but also for the experience offered to the user. 
F SolidPod challenges the traditional bath gel or shampoo bar, providing a new dimension for today's life needs, thus recovering and redefining its value and use. It seems that even a humble solid bar that has been around for thousands of years can be re-invented.