Dotto Creations' Custom Honda CX500 is a sculptural masterpiece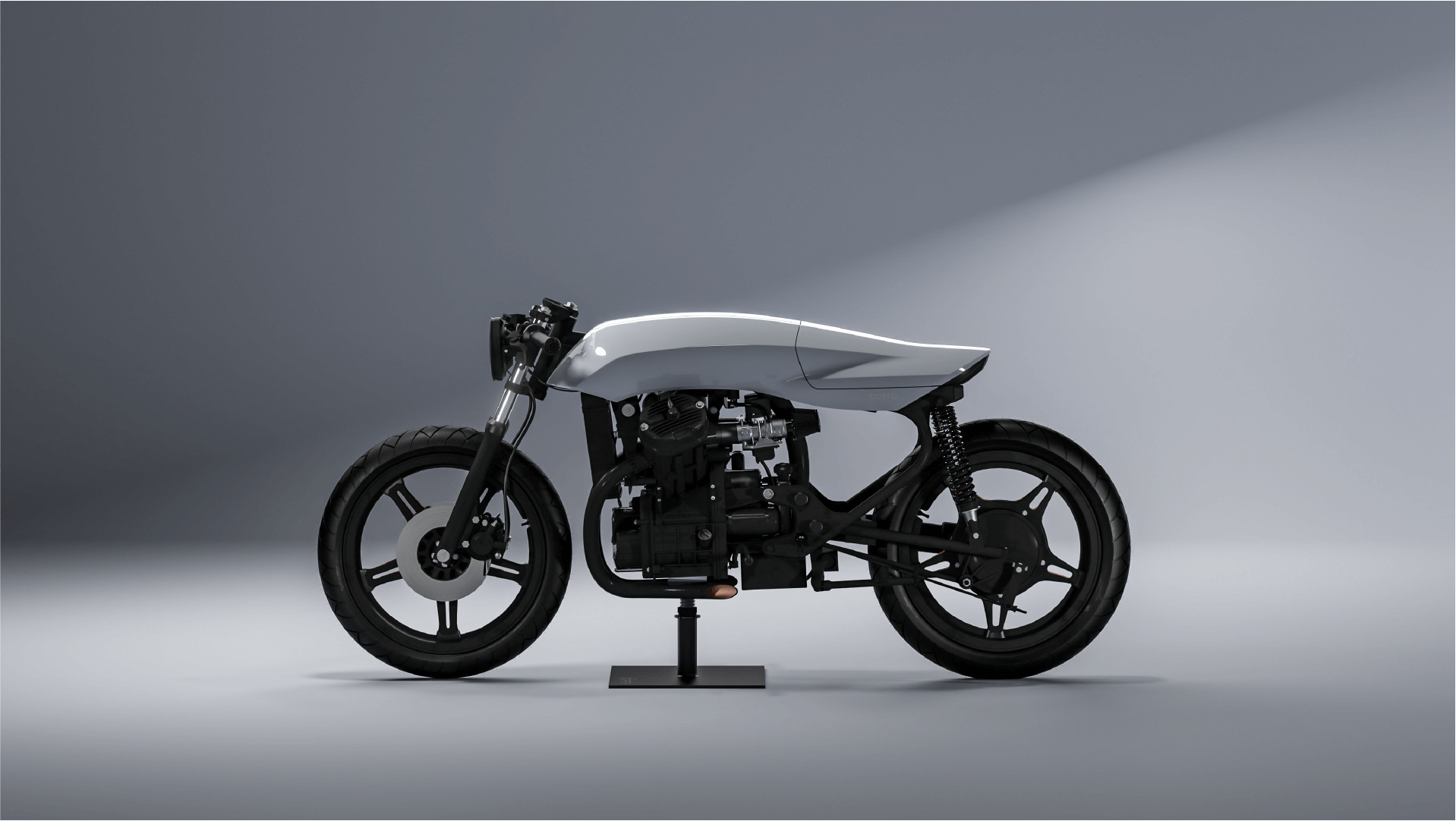 It might look like a work of art when stationary but a hinged cutout at the rear quickly reveals a leather saddle as well as the motorcycle's true identity.
With almost 20 years combined experience working in the Italian automotive design world, few are as well equipped as Francesco Iannuzzi and Gianluca Bartolini to breathe new life into old motorcycles. After meeting while working for the legendary Pininfarina, the couple decided to put their heads together and form their own design house dubbed Dotto Creations. For their first project, they have presented this stunning custom 1979 Honda CX500.
You might not recognise it but the donor is a 1979 Honda CX500, which Gianluca and Iannuzzi deconstructed piece by piece, stripping the machine to the bare metal and restoring the mechanics to their original reliability. The V-twin was refreshed along with its carburetors, and the same five-spoke Comstar wheels were retained in the final build. The designers also gave it a new name: Biancaneve.
According to the team, the intention was to craft something that would pass for a work of art—and it absolutely does. The real impact is in the ultra-minimal bodywork, which appears to float above a blacked-out chassis, its appearance pure and streamlined. Here, the goal of this design by Dotto Creations was to reduce visual mass and to give the bike a sportier aesthetic.
Beyond stripping the bodywork in several places—namely the rear tail section—the fluid fairing was made possible by seamlessly hiding the seat into the body. The stark white monocoque body forms a single, uninterrupted structure that hinges to reveal the leather and Alcantara seat.
Triggered by Italian vehicle design? Check out Pininfarina's future involves electric scooters and elegant e-bikes.
"This approach gave us the opportunity of starting to model it as a pure shape, not caring much about the driver position, with the result of a body that seems to flow even if it's still," says Gianluca. "Only after that, we started taking care of the riding experience. Ensuring a comfortable driving position and an efficient and easy way of using Biancaneve."
Although Biancaneve keeps most of the original parts including the chassis and the iconic Comstar wheels, Dotto Creations has managed to create something that looks straight out of a Sci-Fi movie. And at the same time—whether it's intentional or not—the sculptural design is a perfect ode to traditional Japanese minimalism (even if it's completely bespoke glow-up has Italian style written all over it).
Discover more innovations in mobility design, don't miss BMW's first electric bike is a futuristic two-wheeler with mammoth speeds.