Design events
10 iconic projects we have seen at Dutch Design Week 2022
A 9-day programme of design events, exhibitions and initiatives – Dutch Design Week 2022 was back in Eindhoven with the best work of the year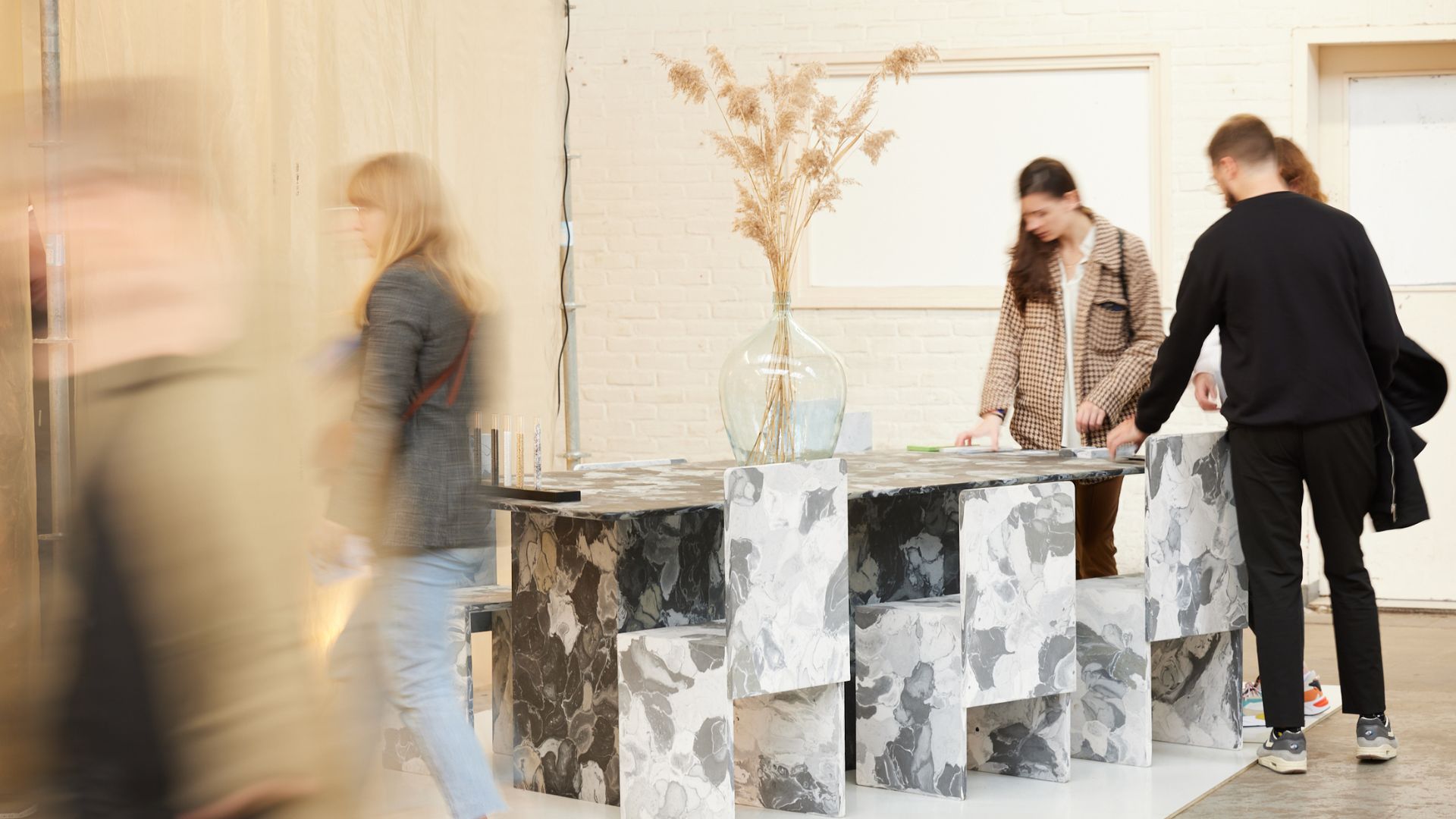 Northern Europe's largest design event, Dutch Design Week 2022 (DDW), returned to Eindhoven with an even more community-driven approach, facilitating designers to show their work, create a conversation with the audience about pressing topics, while noticing and addressing urgent societal matters. 
With this year's theme 'Get Set', Dutch Design Week (22-30 October 2022) called for designers to get in the right mindset, create a societal impact on a smaller or larger scale, and 'get set' for the challenges we are facing nowadays, whether it is the climate crisis, inequality, or any of the many other social challenges.
"The most important message is that people get active. Doing nothing is not an option anymore. We must act now" says Miriam van der Lubbe, Creative Head of Dutch Design Week 2022.
"The only mistake we can make is to not get started. So get set!"
The annual fair showcased over 2,600 designers at 100+ locations and gathered not just designers but visitors with the aim to spark valuable connections that will lead to a positive wave of societal changes.
Among the mission-driven projects found in Dutch Design week 2022, DesignWanted rounded up the highlights of the week in this curated list of 10 iconic projects.
1. Sunne by Marjan Van Aubel Studio in Klokgebouw, Strijp-S
The solar design practice, Marjan Van Aubel Studio, presented an immersive installation made up of several Sunne lights, surrounded by a soundscape with the sounds of the sun.
The iconic self-powered solar light moved through its three settings that imitate all the natural moments of the sun; Sunne Rise, Sunne Light and Sunne Set, creating a meditative space for the senses amidst the exhibition area.
2. Shinetime by Jeroen Timmer in Klokgebouw, Strijp-S
A product that shows how much light is available everyday and focuses on humans' well-being by inspiring to make the best use of every sparkle of light. 
As a new time-measuring tool that adapts itself to nature and seasons, it aims for people to enjoy daylight and "see time in a new light".
3. Room of Trashures by Kunst-S at Isola's No Space for Waste Exhibition in Schellens Fabriek
With 100% recycled and 100% recyclable material. Kunst-S presents unique design pieces made from recycled polypropylene.
The design studio has its own manufacturing house, which allows them to create unique handmade objects and super-sized panels to provide customized solutions with the visual properties of marble or stones made entirely from plastic waste, showing how plastics can be part of a green future.
4. Frans Collection by Arthur Vandergucht, at Isola's Rising Talents Exhibition in Pennings Foundation
Drawing inspiration from the fields of design and architecture, the collection of objects is made from folded metal sheets, where inversions and bends are neither hidden nor obscured.
As traditional connections play an essential role, the collection of objects presents the passion for craftwork from the young Belgian designer and craftsman.
5. Apollo by Corpus Studio, at Isola Rising Talents Exhibition in Pennings Foundation
A contemporary design collection focused on the making process of glazed lava stone, "Apollo" pieces feature monolithic blocks of lava stone that nest together to make a poetic composition.
Taking inspiration from the Apollo temple on Naxos Island, Greece.
The collection is made closely with artisans while developing a contemporary handmade glazing process that emphasizes the unique nuances of colour and the cracking effect of the enamelled glaze.
A stool/side table, a wall light and a floor lamp are presented as part of the collection.
6. Practice Collection by Pepijn Fabius Clovis at Graduation Show
A superlight, yet voluminous furniture collection that showcases the value of second-hand material.
Pepijn van Otterlo started building with scrap wood and waste material following the construction principles of the shipping crates, creating a simple box-like form language.
With a glossy industrial coating, Pepijn does not cover up the scratches and dents in the wood, but accentuates the imperfections, celebrating a no-nonsense, circular approach to design furniture, inspired by the abundance of material that is right at hand.
7. The dairy farm is a universe by Thomas Vailly at Yksi Expo, Strijp-S
Exploring the potential for sustainability and closed-loop material flow within the premise of a dairy farm, this project look at various material flow within the farm, and how these can be used as resources for circular bio-composites to be used within the premise of the farm itself.
The first outcome of this research project is extruded profiles made of straw fibres and wheat starch, extracted by Fiber365 using steam explosion, which is carbon negative and with no chemicals involved.
8. Tree of Culture by Studio Basse Stittgen at Yksi Expo, Strijp-S
Exploring through storytelling and tangible physicality the potential offered by reconnecting lignin with cellulose, The Tree of Culture objects are meant to evoke mindfulness and trace back to the source of their material, reminding of a tree.
The choice of materials comes from the fact that cellulose and lignin are the two most abundant organic polymers on earth, and while one is used excessively in a host of different industries such as the paper and textile industry, the other stays largely unexplored, remaining an underutilized by-product.
9. Green Future Club at Yksi Expo, Strijp-S
The Green Future Club brought together a selected group of sustainability experts & upcoming young designers supported by the IKEA Stiftung to showcase a combination of industrial applications & speculative designs altering the future.
The curated exhibition presented the Green Concept & Product Award's 2022 winning projects as well as an upcoming preview of the 2023 nominees with their designers on location to inspire and initiate conversation.
The exhibition presented a line-up of sustainable innovations within the fashion, interior & materials sectors.
10. Shit Show at Ketelhuisplein, Strijp-S
A collection of designers that guide visitors through all the steps necessary to close the food cycle: where the civilians are a crucial part of food production.
In the Shit Show, high-quality compost is made from the poop and pee produced by the people in the city.
The farmer needs this to keep the soil healthy and to be able to produce nutrient-rich food for the people in the city.
Bringing the food cycle to life, the Shit Show serves the first real circular sandwiches – BroodJE POEP (Shit Sandwich) – with ingredients has grown thanks to compost made from human poo.