Design events
Spotlighting 8 projects from Isola's showcase at Dutch Design Week 2023
With Isola going beyond sustainable design thinking and really making something happen – explore their inspiring journey through craft, collectible and eco-friendly designs during Dutch Design Week 2023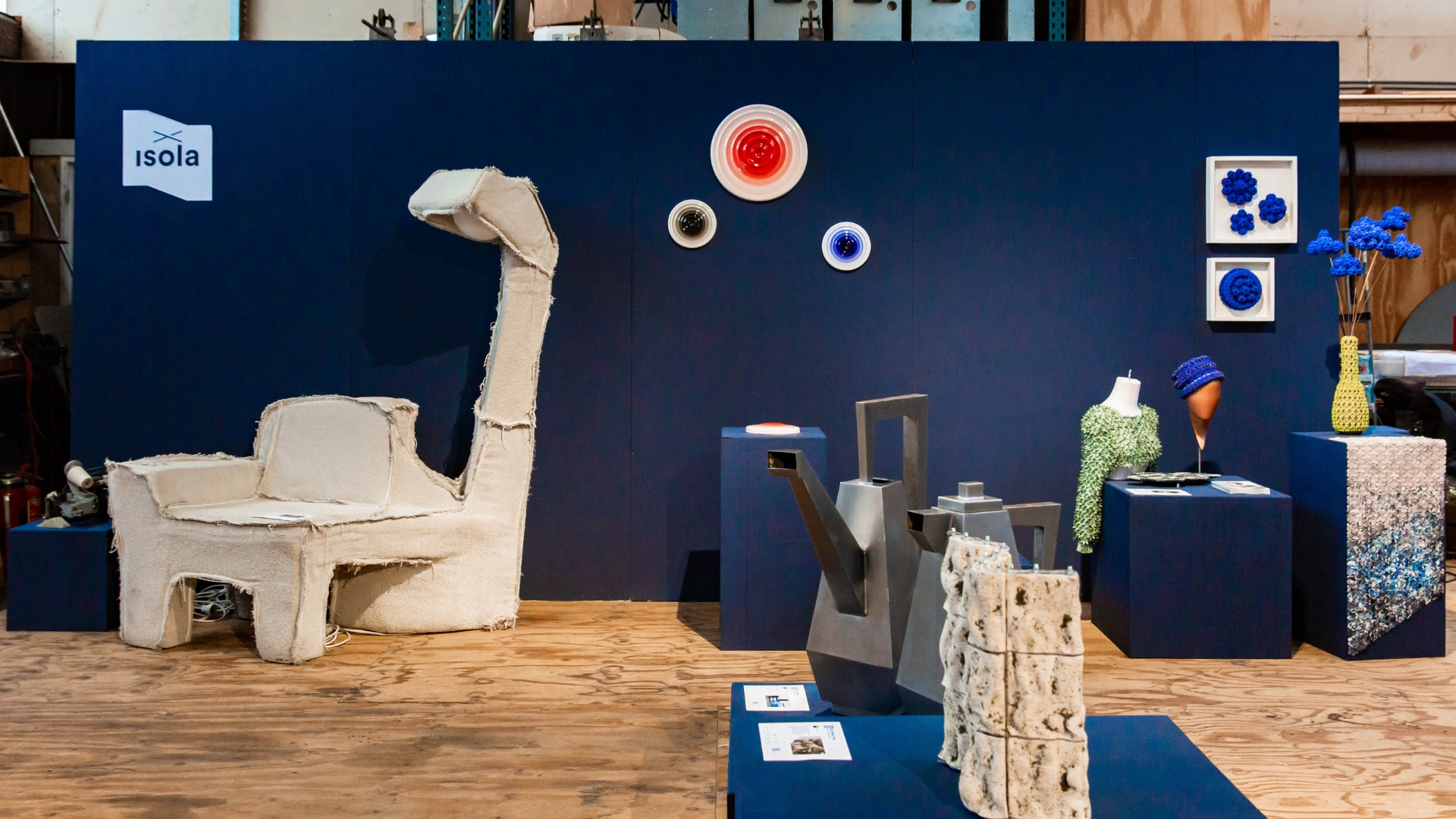 For the 5th consecutive year Isola joined the Dutch Design Week 2023 taking place in Eindhoven (Netherlands) from 21st to 29th October 2023 and presented two main exhibitions inspired by Isola's theme of this year – Nothing Happens if Nothing Happens.
"Since embarking on our journey in the Netherlands back in 2019, we proudly boast an impressive community of Dutch designers within our network, enjoy the support of numerous local partners and have even had the honor of a visit from Her Majesty the Queen during the last Milan Design Week.
This year – we are excited to present two exhibitions that encapsulate the essence of our recent endeavors, which will shine a spotlight on exceptionally talented designers and their pioneering approaches to projects!" shares Gabriele Cavallaro, co-founder and CEO of Isola Design Group.
At first with the "Nothing Happens if Nothing Happens" traveling exhibition, part of the "Something Bigger" event hosted in the Schellens Fabriek, a former factory space in Eindhoven's city center close to the well-known Van Abbemuseum, Isola took over a 400 square metre space. 
This exhibit featured more than 60 exhibitors from over 24 different countries showcasing a hundred products including innovative biomaterials, circular products and collectible design pieces.
Isola pushed the level of sustainable exhibiting even further by incorporating the Polygood® material by The Good Plastic Company, crafted entirely from 100% recycled and recyclable plastic.
On the other hand, as a tribute to the rich Dutch tradition of craftsmanship, Isola collaborated with a local woodworker at Fuutlaan 12c on the eastern side of the central train station to host the exhibition Tools & Crafts inside his workshop.
Encompassing more than 20 exhibitors and over 35 products, the show focused on a new generation of artisans who seamlessly weaved together traditional expertise with innovative and experimental techniques to create contemporary and collectible design pieces.
With DesignWanted being the Media Partner – come view our favourite eclectic but one-of-a-kind picks from Isola at Dutch Design Week 2023!
Isola exhibition at Dutch Design Week 2023 – highlights:
Tools and Crafts
Icons Re/Outfitted by The Visionary Lab
In an era with growing mountains of textile waste The Visionary Lab presented Icons Re/Outfitted – a transformative journey breathing new life into and upcycling iconic chairs from Vitra (from Eames to Panton and Nelson) with repurposed denim from Levi's.
Delving into the intersection of fashion and furniture, designers Nkwo Onwuka, Hannah Brabon, Kelly Konings, Tim Dekkers, Sophie Cagniart, Norman Monsanto, Barbara Polderman and Sarmite Polakova were invited to re-outfit masterpieces by Vitra with bold new looks fabricated from discarded denim. The outcome was a captivating series of artful chairs which demonstrated a diverse spectrum of innovative techniques and time-honored crafts.
Pleated Scenery by Kim Melody Zoutewelle
Pleated Scenery is a series of wall lamps created with gradients from glass powders on colored and formed glass by Kim Melody Zoutewelle. When the panels are illuminated from below, it beautifully enhances the shapes of the glass and causes the powders to shimmer – the lamps evoke an atmosphere of an undulating dream-like landscape, an underwater world or a sunset.
Throughout the production process artisanal techniques were applied, from making the molds for glass shaping to sifting glass powders by hand – each and every piece is a unique handmade creation.
Spektrum by Giulia Toneguzzo
Focusing on relations between light, colors, and space Giulia Toneguzzo introduced Spektrum – a wall shelf that interacts with daylight. Being a result of a fascination with sunlight, it materializes the nature of light by the utilization of colors, glowing and evolving throughout the day. The ever-changing effect reveals the passage of time and enhances the atmosphere of a space.
Available in different variations – from one up to nine levels – it comprised three easy-to-assemble stainless steel flat elements, each hand-finished with a special airbrushing technique.
Makkuro by Iammi
At IAMMI, innovation meets sustainability and the Makkuro vase that they displayed was a shining example of this ethos. Hand-crafted from discarded automotive foam waste, its soft, pliable form contrasts with its glossy black coating and sculptural aesthetic.
Crafted in Italy – the raw material sourced from Re-Mat – the first Italian startup authorized to recycle discarded mattresses and foam – breathes new life into what was once considered waste. IAMMI studio also designed the exhibition layout of Isola, previously seen at London Design Festival 2023.
Nothing Happens If Nothing Happens
Units by Zeynep Boyan
Zeynep Boyan presented Units – sculptural stoneware ceramic products spacious enough to hold multiple objects. Each one-of-a-kind progressive collectible piece is meticulously sculpted and finished in Montreal using mixed techniques.
Created entirely by hand utilizing stoneware clay, it's paired with a burnished aluminum door and hand-sculpted ceramic knobs. This special edition blends traditional and experimental techniques and showcases the contrast between two different materials, while blurring the line between sculptural and functional, as well as art and design.
Compact Sun by vanPlestik
Compact Sun is the result of a collaborative research project with Emmaus thrift stores, van der Hoevenkliniek, Cantor and vanPlestik.
Made from 100% recycled plastic retrieved from used CD cases – this wall lamp is created fully modular and is therefore ready for future recycling. It's 30cm in diameter and has a mesmerizing effect when viewed from specific angles. This is caused by a combination of smart lighting and the 3D-printed lines in the material. The perfect imperfections in the material make a sun-like reflection on the wall behind the lamp.
Egglamp by Ruben de Haas
Investigating endless materials & techniques whilst staying playful and intuitive, Ruben de Haas introduced Egglamp – a lamp made from real eggs.
As a fan of Droog Design, de Haas created a simple and fun lamp. Soft and warm, these unique lightbulbs are surprisingly beautiful and fascinating due to the imperfections of the eggshells.
Moiréverse by Thanos Deenen
As an ode to movement, color and pattern Thanos Deenen crafted a group of objects that combine these elements into one phenomenon Moiré – a distorted visual effect that emerges when multiple patterns consisting of open and dense spaces overlap.
The three products presented were selected from a family of five which originally formed an interactive installation, Moiréverse. Moiréverse invited one to embark on an immersive experience into a realm where the visual sense is highly stimulated. Today, the objects are placed in a different context, imagining them as interior design pieces and focusing on their individual value.