Design events
Five highlights from the 5VIE district at Milan Design Week 2021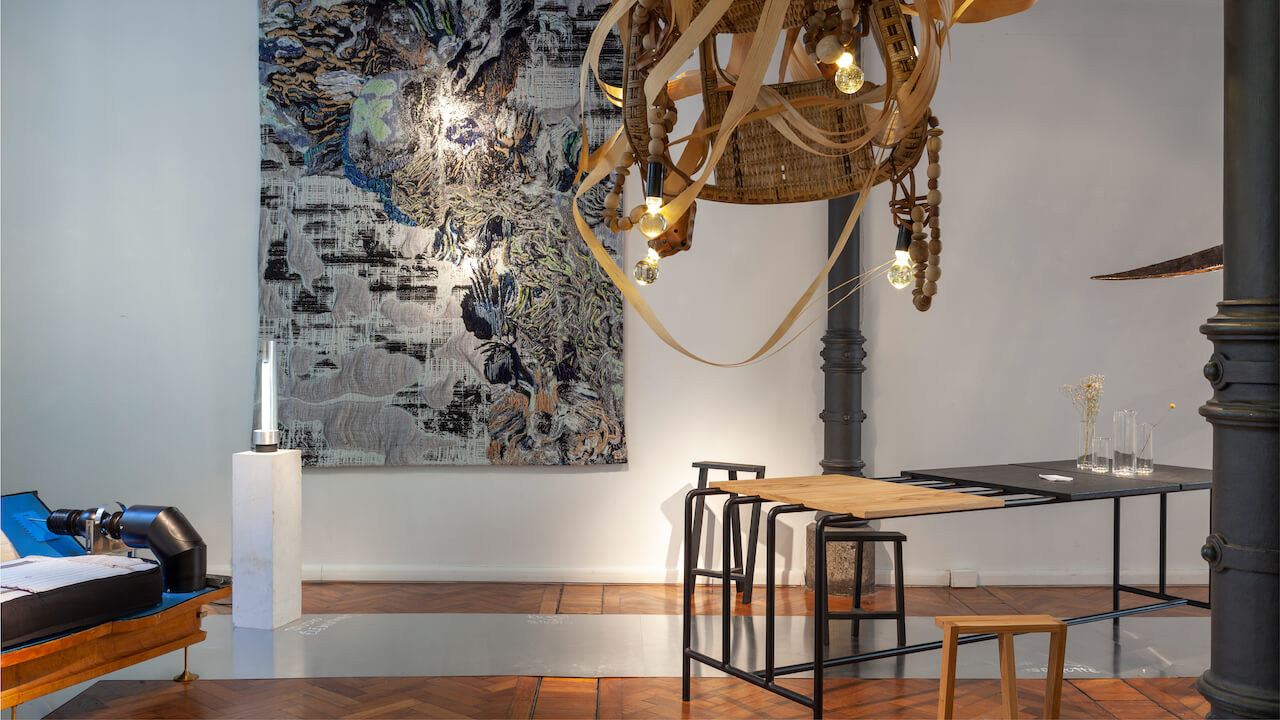 The 5VIE district offered a rich and varied program with the circular economy as its leitmotif.
A mirror inspired by a black hole and a collection of marble furnishings by world-renowned designers are among our highlights from the 5VIE District during Milan Design Week earlier this month.
DesignWanted was a media partner for 5VIE, one of the city's most popular design districts in Milan's Fuorisalone – the programme of events that accompany the Salone del Mobile furniture fair.
Located in the historic center of Milan, just a stone's throw from the Duomo, the district builds a series of showcases and cultural events around shops, artistic monuments, archaeological sites and courtyards of historical buildings.
Since 2013, 5VIE has organized impeccable exhibits focusing on art-design and unique and collectible pieces. It has showcased groundbreaking designers including Maarten Baas, Valentina Cameranesi, Max Lamb, and Stefano Seletti, whilst exhibitions like "Vegan Design" and "The Shit Evolution", which demonstrated the potential of dung have solidified the district as a go-to during Salone.
Line of Marble @ SIAM
Crafting lights, chairs and tables, among other objects, a group of nine renowned designers presented their take on Altentejo marble. The different interpretations included French designer Sam Baron's totems that combine pieces of marble from various queries to create multifunctional furniture.
They were unveiled inside Milan's Society for Industrial and Applied Mathematics (SIAM), alongside coffee tables made from stacks of marble offcuts by French interior architect Noé Duchaufour-Lawrance as well as pieces by Gabriel Tan, Marta Brandão and Mário Sousa, Samuel dos Santos, Soraia Gomes Teixeira and Paula Moucheira.
Honesta makes its' debut
Sister brand to Italian craft master Rawood, Honesta launched its first furniture collection at this year's 5VIE. It employed the help of international designer Matias Sagaria to create a series of irreverent and instantly iconic furnishings ranging from sideboards and lighting to desks and tables with seating to accompany them.
Sagaria worked with Honesta founder David Gelmini to build on Rawood's expertise in handcrafting wooden furniture. Highlights from the collection include the Culaccino chair, which Honesta describes as "an irreverent take on geometry, proportions and colours". At once primitive and futuristic, its severe profile sits in perfect contrast to the more rounded silhouette of the SGA Bello stool.
Curious to know more about Honesta's full premiere collection? Don't miss Honesta launches with an irreverent take on home furnishings.
Abacus by Pierre-Emmanuel Vandeputte
Belgian designer Pierre-Emmanuel Vandeputte presented his strikingly graphic and flexible Abacus dining table. It is composed of a powder-coated steel structure and black medium tops that glide and move freely along the structure, leaving the user free to choose their preferred layout.
"From a dinner for two to a family meal, the table is composed and broken down in a playful way," explains the designer. "Abacus is a game of translation and composition between the different guests where the placements are random and change according to our needs and desires."
Inevitable Furniture by Celo.1
Inspired by cosmic events and the human perception of past, present and future, Florence-based studio Celo.1 unveiled a mirror that looks like a black hole. It comprises three elements – an outer ring that mirrors its surroundings followed by an inner, dark shaded ring which engulfs anything visible and a central area that is composed of a transparent glass.
"The object is an analogy of an 'Event Horizon'; the boundary of a black hole beyond which it is no longer possible to escape its immense gravitational force," the studio explains. "This analogy prompts us to perceive the object not just as a physical mirror, but also a means to question and explore one's own individuality and our relationship with inevitable events such as life and death."
Fornice Objects by Chiara Ravaioli
Continuing her research into the latest software and modelling techniques, Italian designer Chiara Ravaioli presented a pair of vases. Inspired by memories of their namesake, the India and Mumbai vases were exhibited as part of "Roots of Matter", which explored the cultural and material roots of its exhibiting designers.
The India vase is made of an innovative PLA (polylactic acid) derived from renewable sources such as corn and the natural fibre from agricultural waste that determines their colour. In this case, the vase is composed of 95% tomato and 5% resin that take shape using 3D printing. Meanwhile, the Mumbai Vase is made from porcelain and features a textured surface that feels like sand to the touch. Both play with shadow and light to create dune-like forms.
5VIE came alive this year at Milan Design week, check out 5 reasons 5VIE is the destination district at Milan Design Week 2021.