Architecture
FOR FOREST – The unending attraction of nature
FOR FOREST – The Unending Attraction of Nature is a temporary art intervention by Klaus Littmann that challenges our perception of nature and sharpens our awareness of the future relationship between nature and humankind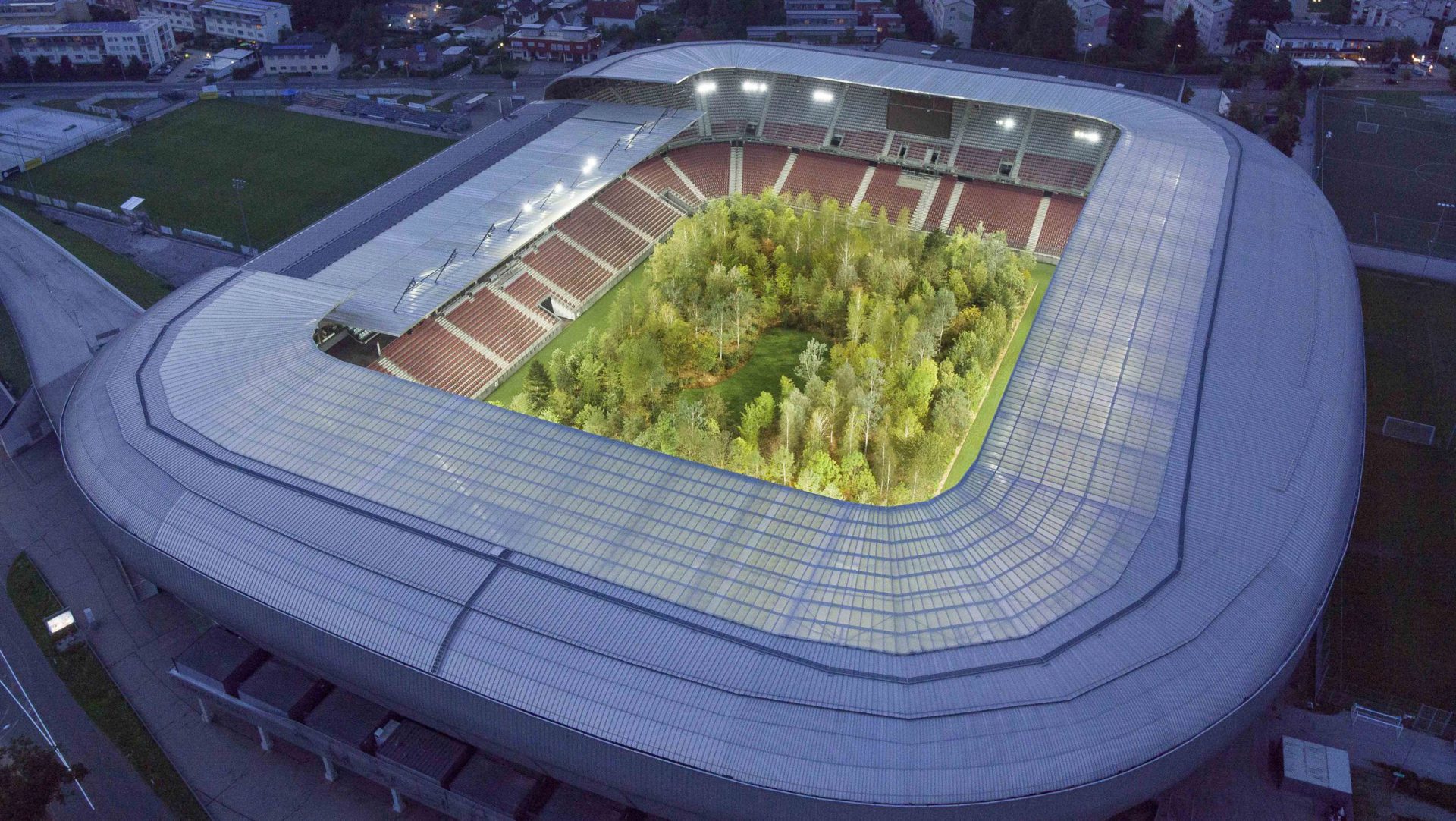 FOR FOREST is Austria's largest public art installation to date. Bringing together art, nature, and architecture in an unprecedented way. This monumental art intervention sees the transformation of a football Stadium into a native central European forest.
Overseen by Enea Landscape Architecture, the project presents almost 300 trees, some weighing up to six tons each, carefully installed on the existing pitch, open to the public until 27 October 2019.
The project was initiated by the artist and international contemporary art mediator Klaus Littmann. Inspired by "The Unending Attraction of Nature", a dystopian drawing by Austrian artist and architect Max Peintner.
The threat to nature is not didactically conveyed with a moralizing undertone, but rather with a figure of thought: what if the forest became nothing more than an item on display?
By juxtaposing the intimacy of the forest confined to the stadium with the hyper-industrialized dystopia beyond it, the work anticipates a world in which nature has become a footnote to the progress of a civilization based on machines.
The prophetic nature of the picture is now felt keenly in the present day as civilization attempts to redress its destructive relationship with nature.
Klaus Littmann first saw the pencil drawing over 30 years ago, and has since held on to the idea of turning this striking dystopia into a reality.
Rallying in support of today's most pressing issues on climate change and deforestation, FOR FOREST, aims to challenge our perception of nature and question its future. It seeks to become a memorial, reminding us that nature, which we so often take for granted, may someday only be found in caged environments.
The installation constitutes a constantly changing landscape, shaped by the time of the day or night, the weather as well as the autumnal turning of the leaves.
As a result, FOR FOREST presents a familiar sight, placed in an entirely different context.
After the installation closes, the trees will be re-planted close to the stadium, where they can flourish. A wooden pavilion will be built alongside them to act as an education hub for future visitors.
This way, the stadium forest will remain in memory as a forest sculpture.