Design events
Foreseeing Milan Design Week 2021 with Giulia Cugnasca of BASE Milano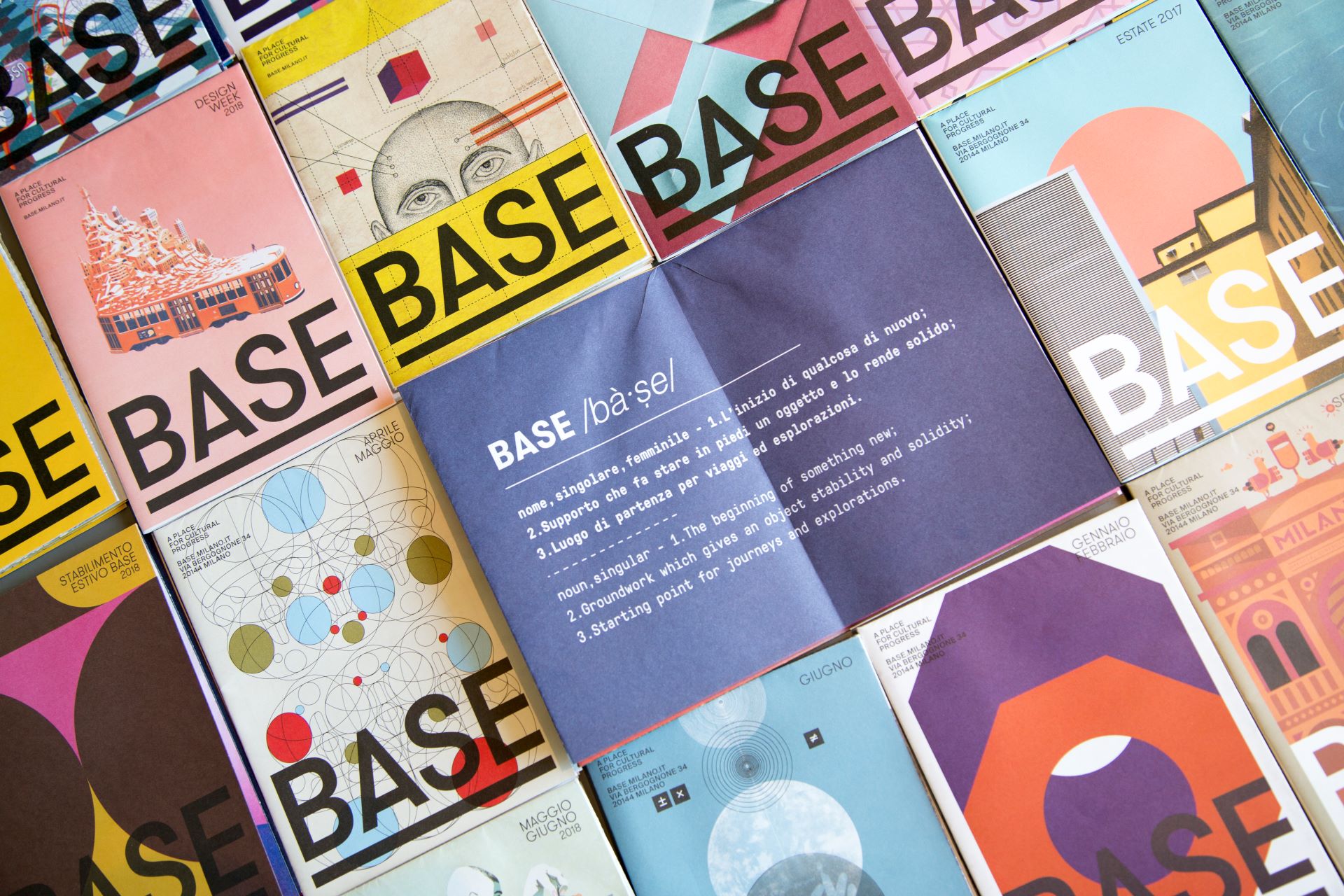 What will the next design week be like? Giulia Cugnasca, Chief Operating Officer of the multi-disciplinary project BASE Milano, gives us a hint: for the next Fuorisalone, BASE is going to catch the latest generation's view on new ways of living. The initiative is called We will Design, a co-design program running for the full year.
Located within the ex-Ansaldo complex, a symbol for urban regeneration in Milan, BASE is a multifaceted project striving for cross-pollination among arts, enterprises and technology. The spaces of BASE extend across 12.000 m² dedicated to exhibitions, labs, performances, workshops and conferences, plus a large studio and artists' residence. Beyond the physical environment, the organization's commitment to social innovation is outstanding: from the city to the neighbourhood and creative professionals, everyone has the opportunity to learn inside the huge organism of BASE.
Structured as a private, non-profit social enterprise, the self-financed organisation is born out of the union between five different charities and businesses: this urban learning-machine demonstrates how today more than ever before design becomes a tool of cooperation and joint construction to reconceive society as a collective creative project. Constantly acting as a dialogue facilitator between different communities of creators, BASE has recently launched a call to new generations and universities to devise new ways of living through design.
Curious about the project, DesignWanted had the chance to interview BASE Chief Operating Officer Giulia Cugnasca, who gave us some hints about the upcoming initiative We will Design, an international investigation conducted through the gaze of the younger generations for a whole year, with the aim of reconceiving Milan Design Week 2021.
After one full year, we are still in the middle of a pandemic: what should be the role of design in these unique times?
Giulia Cugnasca: "It's not just about the pandemic time but it's also about the role of the cultural institutions in our society. Today more than ever, design becomes a lens for looking at our society, a fundamental tool for cooperation and common construction. We have to re-design the way we relate to others, how we move in spaces, we have to rethink new ways of living together in the future.
Maybe it's time to think about Anthropological Design. This is the reason why BASE decided to rethink the design week. We will talk about it on February 25th with Francesco Zurlo, Stefano Mirti, Laura Traldi e Andrea De Chirico in the talk We Will Design – the learning approach."
We are thrilled to learn that BASE will participate in Milan Design Week 2021: what is the initiative We Will Design all about?
Giulia Cugnasca: "Over the last few months, daily life has been put on hold and in this context, we could not continue as if nothing had happened, we had to rethink the design week and its meaning. We Will Design speaks about the future and the process. What the next design week will be like? We don't know the right answer but we definitely will design it together.
BASE has decided to reshape the "Design" Week into a longer journey, from a week to a year-long collaborative project with the goal to create a hub that collects visions of the future and shows the research and projects carried out by students and young talents. BASE has chosen to issue a rallying call to universities and the wider world of learning: to mark Design Week 2021, BASE will select and embrace different experiences of learning, research, and experimentation across national and international higher education."
What is the meaning of a design process, as opposed to output?
Giulia Cugnasca: "There are various questions and reflections that will carry us into Design Week 2021, one single answer is not enough. We need to build processes and design new ways to face the future, open paths that allow for errors. We have to imagine a collaborative way as a cultural institution and open up to others. The types of exhibitions that we were used to until 2019 no longer make sense and are not even sustainable anymore.
We are working on a public program that allows us to tackle different issues, questions and perhaps find some answers that we will work on together with universities. Think of the next design week as a great learning moment open to anyone."
What's wrong with sustainable design? Most of what we call sustainable design isn't actually sustainable yet: why?
What designers and organisations should participate in We Will Design? What sectors should they belong to?
Giulia Cugnasca: "BASE launches a call to new generations and universities in Italy and abroad. Universities, academies, Higher Education Centres, less conventional places but also emerging designers and brands who are keen to get out there and show their resolutely future-proof projects.
BASE Milano is a project for cultural cross-pollination that allows you to reach different audiences and draw on an enabling and multi-actor ecosystem. Thanks to the heterogeneity of perspectives and contents, it is an observatory on contemporaneity, a plural place that offers privileged points of view, an anticipator of future visions."
Giulia Cugnasca: "With this in mind, BASE will involve design universities, academies and a range of cross-disciplinary learning experiences so as to offer a more complex view featuring architecture, urban design, social design, relational design, public design and also graphic design and the art world. A trans-sectoral approach will serve to further strengthen the concept of a long-term project, envisioning additional landing places within BASE's wide-ranging program.
For example, we are currently working on a special project with Made Program, Analogique and Sou (School of Architecture for Children). The result of the collaboration should start during Farout (BASE Performing Art Festival which will take place in June 2021) and grow until September during the design week."
Launching a co-design project is very thrilling: how will the participants work with BASE in We Will Design?
Giulia Cugnasca: "Since the beginning, BASE has collaborated with different universities as an experimentation platform: we worked on the business model, on the graphic identity, on the functions of the space, on new services and so on.
Now the idea is to systematize these collaborations to bring out the different identities and approaches. We want to create an observatory and a plural place anticipator of future visions as a Cultural Institution we have a responsibility in this."
Giulia Cugnasca: "For the next design week, we are working in different ways with each university: courses designed together with BASE, summer schools and residences, do-it-yourself workshops…
The next design week will involve not just universities but also new talents and casaBASE will become an international residency for the creative community, for projects and researches that set out to envision and establish new ways of living together.
A series of artistic residencies will feature makers, artists, designers, philosophers, students. The big challenge is to involve companies in this process and convince them to invest in researches and process."
Don't miss the latest updates on Milan Design Week, globally renowned for the fair Salone del Mobile as well as the thousands of events spread through the whole city and known as Fuorisalone.