Translating the textile language to furniture – Interview with Debra Folz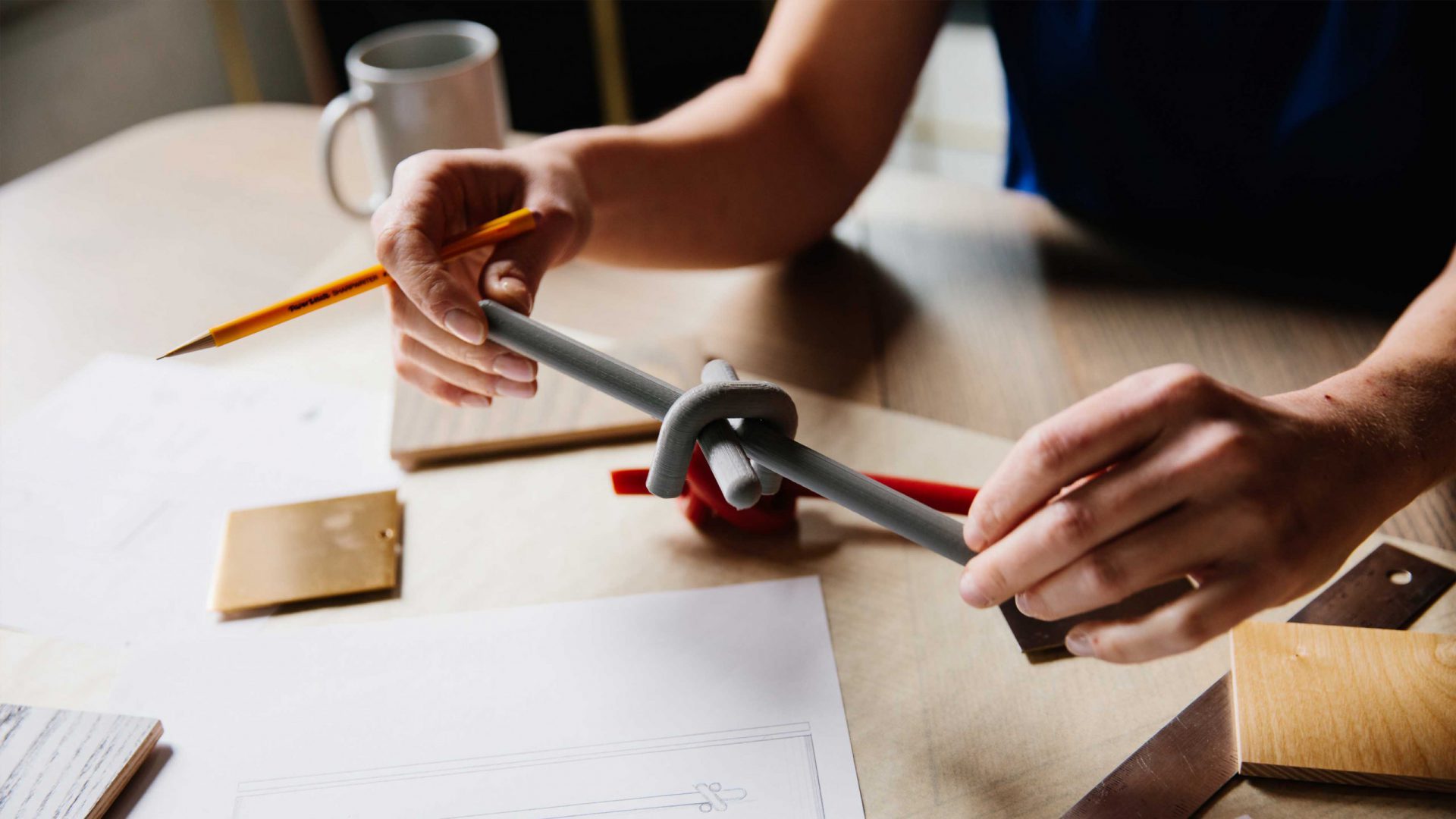 Constantly exploring new processes, Debra Folz designs furniture and home accessory objects, that blend traditional craft and manufacturing methods with contemporary visual languages.
Based in Rhode Island, USA, Debra Folz established her studio in 2010, where she realizes furniture and home accessory objects for exhibition and production through material exploration and conceptual curiosity. She finds inspiration in the translation of traditional craft and manufacturing methods into contemporary visual languages, collaboration, and the ambition to learn new techniques.
Folz's work has been featured in many publications, such as the New York Times, the Wall Street Journal, Fast Company, Dwell, Surface, Elle, Architectural Digest, and others.
She was also the recipient of the "5 Under 40″ awards" by New England Home Magazine, the "Women to Watch Award" by the Massachusetts State Committee of the National Museum of Women in the Arts, the "Most Innovative Product Award" by Architectural Digest show, and selected as one of 50 most stylish Bostonians by the Boston Globe.
Who is Debra Folz? How did your journey in design begin?
Debra Folz: "I was encouraged early on to be creative, now whether that was because I showed promise, or because I wasn't good at the other things, I guess only my mother could say. I think those early experiences, classes, encouragements, undoubtedly had a shaping effect.
I grew up in Long Island NY and migrated north to Boston for an undergraduate degree in interior design. I'd say during that education I had started to notice a pull towards the objects, equal or stronger than the pull towards the design of spaces.
After graduation, I worked for an architecture firm for three years and ultimately felt if I were to split off in a more specific direction, that was the time to do it, I was 27.
I attended RISD for my master's in Furniture Design where I learned how to explore different materials and connect my ideas with the creation of physical objects. I moved back to Boston and founded my studio and also began teaching design coursework part-time.
From then till now, every year I have aimed to introduce new collections of work, expand the studio's design language, refine our manufacturing and material capabilities and increase visibility for the work."
Why focus on furniture design and home accessory objects?
Debra Folz: "I am very inspired by textiles and fashion, but I have to apply that to furniture. Meaning, I don't know that I'd make a great textile designer or a great fashion designer, I guess it's really the crossover I'm drawn to.
Interpreting these softer languages into functional art for a living. The pieces go home and live with you and it's pretty personal and special to be a part of someone's life like that."
Curious to know how others are applying traditional craft methods to contemporary furniture design? Check out Bridging poetry and reality – Interview with Aline Asmar d'Amman.
Your work combines traditional craft and manufacturing methods with contemporary design. Can you tell us how you choose the material used in a project?
Debra Folz: "You know when you try it – I tried a lot of things! I never felt married to one material, but more interested in learning new processes and figuring out which material will do the best job at communicating what I wanted to say. You learn that along the way, and eventually, you have this material memory for what's right.
And you also have to remember to try things that may be wrong. I find that people respond favourably to the combination of materials. It can be more challenging, but usually, it produces a very unique result. I spend a lot of time figuring out how to make two materials meet."
You have recently worked on the hand-crafted Rounding Collection. Can you tell us how the idea was born and the process behind its execution?
Debra Folz: "I introduced this collection in 2018 and it really was one of the first objects with this rounded language, but now you really see it in many places. For me this was a way to interpret the tuck of fabric, I really saw it as an interpretation of textile through a wood form that felt robust and even a little masculine which isn't always how textiles read.
I think it's been a nice counterbalance to my other work. It's different from the other pieces in its scale and its volume and it has brought us to some new clients and projects, I believe because of that. So, this month I've expanded the collection and introduced larger coffee and Demi-lune versions.
It's the way it works for me usually, to introduce a concept as something small, get the response and the feedback, and then grow the collection accordingly."
What is your approach and opinion towards the main trends & future directions within furniture design?
Debra Folz: "What a big question! So much has changed in this industry since 2010 when I started my studio, what and how work is made, who is making it, who is sharing it, where are they sharing it, why are they sharing it, how are they buying it, who thinks that's a good idea and why and why does that matter…all of it.
I think at the end of the day, all those questions will continue to swirl around us, but you need to be true to yourself and create the objects/the work that is unique to you. It takes a large amount of time to develop and create something unique, there is a lot of stuff out there right now, and I think people are going to get very choosy about what they surround themselves with.
So, to answer your question, I believe originality and quality are and will continue to be paramount."
Your work has been widely recognized and featured in many publications such as the New York Times and Architectural Digest. What would you say were the most important milestones or defining moments that brought you where you are today?
Debra Folz: "Well in terms of this journey and being able to get going out of the gate I'd really have to say teaching was a defining opportunity for me. That was how I was able to start my studio practice, dedicate time to it, and keep the focus on the work I wanted to make and not on what would pay my bills. I taught design courses for 9 years between Suffolk University, RISD, and last at Parsons.
It's hard to list defining moments because really it's so many little things that enable you to keep moving forward, especially in the earlier /most challenging years. Could be a press feature, an interior designer trusting you with your first larger order, an exhibition that went really well and it had to because you put everything you had into it, collaborations with larger brands, etc.
Something I love about doing this for a living is you never know what's around the next corner, the next project, the next idea, the next client. I find it exciting, that's what gets me out of bed, maybe today will be a defining day."
What's next for Debra Folz?
Debra Folz: "Well, I had originally planned to open a showroom in NYC this past Fall but COVID had other plans so I quickly pivoted and in October I opened my first showroom in Westhampton NY. That has been a completely new experience for me and I am enjoying it and learning from it too.
I am currently developing new groups of work that I hope to see unfold over the course of this year, engaging a range of materials both established and new!"
Find out more about designers exploring different material combinations and techniques, head to The synergetic dialogue between material and technique – Interview with Lex Pott.