Design events
Interview with a design icon: Gisella Borioli, founder of Superstudio Più
One of the most influential figures in the design industry has shared with us her story, vision and advices for young designers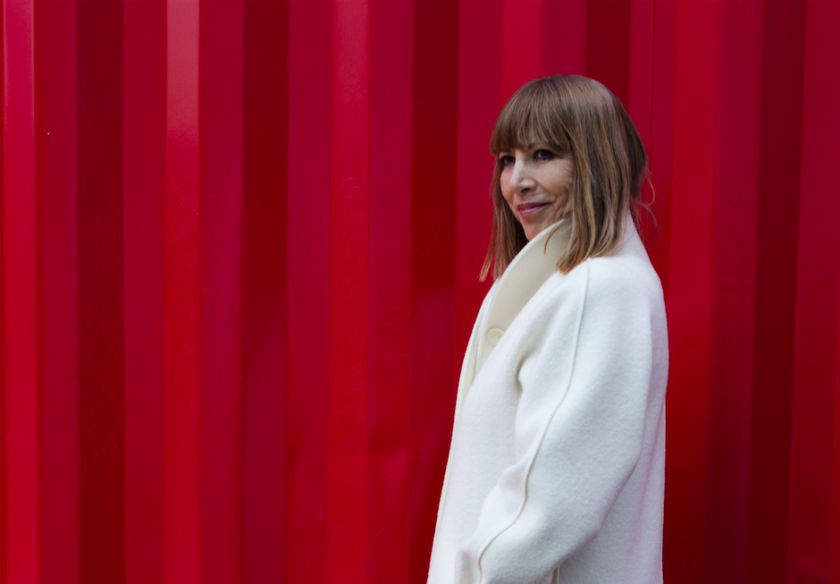 Entrepreneur, fashion journalist and art director, former editor of important fashion magazines (Vogue, L'Uomo Vogue, Lei/Glamour, Donna, Madame Figaro Italia, etc.), Gisella Borioli, along with her husband Flavio Lucchini, created also Superstudio Group.
This unique project, with two big iconic locations, hosts, promotes and organizes events on creativity and communication, with particular reference to the areas of fashion, art, photography and design, excellence of food, wellness as well theatre, dance and innovative languages of arts.
Along with the highlight of the Fuori Salone during Design Week since 2001, from 2009 with the new projects "Temporary Museum for New Design" and "SuperDesign Show". Gisella Borioli was included in the list of the most influential women in Italy by the monthly Class magazine.
Superstudio is the place where the phenomenon of Fuori Salone was born in 2000 and made Milan a unique example of its kind in the world. Could you please tell our readers what is it exactly about and how it evolved through the years?
Gisella Borioli:
"The idea of Superstudio began in 1983, when my husband and I, journalists and editor-directors of the most avant-garde and successful fashion magazines of the 80's, decided to open in the laboratories behind via Tortona, a hub for image and fashion, with 13 photographic studios, schools for modeling, photography and journalism, free-lance companies etc.
A completely private initiative followed on with a lot of courage. It starts with us, the metamorphosis of the district to be transformed from an industrial to a creative one.
As the district soon comes to prominence thanks to Superstudio's studios, the first fashion brands arrive in the spaces that industry gradually left behind Esprit, Kenzo, Zegna, Armani… the stretch of via Tortona after the square towards the suburbs is not involved in such buzz.
In 1999 we decided to buy part of the General Electric premises, on the way of being divested. A 17.000 sqm covered space, with garden, terraces, open areas, offices, and storehouses. We think of a space open to the city and to multiple needs still not satisfied by either public or private spaces.
Fashion, design, contemporary art, communication, dance, experimental theatre, video, innovation in general, languages melting-pot, need to find a space where to work and express themselves freely, outside the expensive and strict official structures such as Fiera or public spaces that are difficult to access and use.
The idea is to create a cultural-commercial center, where innovative companies and new artist will find a place, often hosted for free. Beyond the square, today "Piazza delle Culture", at the beginning of 2000 Superstudio Più opens up, bringing Design to Tortona district. In 2017 it comes of age, turning eighteen.
It seems like yesterday when, in a street full of factories still working but ready to relocate, the former General Electric becomes the throbbing heart of the renovated district beyond the square, accessible to all expressions of creativity and innovation, starting something that will soon be emulated all over the city and abroad.
Soon the trendiest fashion shows arrive, then White, a successful research fashion fair, and the Design of Fuorisalone. After the first few years of Design Connection, the important presence of Giulio Cappellini as first exhibitor and inspiring person, and Luca Fois as promoter, an increasing, even commercial success is recorded.
Too commercial. In 2009 I decided to make a breakthrough and create the ambitious Temporary Museum for New Design, another project of mine that opens the season of great emotional intangible installations talking, rather than about the product, about philosophy and culture of the product itself.
Wow! People are fascinated. The new format teaches a new way to exhibit, with the help of prestigious companies and powerful multinational corporations. But the world is running, the crisis resizes budgets and ambitions, democratic design makes decidedly inroads.
It is the time of makers, start-ups, self-productions, limited editions, 3D printing, e-commerce, re-use, web designers, emerging countries, latest generations coming up besides top names and most significant companies.
2015: Superstudio's format evolves and incorporates the Temporary Museum in Superdesign Show opening up to all still unknown new energies, to research, Universities, young authors recruited through the web, to the latest technologies, to robotics and innovative handicraft, overcoming limits and targets of design as generally intended."
Time to Color! is this year's theme, which reminds us of the Mediterranean landscapes too, after years and years of minimal/white/nordic design. How are Superstudio and its exhibitors going to interpret this trend at the next Design Week?
Gisella Borioli:
"Color, as the theme of the year, is born from our research of new aesthetics signals in many fields, and from the awareness that the course of neutral and cold shades for years have been holding the scene of design, fashion and lifestyle and recalls today a complementary reaction.
We have decidedly supported this and tried to make it clear in every possible way: the large 700 sq.mt rainbow carpet designed by our art-director Carolina Nisivoccia, the graphics, advertising, furniture of the common parts, design exhibitions we produced "Unexpected Room" and "Hand+Art+Design" where renovated products and artist-designers interpret the new strategy of color.
But almost all exhibitors adjusted to what so many of them, evidently, regard as a topical theme.
The result is a binge of colors, in all possible shades."
One of the key assets of Superstudio has been the ability to constantly mix and match young and famous brands, industry and artisans, art and design. All in a very dynamic way, where contamination and innovation really happen. How did you manage to do it so successfully?
Gisella Borioli:
"The fact is that I have always had a real passion for spotting and helping unknown artists and I have always done so: models, actors, artists, stylists or designers. Franca Sozzani has been my "student" and assistant for almost 10 years.
As a director of fashion magazines I did my first covers and services with Monica Bellucci, Armani, Dolce&Gabbana, works by Memphis and Alchimia, I discovered novice actors such as Gerard Deardieu, valued very young unknown photographers such as Fabrizio Ferri, Giovanni Gastel.
I was the first to host designers such as Marcel Wanders, Tom Dixon, Ineke Hans, and other emerging designers, that are now famous, and to sanction street artists with exhibitions and other initiatives. And of course I admire top protagonists of our contemporary culture.  
Furthermore, my background is nourished on fashion, design, contemporary art, dance and theatre, travels, interest in the future, search for innovation without prejudice. I like to gain from my passions, break the rules, contaminating languages, and I made this a characteristic of my profession."
So far, many young designers had the chance to exhibit here. Just to name a couple, Selected Objects and Discovering: People & Stories are projects born in order to support them. In your opinion, what are the fundamental criteria that make a small / new company appealing to visitors and buyers?
Gisella Borioli:
"For a few years, I have been organizing two collective exhibitions, Selected Objects and Discovering, born of the observation of what is going on. More and more small businesses wish to enter the world of design, but have a small budget and cannot afford large spaces or a stand at Fiera.
On the other hand, the number of creatives, architects, artisans, makers, designers from emerging countries is steadily growing. An immense nursery of talents often acting mainly via web. For them, we have always reserved the Discovering area in the underground atmosphere of Basement, at very low prices and, if worthy, even for free.
This year, we have expanded the research, and the concept adding the words People and Stories to the title, to describe better through personal stories, who they are and what they do. And we took them in the heart of the event, in the main show. The selection was accurate. We were looking for personality, innovation, originality and quality."
And we studied what to do to be really helpful: by helping them to know since the beginning, the reaction of the market in an instant sale in collaboration with eBay on special spaces dedicated for them.
With an invitation to very well known "experts", distributors, talent scouts, architectural studios, famous architects, buyers, retailers, producers, journalists, creative directors, influencers, etc., to visit the exhibition with me and maybe find talents to be offered opportunities, both in selling and producing, either of working or visibility."
If you had to give 3 advices to emerging design companies, related to the role of design weeks and fairs in their business development, what would you tell them?
Gisella Borioli:
"1- Participate at any cost as they are unrepeatable occasions for contacts; 2- Slim down and only bring what most represents them instead of a plethora of "little things" that confuse ideas; 3- Pay much attention to the presentation and set up, it must be concise simple and impressive."