Let's raise a glass to circular design – Glass in Nature exhibition by HSIANG HAN DESIGN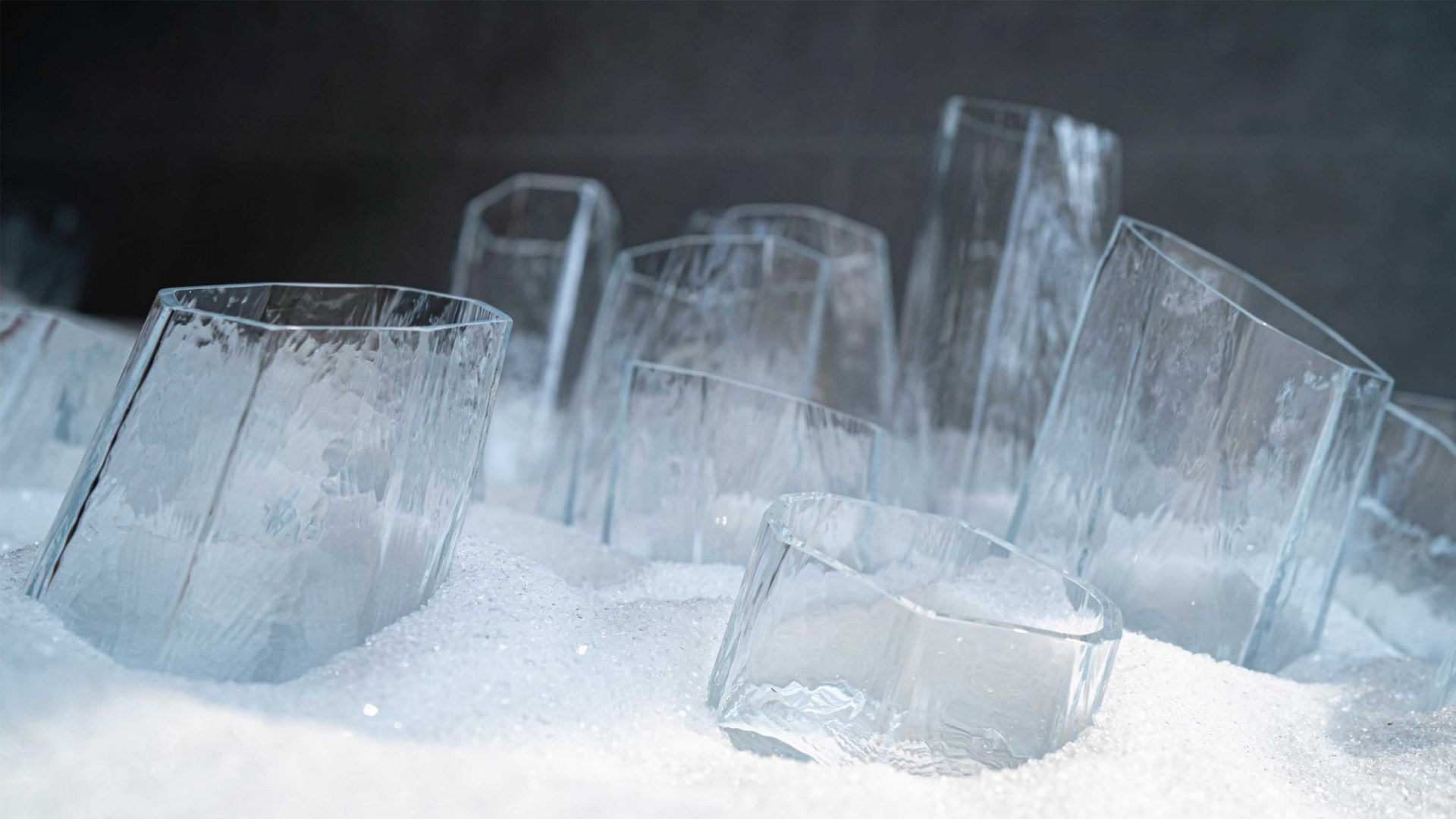 The epitome of circular design comes to life in Glass in Nature, an inspiring and multilayered exhibition in Taiwan by HSIANG HAN DESIGN and Spring Pool Glass.
From products, accessories, and buildings, glass has been used in a variety of ways to create incredible and beautiful designs, but nothing seems as beautiful as HSIANG HAN DESIGN's exhibition Glass in Nature. In collaboration with the factory Spring Pool Glass and exploring the uniqueness and the cyclic essence of glass, the Taipei and Milan-based design studio created a multilayered experience in which visitors are immersed in a world of glass that showcases the cyclic biological process in an unexpected yet poetic way.
HSIANG HAN DESIGN, who concentrates on exploring bionics to conceive their designs, truly got the essence of the cycle of life through their idyllic use of the material and achieved a one-of-kind experience.
"We always search for creative inspiration by exploring the logic of natural creatures. After well-studying the process of glass recycling, we found that the glass recycling process, waste gathering, crushing, melting, and reshaping, is just like the cyclic biological process – from death, decomposition, and energy transformation to rebirth into different ways. Therefore, we created this exhibition hoping to lead visitors to see and to feel the recycling glass's possibilities by exploring the life cycle."
Through Glass in Nature, HSIANG HAN DESIGN manages to submerge visitors in a world of possibilities with product design and experiments that not only reinterpret Spring Pool Glass' craftsmanship and technology but also the true meaning of circular design. Divided into two main areas, Glass in Nature takes us on the journey of recycled glass from its transformation to its rebirth.
Located at the entrance is the first stop of the journey: the transformation. Represented by a variety of installations, HSIANG HAN DESIGN presents us the 'death' and 'decomposition' phase in the form of waste glass that is being crushed to be recycled. While crushed glass signifies the end of the life cycle, it is also the beginning of endless possibilities as it melts in the furnace and becomes raw material again.
By using various craft techniques, HSIANG HAN DESIGN and Spring Pool created multilayered installations with recycled glass transformed into natural forms such as ripples, crystals, and bubbles to demonstrate all its transformation possibilities.
In the main exhibition area is the next stop of the journey: the rebirth possibility. Product design and exquisite glass craftsmanship meet to represent the rebirth phase. Through repetitive experimentation with the material, HSIANG HAN DESIGN breaks the borderline between industrial and craft with a series of products and collections.
The studio and Spring Pool followed a beautiful process to create each piece: "[First the] recycled glass is sorted and crushed into raw materials. The crushed glass is melted through a furnace, and Spring Pool, using various glass craftsmanship techniques [such as] blow molding and casting mold, etc., creates unique objects giving the recycled glass a new life."
Curious to know more about glassmaking techniques? Head to What is Machine Glass Blowing?
Among the products showcased are CAVE, a furniture collection inspired by the logic of natural erosions on rocks, made of foamed glass, sculpted by hand, and externally covered by natural lacquer. RIPPLE, inspired by ocean wave layers along the beach and made by casting mold, CRYSTN, inspired by crystalline group's growth and created by blow molding techniques, CRYSTAL, a geometric polyhedral container made by blow molding, and MOZHU, inspired by oriental bamboo ink wash painting and made with cased glass, glass blowing, and joint fusing methods. 
With Glass in Nature, HSIANG HAN DESIGN created a unique world that carries a beautiful message: "Through the exploration of glass features in nature, we hope visitors can search for the cyclic essence of life. Life is an end, but is also a new beginning." This exhibition is, without a doubt, a journey we must take. It is the quintessential circularity we need in design and a poetic representation of the inevitable cycle of life.
Interested to know more about MOZHU and the process behind it? Don't miss MOZHU – Bamboo inspired glass vases.