The Hearth electric heater puts a twist on the act of building a fire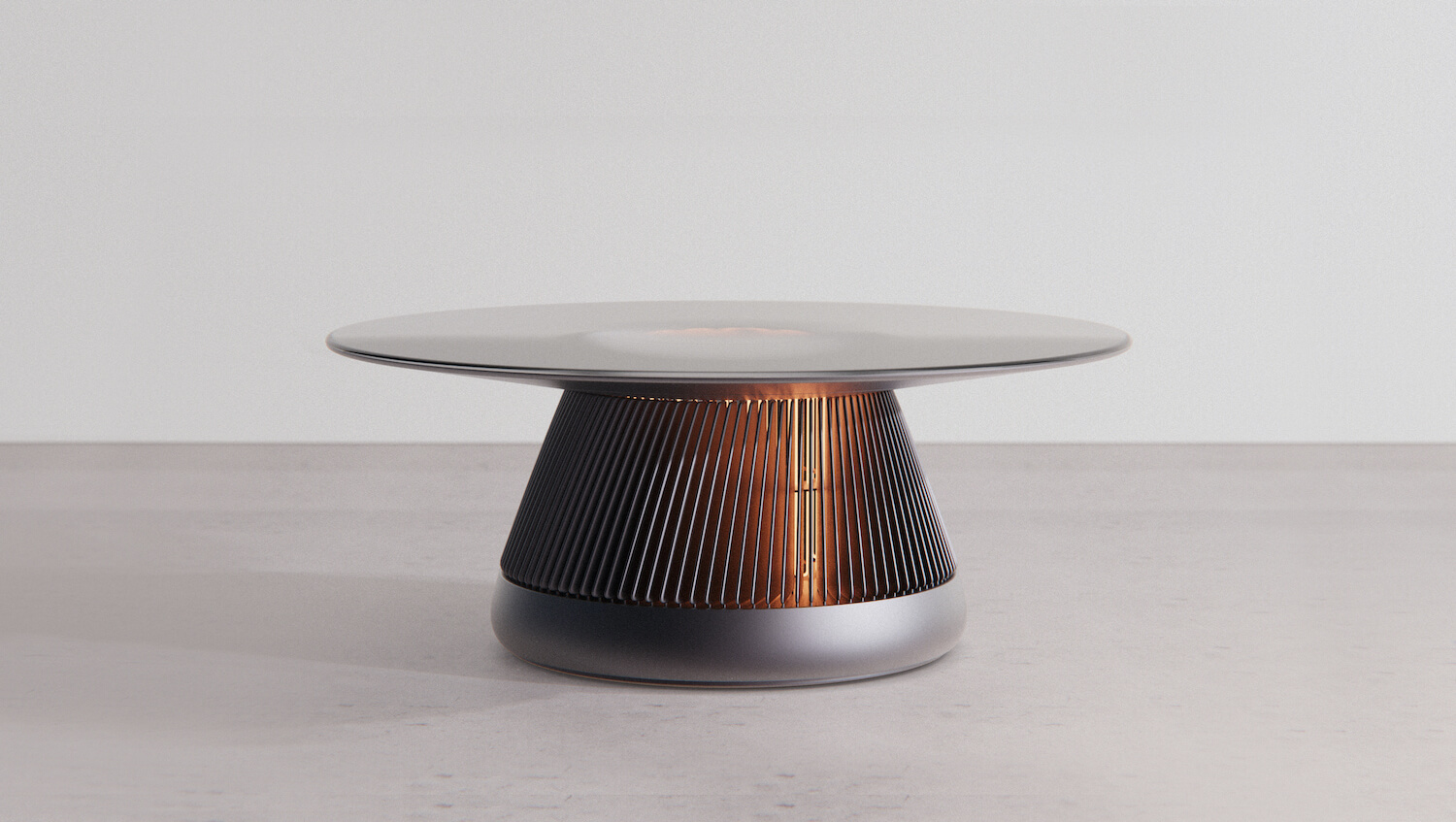 This hybrid coffee table and electric heater features a tabletop that operates like an interactive thermostat.
A fixture in traditional homes, today's houses are not exactly built for keeping a fire burning. Not only is there a lack of ventilation to keep one lit but the expense of chimneys and resources needed to make the most of one have made them less desirable amongst modern-day dwellers. That's where the Hearth comes in…
At a glance, Hearth looks like a sleek coffee table, which it is. Designed for contemporary settings, it stands out with its black tabletop and shuttered facade that together form an innovative rotational mechanism to turn its concealed function.
This coffee table doubles as an electric fireplace that operates like a giant thermostat dial—simply twist the top clockwise and the Hearth's finned base opens up incrementally, exposing a warm core and an ambient light as the temperature increases.
Founder and designer Burton Maximillian of Californian design studio Industrial Craft came up with the design, which reimagines the age-old ritual of huddling around a fire for the urban dweller.
Essentially, it's a very large space heater, pulling in air from hidden ducts on its underside and heating it with a filament that emits light through the voids in the table's facade—visually reminiscent of a burning fire. The air is then expelled through the fins shooting out 360 degrees and heating the surrounding room.
Flic Twist is a privacy-conscious, family-friendly controller for smart home devices that works without the use of apps or your voice.
A spin on an ancient craft
Here, Burton reinterprets the domestic centerpiece with great effect by giving it a modern-day facelift and yet managing to retain some of its most charming elements. The warm light draws you in and gives a visual reference to the rising temperature.
Meanwhile, the table's circular design helps to foster the community in which fires were such a crucial tool. Finally, the table's interactive function, which is arguably its most exciting feature, puts a contemporary twist on the physical act of building a fire.
Interested in original heating solutions? The Polygon Wi-Fi radiator features a contemporary and sculptural look.