Design
An intergalactic vessel piloted by a silvery-skinned captain
There are only four unique pieces of HM6 Alien Nation. To call it a wristwatch would be an understatement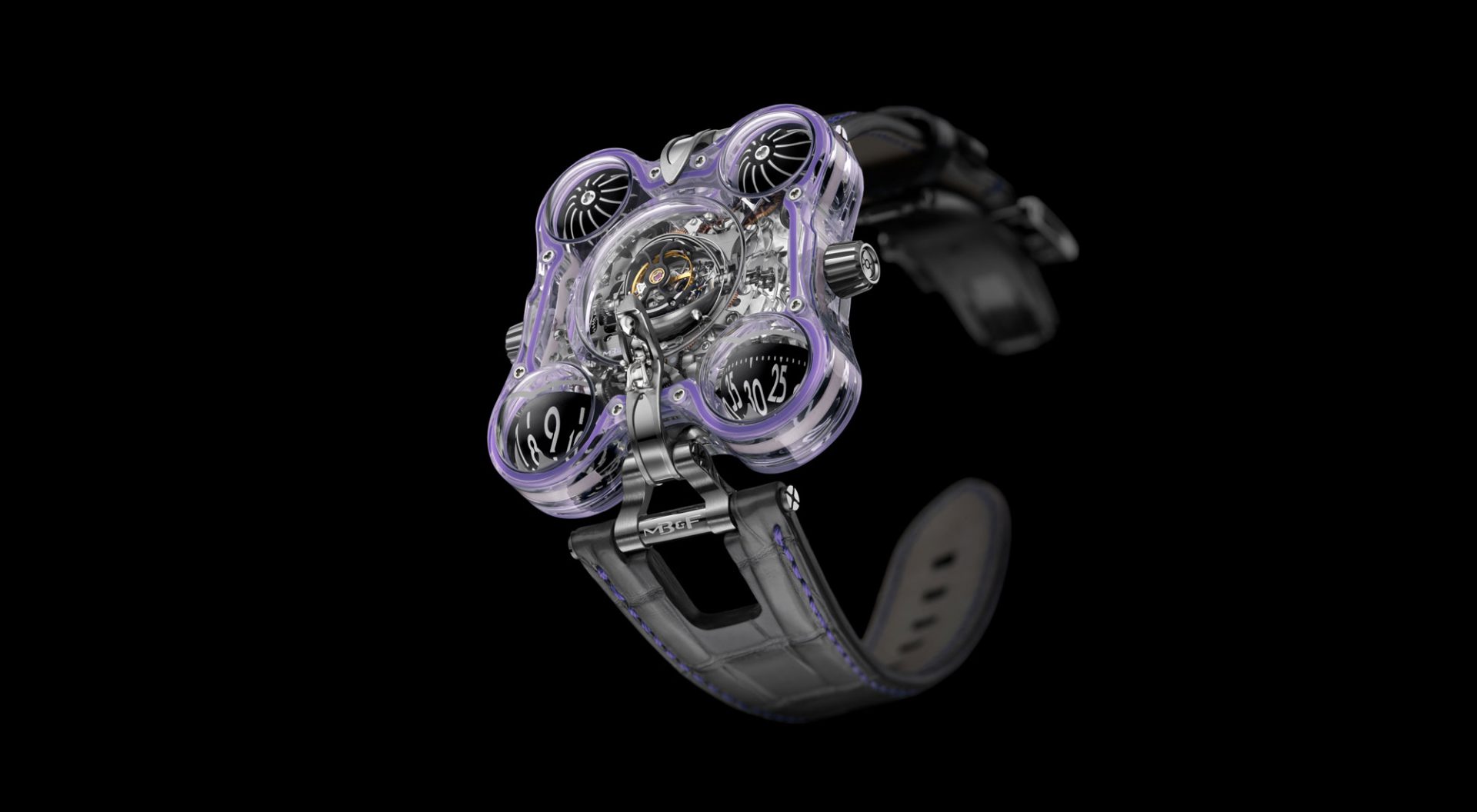 They have done it again. The forward-thinking team of MB&F have once again surpassed not only themselves, but also our expectations, with their latest phenomenal horological machine creation. Like its predecessors, this new mechanical work-of-art succeeds in outdoing any idea of extravagancy, technical precision or luxury.
Before being a functional watch, it is an intergalactic vessel piloted by a silvery-skinned captain and his quintet crew, enigmatic cosmonauts ready to explore a new world.
Horological Machine N°6 Alien Nation: the idea  
As usual, the creative genius of MB&F seeks to turn an old idea into a new futuristic symbol. They refer to the old tale which appeared in New Mexico, 70 years ago, of aliens landing on earth in an unidentified flying object, in order to introduce us to the new space age, where rocket science and space vessels are a reachable dream.
Therefore, HM6 is not new to us. It might originate from a different space, but its form embodies that little figure with a large head and black eyes which we all have stored in our imagination.
Besides, giving life to such a complex horological machine is like a metaphor for the founder of MB&F, the visionary Maximilian Büsser, who says: "I first came to love watches because I saw them as these machines that were imbued with life."
As such, the 6 Aliens in white gold, bring life to the complex and sophisticated space shuttle-shaped time machine as active members, fixing turbines, adjusting the gears, watching over the space ahead, scuttling around the engine, and even, in the case of one of them, slacking in a corner, out of sight.
The work behind
The craftsmanship behind this creation is one of a kind in its complexity and precision, and the time invested in it is almost unbelievable.
Each of the six aliens are individually and manually sculpted in white gold by engraver Olivier Kuhn, the arms and neck are extremely fine, measuring as little as 0.25mm, and each alien requires up to 34 hours to complete; a whole month of full-time work for the entire crew.
Alien Nation's transparent shell is formed out of 12 separate blocks of sapphire crystal, with only the reinforcing elements in Grade-5 titanium, all coming together as a seamless whole.
This is another unique and unprecedented feature, and its transparency reveals the highly sophisticated technology of the complex HM6 engine as well, made of 496 finely-finished components.
The different levels of luminosity are produced by AGT (Ambient Glow Technology), on the curves of the case, and Super-LumiNova in the smaller areas, which match the same colour in each piece. At night, the horological space shuttle glows with an unusual intensity as if coming from another world.
Horological Machine N°6 Alien Nation: the distribution
There are only four unique pieces of HM6 Alien Nation, in a different variety of colours: green, blue, purple and turquoise. All on a mission to search for their own place on earth.