Architecture
Hotel Gasthof Adler embraces its forest surroundings with all-timber furnishings
Local studio Firm Architekten drew from the natural fabric of Schoppernau to create a hotel experience in harmony with its location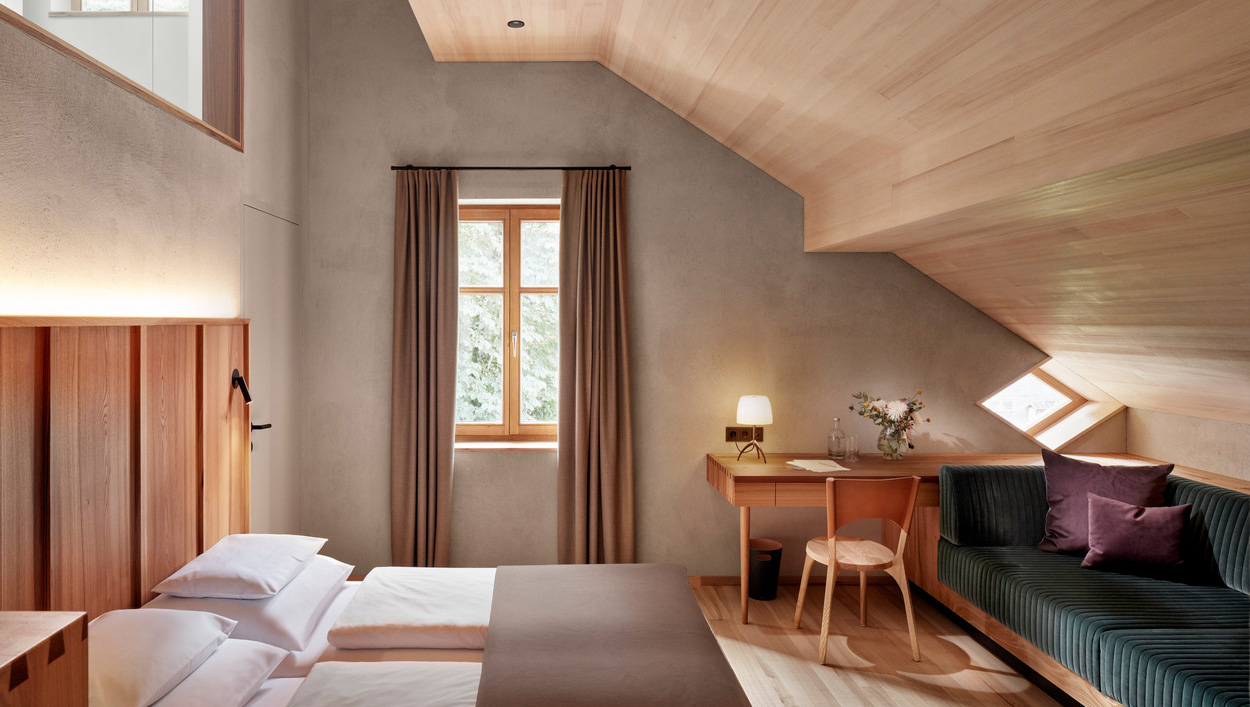 Hotel Gasthof Adler is a contemporary ode to timber construction in a country with a rich and multi-faceted wood industry. 
Upon entering the hotel, guests are welcomed by a bright foyer space, which sets the tone for the rest of the hotel. Wood has been used throughout the project's well-lit rooms and other facilities, which include a sauna, relaxation room and a juice bar.
It was the design team's intention to create a strong connection between the hotel's interiors and its natural surroundings. As such, the hotel rooms have wooden floors of ash and tailor-made built-in furniture is made of oiled elmwood, complemented by dark green velvet sofas.
Other interior decoration is eschewed in favour of an austere palette of lime and plaster. Meanwhile, the bathrooms have a natural stone floor and walls lined with cream handcrafted tiles.
This aesthetic continues throughout the hotel and into the building's semi-basement where a wellness area with garden views and access to a small outdoor pool.
[ Using wood is one way to reconnect with nature, while the curves of this biophilic hotel call travellers back to their roots ]
Timber for the future?
Here, timber might have been used by the studio to create fresh and contemporary interiors in tune with their surroundings but it's also a reflection of a changing view when it comes to wood. Timber construction is on the up, praised for its eco-credentials when sourced responsibly.
As outlined by MIT in a recent article, increased use could help reduce greenhouse-gas emissions in the construction sector while cross-laminated timber has actually proven to be strong enough to compete with concrete and steel.
Coupled with the emerging trend of mass timber structures like the Sara Cultural Centre, Skellefteå, Sweden, and wooden interior design, this idea is branching into a mainstream approach.
[ The RYB Apartment is designed to accommodate the needs and emotions of the dwellers, becoming the environment for various scenarios of everyday life ]