Design as a tool to improve social and cultural life – Interview with IILab.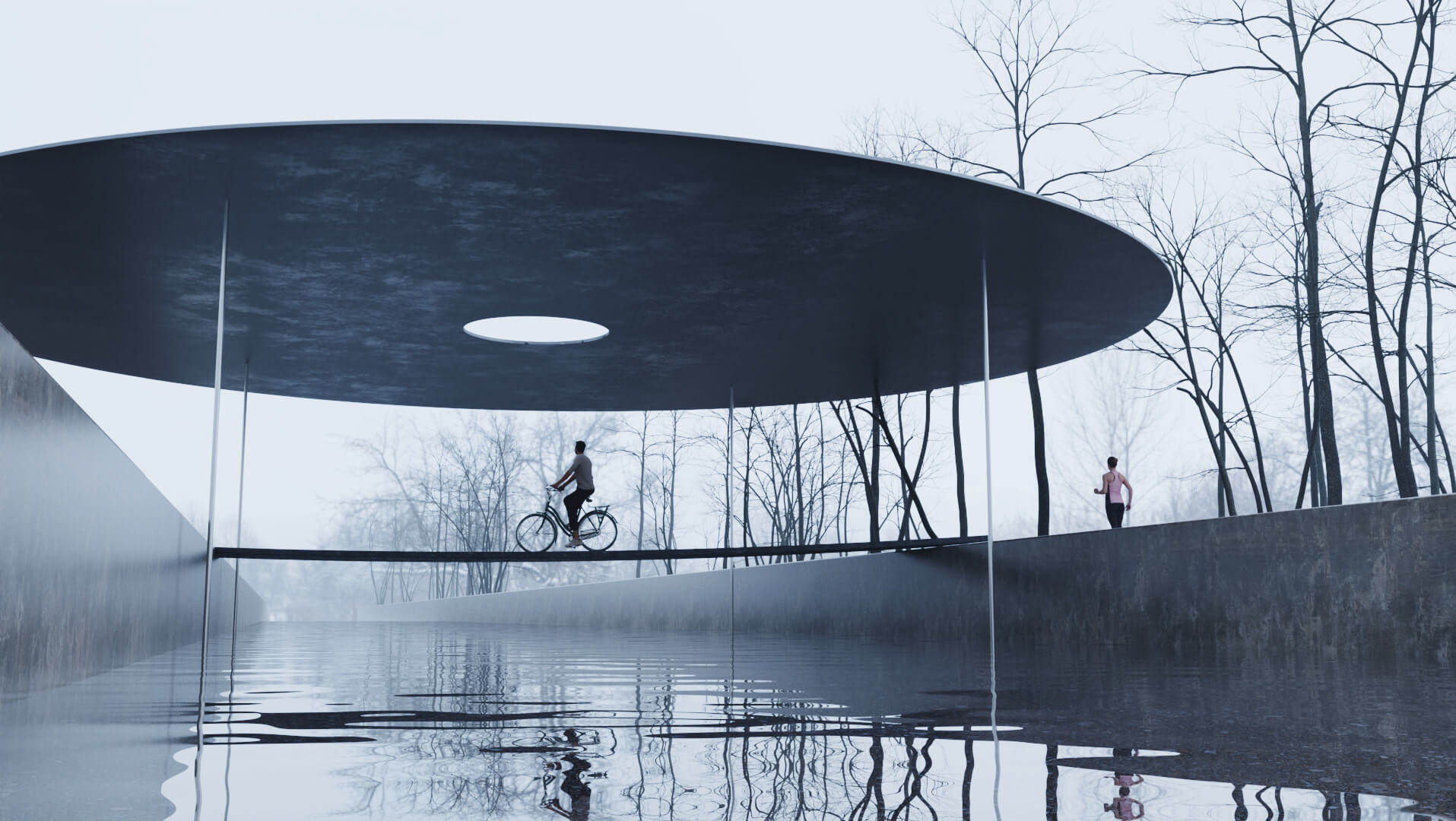 As an innovative international architecture practice, llLab. develops urban projects and rigorous micro architecture installations for societal improvement.
With an experimental approach to design, llLab. develops rigorous concepts into properly executed projects and installations across the globe. Their focus is on aiding society and culture through design, this being a common priority for the each of the four founders.
The integration of innovative materials into their projects also promotes the use of handcrafted structures and surfaces. Their international works like the Bamboo Bamboo Canopy and Pavilions project demonstrate the young energy of the studio and their drive for social impact.
Who are Hanxiao Liu, Luís Ricardo, David Correa and Taichi Kuma? How did the journey for llLab. begin?
llLab: "llLab. founders Hanxiao Liu, Luís Ricardo, and David Correa started their own practice after meeting at the German office haascookzemmrich STUDIO 2050 and the Institute of Computational Design, where they collaborated on various international projects in both practical and academic fields.
Hanxiao Liu: Born in 1985, University of British Columbia Bachelor of Applied Science (Mechanical Engineering), University of Pennsylvania – Master of Architecture and Certificate in Landscape Studies
Luís Ricardo: Born in 1985, University of Oporto Faculty of Architecture – integrated Master in Architecture, FAUP
Asst Prof. David Correa: Born in 1981, Ryerson University – Bachelor in Architectural Science, University of Calgary – Masters of Architecture. University of Stuttgart, ICD – PhD.
Dr. Taichi Kuma: Born in 1985, University of Tokyo – Graduate School, ICD, University of Stuttgart – Guest PhD student ITECH, University of Stuttgart -Master of Science, University of Tokyo – PhD course"
Why llLab., why focusing on architecture, design, art, urbanism, research and development?
llLab.: "llLab. is named for its experimental approach on both physical and cultural aspects, without putting emphasis on individuals but more about the team as a design identity.
Always had architecture, design, art as career goals and to continue to improve, understanding of urban situations and more in-depth exploration in relevant professional fields are certainly important.
There is no ultimate goal, design requires long-term effort and consistency, we just hope that on the path of design and realization, we persistently pursue and always try to optimize the design quality.
The practice fortunately has a group of great talents who have motivations and ambitions to find opportunities to contribute to the society or the individuals.
Simple intention, simple process and simple solution, no specific reason for what we do, we would like to always initiate self-criticism on both individual and societal levels and this may be why we can still do it very innocently without distractions."
Which architectural movement are you inspired or influenced by?
llLab.: "The great influence of the Bamboo Bamboo Canopy and Pavilions project was very much unexpected from our side, and we are very honoured to receive so much attention and recognition.
We were not really inspired or influenced by any architectural movement for this particular project, yet, design suddenly started to be shaped when we began to really look at the nature around, the most precious element on site, one of the most dramatic landscapes in China, the incredibly beautiful bamboo clusters and the natural layers created by them."
With a studio based in Shanghai, Stuttgart and Porto, and operating from different parts of the world, what is one aspect of your job that is little known, but definitely crucial to your practice?
llLab.: "We are quite flexible in working styles, and we have been very adaptable too when we communicate. What is definitely crucial to the practice is the trust between every member of the team and each individual's understanding of one another in the team."
Having worked on various scales, from urban projects to micro-architecture or installations, if you had unlimited budget and resources, what is the project that you would develop? What would it look like?
llLab.: "Having unlimited budget and resources, suddenly I felt that our interests and motivation will be much less and the design questions that we are going to confront may just become pure personal wishes, which makes the approach less "meaningful" in comparison to our original intention.
If we have to consider this, maybe we would like to challenge as much as possible the dogma that exists in the situation we have to face and hopefully the look of the design can still remain mysterious."
Are you a fan of nature oriented design? Go check out The architecture of SO-IL inspired by openness, delight, intensity, resolution and surprise
From organic shapes to geometric ones, and from crafted projects to industrial-made ones, what are the main trends & future directions within architecture and what do you think of them?
llLab.: "The recognition we have received from the Bamboo Bamboo Canopy and Pavilions project has been overwhelmingly surprising, which almost seemed to be a revitalization of the use of the traditional materials and the beautiful traditional hand craftsmanship. It is also exciting that it showed us the passion towards the tradition that seems to be fading away from our fast-paced and digitized social conditions.
I have been quite concerned about the profession being influenced too much by the technological development, but after seeing the uplifting passion towards the tradition, I am becoming a little more optimistic and very much looking forward to seeing the counterbalance between the extremities. Trend is not an appropriate description, but more like a periodical interest that the majority is curious about, which can also be considered as symbols of certain societal phases."
I do not want to predict, and I am not capable of doing any of these, therefore, I would like to enjoy the uncertainty that this profession provides and continue to explore."
Most recently, you showed a preview of the Brickyard Rural Heritage Museum project in Beijing. What is the next step for llLab.?
llLab.: "We are not actively promoting anything on social media platforms, and we are not planning to do that intentionally, as a young and vibrant studio, we just would like to do so many things and be focused on them.
Thank you very much for your attention and it is quite surprising that you did find the preview of the Brickyard Rural Heritage Museum project in Beijing.
We are continuing to work on some projects in the same village where San Sa Village is, with different schemes and visions. Meanwhile, some other very different site conditions are potential opportunities for us to pursue. Hope all is going well."
Hungry for more projects involving nature? Take a look at A family farm turns into a minimal house surrounded by nature in Whidbey Island