Guided by nature's glittering colors – Interview with Elissa Brunato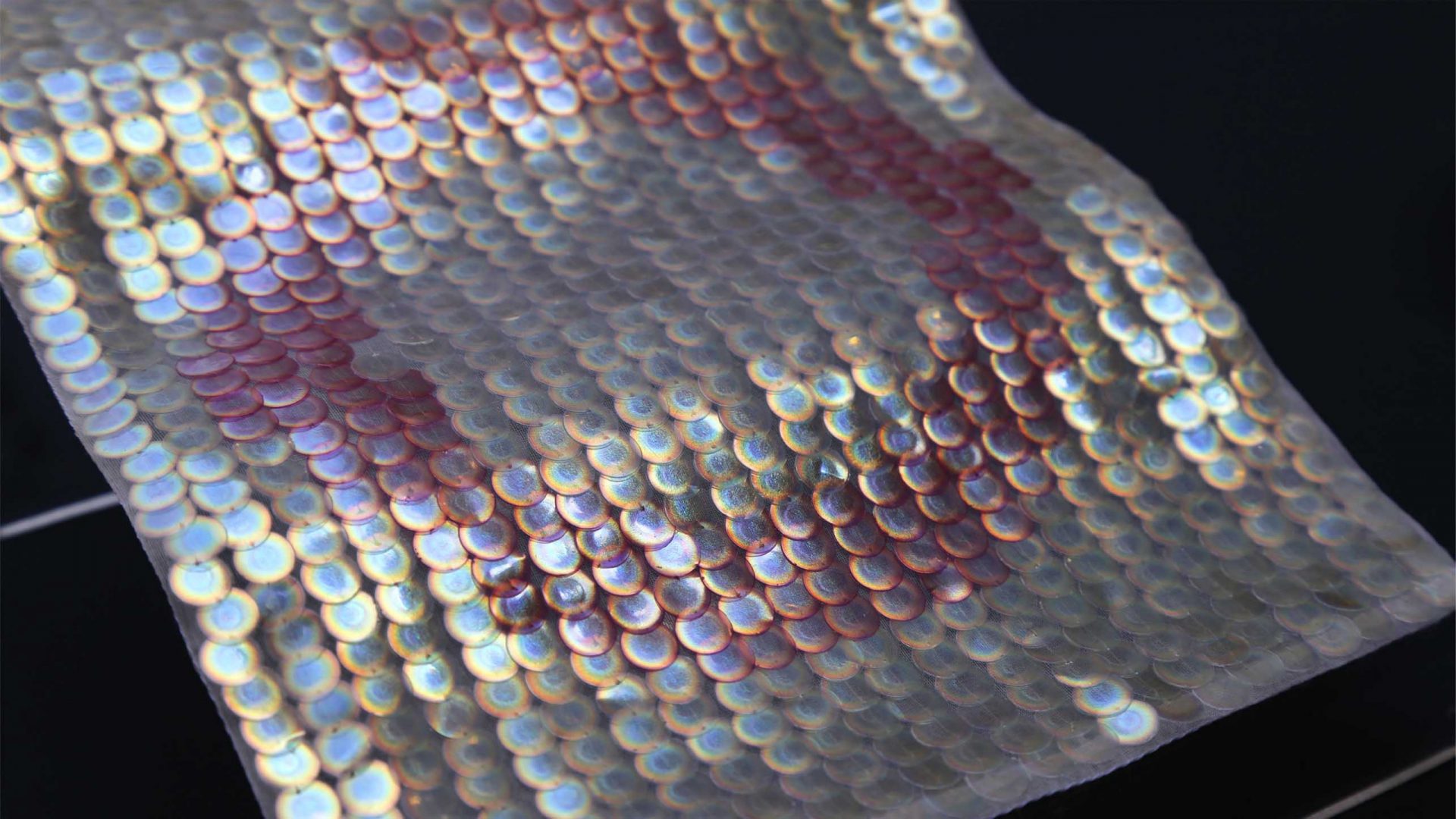 On an exploration path where human demands meet wider ecological systems, Elissa Brunato experiments with innovative materials, driving the fashion and textile industry towards more sustainable approaches.
Elissa Brunato worked in Embroidery Design / Production for Ready-to-Wear and Haute Couture studios, before interrupting her career to pursue a Masters in Material Futures at Central Saint Martins.
During her time in the fashion industry, she traveled to production sites and artisanal workshops in India, China and Italy, where she gained first-hand experience of the global environmental implications that distantly taken design choices can have. Such observations drove Brunato to explore and experiment with alternative sustainable materials.
Based in London, Elissa Brunato continues to challenge the material landscape of the fashion industry through her research. She won the Green Trail Prize by the LVMH group, the Mills Fabric Material Innovation Prize, a residency at the Mill's Fabrica Innovation lab in Hong Kong, the MullenLowe NOVA Creative Innovation Award, and was a finalist in the Dorothy Waxman International Textile Design Prize, NY.
Who is Elissa Brunato? How did your journey in design begin?
Elissa Brunato: "I have always been someone who is intrigued by materiality, colour and texture. I love to assemble intricate and detailed things. When I was starting my design education these interests of mine resonated well with the sensorial world of Fashion Design.
Beyond the tactility, I appreciated the craftsmanship of constructing garments and the narratives that would be spun and bring imagination to the human experience. This is where my journey began.
The fashion industry has been an inspiring field to work in. Since I started off some 10 years ago, I worked in areas from production to design and development, before specialising in embroidery design."
"Traveling between London design studios and manufacturing spaces in Italy, India and China allowed me to see, on the one hand, ideas being turned into magnificent realities by skilled craftspeople and on the other hand, a disjointedness between these worlds – noticing that design choices made from afar can have much bigger impacts than you immediately perceive.
Some of these trips opened my eyes to the material dystopias global processes can cause and certain material choices back in the studio felt suddenly unjustifiable. I was also quite frustrated at the lack of innovative sustainable options in embroidery components and textiles available at that time.
That's why I decided to interrupt my career in order to research and study in a space that would allow me to reimagine the material landscape of the fashion industry."
Why focus on experimental material research and interdisciplinary engagement?
Elissa Brunato: "I really believe that play and experimentation are key to bringing to life what you imagine and sometimes this starts a bit improvised and unrefined. I started creating the sequin at my desk and working with a little portable stove as it was important for me to learn the qualities of the material by working with it through my own hands and senses.
Interdisciplinary engagement shall be the starting point for us all to look into ways we can interlock knowledge, exchange experience and collaborate in order to pursue more holistic viewpoints. We are currently overcoming a time period where disciplines were working too separately and we are understanding now that cause and effect happen across these borders.
Our future must be more collaborative, our viewpoints more holistic – it is important we listen to each other."
Curious to know more about designers researching bio-based materials? Don't miss Can I 3D print coral? Interview with Alex Schofield.
You have recently created the Bio Iridescent Sequin as a sustainable material option in the fashion industry. Can you walk us through the research and experimentation process that took place in order to develop this material?
Elissa Brunato: "I approached my redesign of the sequin through my understanding of its production system and typical end of life.
Industrially, it is unfortunately not feasible to recycle sequins, so most of them will end up in landfill or in the environment in unforeseen ways. Therefore I was looking at ways the sequin could work within biological systems of regenerative growth and decomposition.
Not wanting to give in when it came to aesthetics, I looked to nature for answers. There is an abundance of shimmering and glittering colour many of which are more mesmerising than the petroleum-derived materials we mostly use – think of butterflies, or beetle wings, or fish scales.
In awe of these phenomena, my exploration took me to harness this ability of nature to create dazzling colours in a way that can safely biodegrade back into nature. Through many biomaterial experiments, I came to use cellulose, particularly because it is an abundant and fast-renewing resource."
The Bio Iridescent Sequin was developed through a collaboration with material scientists. What challenges did you meet with this collaboration?
Elissa Brunato: "In the group, we are all creative and driven problem-solvers, interested as much in the process as in the final result. There is of course technical jargon from each of the respective fields to get up to speed with, but other than that it is really easy and fun to work together.
I think scientists and designers have a lot more in common than they may realise and in general, these two fields can really benefit a lot from combining forces."
Can you tell us more about this project? What makes this material sustainable? And how can it be applied in the fashion industry?
Elissa Brunato: "These shimmering sequins are made from renewable cellulose. The iridescent colours of the Bio Iridescent Sequin originate from the light-refracting structure of this material, which means there are no synthetic pigments or precious metals or minerals used.
The sequin material remains vibrant in colour and lightweight, yet is compostable and non-toxic. These structurally coloured sequins present a more environmentally healthy alternative to traditional glittery colourants used within the fashion and textile industry."
Which are the main values that, above all, will always represent yourself?
Elissa Brunato: "I believe that everything we do and make needs to be considered as part of circular networks that are located within planetary boundaries. Our planet is not limitless and the resources we use have to be considered with different viewpoints and timescales in mind, changing our mindset from 'commercially immediate' to the 'planetary & long term'."
What is next for Elissa Brunato?
Elissa Brunato: "The Bio Iridescent Sequin began as my MA thesis project in a cross-disciplinary design space, which I am setting up to transform into an upscaled reality within the fashion industry. I am therefore in the process of raising the funds to further develop the sequin's industrial performance for commercialisation.
Part of this journey for me is engaging with the fashion community in order to stimulate a positive shift in mindset around the stigmatized aesthetics associated with sustainable materials.
My focus for the future is on challenging the boundaries of how we make both luxurious and commercial products, starting with the Bio Iridescent Sequin. Ultimately, I would like to see a shift in the dependence on petroleum as a colour and material resource and to see the fashion industry reduce its micro-plastic pollution and move towards regenerative systems."
Interested in bio-based materials and how they are being applied across different industries? Read about minimizing waste from takeaway food packaging with bio-based materials.