Design
The extensive design path of Enrico Azzimonti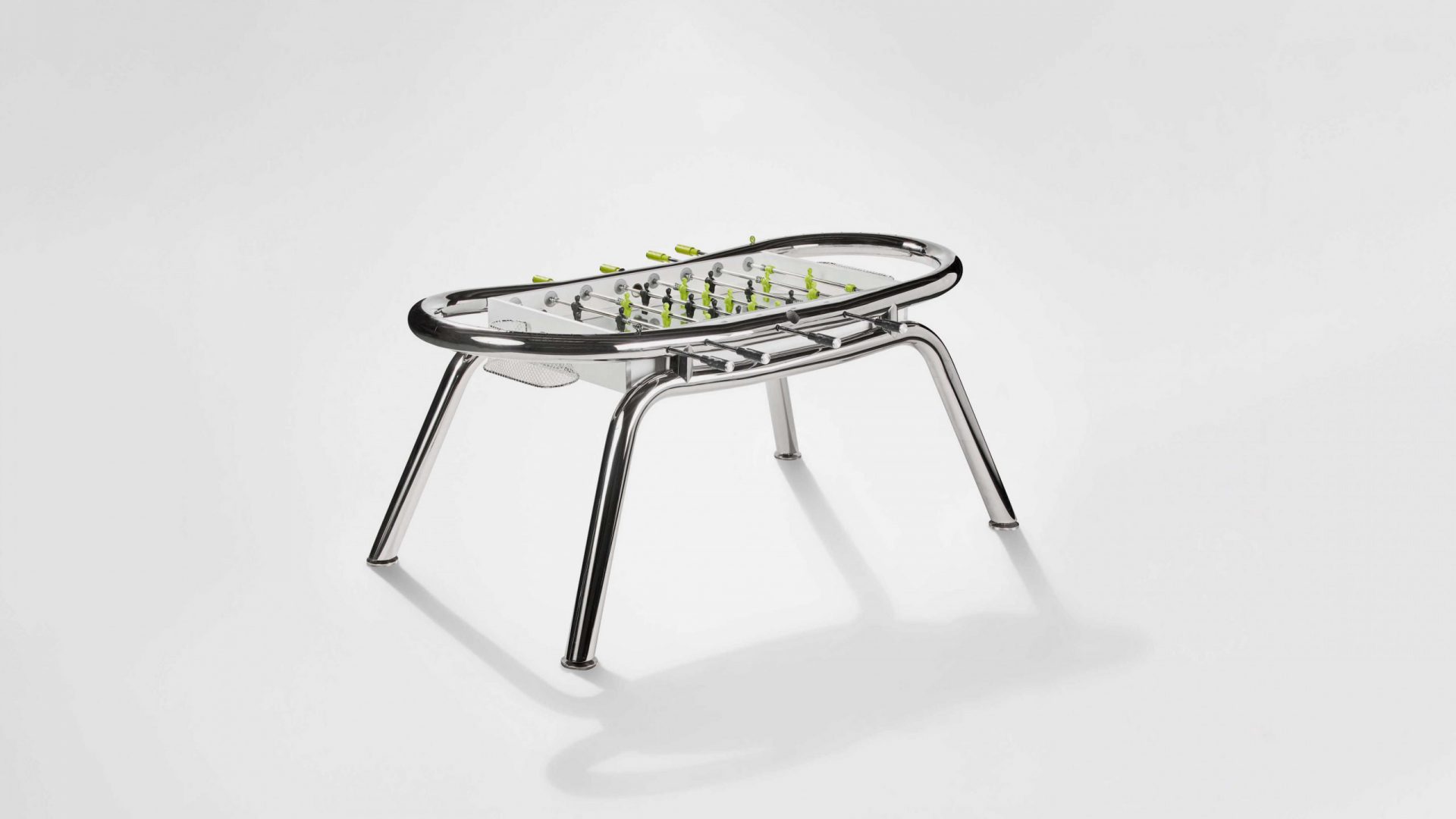 Aiming to pass on his vision to the next generation, Enrico Azzimonti is supporting the evolution of design through his work, ranging from electronics and lightings to furniture design.
Architect and designer, Enrico Azzimonti founded his studio in Milano in 1994. Always striving for innovation and perfection, he dedicates himself with equal passion to small product series and to grand-scale productions. He considers functionality as the backbone of industrial design and applies art and craft to every project and challenge he faces.
During his twenty-year career, Azzimonti has worked with the IUAV Universities of Venice and San Marino, La Sapienza University in Rome, and the Marangoni Institute in Milan, and has taught at Milan's Istituto Europeo di Design for over ten years.
He has collaborated with major companies including Lavazza, Lumen Center Italia, TVS, Fratelli Guzzini, Coop, and JVC. His works are featured in the trade press, in competitions, exhibitions and shows, in Italy and abroad. A selection of his designs is included in the permanent collection of the Museu de Les Arts Decoratives in Barcelona.
Who is Enrico Azzimonti? How did your journey in design begin?
Enrico Azzimonti: "A hunter of souls enclosed in every single object shaped by the forces of nature or produced through the ingenuity and artifice of men.
Ever since I can remember, I have been observing with curiosity every single facet of the soul: the shape of a stone, or of a grain of sand, their aggregation and decomposition, the invasive and ornamental force of the action of water, all make me feel pleasure and empathy with what surrounds us, immersed as we are between the natural scenario and the design scenario."
Why focus on Industrial Design?
Enrico Azzimonti: "I have dedicated years of studies to the protection of the Italian architectural landscape, plunging its roots in the analysis and classification of the first proto-urban settlements in Umbria.
During those years, besides identifying, surveying and mapping the ruins of the ancient settlements, it was possible to find some common stone artefacts that were repeated or that resembled each other, as well as the burials and their grave goods.
The objects found had a simple form and were therefore ergonomic; similar but with evolutionary differences of thought, precious because they communicated a culture of know-how to improve and simplify. It was impossible to escape industrial design and it was natural for me to want to be part of the design evolution."
"What encouraged me to begin this career? The souls of the great masters. It still excites me to look at their projects where I can always find that detail that makes an aesthetic language that belongs to everyone in a generic way, unique and personal.
My ultimate scope is to bequeath part of my soul through my work and my vision of design. I, therefore collect design heritage and culture every day from objects, companies, their workers and their know-how.
Learning new things every day, I re-elaborate them with what I have acquired over time, trying to overcome orthodoxies from a problem-solving perspective."
Your work ranges from electronics to furniture. What have you learned and discovered through experience when developing a product from the brief to the final result?
Enrico Azzimonti: "I apply the interpolation of knowledge and related data. There is no brief therefore no subsequent concept, consequently, no product is the result of a single and unique creative path. The interpolation of the arts, their scenarios and the know-how linked to them are essential and are at the foundation of an industrial designer's DNA."
As an industrial designer, how would you define the relationship between design and engineering?
Enrico Azzimonti: "Sexy. There is so much beauty and culture in the engineering mindset that, in my opinion, makes it impossible to escape the creative and reinterpretative possibilities that engineers offer to designers like me every day. Engineers provide the wings for the future."
Your aim is to innovate every day through your designs and perfect your products. In your opinion, what makes a design idea truly innovative?
Enrico Azzimonti: "Conceiving, sketching and designing a useful product with a supportive and social soul and with an engineering and non-artistic product "architecture"."
Discover how other designers are combining tradition and innovation, don't miss The reconciliation between industry and craft in Samy Rio's design practice.
As an accomplished designer whose work has been widely noticed through the years, could you share with us some failures you went through in your career that got you to where you are today?
Enrico Azzimonti: "I wouldn't define unsuccessful experimentation as a "failure". Experimenting always leads to results. Sometimes they are useful to the analysis and research path, sometimes they are not immediately effective, but can be used for other concepts or project journeys, and sometimes they just lie in the drawer for years.
Throughout my professional career, I developed reinterpretation theories related to materials that didn't lead to immediate clarification, but with the evolution of techniques and advanced production and engineering skills, have brought wide answers.
An example could be the concept of a camera with an OLED screen and interchangeable optics hypothesized for JVC Next Generation Camera, which won the first prize. Or the concept of chromotherapy using LEDs applied to a bathtub that was a finalist in 1998 at the Teuco Award Net competition. The concept of chromotherapy was applied the following year in most bath and shower products.
Experimenting is part of the industrial design DNA that takes innovation as its purpose. If you don't experiment, I don't think you can talk about design, at least about industrial design."
What's next for Enrico Azzimonti?
Enrico Azzimonti: "If you mean what I would like to do, then I can tell you that transforming my profession into pure research on the innovation of applied arts, is a path that I would want to undertake alongside generations of young industrial designers so that we can hand over and innovate without a brief linked to the market for a short term period.
System trends tell us that we are in a historical moment where we can and must change our thinking. I believe that even the art of industry must have space for new visions, disconnected from contingent problems, and new visionary thinkers that can collaborate to trace concrete democratic and social objectives. Industrial design can and must bring its contribution."
"New paths and scenarios were introduced at the beginning of this year. I have ended 2020 with the Point project awarded the GOOD DESIGN AWARDS in the Sport-Recreation section of the Chicago Athenaeum Museum of Architecture and Design. This project is expected to gain another important acknowledgement of which, for reasons of confidentiality, it is not yet possible for me to speak.
We are completing a new website where I will show some projects of research, interpretation, reworking and new visions of products related to the world of machining of mechanical profiles such as the Bench made for BLM Group and awarded the Platinum A 'DESIGN AWARD for Street Furniture: www.tobetube.it soon online.
With a continuous passion for the game and the attitude to reinvent the classics, we have just launched a new edition of the poker table project conceived and designed for Impatia."
"With continuous research between natural architectures and artificial reinterpretations, we have just concluded a new lamp project. The new Hornet lamps for Lumen Center Italia will soon be on the market in 2021.
I'm closing a design path, where I cover the role of art director and designer for Anfa, an innovative young Italian brand based in London that will take its first steps in the world of kid supplies by the year 2021.
"A new future awareness" in the world of supplies will be the new mission, now focused on products designed for the little ones with an eye to the world of adults. Freedom of thought and creative purity by devising, designing and giving rise to tools to support interpretation and personal re-elaboration, tools capable of refining necessary and useful skills in life."
Interested to know more about the business of lighting design? Don't miss the Insider interview with Nik Roope, founder of Plumen.