"What is left if you take the design away?" – Interview with Karim Rashid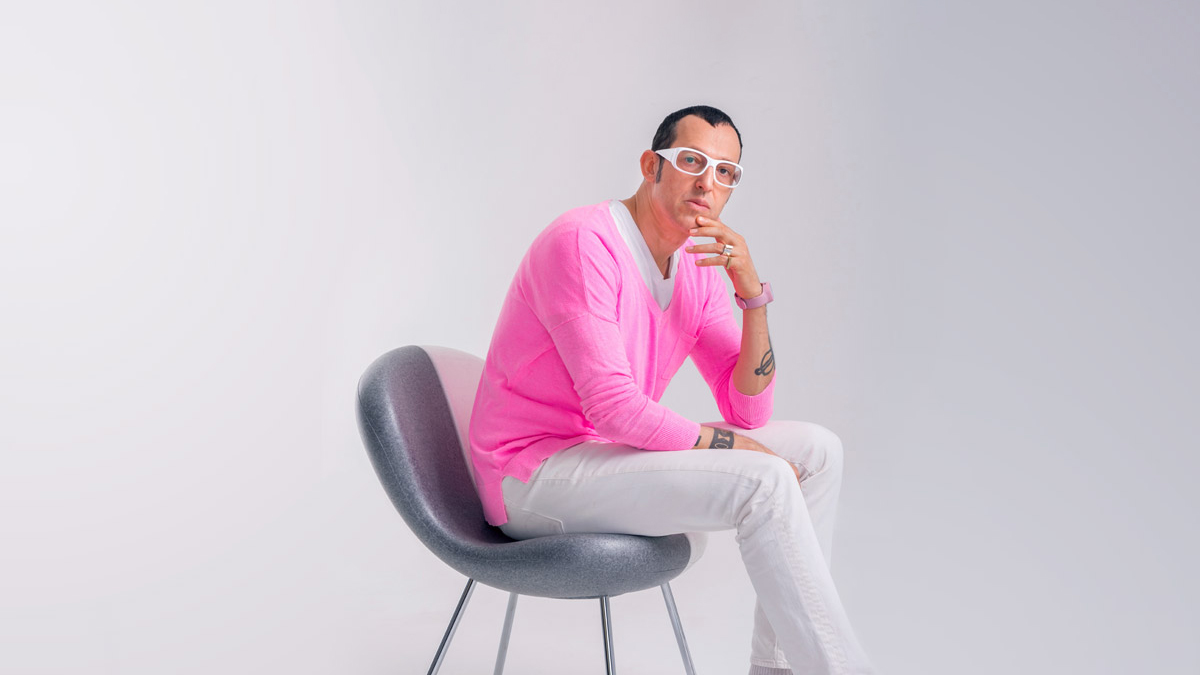 One of the most influential designers of our time, Karim Rashid has created more than 3000 designs, won more than 300 awards, and worked in over 40 countries.
Born in Cairo, and raised in Canada, Rashid attended Carleton University in Ottawa and pursued his graduate design studies in Italy with Ettore Sottsass. Today, he runs his private studio in New York, where he works on projects ranging from products, furniture and lighting to interiors and fashion items. He defines his style as 'sensual minimalism', which aims to create positive emotions in the consumer and to design furniture that makes people feel comfortable.
Among the many awards he has won during his career, Karim Rashid recently received the SIT Furniture Design Award for the Chelsea Collection he designed for BoConcept and the Voxel chair he made for Vondom. Curious to know more about the success story of one of the most prolific designers, DesignWanted had the chance to interview Karim Rashid about his professional journey.
What moved you to begin a career in design?
Karim Rashid: "I realized my life's mission at the age of 5 in London. I went sketching with my father drawing churches on Sundays. He taught me to see – he taught me perspective at that age – he taught me that I could design anything and touch all aspects of our physical landscape.
I remember drawing a cathedral facade and deciding I did not like the shape of the gothic windows (the pointed tops seemed dangerous), so I redesigned them. I drew them as ovals. I also remember winning a drawing competition for children on Queen Elizabeth, when we sailed from London to Montreal in 1966 – I drew a luggage since I was really perplexed at how we packed up our entire belongings into some suitcases to go to the new world."
You recently received a SIT Furniture Design Award for your Chelsea Collection. Can you tell us about the inspiration behind this collection and how this project came to be?
Karim Rashid: "Every inch of the Chelsea Collection feels like a warm embrace. It creates a calm environment and space to breathe, relax, socialize and work.
The Chelsea collection epitomizes my design language of fluid organic forms. I want to remove hard surfaces and sharp edges to create visual and tactile comfort and an arresting sense of calm. These are a must particularly in urban homes that tend to be smaller. I named it Chelsea after the 20 years I lived in the Chelsea neighborhood of New York. I love working with BoConcept. Everyone at BoConcept shared my desire to build quality furniture that touches people's emotions, that is practical, comfortable, smart, yet innovative."
What are the main trends & future directions within furniture design? What do you think of them and where does 'Sensual Minimalism' stand within those trends?
Karim Rashid: "People like to assume that design moves with more superficial trends but it is technology that drives us. Industrial design is driven by designers embracing new technologies, whether it is material, production method, or mechanical invention.
For example, the Bruer chair used steel tube bending from a bicycle factory. The Alvar Aalto chair used plywood tube technology inspired by a local fabricator of wooden sewage tubes, etc. The first plastic molded monobloc chair existed because we had the resin technology and injection machine technology to create it. The Eames embraced one of the first compounds bent plywood machines. So industrial design is driven by designers embracing new technologies, whether it is material, production method, or mechanical invention. So future innovation will depend on how we as designers embrace newness.
These digital tools and new production methods inspire me to make forms as sensual as human, as evocative as sculptural, as possible but through new shapes that were historically impossible to make."
You have been in the design industry for more than 30 years, how did you adapt your designs throughout time?
Karim Rashid: "I think my designs were always ahead of their time. I have 20-30-year-old concepts that are more relevant and accepted now than they were when I first sketched them. I try to keep true to my individualistic creativity and work with the strengths of my clients. Together we can push boundaries and shape the world by utilizing the latest manufacturing capabilities."
You are one of the most prolific designers of our generation and have made an art of bringing new ideas and innovation to the widest possible audience. How do you manage the manufacturing technicalities of your designs? What is one aspect of your production process that you always focus on and make sure is right?
Karim Rashid: "In design, each project has different criteria. Each project has different production techniques, materials and processes. But with all projects, it is imperative that everything functions well. Everything we design is for a better human experience so for example, a chair must be comfortable. There are no excuses for products today that do not meet our needs and desires. So regardless of the poetics, the emotional factor, the aesthetics, the communication, objects must work seamlessly in our daily lives. Spaces must do the same."
In your opinion, what are the major challenges designers are facing today when it comes to manufacturing & production processes? How can they overcome them?
Karim Rashid: "I love collaborating with clients that want to source eco-friendly materials or recycling practices into their manufacturing. But it is very difficult to convince manufacturers to switch to more sustainable materials and practices. I am obsessed with working with responsible plastics that are biodegradable, recycled, or even derived from other sources like corn, sugar, bark and acai instead of oil.
Also, manufacturing on-demand is the way of the future so we don't overproduce. When someone orders an object it is immediately produced so no need for exerted wasted energy with producing and warehousing products or even retail shops. No middle men, less expensive overhead and we don't create a surplus of manufactured goods."
Discover more designers working with recycled plastic, head to Can upcycling plastic waste rival the quality of virgin materials? Interview with Novoloop.
Being one of the most influential designers of our generation, what choices have been the most important in your life that brought you where you are today? Could you pinpoint a particular decision you made which made a difference in your career?
Karim Rashid: "I was confused as a teenager of what profession I would go into. I had accelerated high school, so I was 16 when applying to university and was torn between architecture, fine art, and fashion. I originally applied to study architecture at Carleton much too late and the program was full. They told me they could accept me in the 'architectural stream' of Industrial Design.
So, I went to Carleton University expecting to study architecture, but as fate had it, the second I took some industrial design courses I knew that that is what I wanted to do. I assumed that one had to be an architect to design a chair or coffee machine or a product. I loved the Italian product design landscape and all the products that I admired were designed by architects. In fact, Italy did not have an industrial design school until 1984."
Karim Rashid: "The Carleton program was only in its second year and did not have enough faculty or courses in industrial design, so the greatest experience I had was to study engineering, architecture, philosophy, languages, and have such a broad diversity of courses. I believe that design should really be only taught in graduate school. I had great memories and a rigorous education at Carleton with the faculty and having to witness great guest speakers like George Nelson and Ettore Sottsass and Marshall McLuhan.
Then, early in my career I had the opportunity to work for Ettore Sottsass. He taught me that there are many beautiful design objects, but that you have to ask what they do for us? In the sense of human, inspiring objects, Memphis was a revelation. There are many imposing design objects who need to stand by themselves to impress. I always ask myself, what is left, if you take the design away? If it's style, it is a thing of the past."
What's next for Karim Rashid?
Karim Rashid: "In the next year I plan on building my dream house! I've designed so many spaces for others, but this will be my own utopia.
I'm working on a lot on lighting projects across the globe, a collection of outdoor public furniture, packaging for an innovative new baijiu brand, my own personal wine brand, a collection of toys for kids, a new furniture collection with a fantastic Portuguese company, a luxury line of faucets and shower hardware, and some micro-mobility scooters."
Find out more about out one of the most prolific designers ever, head to Design Icons – Karim Rashid.