Nature is the biggest luxury – An Interview with Rick Joy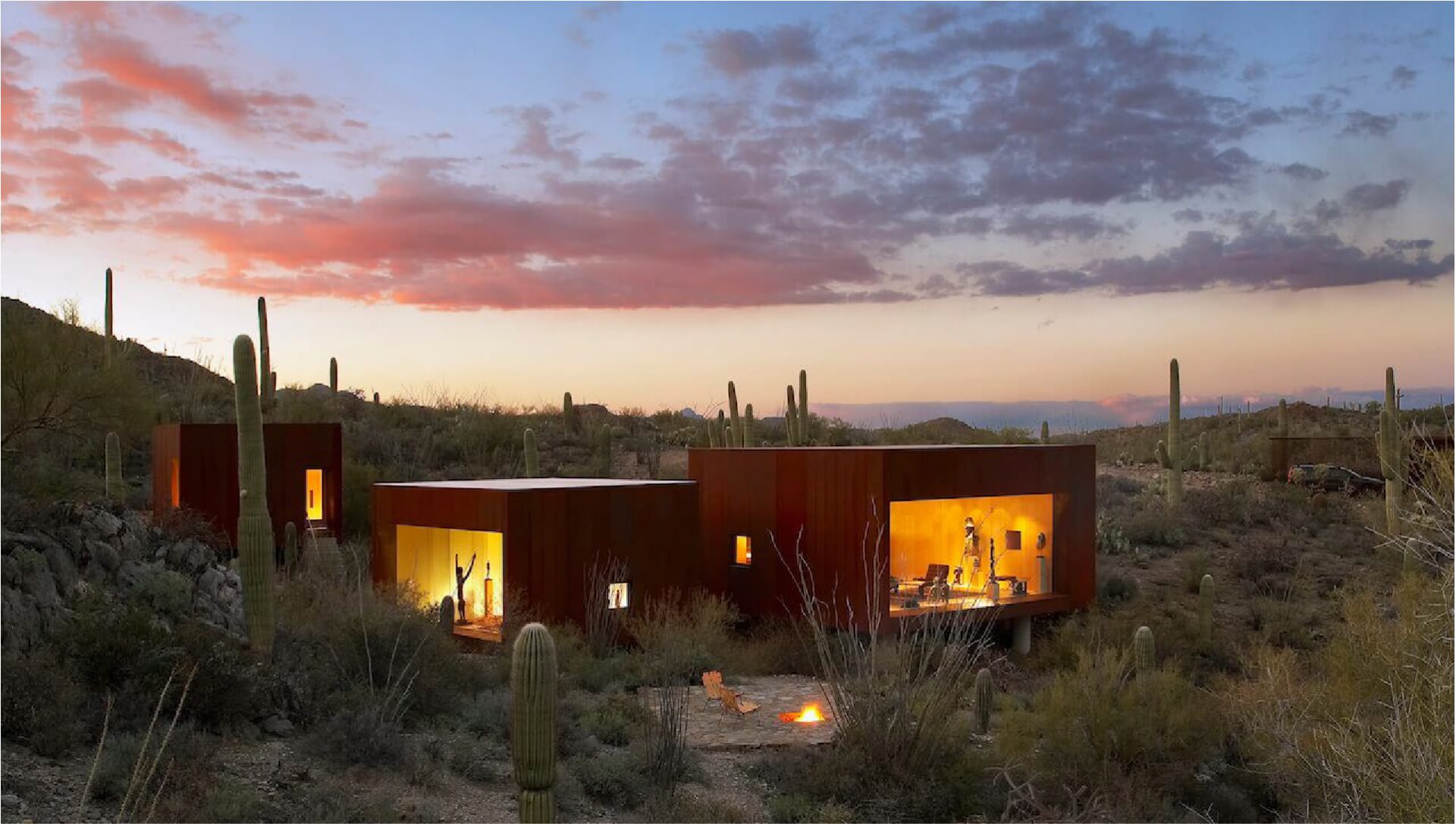 Arizona (US): Tucson-based architect Rick Joy founded his architecture company in 1993 and is known worldwide for his work – interpretation of "slow architecture" where minimalism meets Mother Nature.
Through his projects, we understand the true essence of experiencing the atmosphere of a space and how it unites with the surrounding landscape.
Amangiri, one of Rick's many tour de force, is a one of a kind luxury resort spread across 600 acres in Utah's Canyon Point. In this spacious resort, the ethereal and immaterial aspects of intimate spatial experiences – sounds, smells, textures, moods – come to the foreground, as the architecture itself retreats into the rocky landscape through its dense materiality, staccato volumes, and striated horizontal profile.
By being sensitive toward the world and cherishing each site's spirit, Rick Joy produces architecture that lives well in its surroundings and that becomes a stage for daily life.
Who is Rick Joy? Could you tell us about your journey before and after establishing Studio Rick Joy in 1993?
Rick Joy: "A boy from Maine who was a musician before being called to the Southwest for architecture school. I studied music and was a classical percussionist and rock/blues drummer until the age of 28 when I moved to Tucson.
Now as an established architect with a firm that just celebrated their 27th anniversary our vision at SRJ continues to grow. Our team is still focused on "heirloom" work with an informed vision and respect for place / site / location. The elements and how one creates shelter that exists in synthesis with its environment."
You love being in nature but your work seems to keep you away from it? Move your office in your garden with Workstation Cabin.
 Why did you particularly choose the Arizona desert to manifest your dreams and how did this influence your perspective as an architect?
Rick Joy: "I'm from Maine and I decided after being a musician for a long time it was time to go with my more original interests. Even my high school guidance counselor suggested air traffic control or architecture.
I went and took a physics course at the University of Maine and sat by a wood stove putting cherry wood in the fire applying for schools. I applied to a few places and one day I got a packet in the mail and there were a saguaro and a sunset on the cover and I knew it was the one for me.
My wife at the time, Jean, and I also had some connections in Tucson and with those it all made sense for us. I got here and fell in love with the desert. And what was remarkable is that I was in love with the place – everything from lizard to cactus, the environment and light and I just absorbed it somehow and we made our home. And I still love it."
You have often described your work – approach as "slow and emotive architecture", could you tell us more about this?
Rick Joy: "The idea is that the architecture isn't about a grandiose form or bombastic ideas – I would rather spend my time helping people be slow and enjoy the day. And I really try to hard to make the home a clock where you can tell the time of day it is in the building.
Take the time and let it be and frame personal experiences. That's why we say staging lifestyles – making a stage for life."
How do you identify the identity of a place and how does this reflect in the character of your work?
Rick Joy: "I learn a lot from the building culture of a place and nature of any place and nature is number one and I really believe in bringing nature to people's lives – it is my kind of mantra. It shows up well in our Polanco and Amangiri projects.
This closer relationship to nature was formed for me when I was quite young. I was brought up in a financially challenged family and when it was time to have a good time there wasn't a lot of money to go to a big resort or a destination – we just went out in nature – and nature to me now is really the biggest luxury.
Being around trees and lakes and smelling the trout in the water is more rich than anything you could ever have in fabricated environment. Though I love walking across NYC. Those city streets and that environment is in many ways a different kind of nature to me."
One of your most celebrated projects, the Amangiri resort is ethereal and often known as "Utah's hidden desert paradise". Could you tell us about the challenges you encountered during the design process?
Rick Joy: "The goal was to try to transcend the typical resort mentality and rely on the opportunity – many know that desert traveling through it by car – but having the privilege to be up close and personal with that kind of mesa – sandstone – wind water and stone – that is what turns people on. And the challenge is to hold on to that natural essence.
To make something in Navajo country with no reference to Navajo culture was also a part of the challenge. To not offend an ancient culture by instead doing something more related to the land – wind water and sand – was the challenge. That was rule."
With a vast experience as a professor, mentor and team leader, could you share a few words of wisdom keeping in mind the pandemic situation for students, young graduates and promising entrepreneurs?
Rick Joy: "It is an interesting time because I am 62 and everyone who wants this knowledge or feedback is 25: what can I say, I am a white guy owning a firm? What I would like to ensure is that the mental ground of architecture is really pretty rich and things are going to change.
All the big office buildings you see around the world are not going to be occupied for a few years if ever again. We all have to think about how we will be using and occupying smaller spaces in various ways because things have changed."
What can we expect next from the Studio Rick Joy?
Rick Joy: "Hopefully, that I will just stay alive since I am 62. I think that is a question I can't answer right now as that is my own question."
Being submerged in the wild nature for many is very regenerative. If you are one of them, you would love to spend the night in the five-star hotel LUMIPOD.