Design
"Understand the WHY before you figure out the HOW" – Interview with William Stuart from fuseproject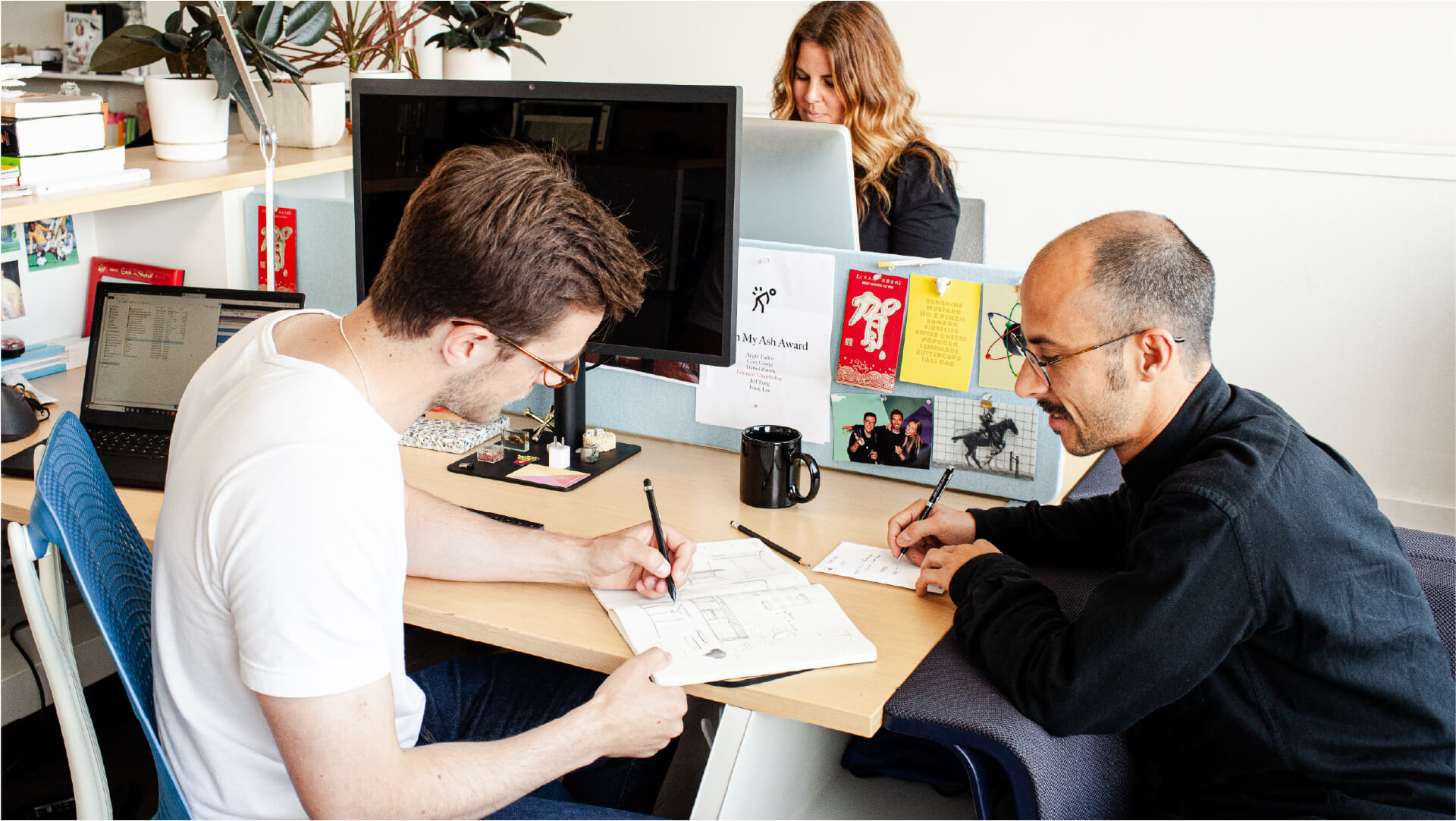 "I'm a designer at heart, I'll always stay close to the hands-on work". William Stuart, from fuseproject, explains to us how evolving through different positions in a studio influences your work as a designer.
William Stuart is a design director working at fuseproject, the multidisciplinary design studio founded in 1999 by Yves Behar in Potrero Hill of San Francisco. The studio has had a big influence on the design industry in the last decade by working with renowned brands such as Prada, Samsung, Happiest Baby, Issey Miyake, Movado, Herman Miller, The Ocean Cleanup, and Vodafone. , and Paypal.
William has been practicing as an industrial designer since 2006, first in London, before moving to San Francisco to join fuseproject in 2014. We interviewed William to discover what it is like to work in a big design studio and how gaining experience and responsibility influences your work as a designer.
What does a day in the life of a "design director" look like?
William Stuart: "At fuseproject we all sit together in the same open-plan area. Whether you are an industrial designer, a strategist, or a UX designer, you're not siloed in different teams, our work is very collaborative. Because of this, we have a very democratic design culture where it doesn't really matter how senior or junior you are and where good ideas can come from anywhere. We are a culture where the best idea wins.
My role as a director is to help guide and direct those ideas, not coming up with my idea and dictating to the team what's going to be taken forward, because anyone can have that great idea.
Another big part of my day is communicating and collaborating with clients. We want to make sure that they are brought along every step of the way so they can input where they need to.
I love the craft and the process, and as you become more senior at any studio, there could be a tendency to move into more managerial positions where you are a little bit more hands-off with the actual physical design execution. For me, it's very important to keep sketching with the team. I will often open up CAD and build 3D models, review models from factories and provide feedback.
I like to stay very close to that side of things."
When did your work start getting recognition?
William Stuart: "I think when I first started getting recognition on a personal level was when I worked at a company called Therefore in London.
There was a huge difference between working there and some of the places where I had worked before. They gave me real freedom to explore who I was as a designer, and they put a lot of trust in me. I felt a responsibility to do great work as a result of that.
It was a combination of being nurtured by the people around me and being in a really encouraging environment that actually led me to produce work that I was proud of, and then, in turn, got recognized by my peers."
You worked some years in the UK within different design studios before heading to the US to join fuseproject. What led you towards working in the US?
William Stuart: "The UK has a really good design culture, there are some really great people there but I was always drawn towards the tech industry and the Bay Area is the epicenter of tech. You can create products that redefine and create new categories, and it was something that I really wanted to be a part of.
On another note, one of the things that I really like about the Bay Area is its attraction to all walks of life. There is a chance to meet lots of people from different cultures. I come from the UK, and I work with a lot of people from countries like China, Israel, and Korea, Europe, Asia, and Africa.
The Bay Area is a true melting pot. The diversity of ideas this brings adds incredible value to our point of view as designers."
How do you advance from Senior Industrial Designer to Design Director in a big design studio?
William Stuart: "As you become more senior, your field of view within the company that you work for becomes much broader. When you're more junior or thinking back to when I started as a senior, you're more individually responsible for a specific thing, whether that's producing design concepts or developing concepts.
As you become more senior, you're not just mastering those skills, you're also touching many other parts of the process. That can be helping to define the creative vision for that project, it is not just about industrial design, it is about bringing together all the disciplines to create a singular vision for whatever it is you are doing.
Working with strategy and UX design, brand, program management, and the client, there is more of a management component. Running multiple programs across the studio, you might not be just on one particular one, you might be on, you know, four or five at one time. It's a job of overseeing things, moving things forward, as well as going deep into the craft.
This is all an essential part of the process and part of being a leader. But you're always doing it through your 'design lens'."
Get to know fuseproject's incredible designs, don't miss Forme Life, a new digital personal trainer hiding behind a mirror.
Do you feel that your approach to design projects has changed with your professioanl evolution?
William Stuart: "I'm a designer at heart, I'll always stay close to the hands-on work. Whether it's sketching, CAD, rendering, building presentations, the design tools I hold very dear.
I think without that baseline knowledge you're less likely to be a good leader for your team and for your clients, because you can't lead through that lens. As the title shifts, from senior to lead designer, senior lead designer and director, the ratio does change a little bit.
You do more managerial stuff, but the day-to-day engagement with clients hasn't necessarily changed. I'm doing less crafting as a result of shifting that ratio, but I try to balance it as much as I can. I'll try to wear different hats to leverage my expertise in the most helpful way. It's just a balance."
William Stuart: "When you're more junior, you work on fewer projects, in our case, it can be two or three. Given the depth and the extent of engagement we need on our projects, that's probably the most that you can handle on a day-to-day basis to be sustainable.
When you're senior, you do your work across more projects, sometimes five or six at a time. Each of those projects is at different stages, one might be at the very beginning stage of the design process. That tends to be the most intense, where everything is very ambiguous, and you're trying to figure out what your design approach is, what are the ideas you're going to take forward.
Every day is very different. That's what I love about it, I love being able to work across a breadth of different clients, different types of projects in tons of different market areas. I find that really rewarding."
In the Advanced Design episode nr.73 you say; "I feel incredibly lucky to work with incredible designers like Yves. […] I get paid to work shoulder to shoulder with him." What makes working with Yves so incredible?
William Stuart: "It's the perspective that he can pull from many years of experience to be able to connect the dots across many different industries.
He's able to inform the design process by considering holistic experience at a very high level. It's not just Yves' influence, it's also the way he has influenced this over a very long course of time, but the caliber of designers, the team he's built at fuseproject, and the creative environment.
I think I have learned from him the value in any project that we're working on is how it ladders up to the overall user experience. We need to have a deep knowledge of how things get made, the materials, the processes, and what makes what we take to the market feasible and viable. We should all be holding that at the top of the hierarchy of priorities.
I think through working with him I saw that it's easy for the experience to be diluted by other stakeholders in the process. Every time that happens, the value that you're delivering as a designer gets taken away. He's really taught me to be a strong advocate for the importance of design at all times."
What recommendation would you offer to a young designer aiming at working in a design studio like fuseproject?
William Stuart: "The most challenging is to communicate your skillset and the contribution that you can bring to the table. How you can get your foot in the door at any studio, whether it is big or small, and get your work recognized.
Secondly, don't wait for the right project or the right work experience to showcase your skills. Find a topic that you're really passionate about and showcase your approach to the design challenges and the methodologies."
William Stuart: "It's also important to show how you collaborate. Sometimes it's hard when you're just working on an individual project, and you're not working with a team to communicate that. But I think it's just important for people to understand how you think through ideas and how you get from nothing to something.
It's okay if throughout that process things didn't go according to plan. What is important is to see an effort to communicate where the challenges were and how you solved them. The failures are just as important as the successes."
What is more important? Skills or Attitude?
William Stuart: "Your portfolio matters, skills are something that you can learn over time and it is important for you to hone those skills and get better and better at it because ultimately, those are the things which are going to help you get noticed by a design agency.
Talking from our perspective, we get maybe hundreds of portfolios, thousands sometime every year, and we try to invest as much time into looking at those portfolios and reviewing them in as much detail as possible. But there's a point where you make a decision whether or not they're the right fit, and sometimes that's just down to the skills. Even if the hard skills are incredible, if you're not telling a story with those skills, that's also a red flag."
William Stuart: "However, your attitude and mindset are equally important because working in a studio means you're no longer a student and there are real-life impacts to decisions made by a collective team. The projects are exciting, creative, and fun – but the pressure is real and our job is to deliver.
The sooner you learn that being a consistent, reliable, and accountable professional is as critical as having talent, the better. Being mentally resilient and recognizing you're always in a position to learn and grow are key to success.
The most important thing is to have curiosity. You know, there's no such thing as a dumb question in design. Ask as many questions as you can to understand the WHY before you figure out the HOW."
What will be the most important design skill in the next 5 years?
William Stuart: "It goes beyond the hard skills. I see a stronger need for having better empathy for the users.
Just speaking of empathy, I think it's important for us to understand the business needs. As designers, we're very focused on the craft and making something as good as it can possibly be. I think there will be more of a focus on why we should even pursue a certain path in the first place, and how this aligns with a business roadmap for any company.
It feels like we as designers will have a seat at the table of influencing those decisions. It's also having empathy for your stakeholders, and business partners to have better collaboration. You know, I really think context is everything in design. Without that context, the design really doesn't mean anything.
The better we can understand the WHY of the work, the better we'll be able to work with stakeholders and deliver a product that meets user needs that are constantly changing. That will be a constant exercise for us as designers to flex."
What's coming up next for you Will?
William Stuart: "I'm still really interested in navigating the ambiguity that comes with working in consulting work. I find it really satisfying working with small, medium, and large businesses, to help redefine their products and take them to market.
To be able to switch moments like that, it's something that really excites me."
Want to know more about fuseproject's work? Don't miss Neo, the smartwatch for kids by Vodafone.