Architecture
Caught in the net of wonder with Janet Echelman
The epic, highly-engineered billowing net sculptures of Studio Echelman add a sense of place to cities around the world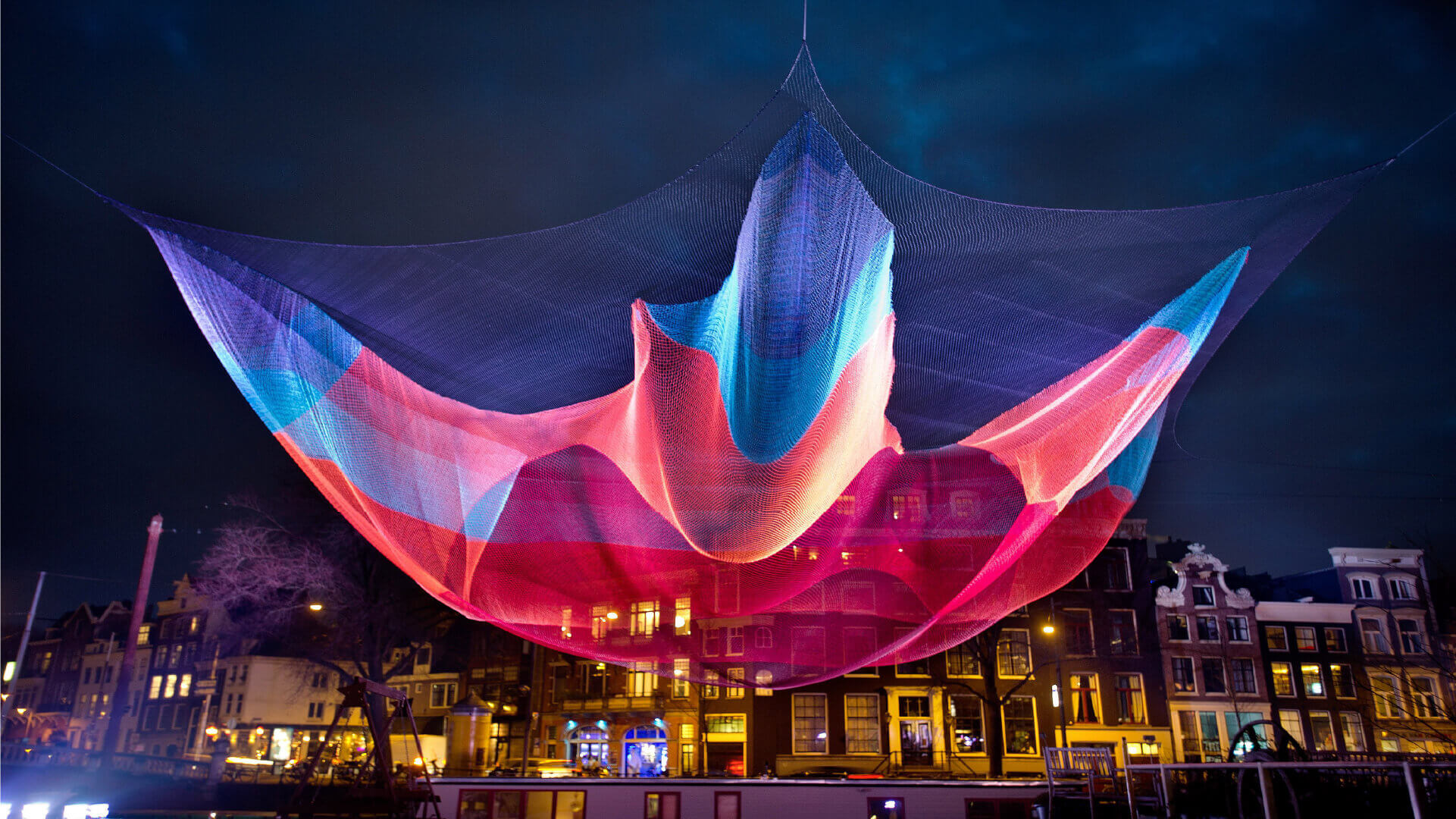 Cities are ever-changing, dynamic hubs continually being added to at a dizzying pace. Yet, many locations remain unremarkable. Bland backdrops of everyday reality. Janet Echelman's practice is an antidote to this, and actively reinvigorates spaces within the city.
Studio Echelman transforms cities introducing wonder and providing a strong sense of place by installing 'oases of sculpture' in the urban fabric
Her sculptures are not only visual delights, but they are also marvels of engineering and her work intersects urban design, sculpture, materials science, architecture, and computer science.
The minds behind Studio Echelman – Janet Echelman
Echelman's career path has been unconventional and by her own admission, driven by curiosity.
After graduating in 1987 from Harvard University, she pursued Chinese calligraphy in Hong Kong, then, spent 5 years living and painting in Bali.
Returning to the US, she completed two master's degrees, in Psychology and an MFA.
She has taught at Harvard Graduate School of Design, MIT, and Princeton, among others. Studio Echelman was founded in 2009 in New York and is now located in Boston.
Echelman's list of awards and honors is long.
She has received a Guggenheim Fellowship, and in 2011 she presented a wildly successful TED talk, "Taking Imagination Seriously,".
In 2012, she was named an "Architectural Digest Innovator" for "changing the very nature of urban space."
Curious to know more about designers creating beautiful installations? Don't miss Pushing back against the status quo with SOFTlab.
Materials & techniques – Ultra-strong fibers and a collaborative effort
The bright draping nets of Janet Echelman's sculptures are created through an elaborate tying, knotting and braiding together of very lightweight and long-lasting fibers.
Each individual sculpture can have hundreds of miles of fiber and millions of knots.
Her earlier pieces are attached to surrounding tall steel poles, and use heavy steel rings to define the shape of the sculptures.
She Changes, located in Porto, Portugal has a 45m wide steel ring supporting the nets below.
In 2010, Echelman began working with Spectra, an ultra­ high molecular weight polyethylene fiber 'fifteen times stronger than steel'.
This allowed her to use a completely soft sculptural method with a tensioned structural layer. It is lighter and can be attached directly to existing buildings.
Colored lights are used to ensure that her pieces are lit and can also be enjoyed at night. For her temporary installation Skies Painted with Unnumbered Sparks in Vancouver, she worked with Aaron Koblin to allow viewers to interact with the lights on the sculpture via an app.
Intense research, design, and planning are involved to take each piece from initial idea to final form.
The ability to withstand hurricane wind conditions and harsh weather being part of the challenge.
To stage these epic sculptures, Janet Echelman works with designers, architects, engineers, and curators, as well as city planners and urban administrators. Fabricators, craftspeople, riggers, and installers are called upon to make the netting and finally raise her sculptures into position.
Style & Aesthetics – Bright and ephemeral
Despite the often permanent nature of her pieces, Echelman's work is engaging and ephemeral as it floats high above the ground.
They are fixed, yet always rippling and responding to the air currents flowing around them.
There is a lovely tension between delicacy and precision.
The nets are bright and fun, with colors divided into blocks or bands.
The apparent straight lines are ideal at highlighting the slightest movement of the nets.
By day they cast shadows on the ground, and at night illuminated and glow vividly.
Whilst Echelman's aesthetic is clearly recognizable, the specific form each piece takes often draws on data, local features, or cultural references. Every Beating Second, at the San Francisco airport, relates to the form of the Golden Gate bridge, and data of the effects of earthquakes yield the forms for her Earth Time series which commenced in 2010 with 1.26 first installed in Denver, Colorado and since installed in 11 cities across the globe.
The multiple arcs and title of Bending Arc, installed this year in St. Petersburg, Florida, are a reference to Martin Luther King's words:
"The arc of the moral universe is long, but it bends toward justice."
Sculpting with atomized water
Pulse in Dillworth Park, Philadelphia shows a new direction for Echelman's work.
Here she has created an interactive installation from a fine mist of atomized water particles.
Tall streams of mist shoot from the ground and travel in lines across space.
Inspired by the site's history as a transport hub, they are a real-time visualization of the trains running underground, directly below.
Design memento – Repurpose, persist and build relationships
The progress of Echelman's art, from painting to internationally recognizable public sculpture, is a story of determination to see out her artistic vision and overcome obstacles.
The transformation commenced when working in India she began to create light voluminous forms from local fishing nets.
Years of work, innovative uses of industrial technologies and persistence have seen her continually push her practice.
When there was no software that could model her forms, she enlisted the help of a sailmaker Peter Heppel and created her own. In the process, she was always building a network of relationships.
Three years passed between the idea and installation of her first major commission in Porto.
The concept for Pulse was shown in her March 2011 TED talk, and the first phase finally opened in September 2018.
The writer's comment – Creation of stories
The story of Echelman's artistic journey and her process of creation are centered in her practice. Woven into her pieces.
Furthermore, the sculptures themselves will contribute to the stories of the sites they occupy.
And, to the stories of people who come to admire and be inspired by them. Stories created through shared sensory experiences of viewing delicate nets hanging above.
If you want to know more about designers focusing on art and installations, don't miss Turning the ordinary into the extraordinary with NEON.