This kitchen tap is not like any kitchen tap you've seen before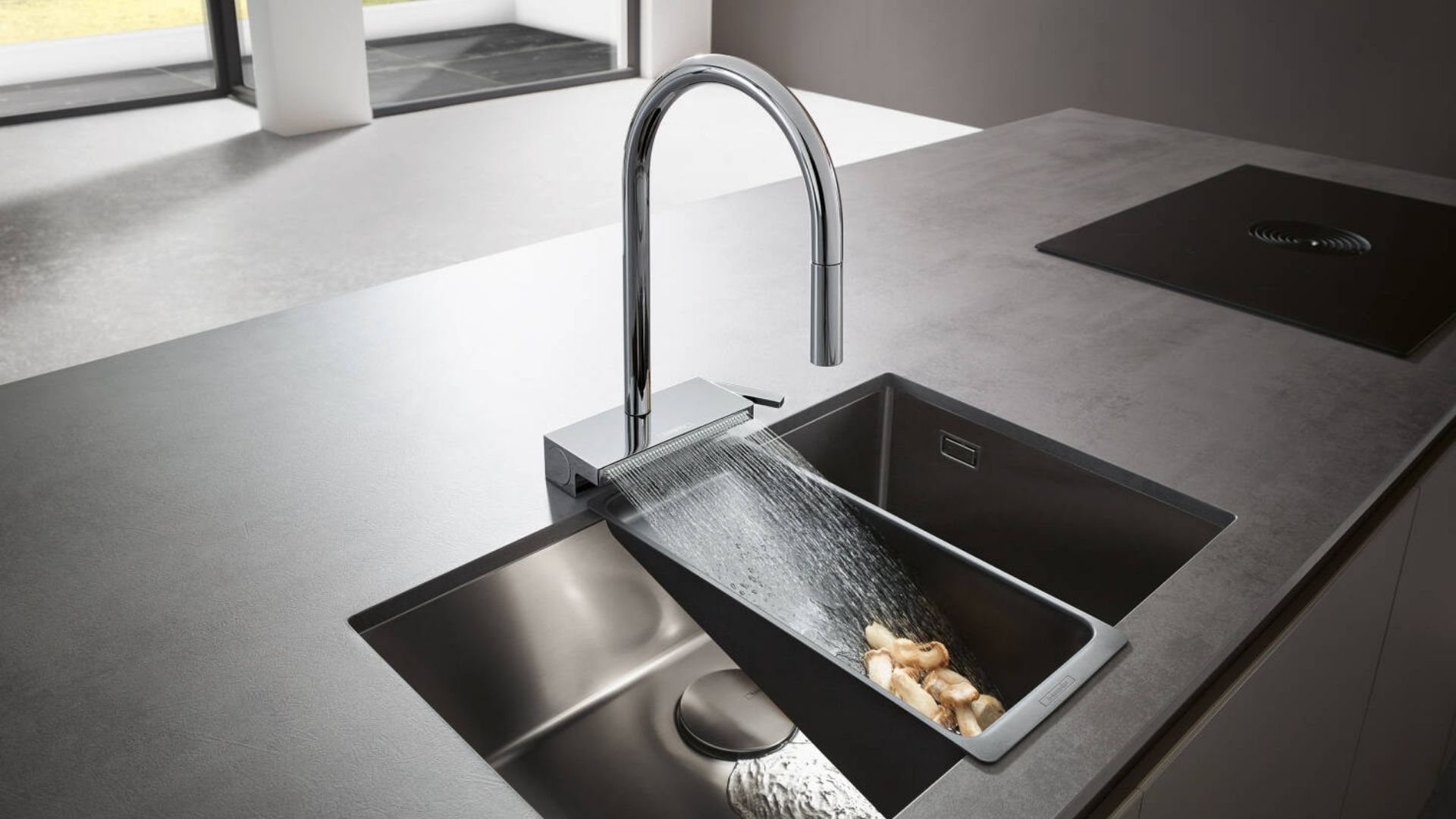 The Aquno Select M81 range impresses users with the most efficient use of water you have ever seen in the hansgrohe kitchen range, smart jets and a built-in filtration system.
A new era of kitchen taps is upon us with the Aquno Select M81, which configures an optimum workflow at the sink to help users consume water mindfully.
Available in elegant stainless steel or shiny chrome, the Aquno Select M81 is defined by a stylish round arch that blends particularly harmoniously into kitchen islands without wall units.
Meanwhile, an almost invisible push button on the front of the filigree round arch activates the flow of optimised tap water and a minimalist-designed handle delivers conventional tap water when pressed.
Thanks to the separate water supply, it is possible to switch between optimised and normal water in seconds.
If you want a chic way to rinse your vegetables, the Aquno M81 offers just that.
A flat spray is positioned at the base of the tap, which uses individual micro-fine jets to make contact with the food at a shallow angle helping to conserve resources and minimise splashing.
No matter what's happening in the sink, the shallow shower gives you an additional option alongside the clear laminar and voluminous shower spray.
There's also the option to add the convenient sBox – the 76 cm long hose extension with safe storage under the sink – for a larger working radius.
Moreover, the tap also features an innovative MinTec® mineralization and filter technology, which strips the water of its pollutants and infuses it with valuable minerals.
It comes in the form of a range of easy-to-change filter cartridges that are completely recyclable.
They include the Harmony activated carbon filter, the Life and Sport ion exchangers with activated carbon content. 
Transforming our interaction with water
The innovation from hansgrohe brings convenience and balance to the kitchen and everyday life.
The Aquno Select M81 is hansgrohe's most efficient kitchen tap, without any compromise in terms of performance.
Not only is the uniquely flat spray gentle on fruit, vegetables, fish, meat and even hands, the targeted spray also uses water conservatively with an optimised flow rate of 4 l/min.
Meanwhile, its design boasts a perfectly harmonised concert of all elements, especially when it comes to the bold look.