"It's no longer enough to just make better things, we have to make things better" – Interview with Luke Miles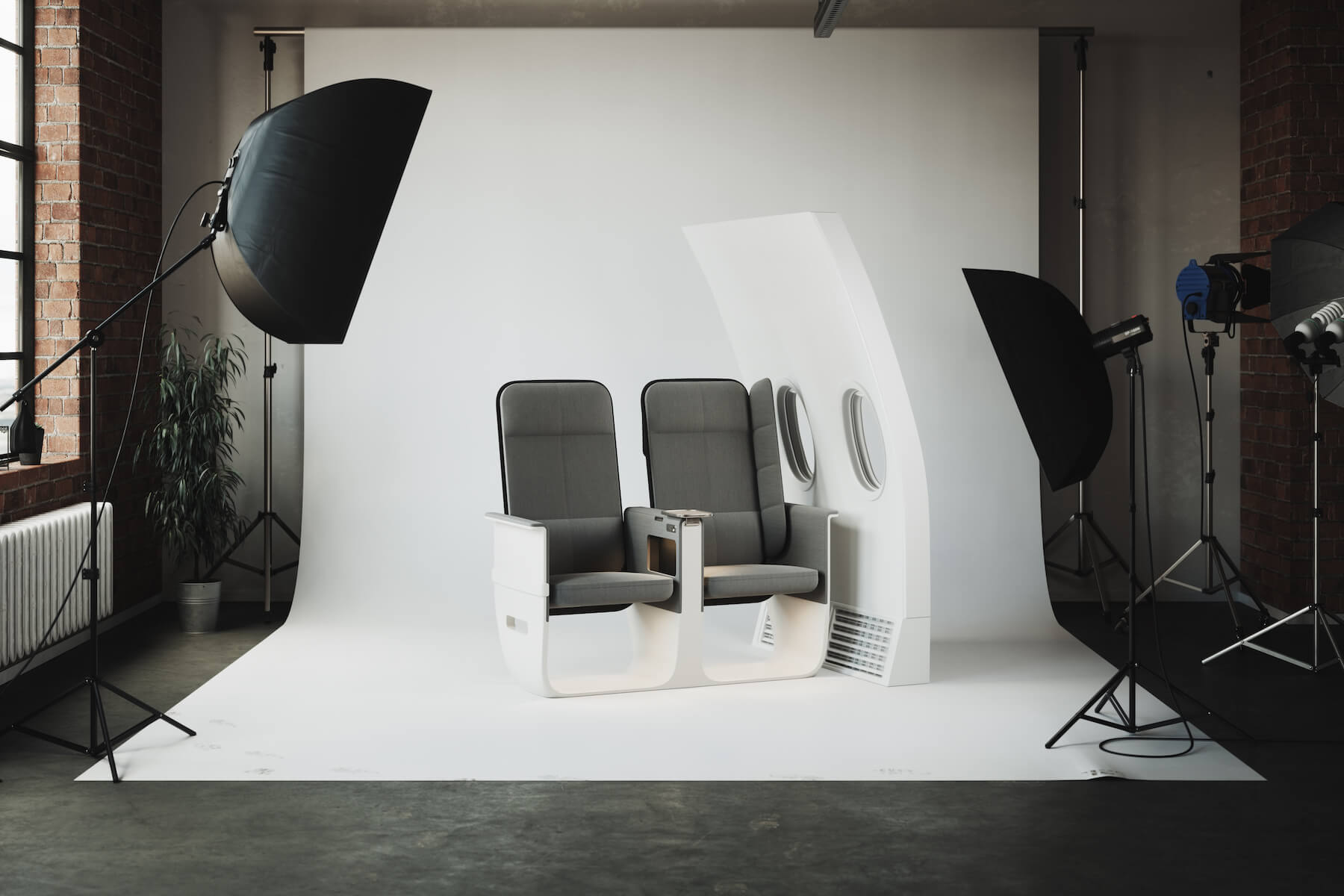 Luke Miles, founder and Chief Creative Officer of New Territory, is revolutionizing mass transit experiences and tackling universal truths with innovation in the mobility field.
As cities grow, we find ourselves moving longer distances, using different modes of transportation, and spending more time commuting. As travelers, we interact with a large variety of products and services during our journey, making our travel experiences more critical now than ever. While most of the quality of this experience depends on a whole urban mobility system, the design – whether it is the interior, exterior, or service – can make it or break it. Designers have an immense responsibility when it comes to creating, and enhancing every aspect of our travel, and while it is sometimes overlooked, designers such as Luke Miles, know the importance of it and are reshaping the way we experience it.
Founder of creative practice New Territory and transport technology company Universal Movement, Luke Miles is an Industrial Designer focused on consumer products, workplace environments, and improving the mobility field and its experience. His innovative work includes award-winning air travel concept Desire Lines, the new Aeromexico aircraft interiors, and the groundbreaking project Interspace which addresses the lack of innovation in high-density seatings on aircraft.
It is through the design philosophy: 'it's no longer enough to just make better things, we have to make things better', that Miles reaches beyond the physical realm and enters the world of organizational change creating outputs that positively impact our daily life. DesignWanted had the opportunity to interview Luke Miles and learn more about his methodology, his approach to the mobility field, and how he takes innovations and experiences to a new high.
Who is Luke Miles? How did your journey in design begin?
Luke Miles: "I'm Founder of creative practice New Territory and transport technology company Universal Movement. I trained as an Industrial Designer and have spent most of my time working across consumer products and aviation for companies like Virgin Atlantic, Nokia, and LG Electronics. I'd say that my journey began in the physical world, but has morphed into the worlds of service, brand, and how to help organizations become future-facing."
You have over 15 years of experience in the design and transportation field and your work has reshaped and improved experiences on the ground and on-air through multiple product and service initiatives. What moved you to focus on improving the mobility field and it's experience?
Luke Miles: "Mobility has always been of interest to me for a couple of reasons. The first is the scale of the projects and the fact that you deal with environment, object, and interaction. You design for people over a period of time and this means you have to consider multiple dimensions to the experience as well as how service and other factors will orbit the physical. However, we also explore workplace environments, which touches furniture systems and do a lot of work on smaller-scale products.
Whatever the category, we have found ourselves delivering design but are also helping businesses to change their mindsets throughout the process. This links to brand purpose, the ability to innovate, and ultimately ignite internal team culture. I'm most interested in making inventive leaps that deliver on universal truths for people – where you actually improve an experience and move beyond design iteration."
Curious to know more about designers shaping the mobility field and its experiences, don't miss Rethinking mobility to design better cities with Max Schwitalla.
You founded New Territory, a creative practice whose mission is based on the philosophy that 'it's no longer enough to just make better things, we have to make things better'. How is this philosophy applied to your work, especially when it comes to projects in the intricate field of mobility and transport?
Luke Miles: "This statement links into the idea that design should continue to reach beyond the physical realm, to enter the world of organisational change. 'Making things better' links to how we can produce things in a more ecological, economical, and socially responsible way, but it also talks about how those outputs can have a positive impact at a societal level and also how we can champion better ways of thinking within the brands themselves.
How can we help businesses deliver true betterment, not just the next iteration of what they do? We've used this philosophy for multiple projects from train interior blueprints to last-mile delivery vehicles, aircraft, and building design."
New Territory's collaboration with Zodiac Aerospace, Desire Lines, is a new air travel concept that breaks the passenger experience free from the binds of the seat. Can you tell us more about the project?
Luke Miles: "This was a great project for us as young studio, as it gave us the opportunity to use our diverse sector experience in the realm of aviation. The work was more of a provocation, than a completed piece of design and in this sense it became a 'physical' sketch which allowed Zodiac to open up richer, co-creative conversations with potential carriers and partners.
Interestingly we moved from this project to a piece with Airbus that investigated what a modular aircraft could be and after this, we delivered a lower deck passenger unit for a partnership between Zodiac and Airbus – allowing us to fine-tune our learning and apply it at an airframe level."
Air travel is something that you are clearly knowledgeable about due to your incredible experience and that is shown in New Territory's newest project Interspace, which addresses the lack of innovation in high-density seating on aircraft. How did the project come to be?
Luke Miles: "Interspace was a lovely project because it tackled a number of universal truths within the area of mass transit. Although we could have designed a new seat in its entirety, I believe the thing that makes Interspace attractive and novel is the ability to integrate the technology onto both existing and future focused seats, by simply modifying the seat back.
The design is really about offering greater lateral support and delivering on the fact that people want to shift their weight during flight and adopt different positions – whilst also getting greater privacy. We had to work very hard on packaging all the elements as efficiently as possible, whilst making it a lightweight and easy to use solution."
Experience and service design are extremely important when it comes to aircraft interiors, even more so now that the current world situation calls for a redesign of it. What do you think are the future directions within the interior design of aircraft and the mobility sector in general?
Luke Miles: "Service and experience design are critical methodologies to understanding how people want to 'move' in the future. We have long believed that emotional intelligence and behavioural design at a service personnel level will be as critical, if not more so, than the physical spaces and products that passengers interact with – a blend of both will ultimately deliver the best experience.
COVID has led to a wave of opportunities to put hygiene higher on the agenda and change the way experiences are delivered, but ultimately we may find that it just increases the requirement for greater understanding of what wellbeing means on-board (now and post COVID). We are also doing a lot of work on new technologies, like facial recognition which delivers a greater level of empathy and responsiveness to passengers. One project we have worked on looks at how facial recognition in a seat back monitor can register when people's eyes close and subsequently pause the film, dim the lighting at the seat and send an alert to the cabin crew so they can monitor meal service timings, etc."
With such an innovative outlook and design philosophy, what is the next step for New Territory?
Luke Miles: "We are constantly developing our approach and inviting feedback on how we work – so we can grow and evolve in line with industry needs. Interspace was the first product to launch as a spin off from NT and there are more coming – we are looking at the realm of consumer products and carefully applying our philosophy to a number of categories. For example, we are looking forward to getting back to our studio and working together, and this led us to consider what products would improve the shared experience in offices like ours or larger environments.
We're interested in how objects and spaces can enhance and ignite rich conversations and internal team dynamics. Our explorations question how experiences in this realm could be developed in the future, and how objects and the environment can inform and positively effect a team's outlook and output."
If you want to know more about innovative solutions for the future of transportation, don't miss Seymourpowell promotes Appropriate Mobility: the right mode of transport at the right time.