Design events
The smallest Milan Design Week in years could have the biggest impact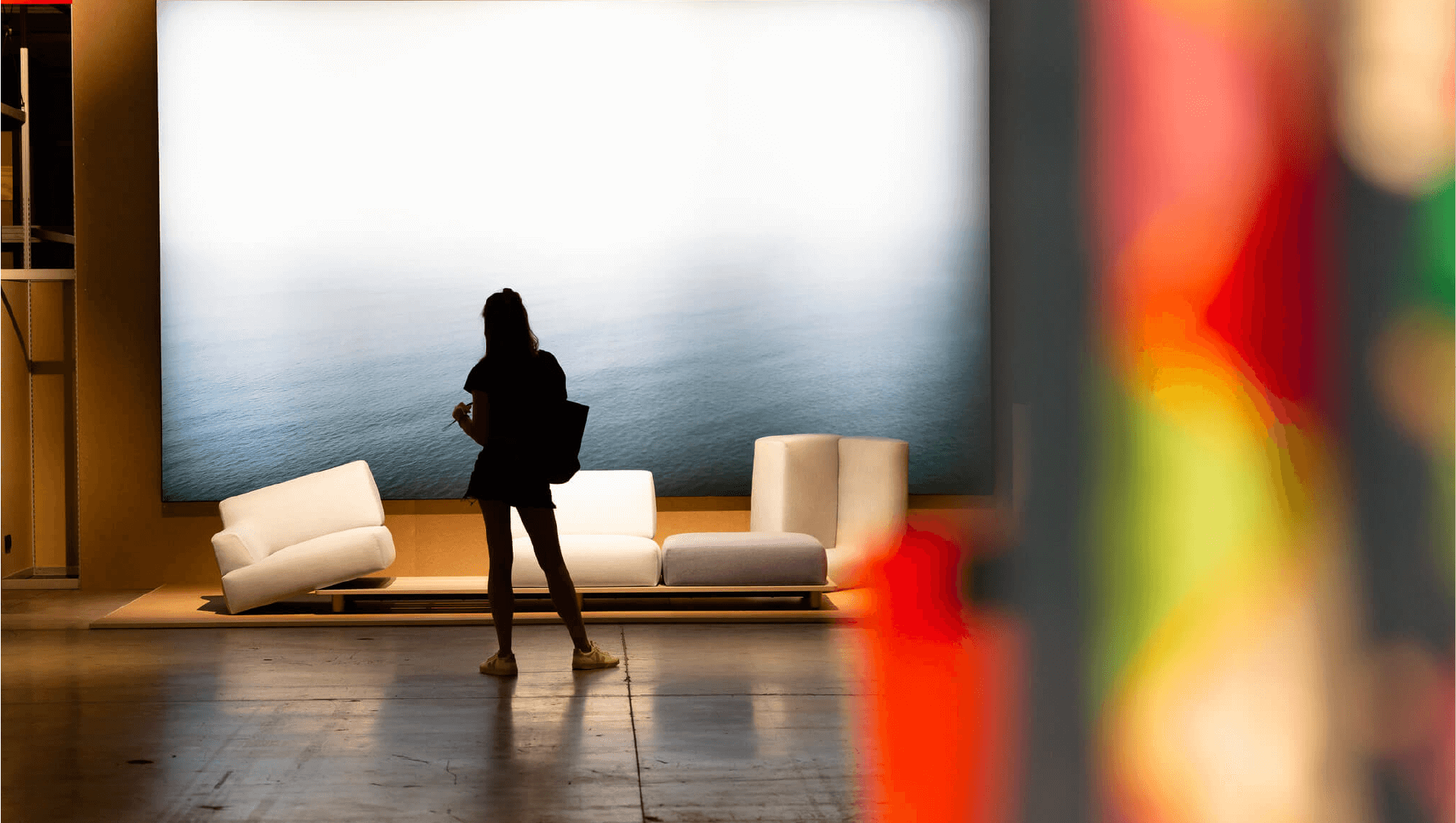 Resembling earlier editions of the event in size and numbers made for a more democratized experience of design at Supersalone and other events across Milan.
After some initial skepticism over whether a September edition of Salone del Mobile could really work, the premier design event returned this month and it didn't disappoint. Yes, following the unprecedented events of last year, the fair was a scaled-down edition but after exploring the exciting one-off concept (dubbed Supersalone), and the wider events around the city, what became apparent was the more intimate experience on offer, as well as the level playing field new constraints helped to create.
With 425 exhibitors—roughly a quarter of the usual number and a fifth compared to the 2,419 that participated in April 2019—Supersalone had more room for experimentation. Mega pavilions housing numerous stands, each imagined as a unique universe, replaced the usual monopoly of big brands stealing the show. Instead, a maze of double-sided panels acted as a blank vertical canvas for displaying products without the burden of big budgets.
"The exhibition spaces were not the usual ones: the set-ups were the same for all companies and in this way, the best-known brands presented themselves in a similar way to the smaller ones," recounts founder and CEO of DesignWanted Patrick Abbatista.
"It is something I appreciated because it democratizes design and pushes companies to choose more carefully the projects on display."
Traditionally limited to members of the trade on most days, this year the fair also welcomed the public and for the very first time, many of the products on display were available to purchase. Meanwhile, QR codes for scanning and the Salone del Mobile website offering a presentation of products and brands as well as other content signaled a focus on making the fair accessible via the digital world.
"This new concept has made the fair more 'breathable' and within reach of the visitor. Those who exhibited were forced to focus on installations and technology to enhance the products, no longer on monolithic and imposing structures, setting the tone for the daily program of events, which took place across Milan."
A highlight of Supersalone's was The Lost Graduation Show, which hosted an entire showcase dedicated to graduate design including students from 48 different schools and 22 different countries. More than 170 projects by recent graduates were on display as part of the trade show's special edition showcasing new technologies, futuristic visions and products championing inclusive design.
"More experimentation—this was something that was missing at the Salone del Mobile and I hope this approach will be maintained for the next edition," says Patrick Abbatista.
Milan Design Week across the city
Hosting other events across the city were some of the usual districts including Brera, Isola, Tortona and 5Vie, as well as the new Alpha district in Milan's Portello zone. However, the standout was undoubtedly Alcova, whose experimental nature created a buzz on social media attracting over 50,000 visitors.
"It was unique, filled with history, wild with nature, and easy to visit," says Fabio Colturri, DesignWanted's Editorial Director. "The brands and projects presented were varied, original and yet consistent: a mixture of big brands, emerging designers and galleries, all presenting quality pieces and collections."
"This is how the Milanese design week develops every year," adds Patrick Abbatista. "The posts and stories of those who pass first motivate visitors. The city is large, the locations are distributed and choosing is not always easy. Here the media, influencers and visitors themselves play an important role."
The independent fuorisalone program hosted a smaller roster of 594 events, which is less than half the size compared to 2019.
Curious to know more about Alcova at Milan Design Week 2021? Don't miss Alcova presents a design evolution in Milan.
Less to see but more to enjoy
"One thing we've not seen as much of, compared to other years, is installations, something that has always been the most characteristic aspect of MDW," says Fabio Colturri. "Installations are one of the event's main draws, attracting the public and giving them the opportunity to be involved in the sector with the chance of a selfie or a social media post."
"Then again, it makes sense that parts of this edition were more B2B than B2C. I am sure installations, immersive exhibitions and hyper instagrammable spaces will be back next year."
It's true that installations were fewer this year and those that were on display were for the most part understated. That is, except for Gufram, who gave B&B's eight-meter-high version of Gaetano Pesce's UP 5 & 6 armchair at Milan Design Week 2019 a run for its money. The furniture brand installed a similar inflatable of its iconic Pratone chair.
The hope of brands such as Gufram and B&B might be that large-scale art and design pieces will draw crowds and no doubt members of the press (an important measure of successful participation at Milan Design Week). They might be a fun way to introduce old icons to new audiences but events too oriented to social media can feel a little obvious.
To spin a positive, the lack of distraction caused by blockbuster installations threw a spotlight on the city's historic beauty. This year was an opportunity to return to the unique frames of the city, from Palazzo Litta to Palazzo Bovara, passing through Palazzo Francesco Turati and Palazzo Serbelloni.
No fundamental disruptive change towards digital
Another thing that was lacking was digital experiences across the city. Beyond online channels and the buzz created on social media, brands seemed more keen on getting back to physical experiences rather than getting online.
"It's interesting because we've spoken so much in the industry about the future of events being this hybrid between physical and digital, especially over the past two years," Fabio Colturri. "I saw companies ready with press kits downloadable via QR codes but no fundamental disruptive change towards digital."
The future of Milan Design Week in light of Supersalone
After such a long pause without physical events, Supersalone definitely offered a revised and refreshed version of what future editions of Salone del Mobile could look like.
"Forced by an emergency situation, we found answers that could mark the future of Milan as the cradle of the Renaissance of Design but still on a global scale," says Patrick Abbatista.
Nil Ilter, who manages partnerships and events at DesignWanted, compared it to a sort of "contemporary museum of design" in which you could walk around and see everything. "There were no closed stands or queues or registrations at the entrance," she says. "The city was pleasantly alive, but this time it was free from the masses of people."
In this regard, the event questions the staying power of huge fairs and raises questions about how sustainable and flexible contemporary versions of these events can and should be. Perhaps, the biggest takeaway is that Salone's more compact size has proven beneficial for lesser-known brands and their welcome innovations.
However, the limited number of visitors and exhibitors that made this year's experience so pleasant also signals the amount of people that may have skipped it in anticipation for next year. Salone del Mobile will return to its usual April slot next year with its landmark 60th edition taking place from 5 to 10 April 2022.
If and when the usual business ensues, the joy of a more manageable design week might fade into the background and only then will we know the lasting impact of this year's Milan Design Week and Supersalone.
Curious to know more about what was presented at Milan Design Week 2021? Don't miss Five designs to see at "Masterly — The Dutch" as it returns to Fuorisalone 2021.