Miro is a virtual world of whiteboards designed for remote working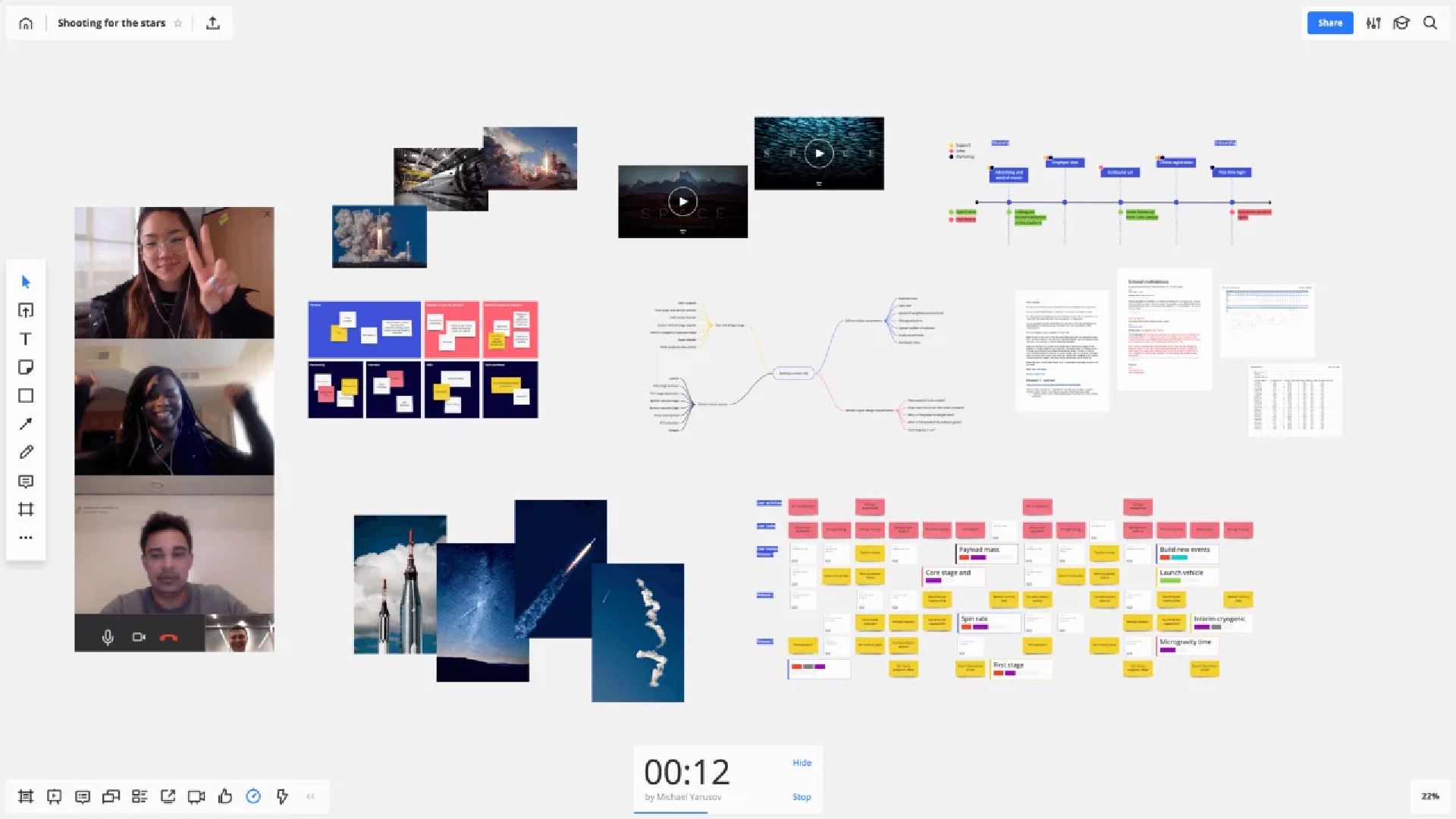 An infinite canvas with powerful capabilities, Miro lets users unleash their creativity regardless of social distancing.
At a moment when workers are encouraged to stay home, online tools like Zoom and Skype are proving more useful than ever in letting people connect. What they might lack, however, aside from screen sharing capabilities, is a platform more akin to the experience of actually being in an office. That's where Miro comes in…
Why Miro? To find a way to do whiteboarding that allows everybody to collaborate regardless of location
Fast, free, and simple-to-use, Miro is built to help users collaborate with each other any time, anywhere. Teams split across the country and beyond can take what's happening on whiteboards in physical space and replicate that in web browsers so that everybody can see it and talk about it.
The minds behind Miro
Founded in 2011 by Andrey Khusid, Miro is a tech startup on a mission to empower teams to create the next big thing. It currently has offices based in San Francisco, Los Angeles, Amsterdam and Perm.
Earlier this year, the company announced a $50 million Series B funding. It also revealed a steep increase in employment, surpassing 300 employees and expecting 150 more by the end of 2020 to deal with the increase in people working from home and using their namesake product, Miro.
Technology – Online Collaboration
Miro positions itself as more of a platform play designed to integrate with many different enterprise tools as Slack does for communications. An infinite canvas gives users the freedom to choose how they want to work with one another, whether that's hosting a digital brainstorm, documenting a meeting, teaching a class, or managing an agile workflow.
Onto the blank canvas, it's possible to add images, embed documents, upload spreadsheets, and transfer PDFs. There's also chat and commenting features alongside visible cursors of each user making it easier to collaborate.
Too many distractions at work? Your colleagues won't stop talking? We have a number of solutions for you: 5 apps to improve focus and boost your workflow. Thank us later.
Style & Aesthetics – Office Motifs by Miro
Miro is really easy-to-use, which is handy especially right now. Homebound and without on-hand technical assistants, remote workflows need to run smoothly. Users can kick off a project by selecting pre-built templates that cover a wide range of themes like teaching, designing and brainstorming. There are even more specific uses like mapping a customer journey.
From there users can utilize sticky notes, freeform pen, shapes, arrows, smart drawing, all in the name of a traditional office aesthetic, just online. You can even digitize handwritten sticky notes by taking a photo of it and converting it into an editable asset.
The origin of the name Miro comes from the Spanish artist Joan Miro whose work served as an inspiration for the whiteboards aesthetic. His abstract style aligned with how the team behind Miro felt users would navigate the platform. Every board is a unique canvas, and ideas are expressed brilliantly through different colors and shapes.
Growing numbers
According to Miro, usage has skyrocketed among both business and educational customers as the pandemic has forced millions of people to work at home.
The platform has over 7 million users and is used by tech giants like Netflix and Twitter. Combined with the projected growth previously mentioned, reveals the importance of products like this.
Design memento – A new type of workplace
Miro is emblematic of the current landscape of work. Due to the coronavirus pandemic, the popularity of digital workspaces is on the rise, enabling asynchronous and synchronous collaboration — just as easily as if everyone were in the same room.
The growth of Miro's business reflects where the industry focus should be and where innovation in the industry is paying off.
The writer's comment – Smart, simple and useful
Seeing Miro's success as solely the result of recent events is shortsighted. The sudden need for this kind of thing is definitely a reason but it's not the only reason.
In my opinion, Miro has taken something simple like a whiteboard and created an easy-to-use, aesthetically pleasing platform. It's efforts to create an engaging and intuitive experience set it aside from competitors with a minimal, multi-featured and human-centred user experience.
No one likes to make presentations, that's why WeTransfer's Paste was born: we talked to KJ Chun, Head of Product for Paste, to learn how virtual workspaces fill the physical gap